Unbeaten Kadena survives defensive standoff
by
Dave Ornauer
October 17, 2005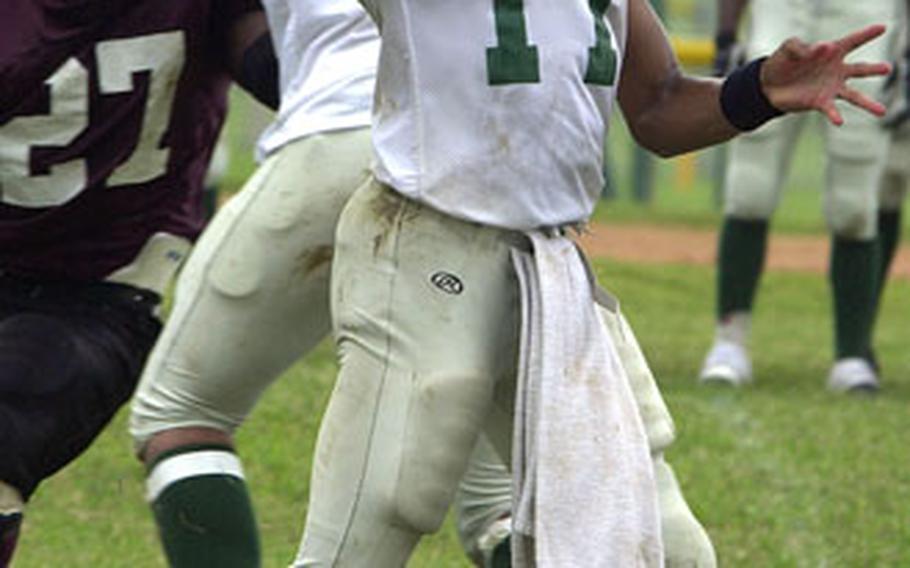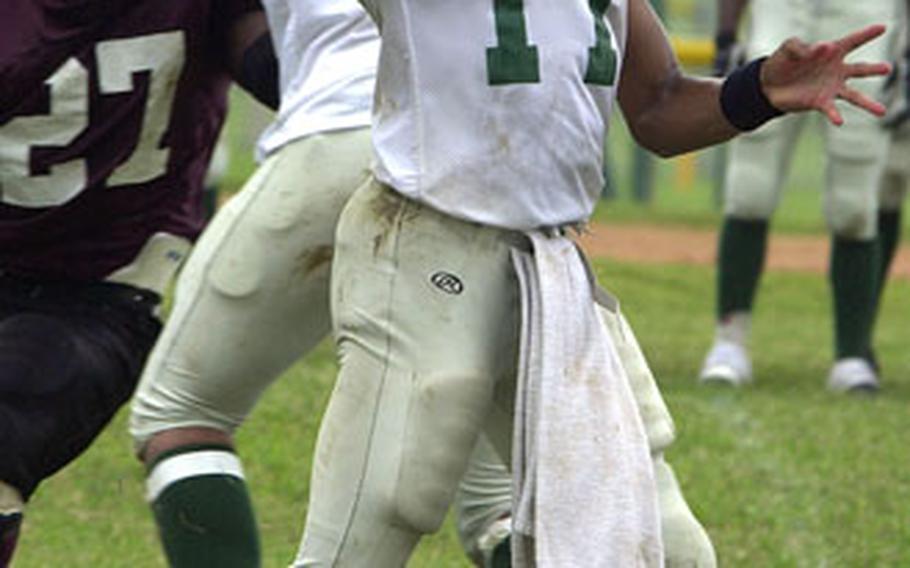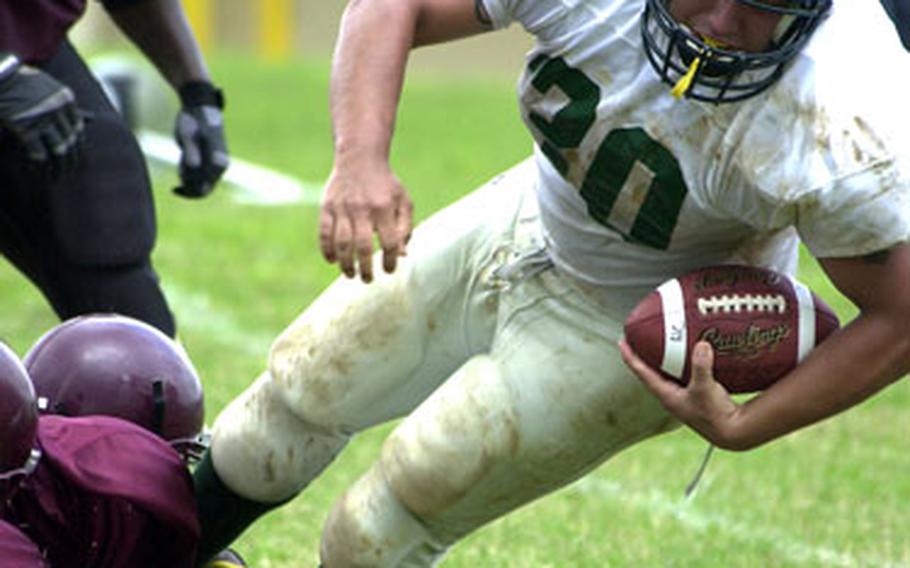 CAMP FOSTER, Okinawa — Running backs Bronshay Limson and Ossian Satterwhite helped Kadena break through in a defensive stalemate Saturday, bulling for important yardage and the game's only score in a 6-0 victory over Foster-Futenma
The duo ran for 31 yards on three plays, including Satterwhite's 5-yard TD run that was the difference in a battle of Okinawa Football League unbeatens.
"Our line had them down," Kadena coach Will Cupp said. "We have the biggest line in the league. And our defense was helping us out with field position so rather than gamble and go for quick points, we played the field-position game and it worked in our favor."
Defending champion Kadena (3-0) secured sole possession of first place halfway through the season, while the Bulldogs (2-1) fell into a second-place tie with Kinser. The Knights turned three turnovers into touchdowns to beat Courtney-Hansen 22-14 on a blustery, rainy Saturday afternoon at Foster Field.
Kadena 6, Foster-Futenma 0The Bulldogs' defense, which has allowed just 264 yards in three games, held the Dragons to 50 rushing yards on 22 carries. Kadena gained just 67 yards and got only five first downs.
Likewise, Kadena's defense manhandled Foster-Futenma's offense, holding the Bulldogs to just one fourth-quarter first down and minus-9 yards in total offense.
"Our defense took the challenge, stepped up and played to the level they should have all season long," Cupp said.
Field position went a long way toward determining the outcome. While Foster-Futenma managed to get only as far as Kadena's 34-yard line on its final possession, the Dragons repeatedly began series in Bulldogs territory.
Kadena quarterback Adam Hendrickson was intercepted by Jarvis Vaughn in the end zone on first-and-goal at the Foster-Futenma 9-yard line. He also threw three straight incompletions to squelch a drive in the third quarter.
With 6:23 left, Kadena punter Daniel Noyes pinned the Bulldogs at their 2-yard line. After Foster-Futenma gained 4 yards on three plays, Kadena took possession the Bulldogs' 31 in a scoreless game. Limson had two 13-yard runs, setting up Satterwhite's 5-yard scoring burst through the left side.
Foster-Futenma had two more opportunities, the last one with 1:30 left when Jarris Mayfield recovered a Hendrickson fumble at the Kadena 34, one of four Kadena turnovers.
But after a holding call on first down, Kadena's Paul Riley sacked Bulldogs quarterback Angel Pantoja. After three incomplete passes, the Dragons took possession and ran out the clock.
"Too many penalties at critical times," said Bulldogs coach James Moore. "We have a lot of work to do on the offensive line."
Kinser 22, Courtney-Hansen 14The Titans outgained the Knights 146-67, but took advantage of several big plays:
Knights cornerback Joel Bailey returned an interception 82 yards for a touchdown.Kinser lineman Richard Howard recovered a fumble by Courtney-Hansen backup quarterback Juan Garcia, setting up the game-winning touchdown by Dontreil Cunningham with 4:18 left.In the second quarter, the Knights' Omari Livingston recovered a misplayed punt and ran 46 yards for a touchdown. After the ball bounced on the ground, it was inadvertently kicked by a Titans player directly into Livingston's hands."It's about time things went our way," said Kinser coach John Glaister. "It feels good to finally put some stuff together."
Livingston's touchdown put Kinser up 14-0 seven minutes before halftime. The Titans answered with Derek Nicholas' 1-yard quarterback sneak 2:58 before halftime and tied it early in the fourth quarter on Jesus Lira's 19-yard TD run, set up by the second of two interceptions by Courtney-Hansen defensive back Deladrin McKenzie.
"Something or somebody out there just doesn't want Courtney-Hansen to win," said Titans coach Rod Best. "But we'll have something for them in the playoffs."
Bailey finished with two interceptions. Quarterback Jacksby Sewell led the Knights with 56 yards of total offense. The Titans intercepted four Sewell passes and sacked him five times.
Okinawa Football League
Okinawa Football League
W L Pct. PF PA
Kadena 3 0 1.000 89 18
Foster-Futenma 2 1 .667 63 19
Kinser 2 1 .667 50 33
Courtney-Hansen 1 3 .250 64 78
Ryukyu University 0 3 .000 0 118
Saturday's results
At Camp Foster, Okinawa
Kinser 22, Courtney-Hansen 14
Kadena 6, Foster-Futenma 0
Sunday, Oct. 23
At Camp Courtney, Okinawa
Kinser vs. Kadena, 1 p.m.