Far East preview
Top boys teams will be battling for two titles
by
Dave Ornauer
January 25, 2018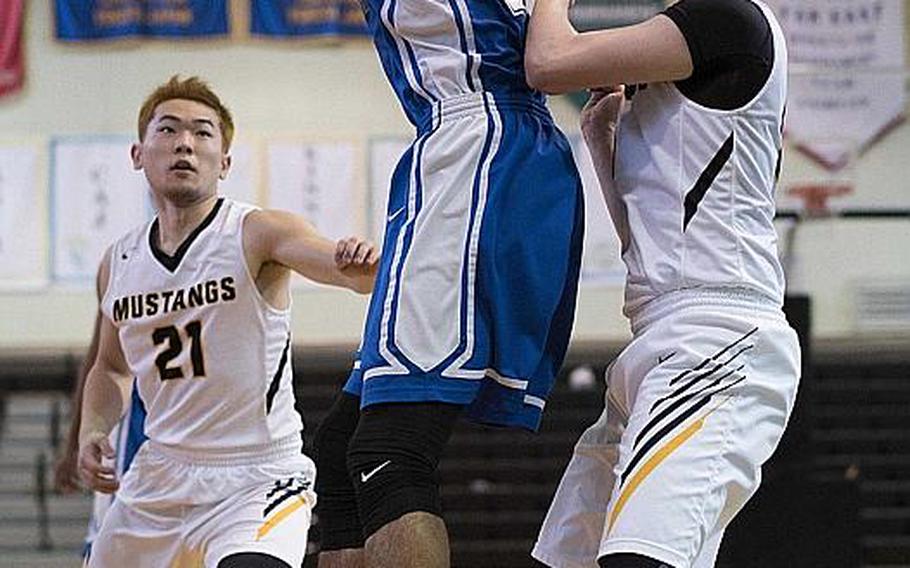 CAMP FOSTER, Okinawa – On paper, American School In Japan and Humphreys look like solid favorites to win Far East boys basketball titles next week.
But Nile C. Kinnick, Kubasaki, defending Far East Division II champion E.J. King, Yokota and a handful of others aren't far behind.
And several of those teams should get a chance to play against each other with another title on the line for the first time since 1982.
A total of 18 teams - eight Division I and 10 Division II teams - will play their own separate small and large divisional tournaments at Camp Foster on Okinawa on Monday and Tuesday. Then they'll all play in one combined tournament Wednesday and Thursday.
"This brings kids together, instead of having just the two tournaments separately," DODEA-Pacific athletics coordinator Tom McKinney said. "Kids always wonder who's truly the best in the Pacific. Now, you find out. It gives them something to try for."
Until 1982, DODEA-Pacific played a small-schools tournament called a "pre-Far East" with the top two finishers added to the large-schools division to create a Division I field of 16 teams.
Humphreys not only looms large in terms of height, but the Blackhawks – unbeaten thus far in the Korea Blue Division – also possess speed and a discipline unlike the years when they came close at Far East, but came up short.
"We're an all-around team," said senior Brice Bulotovich, at 6-foot-3 one of the tallest guards in either tournament. Humphreys also fields the tallest player, 6-8 junior Quintin Metcalf, who won Most Valuable Player honors with 2017 D-I champion Seoul American.
Bulotovich says the Blackhawks are "definitely" going after the combined and D-II banners; "we just have to execute," he said.
"We have people who actually want to win," he said. "We're focused on just winning and not outside distractions. Coach (Ron Merriwether) has always given us the tools to win; but this year, the players finally took it seriously."
And there's not just one Metcalf, but two – 6-5 freshman Colin Metcalf. But Merriwether says he won't count on a thing.
"History has spoken for itself the last two years," he said. "It's a different tournament, a different year. I'm pleased so far with the results. But it's not said and done until it's all over."
Still, other teams have taken notice. "They're very deep; they have two solid groups," Daegu coach Blake Sims said. "We had success when we played them man-to-man, but they bring in that second unit. They always have fresh legs."
"They sound like they're going to be a very tough out," Yokota coach Dan Galvin said.
King's Cobras lost four starters from last year's title team, but got transfer Sidney Park from Matthew C. Perry to couple with returning guard Dyson Robinson.
Still, "we're trying to figure out the best way to play these teams that have bigger guys," coach Laird Small said. "We're not a big team. Our (tallest player) is 6-2 on a good day."
But the Cobras figure to be competitive, Galvin said. "They play good defense and they score enough," he said. "It's not just a two-man team. The other guys hit shots. They know what they're doing."
One team that matches up well with Humphreys could be ASIJ, which won its own Kanto Classic Tournament a week ago and possesses the same height and speed as the Blackhawks.
"You have to be very efficient, because they're (Mustangs) going to be very efficient," Galvin said. "Their possessions are going to result in a lot of baskets, and yours have to also."
Once the divisional events end, it should be interesting to see how teams from all divisions mix and match, coaches say.
"This is the perfect year to experiment" with this format, Galvin said. "It sounds not only like they're (Humphreys) the favorite at D-II, but they could make a run against the bigger schools as well."
Twitter: @ornauer_stripes