Girls basketball AOY
Taylor played role well as Stuttgart repeated
by
Gregory Broome
March 3, 2018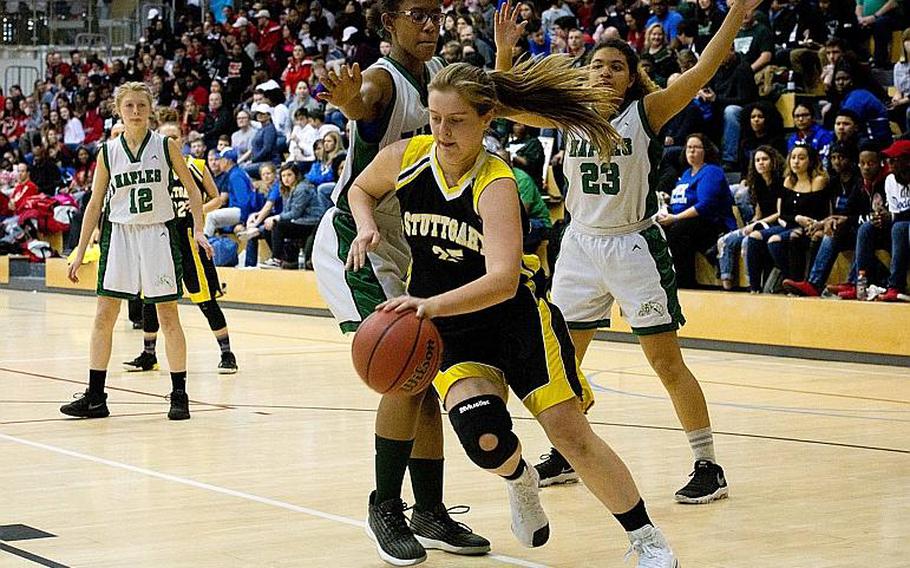 On the surface, the story of the Stuttgart Panthers' two-year Division I girls basketball championship run is a tale of two diametrically different seasons. After an ideally constructed 2016-17 Panther team cruised undefeated to a title, a scrappier 2017-18 group of holdovers and new arrivals overcame losses, doubts and adversity to successfully defend the crown.
Stuttgart senior Allyson Taylor, a member of both of those title teams, has a unique perspective on the Panthers' reign. For Taylor, the 2017-18 Stars and Stripes girls basketball Athlete of the Year, "the two seasons are sort of combined" as one inseparable entity.
"I didn't really stop working from one season to the next," Taylor said. "I feel like I just continued to build."
That comment neatly summarizes Taylor's impact on the Panthers. Surrounded by more seasoned stars as a junior, Taylor was asked to take on a larger role as a senior leader. She responded by producing 25 percent of Stuttgart's points in the regular season, while also controlling the boards in collecting 42 percent of her team's rebounds.
More than that, Taylor provided steady guidance and unflinching optimism for a team that initially struggled in the shadow of its immediate predecessor.
Under Taylor's lead, each challenge facing the Panthers transformed into opportunity. An unfamiliar roster was a chance to forge new on-court and off-court connections; an early-season loss to Naples, eventually avenged in the European championship game, eased the pressure of matching the previous year's unbeaten record and freed the team to create its own identity.
"Ally is every coach's dream," Stuttgart coach Robin Hess said. "She never complained. She was always asking how she could improve."
As it turned out, Taylor improved primarily not by expanding her game but by doubling down on what she excelled at. Boasting size and skill in the post that few teams could hope to counter, the senior pounded the low block relentlessly, concentrating her offensive efforts to areas where she was the "most effective" in creating points.
"I really tried to focus on getting the ball where I could do the most for the team," Taylor said. "A layup is always going to be a higher-percentage shot than an outside shot."
That approach was on full display in the tournament. Taylor dominated inside, including a game-high 12 points in the Panthers' 31-25 championship-game defeat of Naples, and was recognized with Division I tournament MVP honors.
That final week in February represented the perfect culmination to Taylor's two-year title run with the Panthers. From an encouraging high-five to a dominant championship-game performance, Taylor always provided what was needed for Stuttgart to succeed.
"I worked really, really hard during the offseason," Taylor said, "so I could be a little bit more valuable."
Twitter: @broomestripes