Spangdahlem, Lakenheath claim USAFE soccer titles
by
Rusty Bryan
October 21, 2006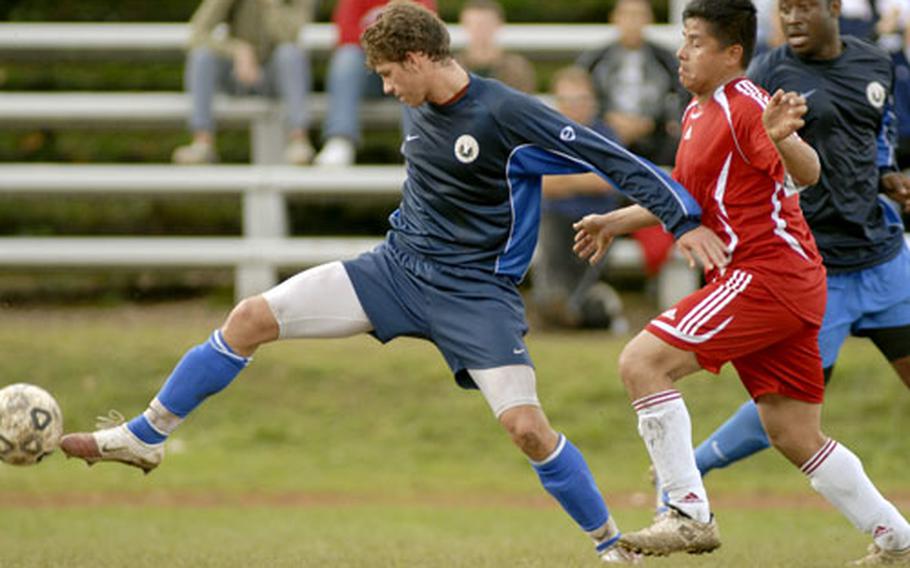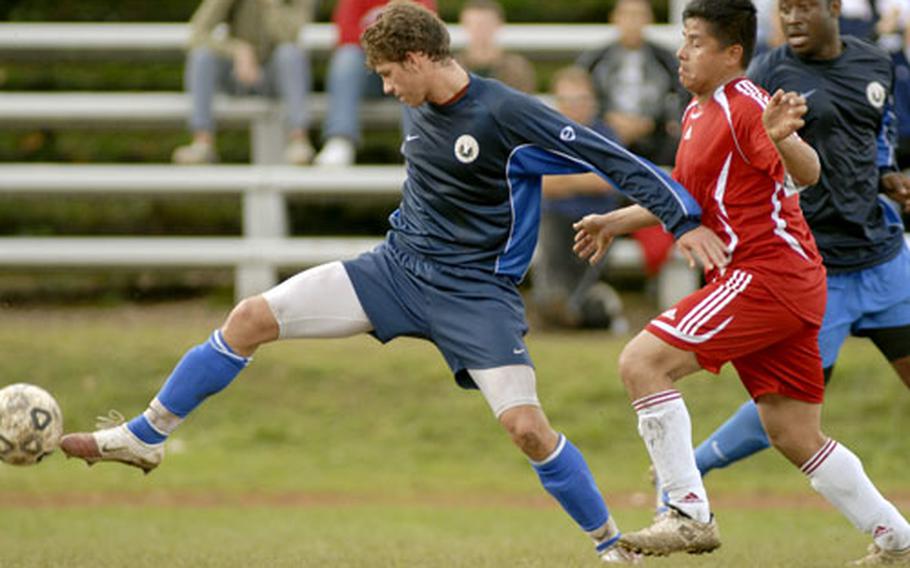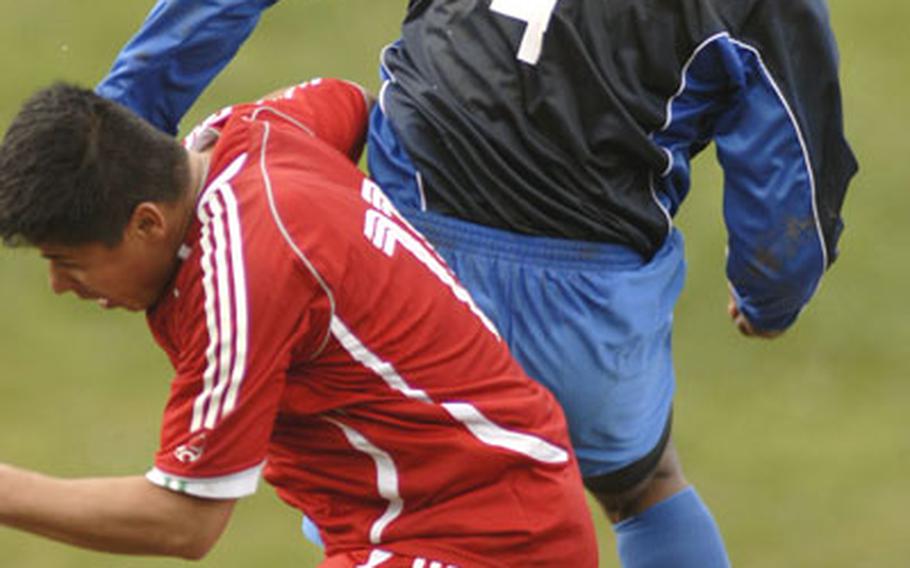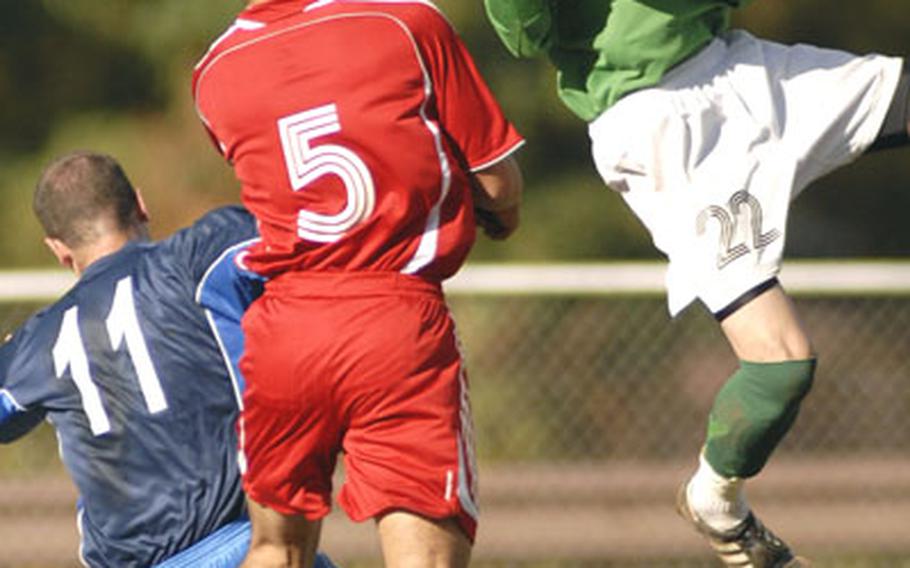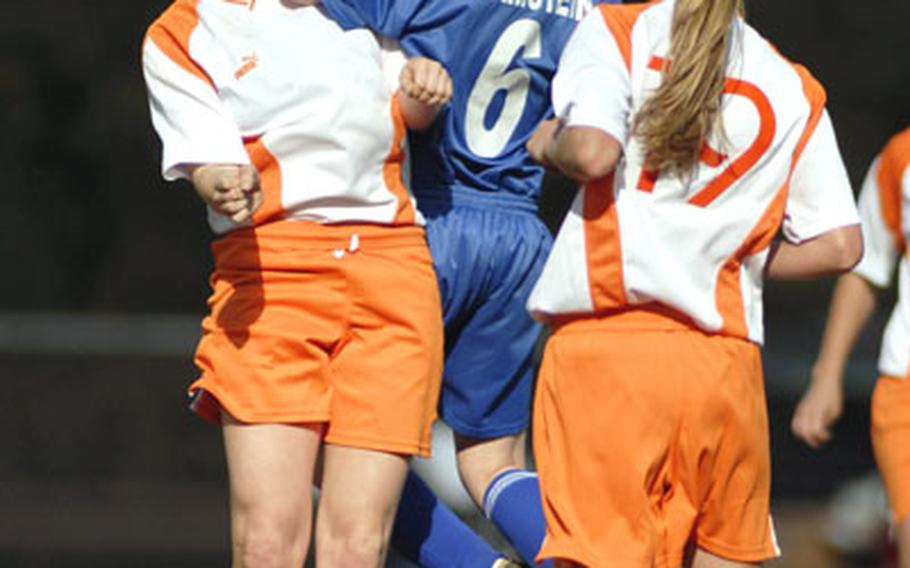 SEMBACH AIR BASE, Germany — Spangdahlem's women and Lakenheath's men ended three-year reigns by their opponents Friday in the championship games of the five-day, 2006 USAFE soccer championships.
The Lakenheath men toppled champion Spangdahlem 1-0, while Spangdahlem's women dethroned defending champion Ramstein 3-1.
Lakenheath men 1, Spangdahlem 0: The Eagles completed a worst-to-first run with their sixth shutout in seven games during the round-robin tournament.
"We wanted to keep a clean sheet," said sweeper Jacob Kingston after keeper Chris Phillips posted his fourth shutout in four tries. "The only goal scored against us was a penalty kick."
That came on Wednesday in a 2-1 victory over Spangdahlem. The Eagles outscored the opposition 21-1 during the tournament.
"I was pleased to get that kind of defense in front of me," said Phillips. "But we goalies always say that it's boring to have the defense play so well. It was boring in a good way."
Things weren't really that monotonous for Phillips, who battled all-out pressure by Spangdahlem over the final 45 minutes.
"Our outside defenders (Brian Ackerman and Roy Bowden) played great," said Kingston, voted to the all-star team in his first season with Lakenheath. "Those two big guys in the middle (all-stars Neville Allen and Melvin Harper) did all the work. All I did was clean up."
Don't believe it, said Bowden, a 46-year-old chief master sergeant coaxed out of retirement for this tournament.
"We play a diamond defense," Bowdon said, "and the captain of that defense is Jake. He anchors our defense."
Kwami Opoku scored the game's only goal with a grass-cutting shot inside the far post in the game's fourth minute.
"An early goal takes the pressure off a bit," Kingston said, "but when a team's behind just 1-0, they have nothing to lose. They bring everything."
Especially when a three-year dynasty's on the line.
Philips had to push a rocket by Spang's Emerson Bellamy over the bar just five minutes into the second half, and the Sabers mounted a dozen dangerous forays thereafter.
"The keeper made the saves when he had to," Kingston said.
Spangdahlem women 3, Ramstein 1: All-star Kirsten Serda set up two goals for Rebecca Dines and scored the third herself as the Lady Sabers ended Ramstein's run.
"Becky's always ready to run," Serda said of her team's first two goals, both scored on crosses to Dines after quick runs down the left side by Serda. "She's always there."
Her first goal came 13 minutes into the game. The second came in the 51st minute and put Spang up 2-0.
"The team did all the work," Dines said. "I was just there to tap it in."
Ramstein cut its deficit to 2-1 three minutes later, when all-Air Force midfielder Amber Reynolds directed a pass from Mariah Dockter inside the right post, but that was all the Spang defense and keeper Dana Ferkas were prepared to permit.
"The defense calmed down," Ferkas said, "and the two goals pumped us up."
USAFE all-starsSEMBACH AIR BASE, Germany — The 2006 USAFE soccer all-star teams as voted by coaches participating in the five-day 2006 USAFE soccer tournament which ended Friday:
Women
Mariah Dockter, Dana Fernkas (goalkeeper), Jacqueline Percey, Sarah Reeve and Kirsten Serda, Spangdahlem; Amber Reynolds and Tiffany Sorrels, Ramstein; Amber Kitto and Talia Kosinski, Incrilik; Holly Munson, Lakenheath, and Jessica Van Oort, Aviano.
Men
Neville Allen, Melvin Harper, Jacob Kingston and Brian Liston-Clark, Lakenheath; Nick Kalashian, Spangdahlem; Chris Bidwell and Johnny Jaworek, Incirlik; Mike Reilly (goalkeeper) and Ben Skvarca, Aviano; Jose Morales, Ramstein, and Johnathan Moore, 501st Combat Support Wing.