Siblings seek to lead Lakenheath to first win
by
David Hodge
October 8, 2009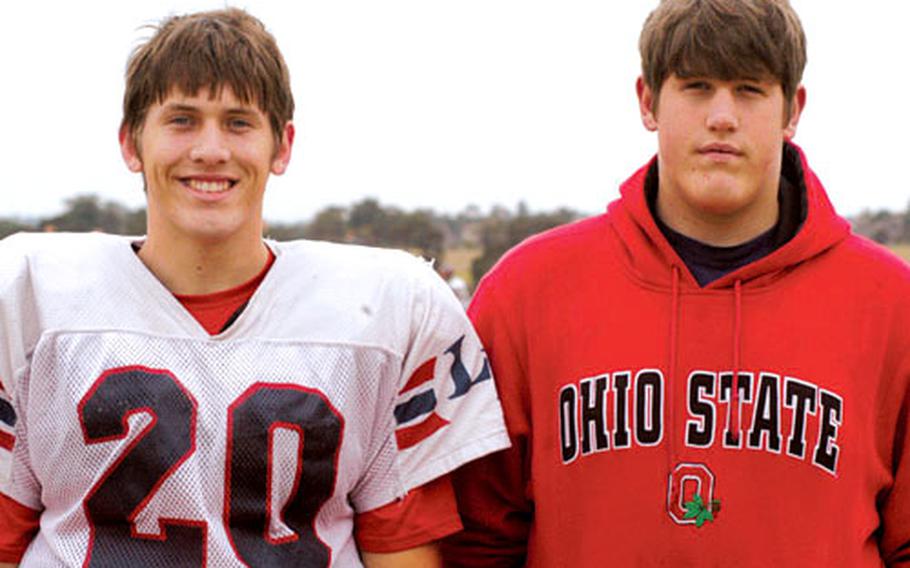 Lakenheath High School sophomore Paul Federinko beamed at his older brother, Alex, as he told a joke about a quarterback who gets creamed after an offensive lineman intentionally misses a block.
It's a joke that has real meaning to the brothers: Alex, 17, is the Lancers' quarterback; Paul, 15, is a starting lineman.
The brothers were on the practice field this week as Lakenheath prepared for its homecoming game Saturday.
Alex was in his practice uniform, Paul in a sweatshirt, sidelined by a nagging illness. Both expect to be ready to go for the game against Patch, which, like Lakenheath, is winless in Division I play.
"We're all crossing our fingers," Alex said. "Hopefully, we can win the next three and make it to the playoffs."
Both Federinkos stand out on the football field, starting with their size. At 6 feet 3 inches and 220 pounds, Alex doesn't give up or go down easily, ferociously running the football with his head down on an occasional option or sweep. He has around 300 yards of total offense in his first three games, two-thirds of that coming on the ground.
Paul, 6 feet 5 and 275 pounds, likes the contact on the offensive and defensive lines, but says he prefers playing defense. His spot at defensive tackle puts him in the middle of the action, and he has 20 tackles this season, five of them QB sacks. "I like defense more," Paul said. "I get more fired up than I do offensively."
But he is also a leader on offense. Paul said that when the team is in the huddle, he often asks his brother and the running backs where the defenders are getting through the line. "Paul and the other offensive linemen always talk to me [about how] to get those holes fixed," Alex said.
Lancers head coach Matthew Martinez says the brothers have a special connection, communicate well during games and set good examples for their teammates, who include two other sets of brothers, Kaleb and Sean Pontius and Justin and Jeremy Ewing.
"The Federinkos are dedicated," Martinez said. "They are the types of kids who work out and run when no one's watching. That's what we need."
This is the third consecutive year Alex is starting at quarterback for the Lancers. After graduating at the end of the year, he plans to study sports therapy at college — he is looking at three or four schools — and to try out for the team of one of his favorite three sports: football, baseball or basketball.
Paul, a starter his freshman and sophomore years, also plays baseball and basketball. He expects to continue playing all three when he moves to the States — his mother is in the Air Force and is scheduled to be reassigned next year — for his final years of high school.
For now, both are focusing on their remaining football games.
"Now we are in the part of the season … if we want a chance to make the playoffs, we got to start winning football games," said Martinez, who told his players not to get distracted with the many homecoming festivities happening during the week. According to his quarterback, he need not worry about the distractions.
"I can speak for all the seniors — we all want to say we made it to the playoffs this year," Alex said.