Ramstein's defense stifles Heidelberg in D-I title game, 26-7
---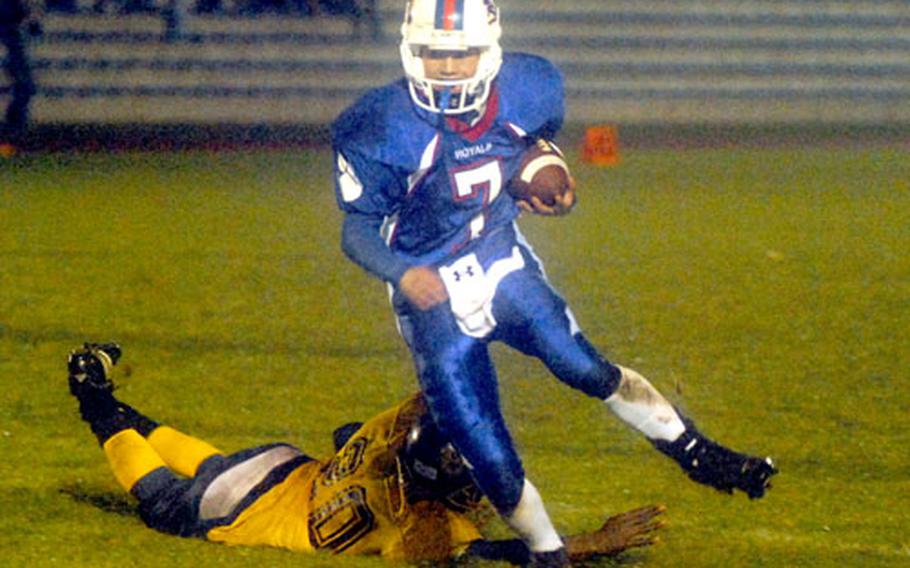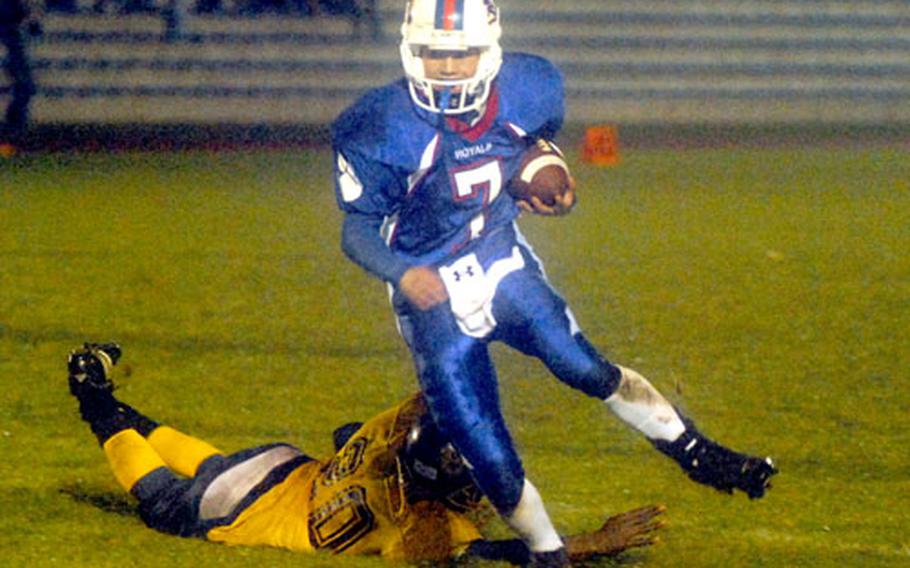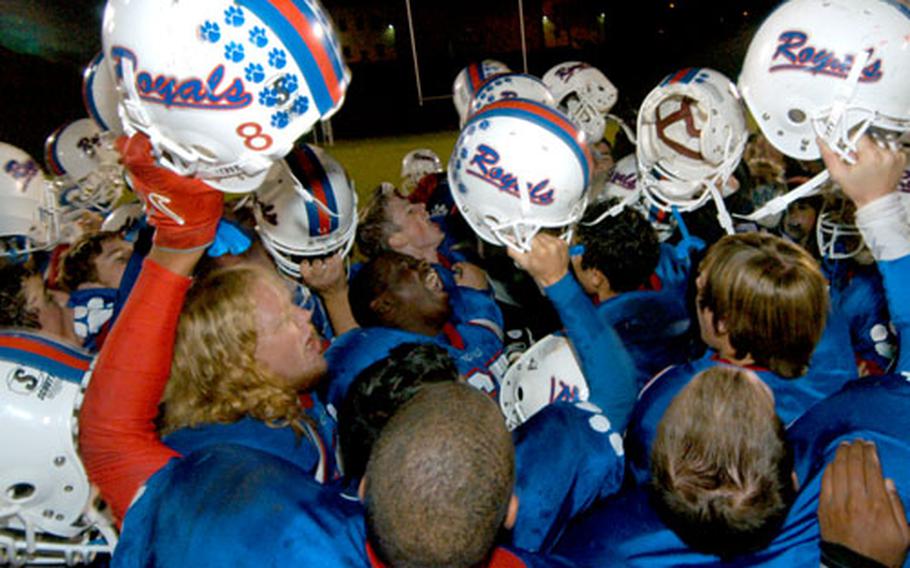 BAUMHOLDER, Germany — As they had all season, the Ramstein Royals deferred to its defensive unit Saturday night.
In defanging, declawing and dethroning the Heidelberg Lions 26-7 in the European Division I championship high school football game, Ramstein limited defending champion Heidelberg to just 35 net yards of offense.
"We've been living off that defense all year," Ramstein coach Carlos Amponin said. "They've given us the ball deep in the other team's territory all season with an interception or fumble recovery or stop."
All were plentiful Saturday.
Stops?
Heidelberg managed just three first downs in 13 possessions. It ran three plays or fewer in 11 of those tries. After gaining 47 yards on the ground over the game's first 24 minutes, Heidelberg rushed for minus-25 yards and passed for just 13 after intermission.
Interceptions?
Three, all in Heidelberg's end of the field. Junior cornerback Scott Sublousky, who returned his first 40 yards for Ramstein's final touchdown, picked off two; senior defensive end Ste'fan James grabbed the other.
Fumble recoveries?
Two. Junior linebacker Jake Garcia, voted defensive player of the game, fell on one at the Heidelberg 8-yard line that eventually led to Ramstein's first TD, an 11-yard run in the first quarter by senior A.J. Hawkins. Senior nose guard Eddy Lott snagged the other.
Amponin wasn't surprised by his team's defensive success.
"That's 'par-norm' for us," he said. "This is the best defense I've been associated with in 10 years of coaching."
Defensive MVP Garcia, however, wasn't fully prepared for what happened.
"Honestly, no," he said when asked if he expected his team to perform so well. "I thought we'd come in too cocky."
When Ramstein wasn't stuffing them, the Lions (5-3, with all three losses inflicted by Ramstein) were self-destructing. Heidelberg drew three penalties in its first possession alone en route to seven for the first half. The Lions' lone touchdown, a 2-yard run by Cody Mallette 1:48 before halftime, was set up by senior quarterback Shon Fisher's 64-yard kickoff return to the Ramstein 11.
Fisher's return followed a 58-yard TD run by the offensive player of the game, sophomore Tim Ortiz. Ortiz finished with 142 yards on 16 carries.
'We were speculating," Amponin said, "that Heidelberg was asking themselves, 'Who is that guy?'"
For his part, though, Ramstein's Lott had no doubt about Ortiz's true identity.
"This is Reggie Bush right here," he said, patting Ortiz on his shoulder pads. "That's for real."
Ramstein's other TD came from senior quarterback Aaron Jones, who sprinted around left end for a 22-yard score with 52 seconds left in the third quarter. Jones, the better runner, and senior Joe York, the better passer, alternated under center on every down, as they had all season.
"We've been playing sports together since seventh grade," York said. "We're more than friends. We're like family."
While much of the Ramstein family graduates this spring, shed no tears for the Royals.
"The cupboard's not bare," Amponin said of Ramstein, which finished 8-0 and won its first European title – its eighth overall – since 2003. Junior quarterback "Jackson Knox would start for most teams, and Ortiz and lots of others will be back. There's a good chance we'll be standing here again next year."
---
---
---
---