Ramstein, Italy schools lead spiker squad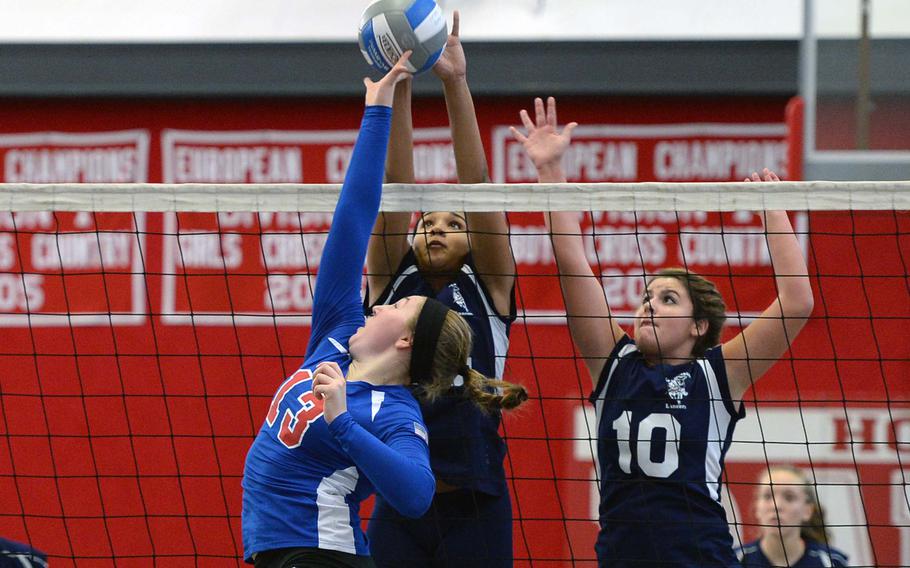 Division I volleyball champion Ramstein accounts for 25 percent of the 2013 All-Europe first team, a 12-player group selected by a committee of DODDS-Europe coaches.
Seniors Sarah Schiller and Jenna Kirchhoefer and sophomore Chera Jensen cracked the first-team roster for the Royals, where they're joined by a pair of teammates each from Division II powers Naples and American Overseas School of Rome. Seniors Victoria Krause and Carina Cusumano represent the European champion Wildcats, while senior Sofia Mauceri and sophomore Margo Snipe were chosen from AOSR.
Seniors dominated the selections, accounting for nine of 12 first-team spots and eight of 12 on the second team. Lakenheath's Jourdan Hodge, Patch's Rachel Hess, Rota's Aspen Luna and Vilseck's Elizabeth Siatini all capped their careers with first-team honors.
Rachel Vosler, the junior star of Division III champion Sigonella, rounds out the first team.
Ramstein and AOSR netted four overall selections apiece, while Naples had three.
In all, 14 schools from six countries are represented on the team. The 24-player roster includes 10 players from Italian schools and 10 players from German schools.
First team
Player School Grade Position
Sofia Mauceri AOSR 12 Setter
Margo Snipe AOSR 10 Out. hitter
Jourdan Hodge Lakeneath 12 Mid. hitter
Victoria Krause Naples 12 Out. hitter
Carina Cusumano Naples 12 Libero
Rachel Hess Patch 12 Out. hitter
Sara Schiller Ramstein 12 Setter
Chera Jensen Ramstein 10 Out. hitter
Jenna Kirchhoefer Ramstein 12 Out. hitter
Aspen Luna Rota 12 Out. hitter
Rachel Vosler Sigonella 11 Setter/Mid. block
Elizabeth Siatini Vilseck 12 Setter/Mid. block
Second team
Player School Grade Position
Jahkya Smith Ansbach 12 Setter
Domiziana Mazzoni AOSR 12 Out. hitter
Jessica Dormi AOSR 12 Mid. hitter
Brandy Oliver Bahrain 12 Setter/Out. hit
Brooklyn Porter Black Forest Academy 12 Mid. hitter
Ana-Marija Vasileva Brussels 12 Mid. hitter/block
Aundrea Hall Naples 12 Mid. hitter
Mercedes Deets Patch 11 Out. hitter
Natalie Sell Ramstein 11 Libero
Sydney Moore Sigonella 11 Out. hitter
Tia Juliano Vicenza 12 Out. hitter
Ellen Tafoya Wiesbaden 10 Mid. blocker
Selection committee: Shawn McCarthy, Sigonella; Julia and Kenny Byler, Naples; Kathy Clemmons, Hohenfels; Brian Swenty, Vilseck; Erin Markus, Ramstein; Jill Norris, Baumholder; Kyle Siftar, Lakenheath; Karen Seadore, DODDS-Europe.