European softball preview
Ramstein, Aviano head competitive fields
---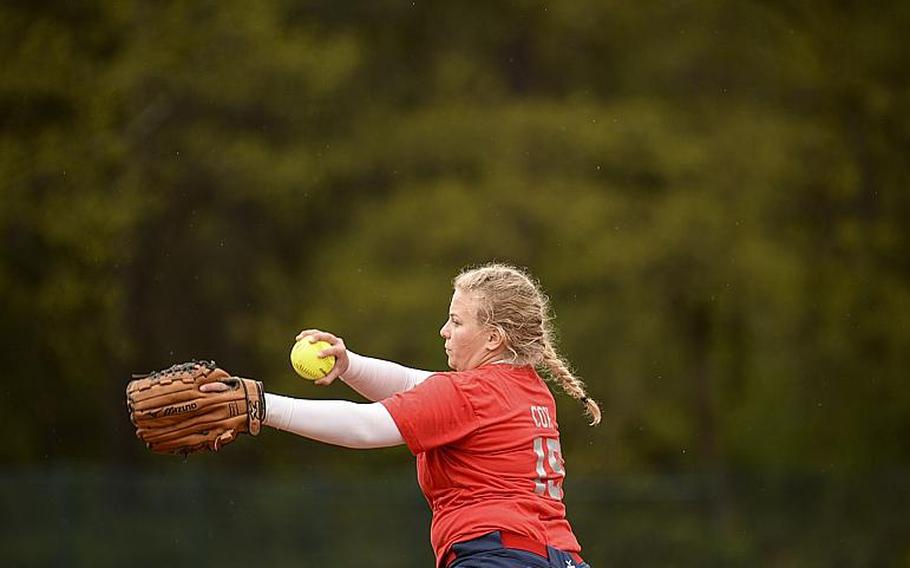 There are nine players on the field for each team in a softball game. After DODDS-Europe's divisional realignment, there are now nine teams in each of the league's two divisions.
Play ball.
The two newly balanced brackets will crown their respective champion at the end of the three-day DODDS-Europe softball tournament starting Thursday at Kaiserslautern Military Community.
The large-school bracket features both 2014 European champions, Patch and Vicenza, along with frontrunning Ramstein and a handful of contenders just dangerous enough to make things interesting. Six of the nine teams will enter the postseason with winning records.
The combined Division II/III bracket includes a geographically diverse mix of quality teams hoping to seize the throne vacated by Vicenza's move to the next level.
Division I: This regular season of large-school softball has been a whirlwind of close games and doubleheader splits spanning four countries, setting up the deepest and most competitive Division I field in recent memories.
Vicenza, one of three new Division I entries along with Naples and SHAPE, figure to have a profound impact on the tournament. The Cougars won the last two Division II titles and return enough star power to contend at their new level.
But Vicenza hasn't played anyone but its usual in-country competition, thanks to a weather-related cancellation of its scheduled games against German opponents. And the Cougars haven't exactly dominated Italy, suffering a three-game losing streak in April that featured consecutive losses to Division III Sigonella and a setback against rival Naples.
Vicenza will find a bracket thick with contenders awaiting it in the KMC, though none have the kind of proven championship chops the Cougars can boast.
Ramstein overcame some early offensive struggles to take an undefeated record into May. A May 9 split with Patch spoiled a potential undefeated season.
Patch's revamped roster, meanwhile, took time to round into the form of a defending champion. The Panthers split sets with Vilseck and Kaiserslautern over their first two doubleheaders of the season and broke even again with Ramstein.
That kind of adversity could either indicate a team not ready to win a title or one with the kind of resilience that will be hard to eliminate. Vilseck and Kaiserslautern hope the latter label applies to them as well; the two played a spirited season-ending doubleheader Saturday that ended up as a Vilseck sweep but left both teams looking like worthy postseason opponents.
A Naples team from one of the program's recent star-studded teams might have made a bigger splash in the school's Division I bow. But the Wildcats have struggled to a 3-7 record and come limping into the postseason after 18-3 and 15-1 losses to Sigonella.
SHAPE and Wiesbaden round out the Division I field.
Division II/III: In a way, it's a shame that this is the year Naples and Vicenza made the jump to Division I. The change denied Aviano the chance to beat its longtime rivals in the playoffs, the first spring in a long time that would have been a very feasible goal.
On April 24, the Saints recorded the first two victories over Naples in the program's history. The wins highlighted a strong 9-4 season that included two separate four-game winning streaks.
Instead of further testing that prowess against Naples and Vicenza, however, the Saints will now focus their efforts on a small-school field that should give them plenty of challenges to confront.
Rota made its one foray into DODDS-Europe action a memorable with four emphatic wins over Alconbury, Bitburg and AFNORTH, which the Admirals defeated twice. Rota scored a total of 89 runs over those four games.
That's an admittedly small sample size. But Rota is also a well-known tournament performer; the Admirals finished third behind Vicenza and Naples last year, making them the top 2014 finisher to return to the 2015 small-school bracket.
While Aviano had its way in Italy and Rota swooped in from Spain, Alconbury dominated the north. The Dragons' 15-3 loss to Rota was their only defeat in seven divisional games.
Aviano, Rota and Alconbury are the only three of the nine Division II/III teams to enter the postseason with winning records. AFNORTH, Ansbach, Baumholder, Bitburg, Hohenfels and Sigonella lurk on the second tier of tournament hopefuls.
Twitter: @broomestripes
---
---
---
---