DODDS-Europe boys basketball preview
Plethora of contenders for three boys crowns
---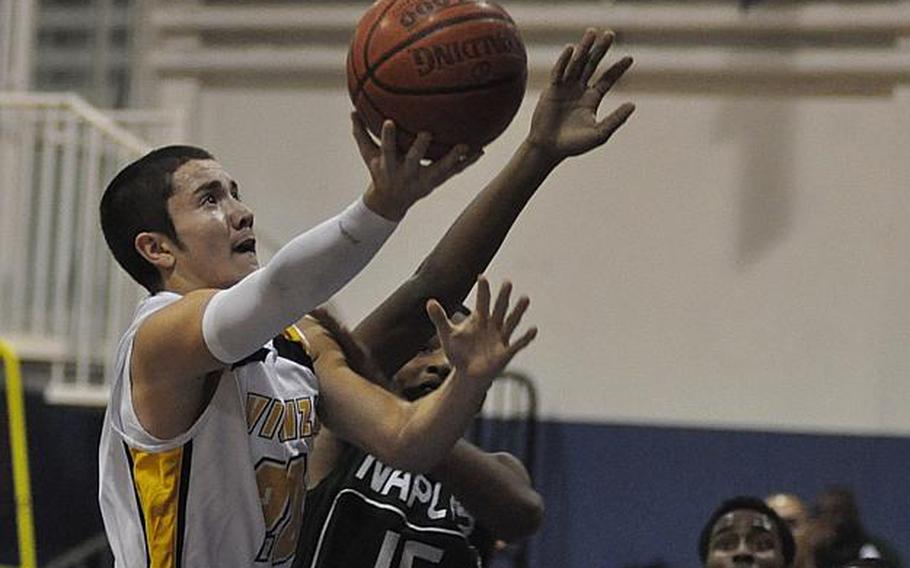 The 2013-14 DODDS-Europe boys basketball tournament will run Wednesday through Saturday at sites around Wiesbaden. Here's a look at the contenders in all three divisions:
Division I The field of the DODDS-Europe Division I boys basketball tournament offers a clear choice between four different types of contenders.
First is the defending champion, Patch. The Panthers finished off a surprise run to the title a year ago behind the stellar play of Brendan Jones and John Robinson, two wings with almost unfairly complementary skill sets. The element of surprise is lost, but the sharpshooting Jones and slashing Robinson still comprise arguably the best two-man act in DODDS-Europe hoops.
Next is the season-long frontrunner, Wiesbaden. The Warriors are unequivocally stacked with talent, boasting a deep rotation of athletes that produces a new star on a nightly basis, a list that merely starts with do-everything wing Kelsey Thomas and frontcourt presence Tyler Cordoni.
But Wiesbaden's shiny season was tarnished Friday by its first loss, a 66-62 setback to Kaiserslautern.
That win may just be a hint of what Kaiserslautern is capable of. The Raiders have the the look of last year's Patch squad, a consistent fringe contender threatening to finally assemble its many pieces. The Raiders boast perhaps the best starting five in Division I featuring frontcourt star Emilio Moreno and dynamic guard Lorenzo Williams.
Finally, Ramstein has struggled through an uncharacteristically difficult season. The Royals have lost four Division I games, including a frustrating streak of three straight that ended just two weeks ago. But Ramstein packs the most formidable frontcourt in the division in Jesse Gray and Drew Tevebaugh, and the Royals shouldn't be overlooked in the postseason.
Lakenheath, Vilseck and International School of Brussels have each had their moments this season. With some timely hoops and some favorable bounces, one of those teams might emerge as the bracket's fifth type of contender: the underdog.
Division II It's hard to imagine that SHAPE and Vicenza play in the same league. What's clear, however, is that nobody has been playing in theirs.
SHAPE is a NATO command center near Belgium's border with France. Vicenza is an army garrison just south of the Italian Alps. The teams' gyms are separated by about 700 miles.
The schools not only don't play each other, they don't even play the same opponents. SHAPE has stayed confined to the Benelux and United Kingdom, while Vicenza's schedule is all-Italy.
What unites the schools is an affiliation with DODDS-Europe and a comparable student population, placing both in Division II. And this season, the schools have shared another trait: excellence.
The Spartans have torn through their 10-game schedule unbeaten, registering wins over solid Division I opposition in ISB and Lakenheath. The Cougars have ravenously feasted on their regional rivals, winning all 10 of their games by double-digit margins.
Each team is spearheaded by a high-scoring guard, namely SHAPE's Conner Manning and Vicenza's LaScott Richardson, paired with a capable frontcourt anchor in Spartan Armond Griebe and Cougar Derrick Schaefer.
As is always the case with DODDS-Europe most crowded division, however, the competition will be thick.
Former doormat Hohenfels has been the surprise of the division, winning its first six games of the year and falling only to Division I foes Vilseck and Patch. The Tigers haven't played either SHAPE or Vicenza, raising the possibility that their turnaround story could play out all the way to the final day of the tournament.
Each of those three frontrunners has left a trail of beaten but competitive teams in their wake. SHAPE bested AFNORTH and Alconbury; Hohenfels handled Ansbach, Black Forest Academy and Schweinfurt/Bamberg, and Vicenza has fought off Italian rivals Aviano, Naples and American Overseas School of Rome. Those teams, along with Baumholder, Bitburg, Marymount and Rota, will look to shake up the presumed Division II power structure.
Division III There are a few more losses and a lot less students involved, but in some ways, the Division III race between Brussels and Sigonella mirrors the parallel-universe struggle between SHAPE and Vicenza.
Like Division II, the top two contenders hail from Belgium and Italy, respectively. But the Brigands and Jaguars made their name not with undefeated seasons – in fact, neither team finished the regular season over .500 – but with notable upsets.
Brussels registered wins over the Division II likes of Alconbury and AFNORTH; Sigonella shocked larger neighbors Aviano and Naples.
Incirlik is probably the strongest candidate to disrupt that projected Brigand-Jaguar final. The mysterious Hodjas have played well in their Turkish circles and could mount a title run.
Twitter: @broomestripes
---
---
---
---