Perry gets revamped stadium, hopes for return to form
by
Dave Ornauer
March 22, 2018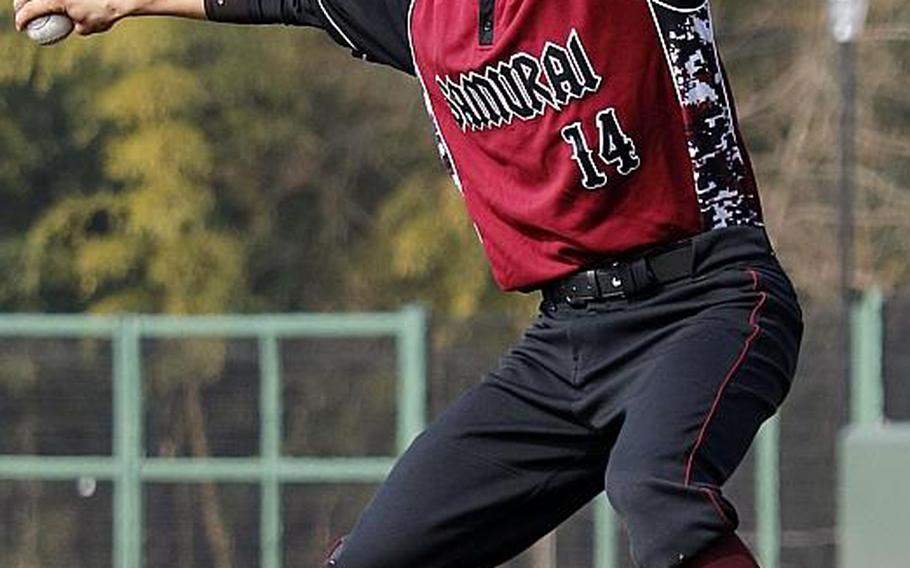 IWAKUNI, Japan – Samurai baseball has had a lot to get excited about in the last year.
If it's not about the first Far East Division II Tournament title in the program's history, it's the team's adopted home stadium in the Atago Sports Complex, some five minutes from Marine Corps Air Station Iwakuni's back gate, that's getting raves lately.
It's where Matthew C. Perry will play host this weekend to the team the Samurai vanquished 2-1 last May 17 for the D-II title, Yokota, and E.J. King, rebuilding handsomely after taking a one-year hiatus.
And to hear the Samurai and Panthers coaches talk about the Kizuna Stadium, which was dedicated in November with a friendship game featuring players from both teams, you'd think they were discussing the Taj Mahal.
"It's surreal, to believe a stadium like that is our home field," said Samurai coach Frank Macias. "Our kids are elated to be a part of that history. It's baseball Americana."
"That facility is phenomenal. State of the art," Panthers coach Steven Ferch said.
Macias compares Kizuna to Klein Field at Sunken Diamond, the home stadium for Stanford University in California.
The question will be whether the Samurai, whose roster has been riddled with injuries to key players such as senior Chad Schuch and junior Ethan Peterson, can measure up to their 15-1-2 season mark from last year.
So far, they're 3-4 this season, including two losses at Yokota the first weekend of March and a 7-5 defeat last weekend at Sasebo Naval Base to the Cobras – their first loss to King since 2014.
"We have a lot of young kids learning the game, making improvements, but it's a hard game to learn in three months," Macias said. "Yokota has so many pitchers, an experience advantage. It'll be a good test to see how much we've improved in a month."
"We're really fortunate; we have quite a few guys who can get on the mound and throw strikes (and) we have some hitters out there," Ferch said of players such as Sean Caffrey, Jack Winkler, Nick Yingling and Logan Ferch, his son.
"They're going to try to protect their turf," Ferch said of the Samurai. "They always seem to play us tough. They have tenacity. They don't give up. That's hard to teach."
As for the Cobras, they've lost six of nine games, but one of them was a 2-1 defeat to open the season at Iwakuni, and King opened the series last weekend at Sasebo with a 7-5 win over Perry.
Coach Joseph Schinker "is doing a great job of resurrecting that program," Macias said, adding that Schinker's son, freshman Leo, "is a one-man wrecking crew."
Elsewhere, Robert D. Edgren finally gets to play some games at home; baseball, soccer and softball welcome Zama this weekend.
Another busy locale is Daegu; it hosts Seoul Foreign and Seoul American in soccer and Seoul and Osan in baseball and softball.
For the first time this season, all three northwest Pacific districts host a track and field meet this weekend; Okinawa's quad meet Saturday at Kubasaki is the last preparation before the 14th Mike Petty Memorial Meet next Saturday, also at Kubasaki.
Twitter: @ornauer_stripes