Ex-Kinnick hoops star signs with Stony Brook
by
Dave Ornauer
Stars and Stripes
July 8, 2021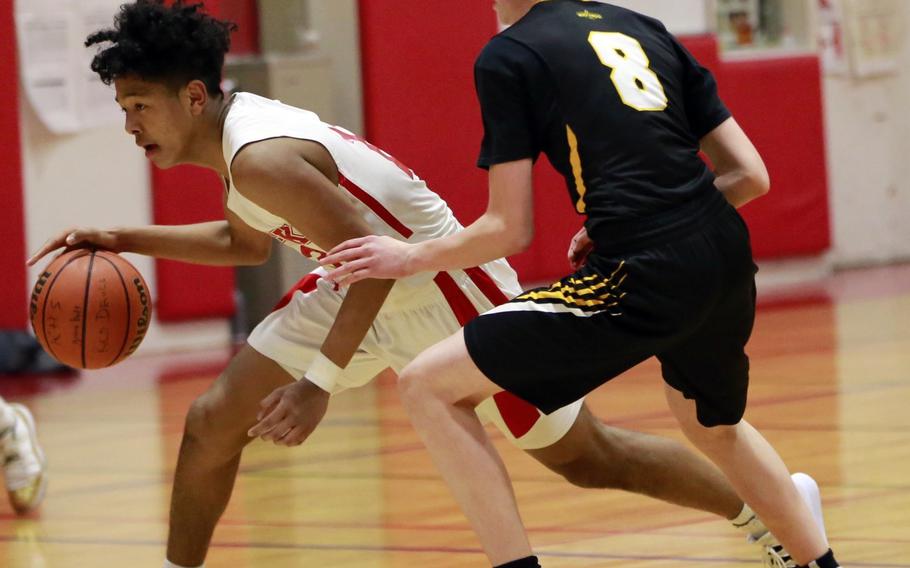 It was something of a circuitous route, but Kaine Roberts has achieved his dream of signing with a top-level college basketball team in the States.
The former Nile C. Kinnick star guard committed in April to Stony Brook, an American East Conference Division I program on Long Island's north shore, 65 miles east of Manhattan.
"Kaine is a dynamic playmaker who is a hard worker with tremendous character," Seawolves coach Geno Ford said in a release posted to Stony Brook's men's basketball website on April 15.
Roberts played for 2½ seasons for the Red Devils in Japan, helping Kinnick win the 2018 DODEA-Pacific Far East Division I Tournament title and second in 2019. He also matriculated with the Tokyo Samurai club program and earned a spot on an Asia-Pacific select squad that played against European teens in an All-Star event in Spain.
He transferred for his senior season to Santa Margarita Catholic High School in Southern California, but their season, too, was cut short, also due to the pandemic. Roberts returned to Japan, completed his senior academic year and graduated from Santa Margarita online.
While back in Japan, Roberts got an offer to try out for the Japanese second-tier professional Tokyo Earthfriends and he earned a spot on the team. To preserve his amateur status, he declined a salary or any benefits from the team.
Roberts' round-about route to Long Island has readied him for what's to follow at the college level, Ford said.
"His experiences playing both high-level high school ball … and this past season in the Pro B League in Japan, have prepared him to be a good player in our league," Ford said. "We are thrilled to get him here and start working."
In Roberts, the Seawolves are getting one of the best set shooters in recent years at Kinnick, his high school coach Robert Stovall said.
"Kaine trained harder than most of our players," Stovall said. "He took his natural skills and pushed them to the max. Kaine always has a smile on his face from his pure enjoyment of basketball."
The Seawolves went 9-14 overall and 7-9 in America East, losing in the league tournament 64-62 to Massachusetts-Lowell on Feb. 27 at Durham. N.H.