Zama hands Perry first loss to grab host rights
---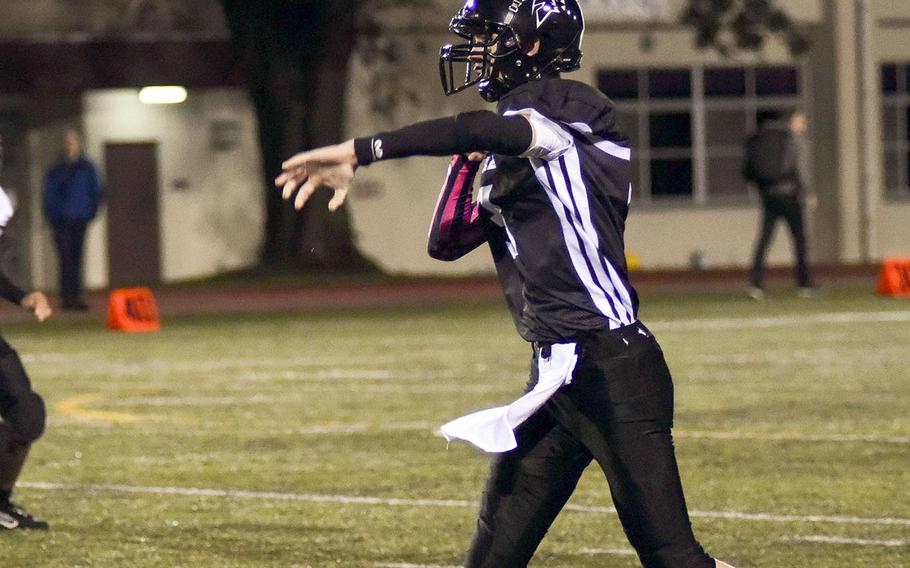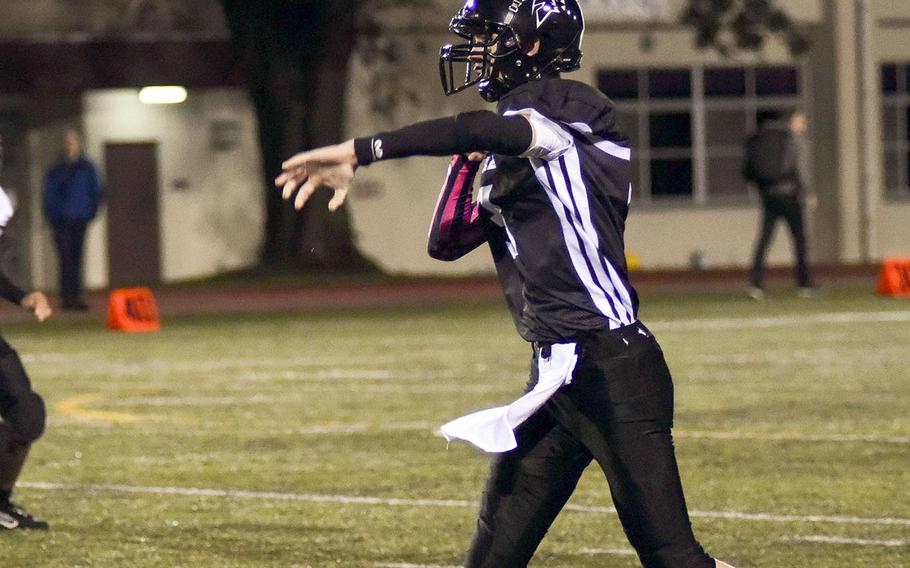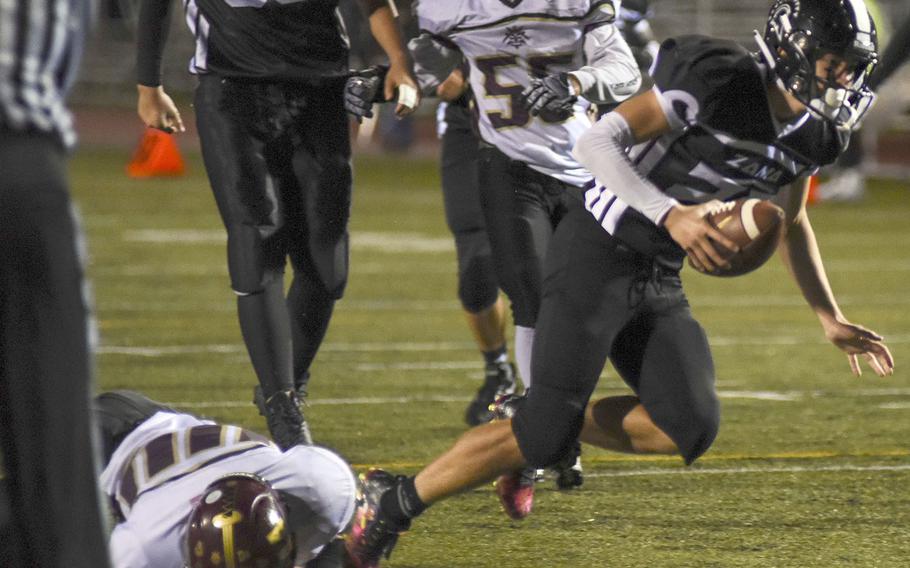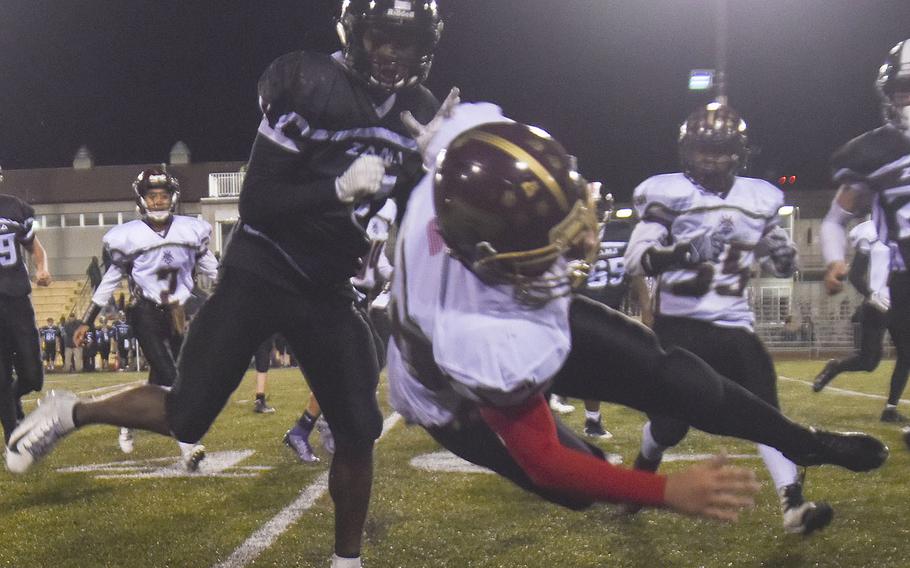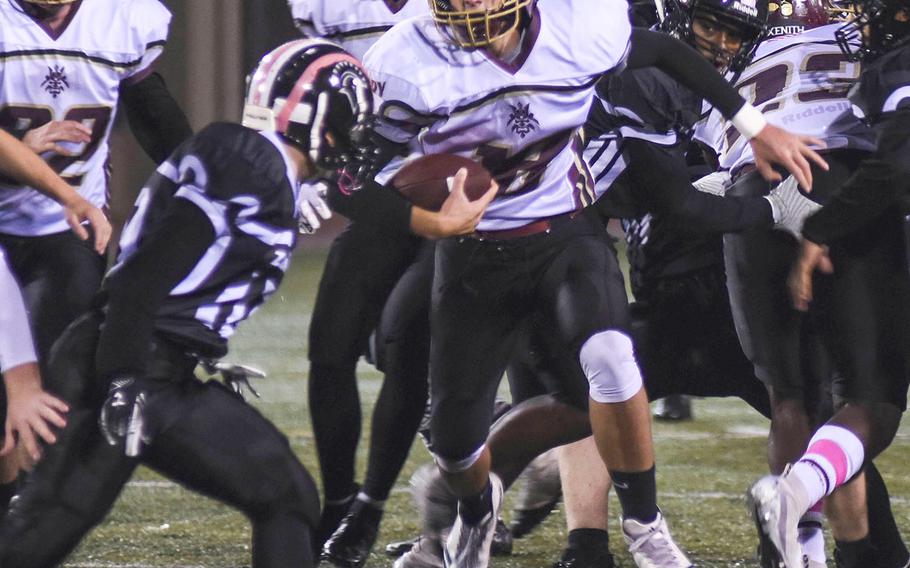 CAMP ZAMA, Japan – Brenden Jackson's legs and Tim Matelski's left arm provided enough of a difference Friday for Zama to earn host rights to the Far East Division II football final game for the second straight year.
Jackson, a freshman, broke free for touchdown runs of 40 and 60 yards, Matelski threw for TD passes of 20 yards to Chandler Platt, 25 to Keshawn McNeill and 12 to Luke Singer as the Trojans handed Matthew C. Perry its first loss of the season 36-14.
It was the first of two straight encounters for Zama and the Samurai and this one was all about the winner earning the right to host the Far East D-II final. Zama earned that right last season but lost 24-20 to Osan.
This time around, the Trojans will host Perry at 7 p.m. Nov. 8. But coach Scott Bolin said he realized his team was in for a battle Friday and will face another one in two weeks.
"That was our toughest game of the season," Bolin said. "(Perry) is a serious competitor. They are disciplined, hard-nosed team that will keep coming at you and won't stop. We had to play a full four quarters of football and do what we do to keep the margin out of reach. But they (Samurai) fought hard."
Perry fought hard for most of the game without senior running back Matthew Torrecillas, who separated his left shoulder in the second quarter leaving the Samurai without one of its potent rushing weapons.
Coach Frank Macias called the injury the game's turning point.
"Once he went down, it was hard to replace him," Macias said. "He's become such a big part of our inside-outside game."
Without Torrecillas, the Samurai turned to burly senior Marshall China, who led Perry with 120 yards on 30 carries, including touchdown runs in the second and third quarters. Torrecillas went out after gaining 30 yards on five attempts. Roy Clayton had 48 yards on nine carries.
Bolin said his team's hero was its defense. "We focused on neutralizing the players whom we knew would do the damage," Bolin said. "We wanted to make Perry dig deep into their playbook."
Macias said he and everybody else in the stadium on a rainy Friday knew that China would end up carrying the load and Zama would be keying on him.
"Not only are they (Trojans) talented with their skills guys, but they're tough up front. They have a complete team. But my boys played with heart. I'm proud of them."
Both coaches said the game was the most physical their teams had played this season and they don't expect the championship to be different.
"It's going to be a tall order to come back and play them in two weeks," Macias said.
"Coach Macias and his staff are excellent," Bolin said. "I expect them to coach them up and give us another fight."
---
---
---
---