Far East wrestling
Some repeat, but plenty of upsets as well
---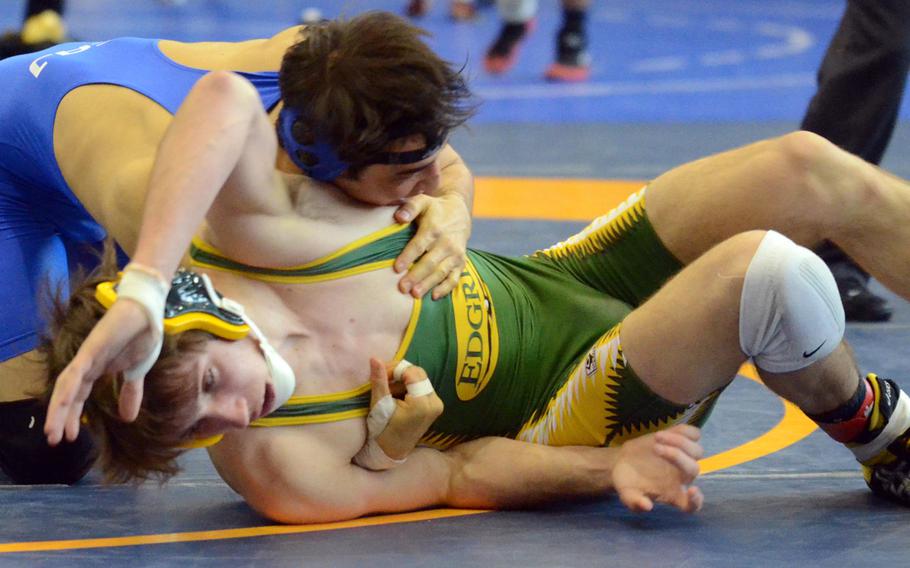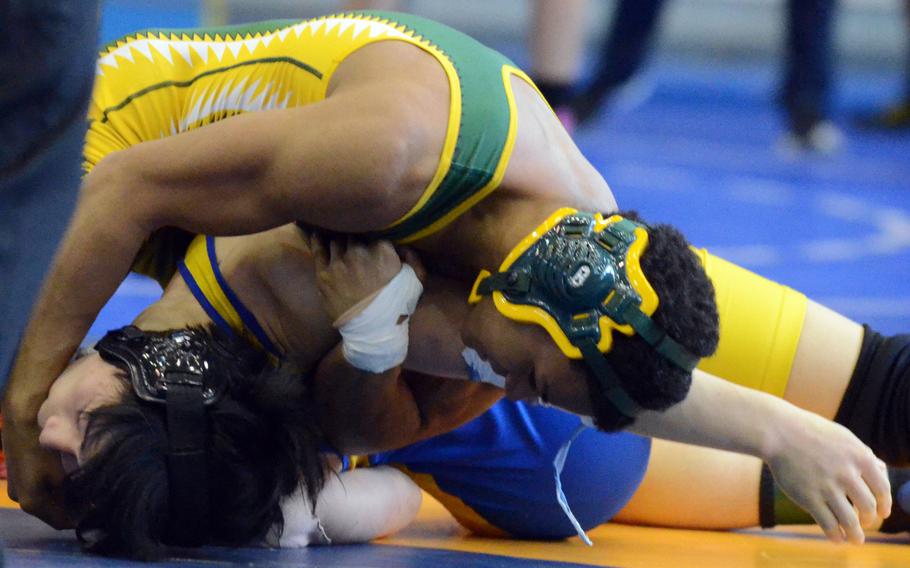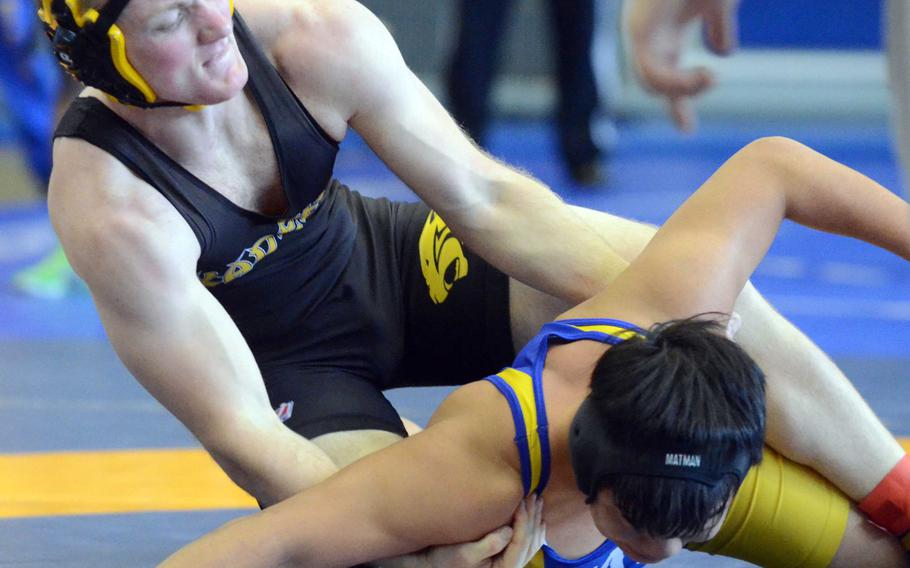 YOKOTA AIR BASE, Japan – Kaleb Atchison wrapped up an undefeated season with a Far East High School Wrestling Tournament gold medal Friday. But helping lead his Robert D. Edgren Eagles to the Division II individual freestyle team title made it more special, he said.
"It feels amazing," he said after pinning St. Mary's Kazuho Kawashima in 1 minute, 28 seconds in Friday's 141-pound championship final at Yokota High School's Capps Gym. "We worked hard all season. I'm happy, really happy."
It wasn't easy beating Kawashima, who seized an early six-point lead thanks to a handful of leg-lace tilts and he was one more away from clinching a technical fall when Atchison rallied into a chest press on Kawashima for the pin.
"Just spread my legs, waited it out until I could get back up," said Atchison, who improved to 16-0 with Saturday's dual-meet tournament to go. The Eagles won the D-II title, their fifth Far East banner overall, with 25 points, far outdistancing second-place Daegu, which had nine.
St. Mary's International won its third Division I team title in four years, outdistancing Nile C. Kinnick 90-81, with 2013 champion Kubasaki third with 80.
So, for the second straight year, there were new individual-freestyle team champions in both divisions.
While Atchison won his first Far East title, three other wrestlers were busy repeating their titles, including Austin Cyr of Kubasaki, who took his second straight at 148. Unlike his pitched regular-season battles with Kadena's Elijah Takushi, Cyr easily beat him by technical fall.
Studying film and videotape, Cyr said, revealed that Takushi favors shooting for the left leg. "I knew I had to keep my left leg back," he said, adding that when Takushi would shoot, Cyr would sprawl and "stuff" the shots. "I think I stuffed three or four of his shots."
Also retaining his title was Jeff Koo of St. Mary's International, who won his third Far East straight and first at 180. Christian Academy Japan's Eric Overton won his second straight at 129.
In an upset on the grandest scale, St. Mary's Ryan Vasconcellos, a returning champion, suffered his first career defeat in the 135-pound final against CAJ's Sam Johnson, a wrestler Vasconcellos had dominated. Johnson won by technical fall.
Among other first-time champions, Kadena's James Alexander could not have ended his career more perfectly after years of frustration. Tournament titles always seemed to be just out of reach, and he always seemed to be on the wrong end of big feats, such as getting thrown for five points by Micah Lopez in last year's "Rumble on the Rock."
But the 168-pound senior reached a Far East title bout and came out on the right end, beating St. Mary's Riku Osawa by technical fall.
"I finally went to the finals and won," said Alexander, who will wrestle next winter for the Merchant Marine Academy at Kings Point, N.Y. "Now, I'm going to wrestle in college," he said.
Seoul American's Jack Barnes had missed last season with an injury, but returned to go unbeaten in the DODDS Korea league and won the 215-pound Far East championship, pinning Kinnick's Ian O'Brien in 2:34.
"It means a lot to me," Barnes said. "Missing the season, not being able to wrestle, to go out like this, it feels good."
St. Mary's Chang Young Lee pinned Kadena's Tasi Duenas for the 101-pound title and Kentaro Hayashi downed CAJ's Seiki Miyamoto by technical fall at 115. Kubasaki's Christian Fernandez did likewise to Kadena's Nolynn Riley at heavyweight.
Kubasaki's Zach Tyler scored a technical fall over Seoul American's Aydan Huezo for the 108 title, while Tanner Stamper-Smith pinned Kinnick's Charles Gann at 158. Nate Abrenilla of Kinnick beat St. Mary's Ryo Osawa by technical fall at 122.
St. Mary's team championship featured a bit of Far East meet history. Shu Yabui had won three Far East titles from 2002-04; now in his first year at the Titans' helm, he became the first former champion to win a team title as a coach.
"It feels great," he said. "I coached my boys really, really hard this season to win as a team and we did. It feels awesome."
Kubasaki will also not defend its dual-meet tournament title, after losing in the semifinals 32-29 to Kinnick. The Red Devils will face St. Mary's, which beat CAJ 38-23 in the other semifinal.
Kinnick and the Titans face off at 9:30 a.m. Saturday for the title.
"I'm proud of some of our performances today, some of which we haven't seen much of this season, perhaps because we hadn't needed them," Kinnick coach Gary Wilson said. "The consensus on our team is, second place isn't good enough."
Edgren, a 59-19 semifinal winner over Humphreys, faces Osan, which beat Matthew C. Perry 50-14, in Saturday's Division II final at 8:30 a.m.
The dual-meet tournament was accelerated Friday due to the second severe winter storm to hit Yokota in six days. Forecasts call for as much as 12 inches Friday and Saturday.
With all facilities closed on Yokota except for the Samurai Café, the base opened the doors to the dining facility, and the DODDS Japan district had buses ferry wrestlers from the gym to the Samurai Café and then to billeting.
---
---
---
---