Kubasaki scores early, holds off Kinnick
By
Stars and Stripes
September 23, 2022
---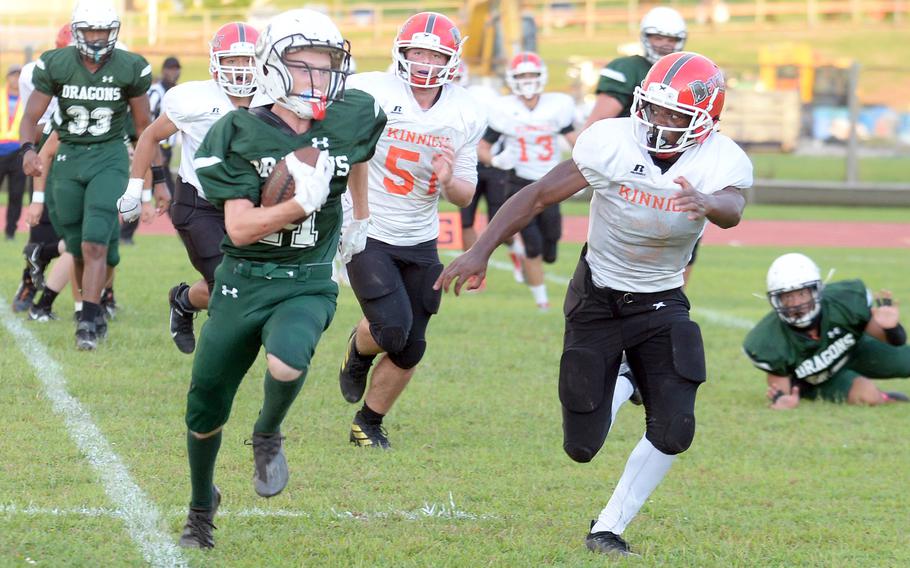 CAMP FOSTER, Okinawa – A.J. Millette provided the only points Kubasaki needed on its first possession. The Dragons' defense did the rest.
The senior quarterback sneaked over from the 1-yard line and David Allison booted the extra point 4 minutes, 12 seconds into the contest, and Kubasaki's bend-but-don't-break defense forced two fumbles and halted four Nile C. Kinnick drives into Dragon territory in a 7-0 win on homecoming Friday.
"The boys played great tonight," said coach Tony Alvarado, whose Dragons improved to 1-1 on the season. "It was a great win against a great program in Kinnick."
It was also a turnaround from the Dragons' first game this season, an 8-0 home loss to Kadena in which Kubasaki lost five turnovers, was held to 21 yards of offense and was penalized 12 times for 90 yards.
This time around, the Dragons turned the ball over just twice and racked up 186 yards of offense. But it was the defense that stood tall, Alvarado said.
"Kinnick always has speed on the field; we had just enough to hold them in place," Alvarado said.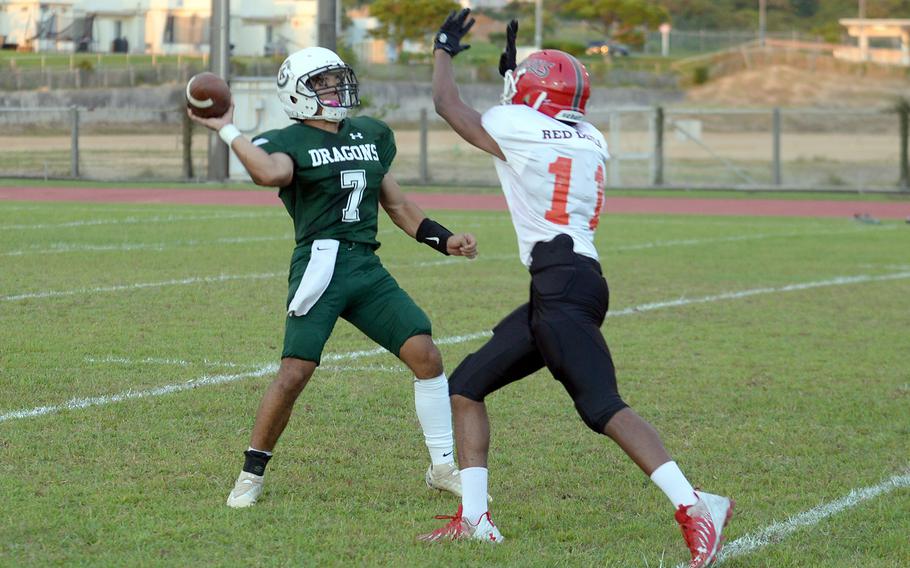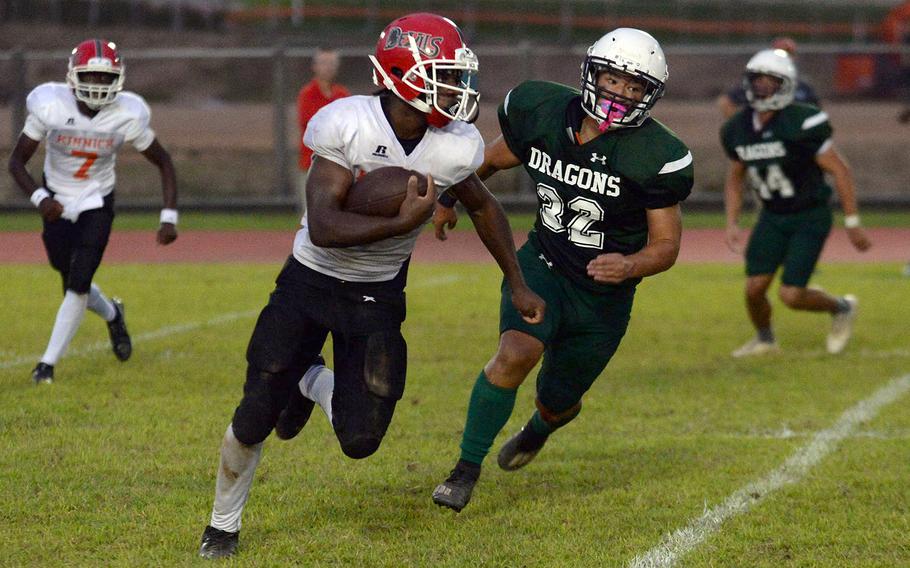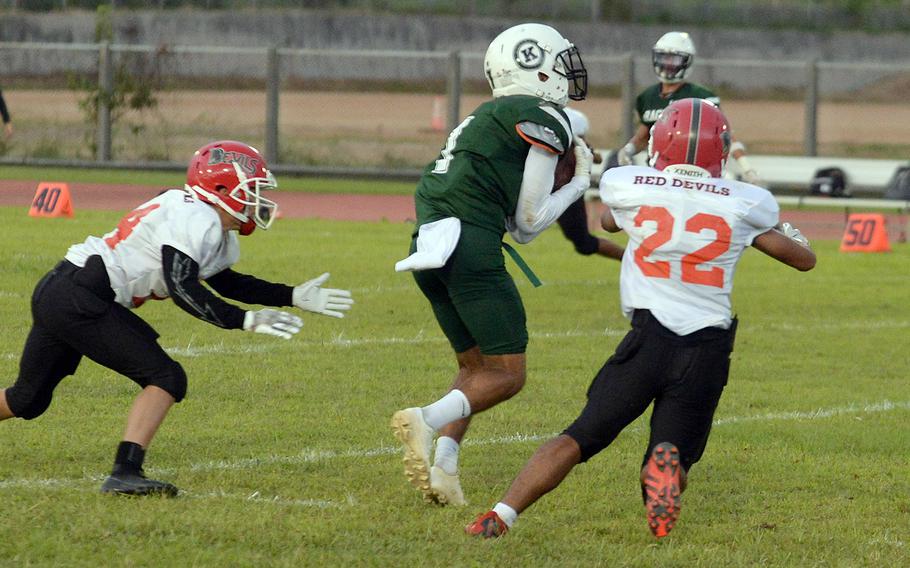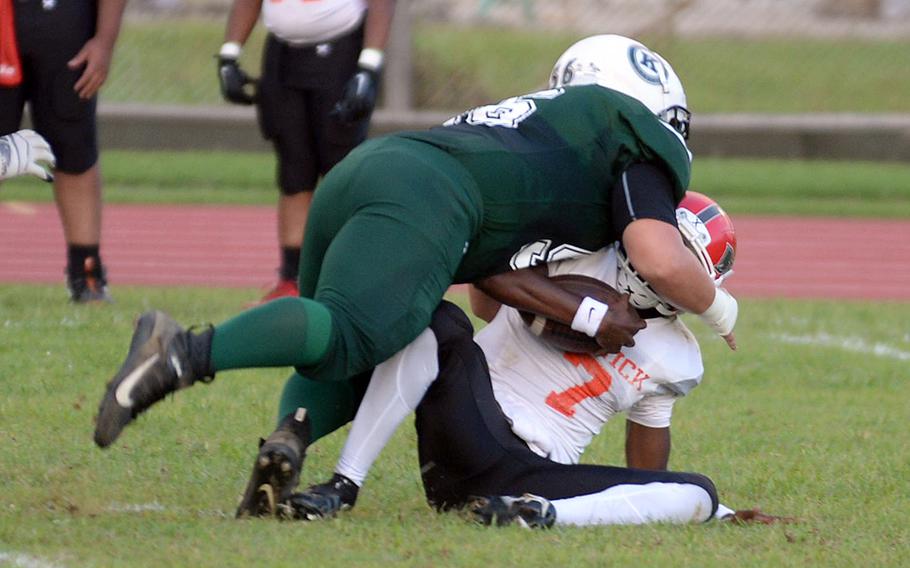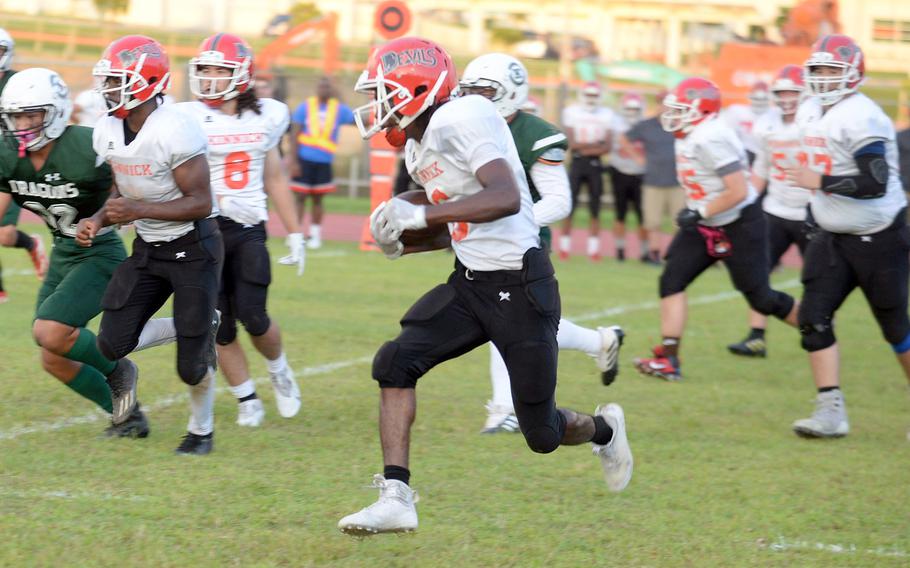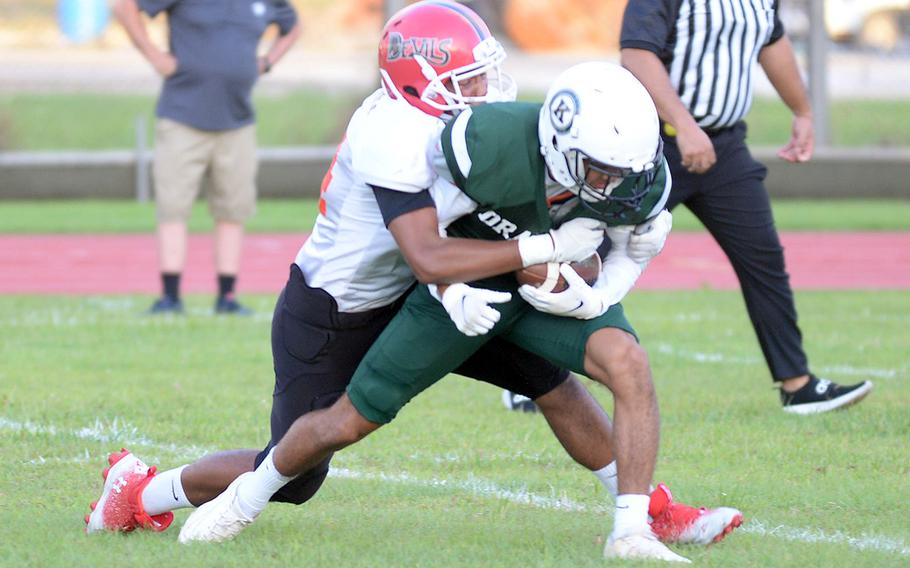 Junior Anthony Finegan led the way on defense, recovering a fumble and recording a quarterback sack. He credited the entire defensive unit for his and Kubasaki's success Friday.
"A couple of plays, it looked a little iffy, but we locked them down and put up a goose egg," said Finegan, a 5-foot-7, 255-pound lineman from Twentynine Palms, Calif. "Overall it was a team effort."
The teams last played each other on Sept. 13, 2019, also at Kubasaki, with the Red Devils prevailing 21-8. There was no 2020 season due to the coronavirus pandemic, and while there was a 2021 season, teams only played within district.
Friday's game continued Kinnick's frustrations on Okinawa; the week before, the Red Devils lost at Kadena 38-6 in a game in which Kinnick put the ball on the ground repeatedly.
The same occurred Friday; the Red Devils fumbled seven times and lost two of them. Kinnick drove into Kubasaki territory twice each in the first and second half, only to have the drives stall out, including one at the Dragons 8-yard line with 4 minutes left.
"The basic element of football is taking care of the ball," said coach Dan Joley, whose Red Devils fell to 1-2. "We work on ballhandling every day for 30 minutes in every practice. We just have to be better."
Millette was 9-for-15 for 101 yards, with Justin Murray catching six passes for 84 yards. Aiden Sablan paced the Dragons' ground game with 57 yards on 13 carries.
For Kinnick, Wendell Harrison rushed for 83 yards on 21 carries and Trey Bennett 63 yards on eight tries. The teams combined for 28 penalties for 191 yards.
Kubasaki visits Kadena next Friday; kickoff is at 6:30 p.m. Yokota travels to Kinnick next Friday for a 7 p.m. kickoff.
---
---
---
---