Kadena line, Wilson too much for Kinnick
Stars and Stripes
September 16, 2022
---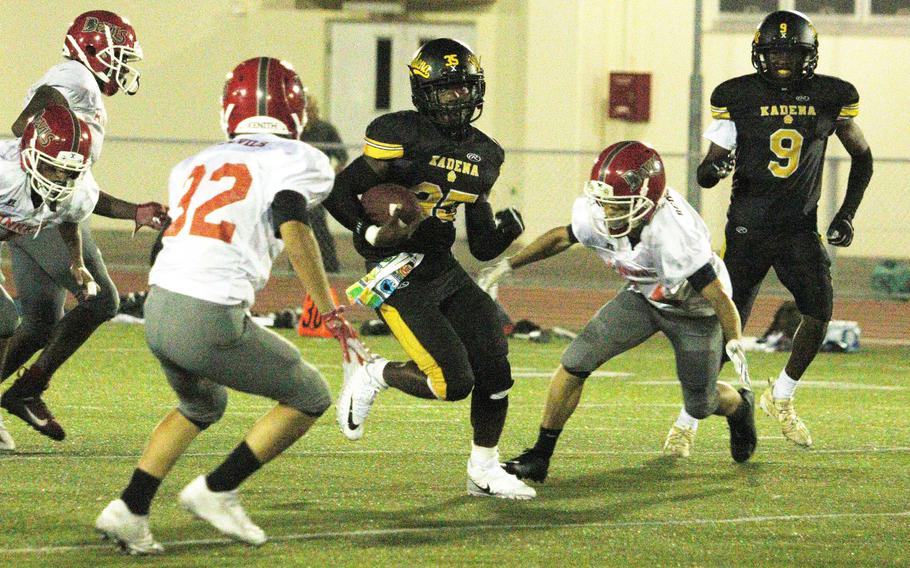 KADENA AIR BASE, Okinawa – Cameron Wilson missed most of Kadena's season-opening 8-0 win at Kubasaki with an ankle injury. On Friday, he played like he had a lot to make up for.
The sophomore quarterback rushed for two touchdowns and passed for another and the Panthers defense forced seven fumbles in a 38-6 triumph over Nile C. Kinnick in the first Division I inter-district game since the 2019 Far East final.
"It was a good first effort against an inter-district team," Panthers coach Sergio Mendoza said.
Wilson ran for touchdowns of 10 and 14 yards and found John Taylor from 50 yards out for his passing TD.
Anthony Chavez added a 2-yard touchdown run and Flint Barton fell on a fumble in the end zone for a score. The Panthers were also 4-for-5 on two-point conversions.
The Red Devils were simply beaten in the interior on both sides of the ball, coach Dan Joley said.
"We physically got beat on the line, up and down," Joley said. "We couldn't tackle, we put the ball on the ground. Not a good night."
Wendell Harrison scored Kinnick's lone points late in the first quarter on a 65-yard run.
Despite the victory, Mendoza said the Panthers have much to work on, and are hoping to make their line play even better than it was Friday.
"Every good team hinges its performance on a good line," Mendoza said. "We want to be more explosive, dynamic and aggressive off the ball. We're going back to work on Monday. We played a terrible game last week, we played a good game tonight and we can and will play a lot better."
Kadena has a bye this coming week, while Kinnick returns to Okinawa to play at Kubasaki next Friday; kickoff is at 6 p.m.
---
---
---
---