Kinnick, Kadena meet for first time in almost 3 years
By
Stars and Stripes
September 15, 2022
---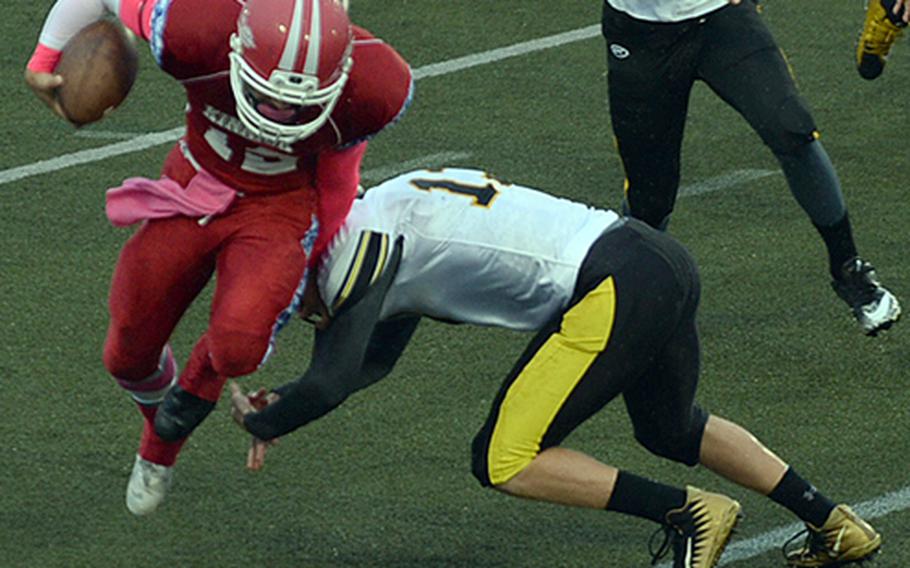 For the first time since the 2019 Far East Division I final, DODEA D-I teams from different districts will lace it up on the football field.
And it will be a battle between the last two Far East D-I champions. Nile C. Kinnick, champion in 2018, travels to Okinawa to take on 2019 champion Kadena in what has become one of the best Pacific rivalries.
"It's exciting to have D-I football back. It's exciting to play outside of (the Kanto Plain) for the first time in a couple of years," Red Devils coach Dan Joley said.
The Red Devils and Panthers played for the Far East D-I title in 2017 and, '18, Kadena winning the former and Kinnick the latter. Kadena won the 2019 D-I final 14-12 at home over Humphreys.
There was no football in 2020 due to the coronavirus pandemic. Football returned last season, but within district only.
"It feels like we're slowly climbing out of that COVID cave that we've been stuck in," Panthers coach Sergio Mendoza said. "It's nice to have somebody different to play. Kinnick has a good program and so does Humphreys, so I'm looking forward to having us all back in there."
The Kinnick-Kadena clash kicks off at 6:30 p.m. Friday. Each team will also be keeping an eye on the weather with Typhoon Nanmadol lurking a few hundred miles southeast of Okinawa.
Joley says he and his coaching staff have done their best to steel their charges for what might happen, showers, gusty winds and warm, humid weather typical of Okinawa in late summer.
"We're prepared," Joley said. "It's going to be warm, it might be windy, it might be rainy; we've given the kids all the variables, but it's about taking care of business and growing as a football team."
It's also a short travel window for Kinnick, which arrives on Okinawa at 2 p.m. Friday, plays 4½ hours later, then flies out at noon Saturday.
"For the kids, it's a business trip together, spend a few hours together, playing a high-level football game," Joley said.
The Panthers, Mendoza said, have practiced in wet conditions this week to prepare for such a contest. "That's when you get down to old gridiron football, playing it in the elements," he said.
Each team has a win under its belt, Kinnick 28-0 last Saturday at American School In Japan and Kadena 8-0 at Kubasaki last Friday.
Elsewhere on the gridiron, Yokota plays its home opener Friday against Matthew C. Perry at 6 p.m., while Zama plays the second of its home-and-home series at Robert D. Edgren at 7 p.m. Friday.
In Korea, Daegu, Humphreys and Osan play their first full weekend of tennis, volleyball and cross country in the Korean-American Interscholastic Activities Conference since the fall of 2019.
The COVID-19 pandemic forced the DODEA-Korea teams to play only each other the last two school years.
---
---
---
---