Kadena has just enough to edge Kubasaki
By
Stars and Stripes
September 9, 2022
---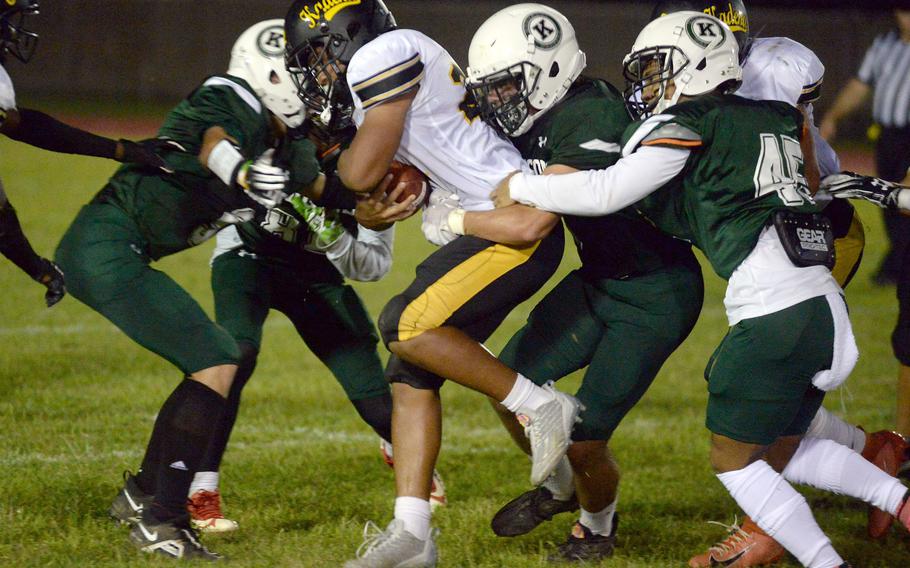 CAMP FOSTER, Okinawa – Anthony Chavez came up big for Kadena just when the Panthers needed it the most.
The senior running back-strong safety scored the game's only touchdown two minutes into the second quarter and intercepted a pass two plays later, helping the Panthers outlast Kubasaki in a defensive, turnover- and penalty-filled struggle 8-0 Friday at Mike Petty Stadium.
"He's been showing a lot of what we need with so few seniors on the roster," coach Sergio Mendoza said of Chavez, a 5-foot-11, 150-pound string bean from Riverside, Calif.
"He may not be the biggest player on the team, but he has the biggest heart, which has always been a tradition with Kadena football, players with big heart."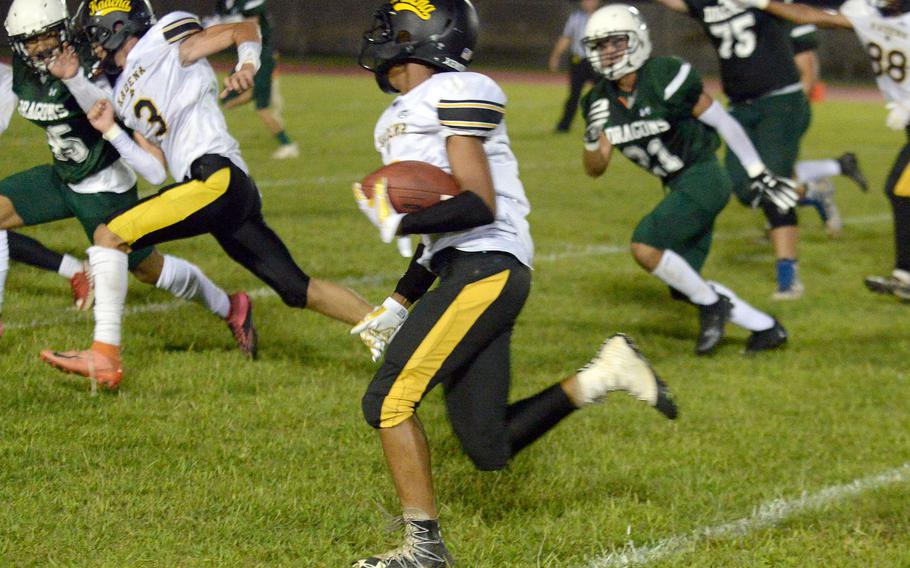 In the season opener for both teams, Kadena and Kubasaki combined for just 159 offensive yards, seven turnovers and 28 penalties for 215 yards. Of those penalties, 17 were eight for false starts or illegal offensive formations.
It was the third straight win for the Panthers over the Dragons, something Kubasaki coach Tony Alvarado said he hopes his charges can overcome in the coming weeks.
"When our guys go up against a big rival like Kadena, we get inside our own heads and we make mistakes," Alvarado said. "One step forward and two steps back and we have to get out of that."
Both teams lost their starting quarterbacks, Kadena losing sophomore Cameron Wilson in the early going with a leg injury and Kubasaki senior A.J. Millette departed in the fourth quarter with a concussion.
Kadena backup Braxton Reece threw an 18-yard pass to Javonte Vickers for a two-point conversion after the Panthers had been penalized for unsportsmanlike conduct following Chavez's touchdown.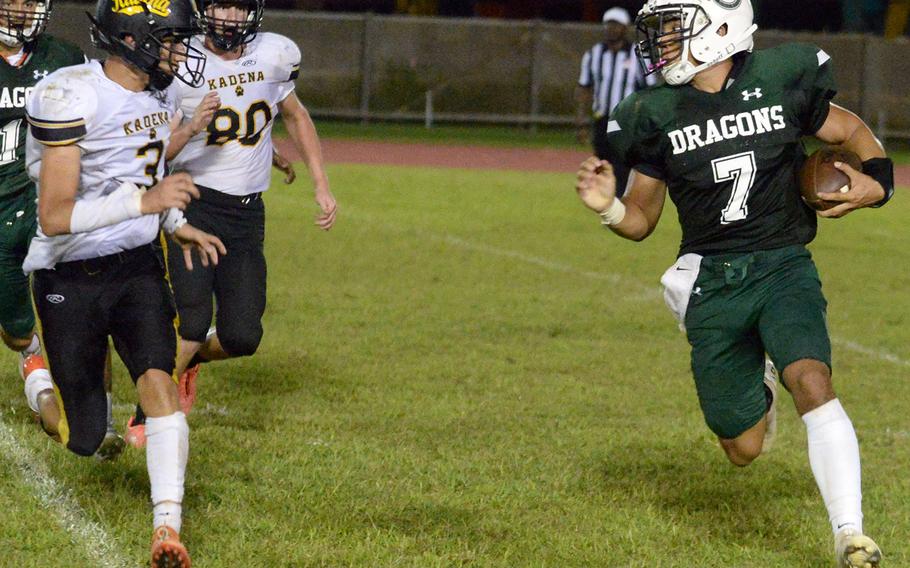 "Our second quarterback stepped in and did a fine job," Mendoza said of Reece. "We'll rally around our players and keep working hard."
The Dragons have next week off, while the Panthers host Nile C. Kinnick in the first scheduled DODEA-Pacific inter-district Division I game since the 2019 Far East D-I championship game.
---
---
---
---