Pujol says he's coached his last game at Yokota
By
Stars and Stripes
June 7, 2022
---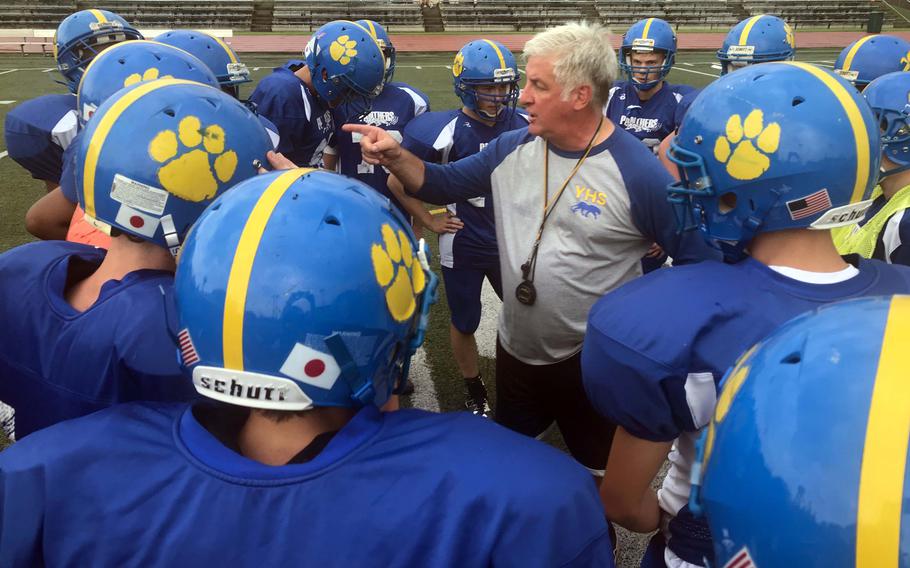 For the first time this millennium, there will be a new face at the helm of one of the winningest DODEA-Pacific high school football programs.
Tim Pujol, who has coached Yokota since the 1999 season, is stepping aside after a 23-year stint that saw him become the dean of Pacific coaches along with the record holder for victories by a DODEA-Pacific coach.
"I turned 60 this year and I've slowed down a little bit," Pujol said, adding that he and his wife of 18 years, Rieko, have been talking about it for the last year and a half.
Aside from the physical part, roaming the sidelines once a week and two hours on the practice field each day, "there's also a lot of mental and emotional energy that goes into it," he said. "It seems like the right time. By the end of last season, I was sure this was it."
His legacy is an enviable one: In his 23 years at Yokota's helm, he went 149-54, a .734 winning percentage, with 15 DODEA-Japan league titles, 14 Kanto Plain Association of secondary Schools crowns, five DODEA-Japan Rising Sun Bowl titles and two Far East Division I crowns.
Pujol, of Dallas, has been teaching and coaching in the DODEA-Pacific system since arriving at Daegu, in South Korea, in the middle of the 1993-94 school year. He coached Daegu's senior youth team before transferring to Yokota in summer 1999.
There, he inherited a Panthers football program already rich in tradition, but one that had fallen on hard times, going 1-17 in 1997 and '98.
Pujol met initially with two holdover players, Chris Packer and DaWaughn Washington, in the gym office in August 1999.
"They told me, 'We're not very good, we'll start losing some games and players will stop coming to practice, a lot of people are just concerned with themselves and playing time, the attitude is pretty bad,'" Pujol recalled.
"Well, we're going to see what we can do about that," Pujol replied.
Six weeks later at Misawa, the Panthers beat Robert D. Edgren 22-13, a game that ensured they would go to the inaugural Rising Sun Bowl on Okinawa. "Chris was standing next to me with tears flowing down his cheeks; that said it all," Pujol said.
They lost that initial Rising Sun Bowl 19-14 to the Kubasaki Samurai, but from there built a run of 55 straight wins on the field and five straight Rising Sun Bowls.
Two of those wins were later turned into forfeits after a records check revealed a player was too old to be eligible.
Having strong running backs has always a Panthers strong suit under Pujol: Jo-Jo Anthony and Kris Cyrus in 1999, Darren Taylor in 2000-01, Chamberlain in 2002, Roy and Chris Roach in 2003-04 and the "Killer Bs," Donovan Ball, Raymond Butler, Morgan Breazell in 2011-12.
But his most successful teams, in the early 2000s and the Far East D-I title teams of 2011-12, had one common thread: Line play, Pujol said. He had been a line coach at Richardson High School in Dallas.
"That's where I learned that it's line play that makes all the difference," he said. "Especially the offensive line, being able to move the ball" and the opposing defense down field.
Having the same five linemen, Jesse Hogan, Max Lester, Victor Madaris, Jake Jackson and Dylan Kessler, starting from 2010-12 spelled peak success for the Panthers. They won back-to-back Far East D-I finals in 2011 and 2012.
In the years that followed, Yokota became a Division II school when enrollment dropped below 300 and the league and Far East titles ceased. But whether a winning team or losing team, players said Pujol taught them more than just football.
"He taught us how to become better men and better in anything that we do, whether it was related to sports or not," said Connor Rowan, Class of 2021 and the son of former sumo grand champion Akebono. "He has this aura about him that's just full of positivity."
"The most important thing I learned from him is, if you are going to do anything in sports or life in general, always approach it with an optimistic attitude, regardless of the hand you are dealt," said Caiveon Thomas, Class of 2007.
With Pujol's departure, Sergio Mendoza of Kadena, with a 79-19 record in 16 seasons and a Pacific-record seven D-I titles, assumes the mantle of dean of Pacific coaches.
"He has always been the best of us," Mendoza said of Pujol. "He knows how to win the hearts of young men. They play their hearts out for him. I think this is because he's authentic and has a genuine care for the young men who have played for him."
One of the men replacing Pujol, Michael Woodworth, has a tie to one of Pujol's mentors in Dallas. Woodworth's stepfather, Grant Byers, was Pujol's head coach at Richardson. Woodworth will be assisted by Rudy Oliveira.
"He's laid the foundation for the way forward," Woodworth said. "His coaching style and philosophy has been engrained in me."
"Don't think we aren't going to ask for help," Oliveira said.
---
---
---
---