High school standouts set sights on college game in fall
By
Stars and Stripes
May 13, 2022
---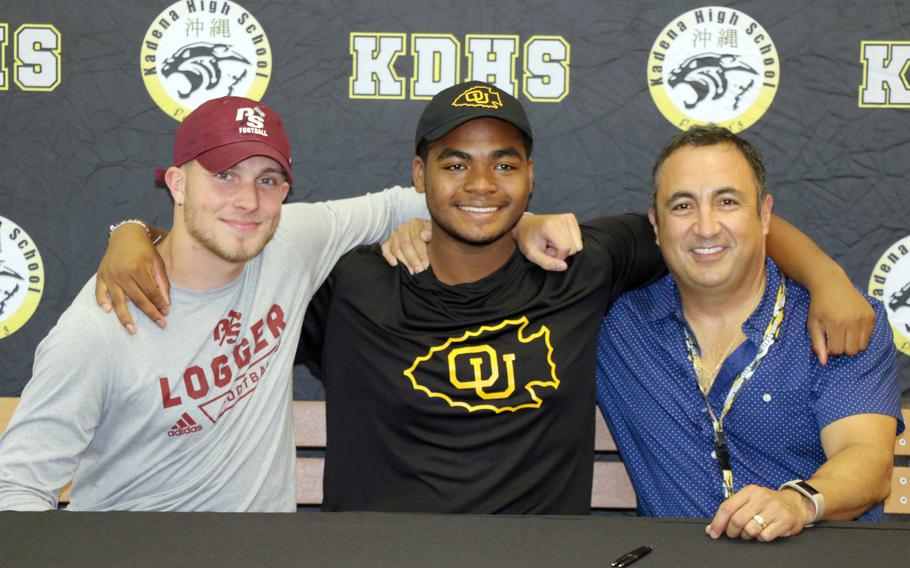 KADENA AIR BASE, Okinawa - It's difficult enough to launch a football career when your apprenticeship was at a DODEA school overseas.
It's even tougher when a whole season – 2020 - was wiped out by the coronavirus pandemic and COVID protocols limited the next season to just four games.
Trent Fowler and James Wright overcame that and have signed paperwork committing them to play college football in the fall.
Fowler, a running back/defensive back, has signed with NCAA Division III University of Puget Sound, near Seattle. Wright, an offensive/defensive lineman, has committed to NAIA Ottawa of Kansas. The two signed their paperwork during a ceremony following school on May 2.
A four-year member of the Panther program, Fowler saw playing time as a freshmen, but broke an ankle during the first game of the 2019 season, his sophomore year, then lost his junior year to the pandemic.
"It was pretty difficult, but Puget Sound took a chance on me," said Fowler, who rushed 88 times for 461 yards in those four games of his senior season, an average of 5.24 yards per carry.
Wright was fortunate in that he completed his sophomore year, 2019, when the Panthers edged Humphreys 14-12 for the DODEA-Pacific Far East Division I football title.
"But I didn't get enough film from my sophomore year," said Wright, a situation compounded by such limited action the next two years. "They're (Ottawa) also taking a chance on me."
Fowler, originally from Las Vegas, was given a partial financial grant-in-aid at Puget Sound and says he plans to study kinesiology. Wright, originally from Tokyo but a longtime Okinawa resident, also earned a partial scholarship and says he wants to major in business administration.
Overcoming all that helped Kadena to its latest achievement as a program. The Panthers hold the DODEA-Pacific high mark of seven Far East D-I titles and 12 total appearances, and have sent several players to the college ranks, including Siulagisipai Fuimaono, who became the first Panther to commit to a NCAA D-I program, Cal-Berkeley of the Pacific-12 Conference.
Like those who committed to college ball before them, "these guys (Fowler and Wright) are emblematic of the type of person we want to develop here at Kadena," said coach Sergio Mendoza, in his 16th year at the Panthers' helm.
Mendoza spent time the last few months writing to the coaching staffs at each university, acknowledging that the brand of football in the Pacific isn't at the same level as the States.
"I wrote that they have to keep in mind they're overseas," Mendoza said. "But these are high-level high-school football players who are getting the opportunity to show what we have. It shows that we're doing something really good out here."
Dedicating oneself to the team and program, plus upholding their lot as students and community citizens, can eventually lead to that higher level, Fowler and Wright said.
"It can be done," Wright added. "With hard work, dedication, if you have the mindset that you'll make it, you can get there."
Puget Sound competes in the D-III Northwest Conference. The Loggers went 1-9 overall and 1-6 in conference during the 2021 season.
Ottawa is a member of the NAIA Kansas Collegiate Athletic Conference. The Braves went 4-6 in conference and 5-6 overall in the 2021 season.
Others from the Pacific have moved on to the next level collegiately in recent months, in football and basketball:
-- Griffin Armstrong, a 2020 Osan graduate, became the Cougars' first alumnus to sign at an NCAA D-I program; he's a long snapper at Louisiana Tech of Conference USA.
-- Quintin Metcalf, a former three-time Far East basketball tournament MVP out of Seoul American and Humphreys in Korea, initially signed at St. Bonaventure but withdrew before the Bonnies' first game. The Seoul native is playing for Pratt Community College in Kansas. The Beavers are in the Kansas Jayhawk Community College Conference. They went 15-17 overall in 2021-22. Metcalf averaged 7.1 points and 6.8 rebounds in 30 games during his freshman campaign.
-- Speaking of Metcalfs, Quintin's younger brother, Collin, has signed to play for Northeastern, a member of the Colonial Athletic Association. Metcalf, named All-Far East D-I in 2019 when Humphreys won the D-I title, departed Humphreys after the 2019-20 school year when his family transferred away. Metcalf played his senior year at Mercersburg Academy in Pennsylvania before committing to Northeastern. "We're extremely excited to welcome him to our program," Huskies coach Bill Coen said by email Thursday. The Huskies went 9-22 overall and 2-16 in the CAA last season.
-- Another former DODEA-Pacific and Mercersburg product, Chris Watson, has committed to NCAA D-III Juniata College of Huntingdon, Pa. Watson played his first two high school seasons at Nile C. Kinnick, helping them to a runner-up Far East D-I finish in 2019 and the D-I title in 2018. Watson finished his high school years at Mercersburg. Juniata's Eagles compete in the Landmark Conference and were 16-12 overall and 8-6 in conference. "We are very excited to have him," Eagles coach Greg Curley said by email.
---
---
---
---