Multiple winners lead Kinnick, Yokota to Far East track titles
By
Stars and Stripes
May 5, 2022
---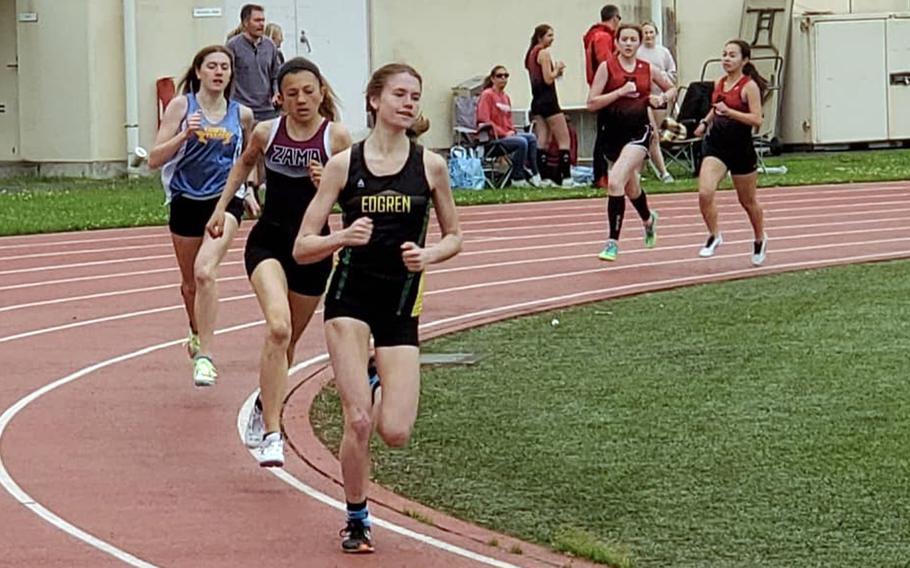 For Nile C. Kinnick's track and field team, overcoming limitations and obstacles is a rite of passage, coach Luke Voth says.
The Red Devils don't have a track. They ran on Yokosuka Naval Base sidewalks. They don't have throw, jump or hurdle areas, so they simulated those events in a dirt pit and a patch of grass near campus. They only practiced a few times at a Japanese track off base.
Yet, the Red Devils prevailed in the Division I boys, girls and overall team standings at the DODEA-Pacific Far East virtual meet, led by a cadre of multiple winners in all disciplines.
"Two of our four guiding principles are fortitude and enterprising spirit," Voth said. "I think our team did a good job of exemplifying those qualities and finding a way to make it work despite the limitations."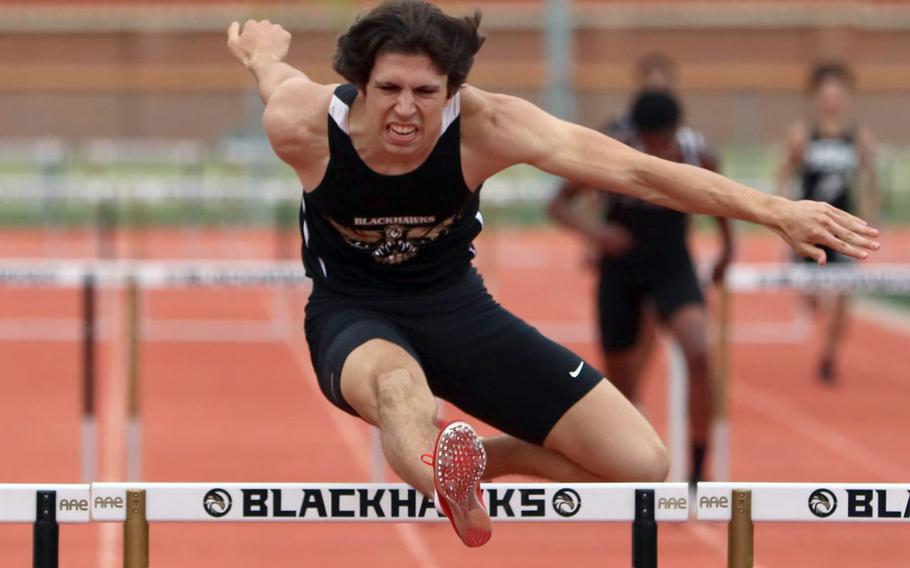 Led by junior sprinter Jeremiah Hines, senior distance runner Austin Shinzato and senior hurdler Samantha Crisci, the Red Devils overwhelmed the Division I field, outscoring 2019 champion Humphreys 246-149. Kinnick's boys edged Kadena 98-90 and the girls beat Kubasaki 148-81.
On the Division II side, Yokota got balanced performance from senior throwers Kai Harbert and Nick Sales, sophomore sprinter-hurdler Trinity Stegall, junior jumper-sprinter Tate Rannow and senior distance runner Macarius Bryant to outpoint defending champion Zama 292-260½.
"We had a well-rounded team," Panthers coach Dan Galvin said. "We were competing in every event. Only 10 girls, but they all scored points for us."
The Far East meet was run virtually for the second straight year due to the coronavirus pandemic and its resulting travel restrictions, with results submitted to DODEA-Pacific's area office. Official results were announced Tuesday.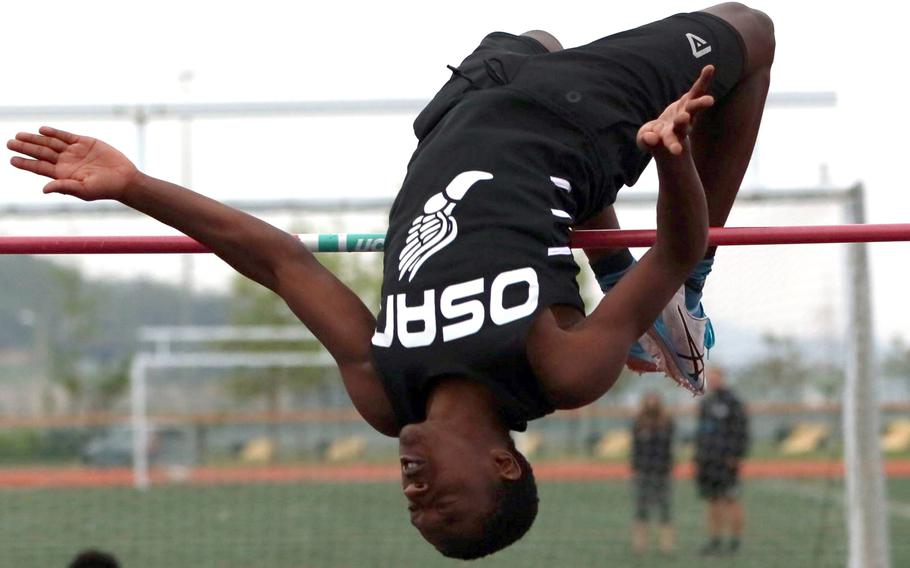 Shinzato swept the 800, 1,600 and 3,200 for the second straight year, while Hines won the 100 and 200 and came in second in the 400, earning the meet's fastest male athlete distinction. Crisci captured the 100 and 300 hurdles and the 400.
"Austin, Jeremiah and Sam had fantastic meets," Voth said, crediting his assistant coaches, especially longtime assistant Tony San Nicolas for the "knowledge, leadership and continuity he brings to our team."
Humphreys stayed in the boys D-I hunt thanks to Isaac Robinson sweeping the hurdles and Ethan Elliott posting runaway victories in the shot put and discus. And Elliott said he thinks the best is yet to come in his senior year.
"Being that I had no formal training and was self-taught this season, I feel I did well," said Elliott, who put the shot 13.59 meters and threw the discus 40.34. He says he's aiming for 17 and 50 next season. "When I'm asked if I'm satisfied, no. There's always more work to be done."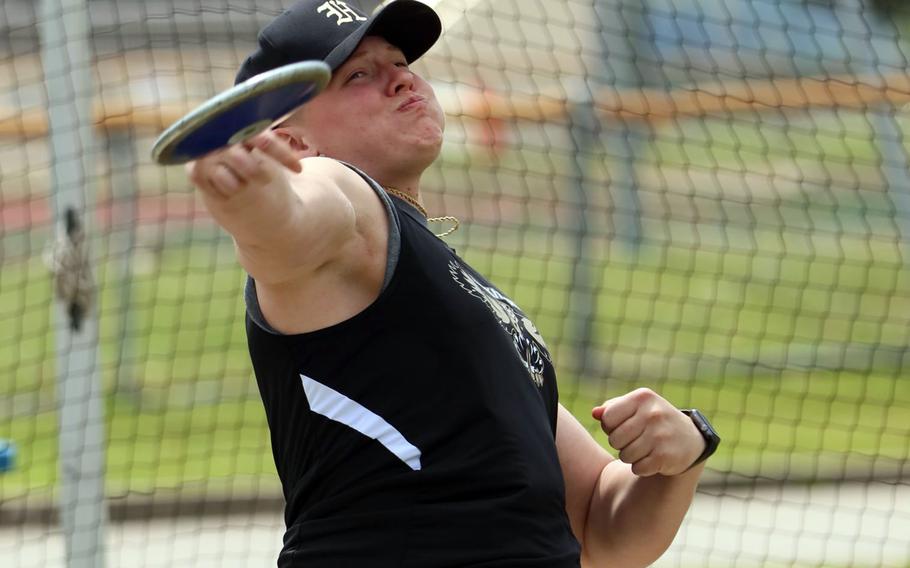 Defending D-I school champion Kadena got a jump sweep from Troy O'Connor, who captured the long jump and triple jump. Kubasaki's Natalia Sanchez swept the 100 and 200, claiming the title of D-I's fastest female athlete.
D-I team relays became a pitched battle between Kinnick and Humphreys. The Red Devils won the girls 1,600, 3,200 and sprint medley and the boys 3,200, while the Blackhawks took the boys 400, 1,600 and sprint medley and the girls 400.
Yokota's boys nearly ran the D-II relay table, taking the 400, 1,600 and sprint medley; Perry won the boys 3,200. Edgren took the girls 400 and 1,600 relays and Zama the 3,200 and sprint medley.
Division II's fastest male athlete honors went to Daegu's Michael Jones in sweeping the 100 and 200. Zama's Madison Anderson repeated as fastest female athlete, winning the 100 and 200; she almost won the 400 as well, taking second to former Far East cross country champion Aiko Galvin of Yokota.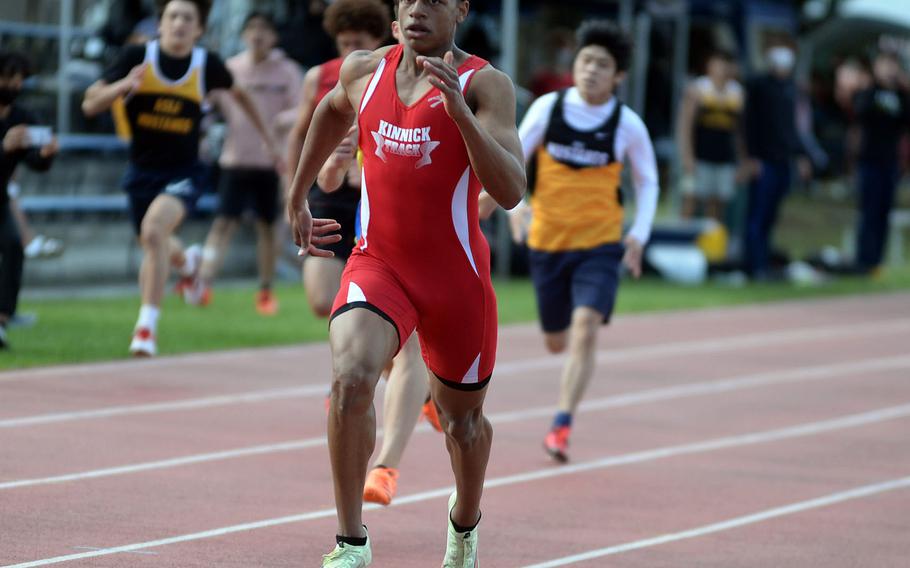 Reigning Far East cross country champion Morgan Erler, a Robert D. Edgren senior, swept the 800, 1,600 and 3,200, outdistancing her chief rival this season, Zama's Liliana Fennessey. "Morgan dominated the distance races," Eagles coach Timothy Schwehr said.
Rannow demonstrated diversity, Galvin said, in capturing the D-II long jump, triple jump and 800.
"Tate's an athlete," Galvin said. "It was hard to decide what events to put him in. He can probably throw well, too. Maybe someday, he'll be a decathlete."
Among newcomers, Adrian Perry, an Osan sophomore, set a school record in winning the D-II and overall high jump with a leap of 1.83. Edgren freshman Elizabeth Johnson did the same in the girls, jumping 1.40.
Other multiple winners were Daegu's Sanaree Evans in the D-II shot put and discus, Zama's Gabriel Escalera in the D-II boys hurdles and Yokota's Bryant in the D-II 1,600 and 3,200.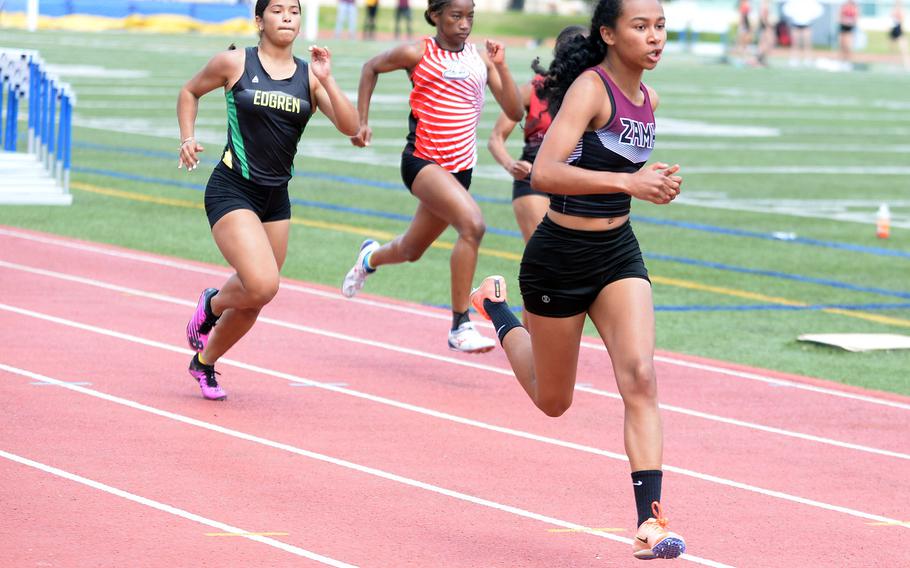 ---
---
---
---