Cougars cap perfect season with championship
By
Stars and Stripes
April 29, 2022
---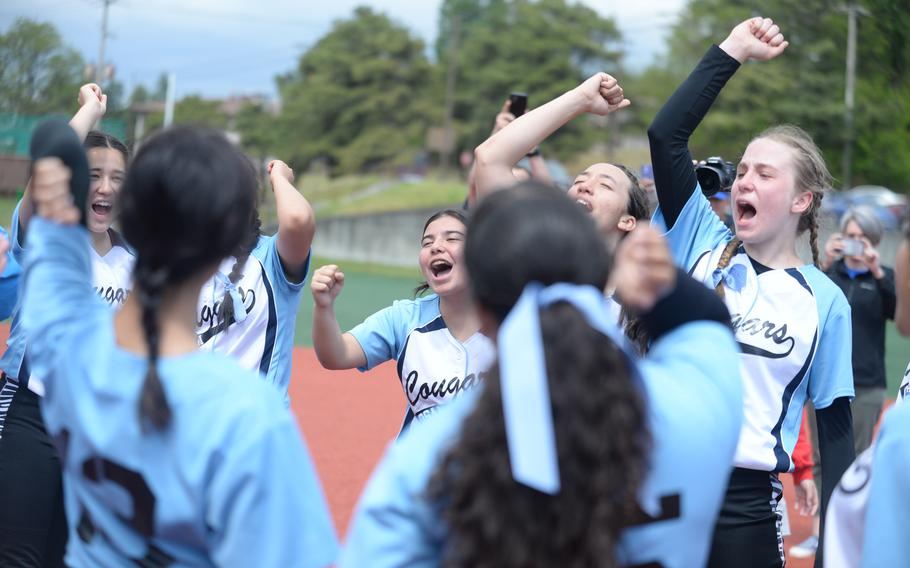 OSAN AIR BASE, South Korea – Osan's softball team got its biggest batting contributions from its sixth, seventh and eighth batters to help cap an unbeaten season and the DODEA-Korea district title.
Caroline Kesler, Arianna Bedard and Ava Perez each drove in two runs, Anne Mountcastle struck out eight in a four-inning complete game and the Cougars scored six times in the second inning to dethrone Daegu 14-5 in Friday's championship game.
The win capped the Cougars' rise after a 2-3 season a year ago to a 2022 campaign in which they ran the table and outscored their foes 100-27, scoring in double digits in six of seven games and only allowing more than 10 runs once.
"This is a two-season effort," said Cougars coach Laura Mountcastle. "They worked really hard. This program has held its own. We hold them accountable for everything, schoolwork, getting to practice on time and they hold themselves accountable."
The win also capped an unbeaten season on the mound for the younger Mountcastle, who went 6-0 and struck out 50 batters in 25 innings. But she credited her teammates for helping carry the Cougars to the regular-season and district titles.
"I was confident in my team and their abilities," she said. "I knew we could do it if we came out working hard."
Daegu (2-5) returned to the championship game it won a year ago 9-6 over Humphreys despite having nine freshmen, most of whom had never played before, and a pitcher, Nia Bell, whom coach Joy Sims said was self-taught. Osan, too, had five freshmen who were new to the game.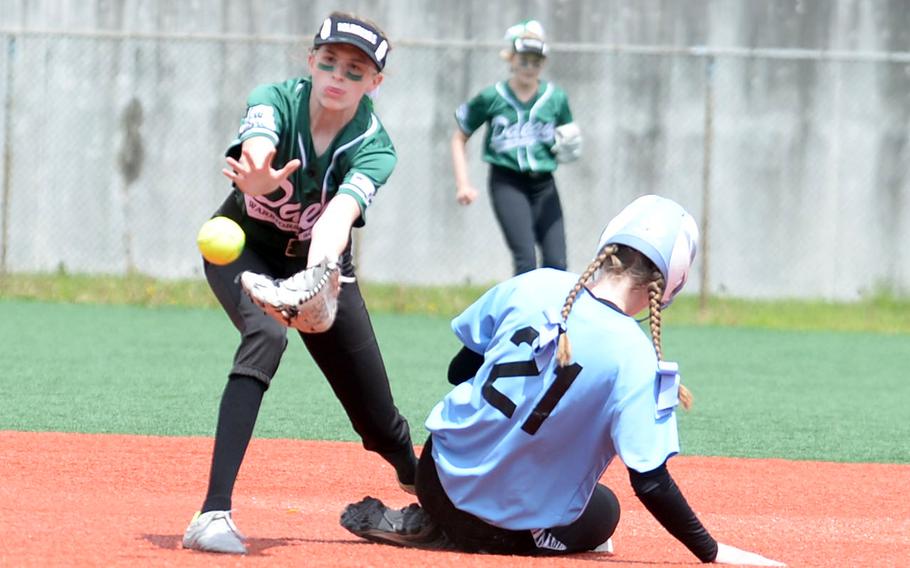 "Every game this season, we improved and today was their best-looking game the whole season," Sims said, adding she felt the score didn't indicate how the Warriors played. "They did a phenomenal job."
The Warriors broke on the board first without the benefit of a hit. Janessa Blue reached first on a dropped third strike, stole second and scored on a fielder's choice groundout.
Osan answered with three in the first, again without the benefit of a hit. Mountcastle scored on an error, Thalia Cowden came in on a wild pitch and Perez was hit by a pitch, driving in Hanna Rutland from third to put the Cougars ahead to stay.
The Cougars broke it open with six in the second inning. Mountcastle, Edmunds and Aaliyah Aguon each scored on wild pitches, Kesler walked with the bases full and Bedard's fielder's choice groundout plated two more runs.
In the third, Osan scored four more times. Kesler and Perez each drove in runs with fielder's choice grounders, Mountcastle again scored on a wild pitch and Edmunds came in on Thalia Cowden's infield RBI single.
The Cougars took advantage of 17 walks and seven wild pitches en route to victory. Mountcastle scored four times and had three stolen bases, as did Edmunds. Hazel Bell led Daegu with two hits in three at bats.
---
---
---
---