Daegu girls looking for happier season ender
By
Stars and Stripes
April 28, 2022
---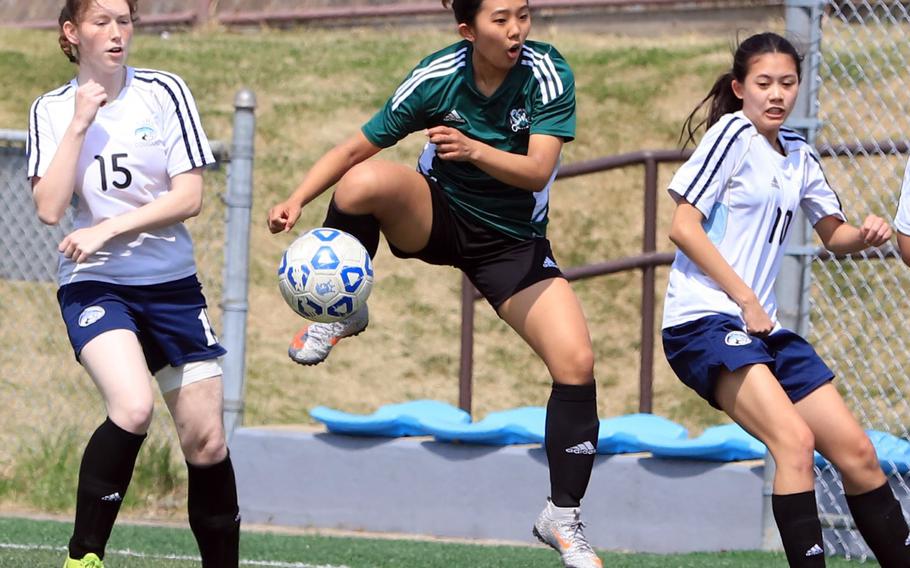 OSAN AIR BASE, South Korea – If there's one central theme to Daegu's girls soccer team this weekend, it's "unfinished business."
For the second straight season, the Warriors captured the DODEA-Korea regular-season title. Last season, though, Daegu came up short in the post-season final match, falling 2-0 to Humphreys.
"They all remember," coach Austin King said of his Warriors charges, eight of whom played in that fateful match of almost a year ago.
At 11 a.m. Saturday, the Warriors are scheduled to host regular-season runner-up Osan with the tournament championship on the line. Daegu went 4-1-1 in the regular season, followed by the Cougars (1-2-3).
"It will be a little different" facing Osan instead of Humphreys in the final, "but we definitely want to finish what we start," King said.
Saturday's girls soccer match is one of four finals scheduled this weekend to wrap up the DODEA-Korea spring season. Three take place at Osan: boys soccer at 11 a.m. Saturday, following softball and baseball at noon and 2:30 p.m. Friday.
King credits experience for Daegu's regular-season success. Some of his players experienced a one-win season three years ago as freshmen but have grown exponentially since.
"We have a veteran team, the scoring spread among three or four players and a lot of experienced leadership," King said. Jaela Sahagun leads Daegu with six goals and Summer Brennan has five.
The same holds for Humphreys' baseball team, which earned top seed for its DODEA-Korea championship game against Osan. Coach Steven Elliott cites his own veteran core of seniors Deacon Hahn, Justin Thomas, Brandon Borrelli and Levi Ramos who comprise a "pretty solid infield."
"All leaders, all key players," Elliott said, adding that much of the credit goes to their work during the offseason.
"These kids saw what it took last year, and on their own, they were putting in extra work when nobody was looking and it translated to the regular season," Elliott said. "These guys click. They're a bunch of brothers on the field and that's how they play."
Also this weekend, E.J. King hosts Matthew C. Perry in soccer, softball and baseball to conclude the DODEA-Japan slate.
Kubasaki's baseball team visits Kadena in the DODEA-Okinawa season finale, with the season series tied 9-9. The Dragons soccer teams travel to Kadena to play the Panthers in their season-finale matches.
And track and field teams throughout the Pacific either have or are conducting their competitions for the Far East virtual meet.
Humphreys hosted Osan and Daegu in Korea's portion, Perry hosted King, Kadena visited Kubasaki and Robert D. Edgren, Zama and Nile C. Kinnick traveled to Yokota for their portion. Official results are to be announced by DODEA-Pacific early next week.
---
---
---
---