DODEA-Japan crowns its best in four sports
By
Stars and Stripes
April 23, 2022
---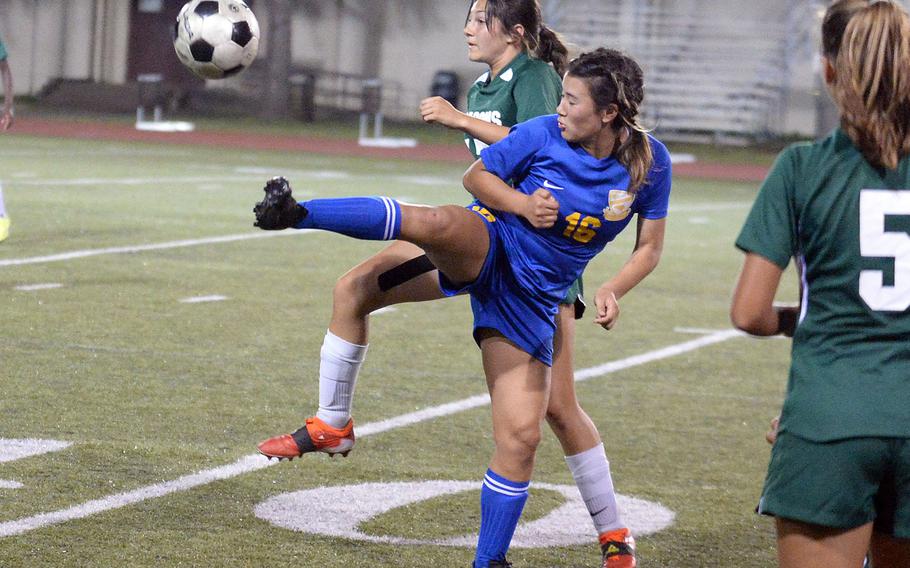 CAMP ZAMA, Japan – She stands just 5-foot-2, but Erica Samluk was one of a handful of diminutive players who stood tall for Kubasaki's girls soccer team in this weekend's All-DODEA-Japan tournament.
The sophomore was pressed into goalkeeping duty when starter Annabelle Alvarado departed in the opening minutes of Saturday's semifinals with a head injury.
Samluk responded by backstopping the Dragons to a 5-2 overtime semifinal win over Nile C. Kinnick, then a 4-1 victory over Yokota in the championship match.
"A little. Not really," Samluk said when asked if she was nervous about her assignment, adding that she kept telling herself it was no different from the matches the Dragons play regularly on Okinawa against Kadena. "I just needed to feel like it was like that."
The Dragons were one of three Okinawa-based teams to win championships in the weekend's soccer, baseball and softball tournaments held at three different bases in Japan.
Kadena needed to win two final games to take the softball tournament title and accomplished that mission, downing Kubasaki 17-7 and 13-6. The Dragons baseball team needed just one finals win and got it, 9-3 over Kadena.
The only tournament title that went to a non-Okinawa team was boys soccer, which Nile C. Kinnick won by blanking Kubasaki 3-0.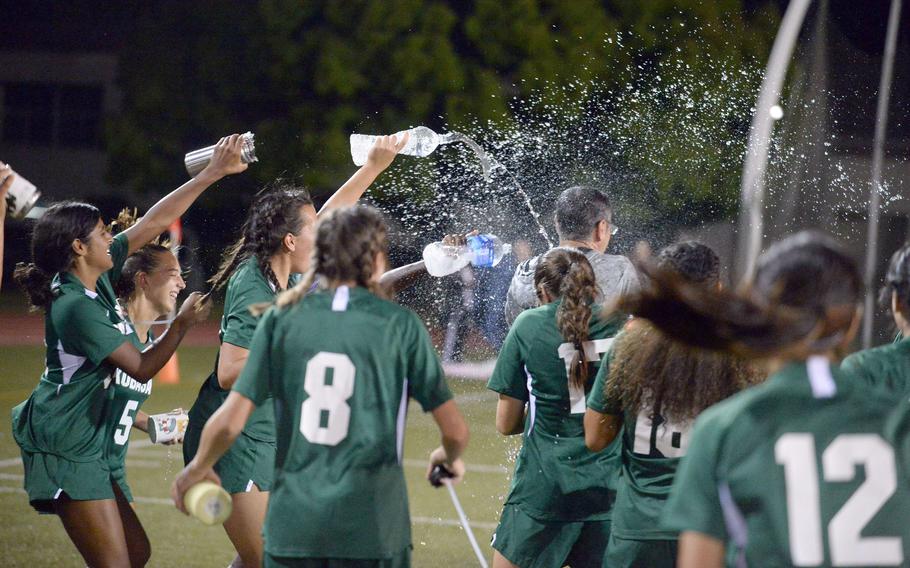 Girls soccer
Coach Chris Eastman credited the efforts of both Samluk and Alvarado and the Dragons' defense in helping to win the title.
"The back line was fantastic, to not allow too many opportunities" for other teams to score, "and when those came, she (Samluk) was there. And Annabelle was there before her. We couldn't have done it without them," Eastman said.
Freshman Solares Solano scored the first of her two goals 26 minutes into the match off a feed from Becca Chandler. The 1-0 lead stood through the first half.
Senior Viola Wray, another small Dragons player at 5-3, popped a shot over Yokota keeper Devyn Martin off a pass from 5-1 freshman midfielder Syra Soto to make it 2-0 in the 40th minute. An own goal a few minutes later gave the Dragons a 3-0 lead.
The Panthers got back in it on a Kaci McBrayer goal off a Keiya Carlson corner kick. But seconds later, Solano slammed the door with a goal off a crossing pass from Amelie Rodriguez.
Boys soccer
Kinnick also sparkled defensively, allowing just one goal in six matches (a penalty kick by Owen Taylor of Yokota) in outscoring its opponents 46-1.
Senior Kou Nishiyama scored twice for the Red Devils, his 19th and 20th of the season, and Yuta Raqueno got his 13th for Kinnick, which improved to 20-0-1 on the season. They've not lost since the 2019 DODEA-Japan tournament final.
"Our defenders, our goalkeeper, our strikers, our midfielders, they contribute every day," Red Devils coach Tim Rippeth said. "They come to work and put it on the field every day. They work hard and they love each other."
Right off the bat in the first five minutes of Saturday's final, Kubasaki sweeper Peyton Passage was red carded and the Dragons had to play a man down the rest of the match. Still, the Dragons remained within a goal until the last five minutes of the match.
"It's tough to play down a man for 70 minutes," Dragons coach Tony Washington said. "But we have a young team and we'll be back."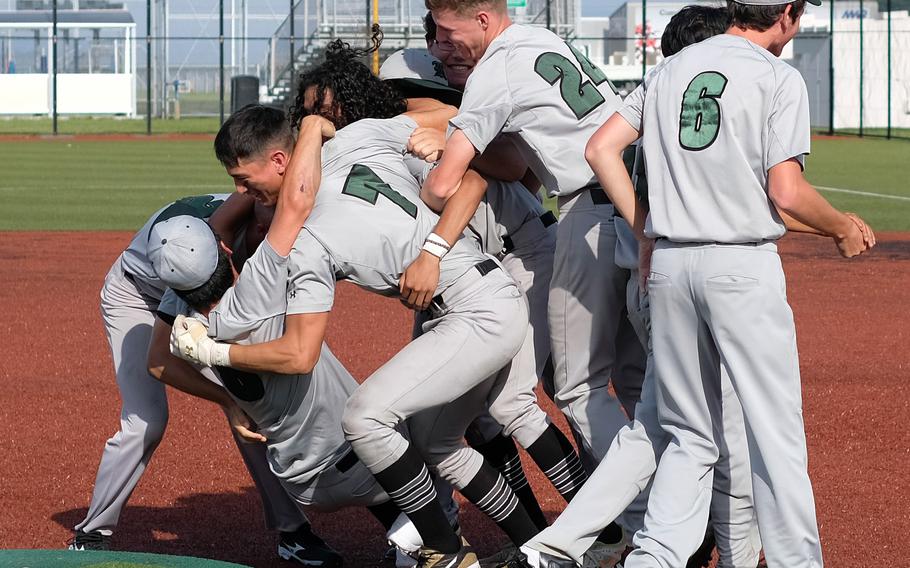 Baseball
Nick Adams went the distance for the Dragons, scattering seven hits while not walking anybody and striking out two Panthers. Julian Hall and Jeff Owens drove in two runs each and combined for three stolen bases for the Dragons, who burst in front 4-0 in the first inning and were never headed.
"It's really special," first-year Dragons coach Nicholas Welch said of the championship. "These guys have worked really hard all season. Everybody contributed."
Jeremiah Sprague took the loss for Kadena, allowing five earned runs and nine hits with three wild pitches and three hit batsmen. Kai Olszewski and Wyatt Boerigter each went 2-for-3 and Austin Gagnon 2-for-2 for the Panthers.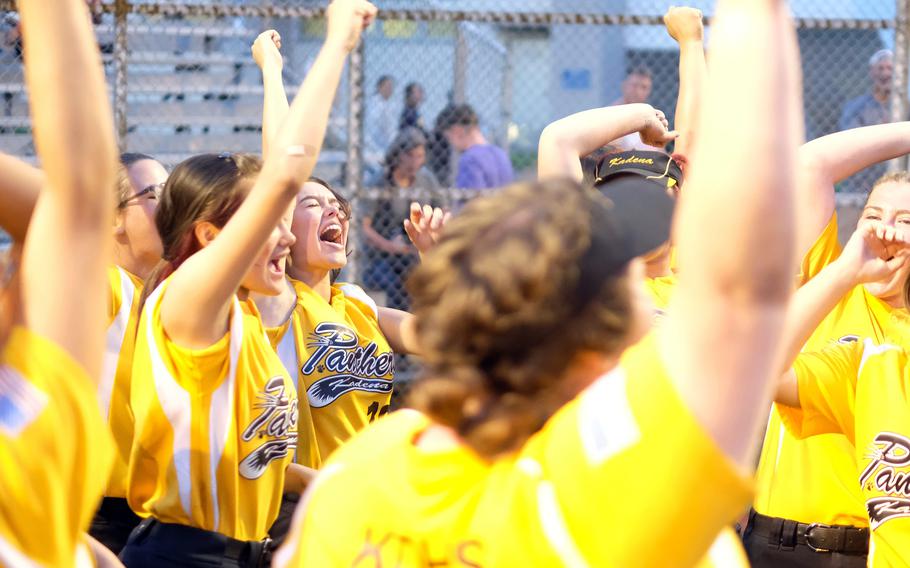 Softball
Faced with having to win four games in one day to reach the title summit, the Panthers did exactly that, including taking the last three games back-to-back-to-back.
Freshman right-hander Julia Petruff got banged around for 27 hits in the two games, but got the wins and helped herself by batting 5-for-9 with a home run, four RBIs and four stolen bases. Morgan Sayers went 5-for-7 with two triples and two doubles and five RBIs in the two games.
"We just hung in there with Julia, and Morgan hit the heck out of the ball, all those doubles and triples. She was on fire at the plate," first-year Panthers coach David Weiland said.
Kadena used a 10-run sixth inning to put away the first game and a nine-run third in the second game. Landry Murray took the loss in the first final and Taryn Lockhart in the second.
Former Stars and Stripes reporter James Kimber contributed to this report.
---
---
---
---