Dozens crowned best in Japan, now look to virtual Far East
By
Stars and Stripes
April 17, 2022
---
YOKOTA AIR BASE, Japan – Sometimes the start of a sprint race can be just as important as the end.
Jeremiah Hines got a reminder of that when he nearly stumbled out of the blocks at the start of the 100-meter dash during Saturday's DODEA-Japan track and field finals at Yokota's Bonk Field.
But the Nile C. Kinnick junior recovered, stayed astride Christian Academy Japan's John Sakaguchi and edged him at race's end, 11.31 to 11.39 seconds.
"He made that last meter work," Red Devils coach Luke Voth said of Hines, who went on to sweep the three short-distance sprints, including the 200 and 400, and helped lead Kinnick to the boys team title.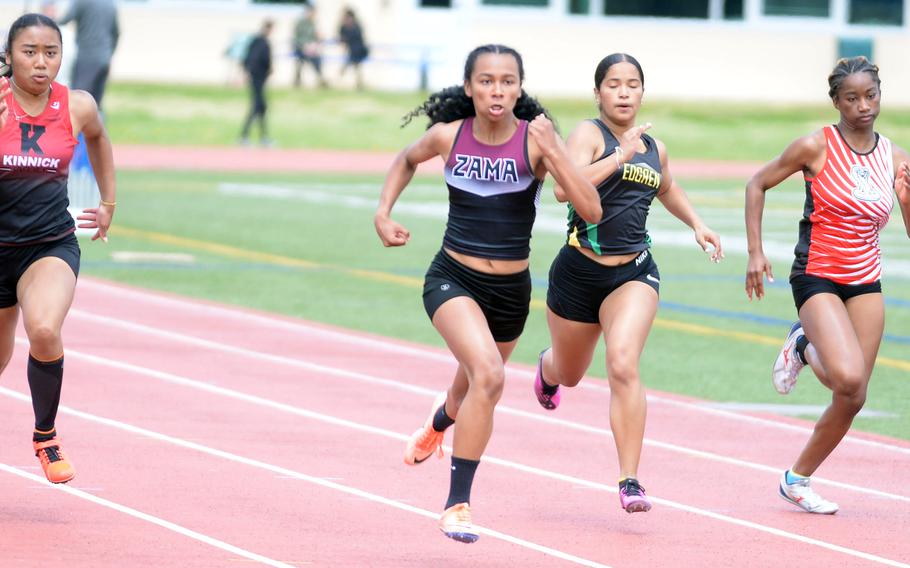 On the girls' side, sophomore Madison Anderson left little to chance, beating Robert D. Edgren's Elizabeth Johnson in the 100 by nearly a half-second and topping Yokota's Trinity Stegall by 1.4 seconds in the 200. The Trojans won the girls title by 15 points over Kinnick.
All told, 328 athletes from 11 schools competed for about six hours on a chilly Saturday that began cloudy, but ended with sunny skies and a fairly strong tailwind on the track's sprint side.
Hines said he was using a set of blocks that he wasn't familiar with, and nearly fell at race's beginning. "That messed me up at the start," Hines said, adding that the start can mean everything. "Very much so, especially when you're taller like me."
His 11.31 time was .08 off his season best. Hines said he felt he "could have done way better," and still has the Pacific record of 10.77 seconds in his sights.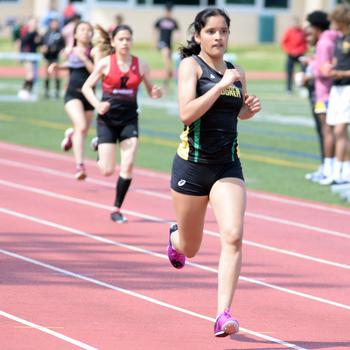 "That's exactly what I'm after," he said. "With more hard work, more dedication, I think I can do it."
Later, Hines outdistanced Sakaguchi 22.68-23.71 in the 200, then left nothing to question in the 400, outrunning Edgren's David Blake 51.92-54.88, though he pulled up a bit at the end, saying his hamstrings "tightened up a lot" at the finish.
"I never ran a 400 that hard in my life," Hines said. "I personally don't like the 400, but I did it for the team."
The stumble out of the blocks most likely motivated Hines the rest of the meet, Voth said. "He took care of business. I may have a new Jabari," Voth said of Jabari Johnson, a sprinter he coached at Kinnick in the late 2010s who used to hold the Pacific 100 and 200 records.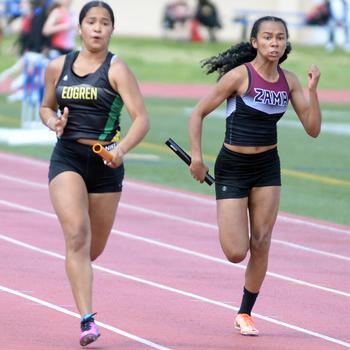 Anderson said before her races that she was hoping to break 13 seconds in the 100 and 27 in the 200. Sporting her usual grimace in the stretch runs, she did just that, clocking 12.98 in the 100 and 26.59 in the 200.
She said the best is yet to come. "I'm hoping to improve and lose a second each year, so in my senior year, I'm hoping to run 25s (in the 200) and 12s and 11s (in the 100)," Anderson said.
Among the closer finishes in Saturday's meet was the boys 300 hurdles, in which Kinnick's Angelo Dulce and Zama's Gabriel Escalera matched each other hurdle-for-hurdle until the final one, which Dulce clipped as he finished .04 seconds behind Escalera, 45.69-45.73.
"That's what makes it fun, the competition and all," Escalera said.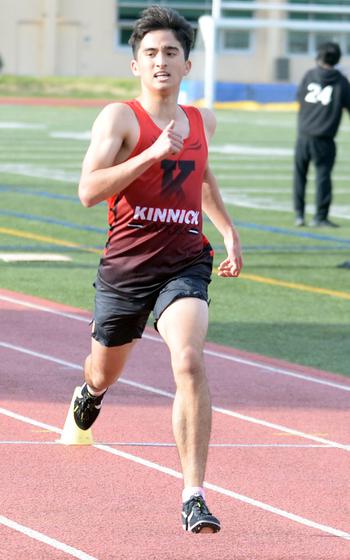 For others, the day was about establishing personal bests, such as Edgren senior Morgan Erler. The distance specialist cracked the 12-minute barrier in the 3,200, 11:40.45, 11 seconds ahead of her nearest rival. Erler also won the 800 in 2:33.99 and the 1,600 in 4:45.46.
The presence of Zama sophomore Lilianna Fennessey, who beat Erler earlier this season, and Sacred Heart sophomore Sofia Sato made it a fun day, Erler said.
"They're so much fun to run against," the reigning Far East cross country champion said, adding that she feels she can "definitely" beat Saturday's times. "It definitely made me run faster today."
Kinnick senior Austin Shinzato, the reigning Far East boys cross country champion, also set personal bests in the 1,600 and 3,200, but came in second in both events, behind Take Zoot of American School In Japan and William Beardsley of St. Mary's.
"I was just excited; it's been 2½ years since I ran against other people," Shinzato said, adding that he was "not upset at all" about the runner-up finishes. "I enjoy running against (those kind of runners), especially when they're competitive."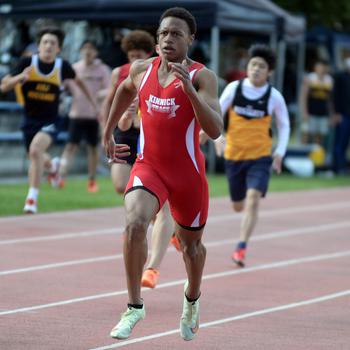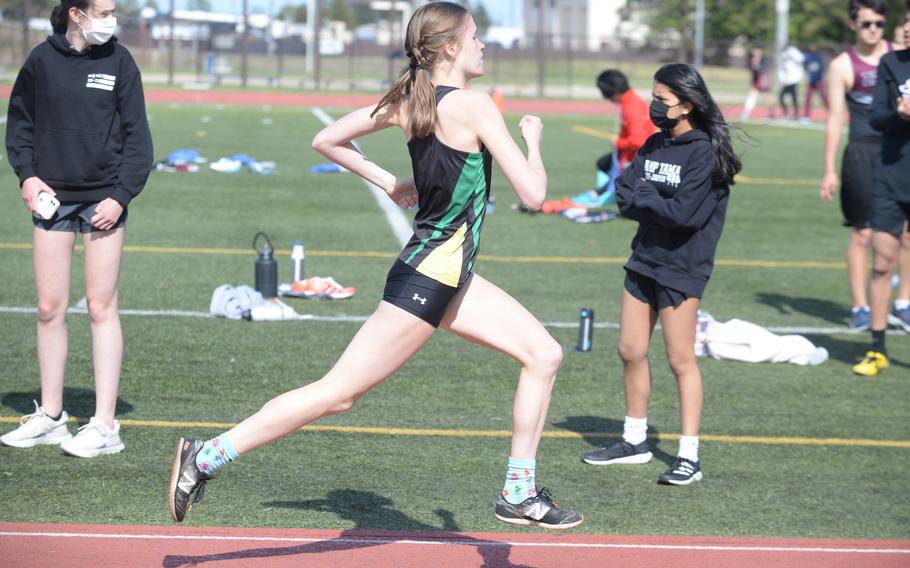 ---
---
---
---