DODEA-Japan track meet to serve as tuneup for virtual Far East
By
Stars and Stripes
April 14, 2022
---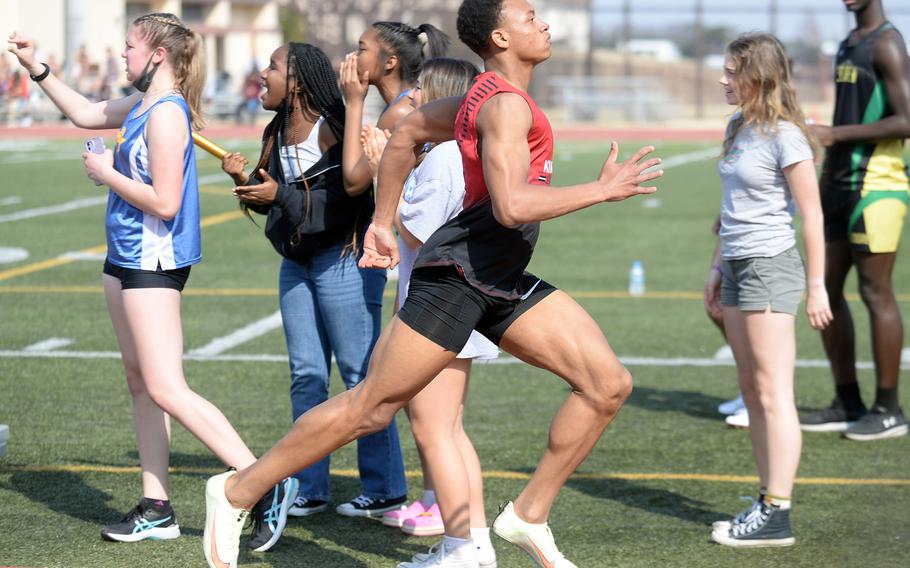 YOKOTA AIR BASE, Japan – He doesn't say much around school or anywhere off the track. But when Jeremiah Hines charged out of the blocks during this track and field season, his times have spoken volumes.
The Nile C. Kinnick junior enters Saturday's DODEA-Japan district finals as the leader among DODEA-Pacific sprinters, having clocked 11.23 seconds in the 100-meter dash and 23.37 in the 200.
One might never know it chatting with him off the track, says his coach, Luke Voth.
"Quiet and as humble as a church mouse," Voth said. "Pound for pound, one of the strongest people on our base, obsessed with the weight room and getting faster. He's coachable and has a team-first mentality. He eats up any and all workouts we give him and asks for more."
Hines leads the second-fastest DODEA-Japan sprinter, Yokota's Isaiah Nelson, by almost a full second in the 100 (12.12) and more than 1½ seconds in the 200 (24.97).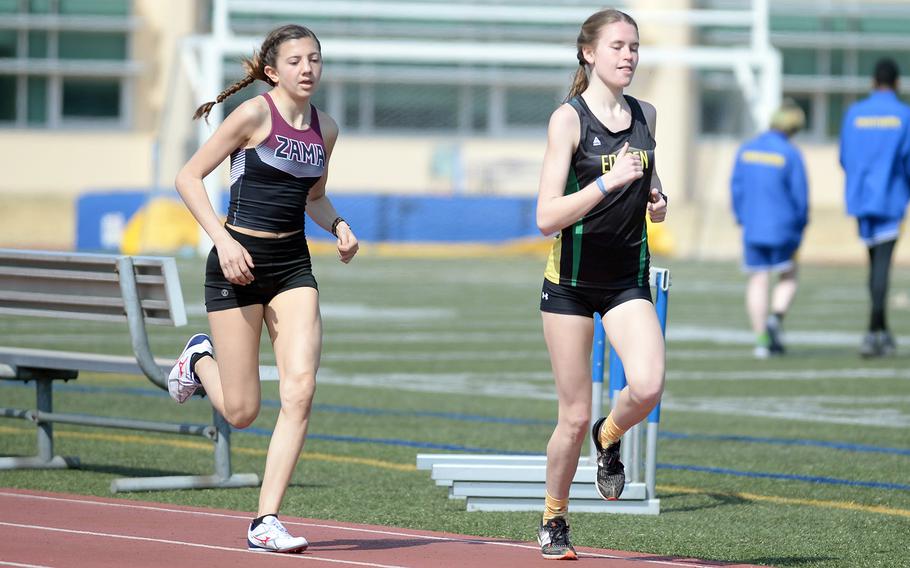 Hines' closest Pacific-wide competition won't be at Yokota's Bonk Field on Saturday; Kubasaki's Godfrey Wray and Gavin McKnight trail Hines by .01 seconds in the 100, but the closest they'll come to meeting Hines will be the virtual Far East meet two weeks from now.
For now, Hines will line up against the best within DODEA-Japan and Kanto Plain international schools starting at 10 a.m. Saturday.
The weather outlook calls for cloudy skies Saturday morning, turning sunny in the afternoon with a forecast high of 61. A tailwind of 5 meters per seconds, two over the legal limit of 3 mps, is forecast for the afternoon.
That 11.23 that Hines ran was during last Saturday's Kinnick-Matthew C. Perry-E.J. King tri-meet at Marine Corps Air Station Iwakuni, "after a 14½-hour bus ride, skipping meals and sleeping on a classroom floor," Voth recalled.
A far shorter bus trip from Yokosuka Naval Base to Yokota could mean a time "maybe closer to 11.1 or 11.0," Voth said.
Hines' stated goals are to beat the school records set in 2016 by Jabari Johnson, 10.78 and 21.23, perhaps chase the Pacific record of 10.77 set in 2019 by Humphreys' Tevijon Williams.
"With his work ethic and natural abilities, he'll have the best shot any kid from Kinnick has had" at those marks, Voth said.
Hines won't be the only one with speed to burn at Yokota on Saturday.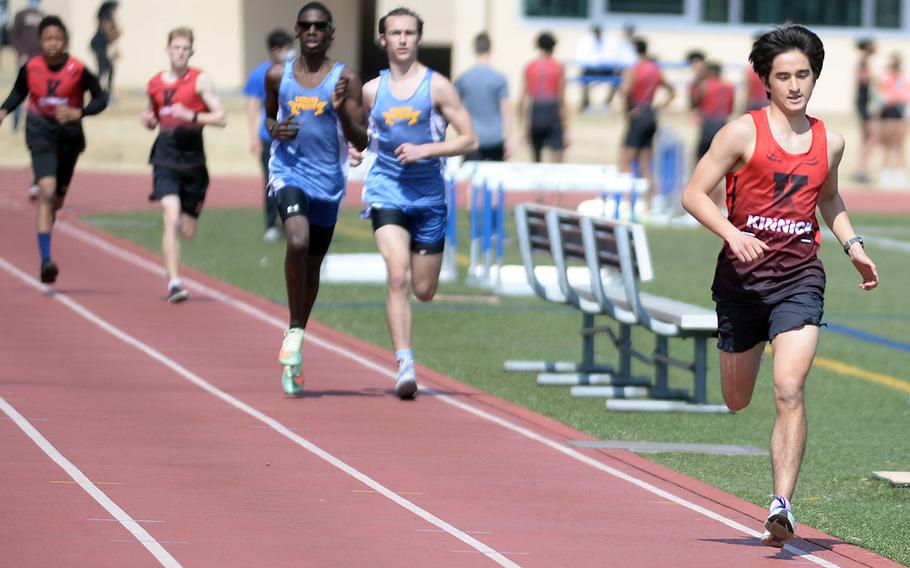 Zama's "Fantastic Four," girl sprinters Theori Lindsey, Tianna King, Naviah Blizzard and reigning Far East sprint champion Madison Anderson lead the Pacific in the 400-meter relay.
They have the Trojans coaching staff comparing this group to the one that set a Pacific mark of 48.54 in 2017.
"This group is younger," Trojans coach Veronica Jones said, but they could be just as good; Blizzard, Anderson and King are each sophomores. "DODEA has awesome kids," she said.
Trojans sophomore Lilianna Fennessey and reigning Far East cross country champion Morgan Erler of Robert D. Edgren are poised to chase distance medals, as is reigning Far East boys cross country and 2021 Far East 800, 1,600 and 3,200 champion Austin Shinzato of Kinnick.
"Morgan may not peak until Far East," Eagles coach Tim Schwehr said. "We've been really pushing some hard workouts. I think she's preferring the 1,600 at this point. Trying to break 5:20 is her goal." Erler holds the Pacific's top time of 5:33.69.
Competitors in Japan will get one more shot at their events at a regular season meet next Saturday at Matthew C. Perry before the virtual Far East event the following week.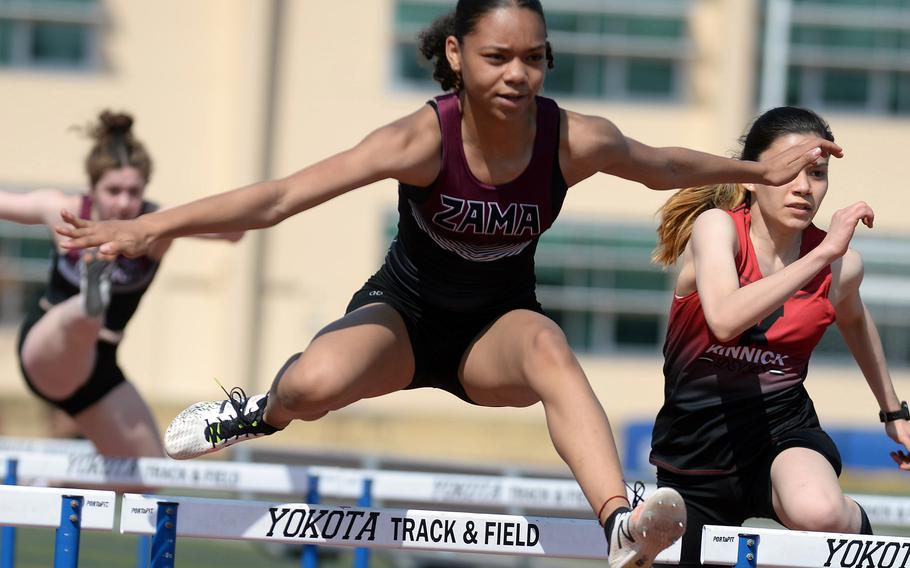 ornauer.dave@stripes.com; Twitter: @daveornauer
---
---
---
---