Prep roundup
Guam High has good day on wrestling mat, softball diamond
Stars and Stripes
March 12, 2022
---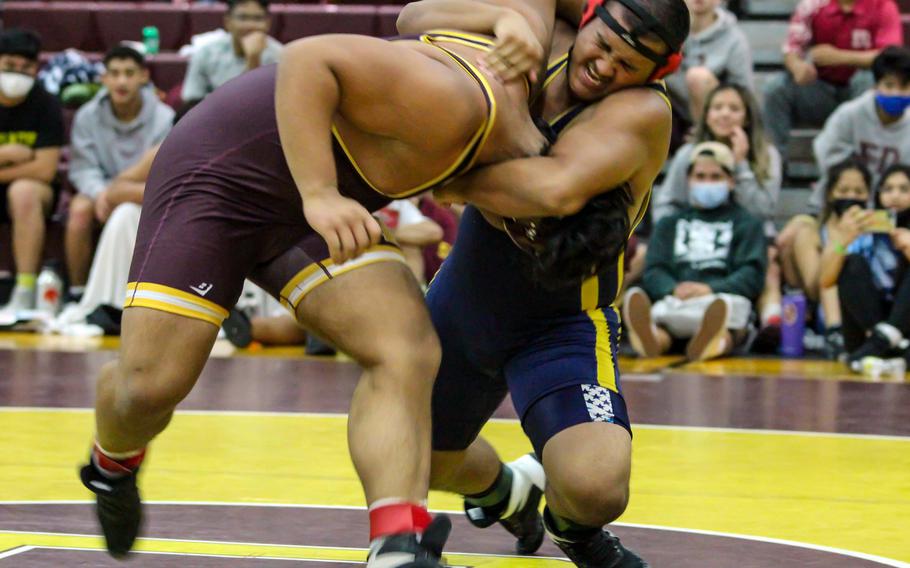 MANGILAO, Guam – A Guam High freshman turned some heads in the heavyweight finals during Saturday's Interscholastic Sports Association all-island wrestling tournament at Father Duenas Memorial School.
Joaquin Gogue, who normally wrestles a weight class down at 235, used a cow-catcher hold to throw Friars junior Aiden Bordallo to the mat, pinning him in 1 minute, 50 seconds. Gogue was also named the tournament's Most Valuable Player.
"Joaquin stays calm," Panthers assistant coach James Sherrill said. "He rides out the storm and seems to learn as a match progresses. He doesn't rush or force a match."
Gogue was one of three Panthers who captured weight-class titles at FDMS' Phoenix Center: Danen Mendiola and Kaila Castro also won their divisions, while Kylen Waller, Cirie Hawkins, Meghan Knaeble and Bethany McClure finished second in theirs.
Castro beat Simon Sanchez's Nissi Abishai by decision to capture the girls 134-pound title, while Mendiola won a majority decision over John F. Kennedy's Keenan Taijeron to win the boys' 160-pound title.
Castro, a novice wrestler, "is extremely coachable and just tenacious on the mat," Sherrill said.
Mendiola, a senior, "is a leader in his actions," Sherrill said. "He is calm in his demeanor, but he's steadfast on the mat."
Other top-four wrestlers for the Panthers were Victor Babauta (145), Chris Angoco (124) and Calvin Fernandez (116).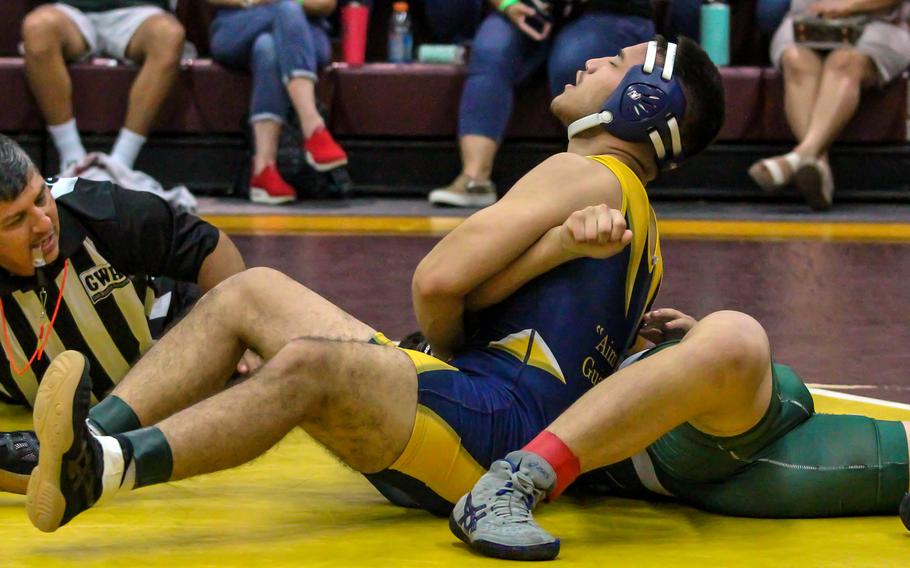 Guam High captures island softball title
OKKODO, Guam – Wrestlers weren't alone in accomplishing big feats on the island Saturday.
Guam High's girls softball team captured the title in the ISA all-island tournament, beating Academy of Our Lady of Guam 6-1 in Saturday's final at Okkodo Baseball Field.
With the win, Guam avenged a 9-7 defeat at the Cougars' hands during the regular season, and made a champion out of Amanda Mansel, in her first year coaching the Panthers.
Guam reached Saturday's title game by downing Simon Sanchez 10-2 in Tuesday's semifinal, while the Cougars needed only two innings to rout Tiyan 18-1 in the other semi.
Chief girls soccer rivals in Japan, Okinawa find themselves all tied up
YOKOSUKA NAVAL BASE, Japan – If the first weekend of the regular season was any indicator, the top girls soccer rivalries in Japan and Okinawa could be tight ones.
Bridget Pidgeon scored in the second half to rally Nile C. Kinnick to a 1-1 draw Friday with Yokota, which got its goal from Lilly Wellons. The Panthers edged the Red Devils 1-0 in their Panther Cup showdown a week earlier at Yokota.
Meanwhile, on Okinawa, Kadena's Marina Sawyer and newcomer Mia Garza scored to offset tallies by Kubasaki's Alexa Camberos and Nicole Fuentes as the teams battled to a 2-2 draw Friday at Kubasaki.
It was a vast difference from the 2021 season, when the Panthers beat the Dragons three times. "It'll be competitive every game," said first-year Panthers coach Joey Wood, a 2005 Kinnick graduate.
Daniel Burns, a 2008 Seoul American graduate in his first season of coaching Matthew C. Perry's girls, is used to ties thus far; his Samurai have played to three draws, including Friday's 1-1 tie against E.J. King.
"They're the two best teams," Burns said of Kinnick and Yokota. "Both of those teams are strong."
Kubasaki visits Kadena on Wednesday. The next time Yokota and Kinnick face each other could come in the DODEA-Japan tournament April 22-23.
Zama puts softball team together after season begins
YOKOTA AIR BASE, Japan – They didn't have enough players for last weekend's Trojan Classic, but through vigorous recruiting, coach Joanna Wyche is gradually building a softball team at Zama.
The school had not had a team since 2019, and it appeared the sport might be dead there for a second straight year.
"It's been a long time since I had to dig this deep, but it's coming," said Wyche, who has taught and coached at Kadena and Daegu, the latter where she used to say "you have to grow players here."
"Right now, we're in the early stages of the process," Wyche said.
The Trojans brought seven players to Yokota and borrowed players from Edgren and Yokota to play two games over the weekend. On Wyche's roster is junior Remi Sherratt, who saw limited action and is on the mend from knee surgery due to a volleyball injury.
---
---
---
---