Heads-up, Okinawa: Dragons and Panthers are in attack-mode again
By
Stars and Stripes
March 10, 2022
---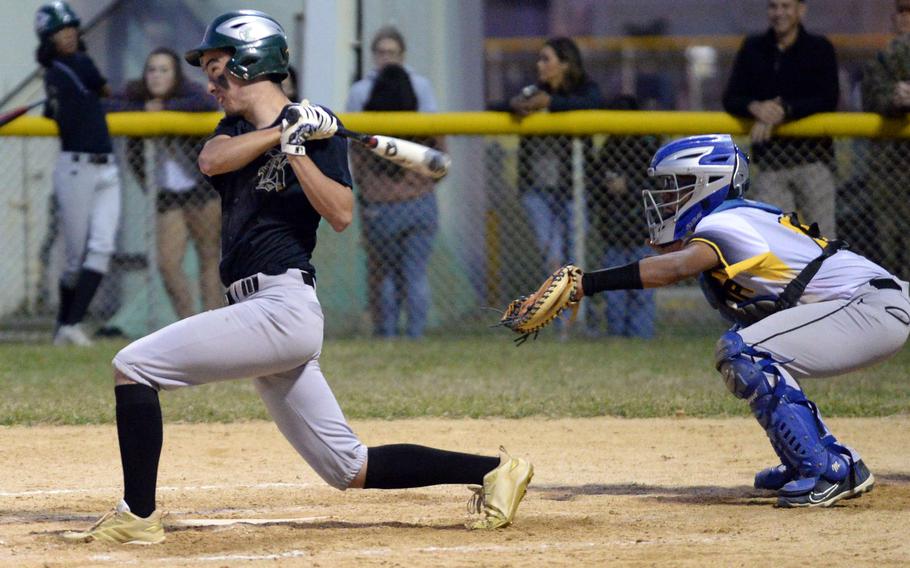 CAMP FOSTER, Okinawa – Having not competed in any sport since a non-sanctioned open wrestling tournament in Tokyo 10 weeks earlier, Nicholaz Aguirre said he was hungry just to get back out on the field and play.
The Kubasaki junior right-hander could not have done much better than he did Wednesday: a five-inning, 74-pitch no-hitter in his baseball season debut, striking out 12 in a 10-0 shutout of Kadena.
"Absolutely, I can't think of a better way to start the season, especially a no-hitter in our first home game," Aguirre said.
He won five of six wrestling bouts in December before a rise in COVID positive cases and contact tracing forced DODEA-Okinawa to shut down the winter sports season.
Wednesday's victory was as satisfying a start that the team could have asked for, given that it was supposed to be the third game of the season.
Kadena and Kubasaki played to within one out of completing a regulation game last Friday before the heavens opened up. Rain also washed out Monday's scheduled game.
Aguirre is one of a handful of upperclassmen on a Dragons team comprised mostly of freshmen. Even the head coach, Nicholas Welch, is new, taking over for Randy Toor, who had helmed the Dragons since 2006.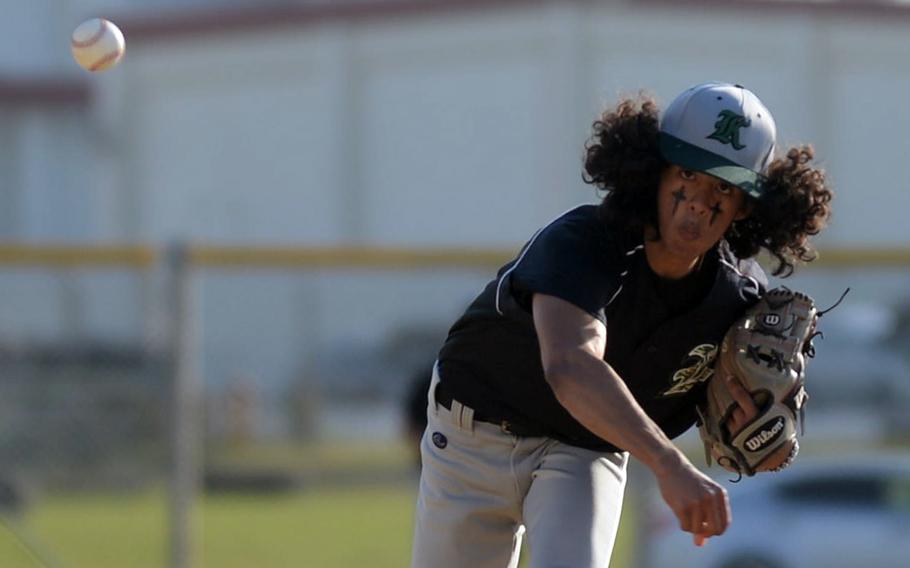 Joining Aguirre are senior outfielder Kyte Mettke, junior shortstop Jeff Owens and junior infielder Nicholas Adams.
Freshman left-hander Luka Koja struck out 10 Panthers in Friday's rained-out game. Outfielder Julian Hall is another freshman newcomer.
Kadena appears to be in rebuild mode – seven freshmen and four sophomores dot a roster that only features five returners.
Senior Will Richardson will pitch and play outfield, senior left-hander Wyatt Boerigter will divide time between the mound, outfield and first base, junior Jeremiah Sprague will catch, pitch and play shortstop and sophomore Austin Gagnon also returns, as a pitcher and first baseman.
Richardson's freshman brother Alex will also see time on the mound, in the outfield and at first base. Senior Adrian Wilson is a newcomer and will fit in as a utility man.
Softball season opened on Tuesday, boys and girls varsity soccer season begins Friday and track and field opens Saturday.
As with all other seasons since the start of the coronavirus pandemic, Kadena and Kubasaki are scheduled to only face each other. No DODEA-Pacific Far East tournaments are on the ledger.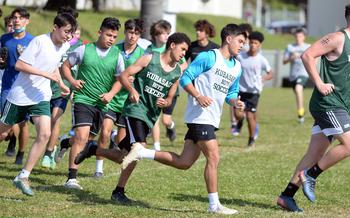 Boys soccer
All Panthers vs. Dragons, all the time is starting to wear thin on players and coaches, Kadena's boys soccer coach Abe Summers said: "If we only play Kubasaki, it would be sad, especially for the seniors; this is their last chance."
The Panthers only have 12 players active for Friday's opener. A handful of players are injured or quarantined. "The key is getting everybody healthy and eligible," Summers said.
Senior forwards Dakota Summers – Abe's son – and Nathan Funkhouser return and senior Joe Renquist moves over from track and will play up front. Sophomore Noa Barrett is back on defense.
Kubasaki is defense-heavy in terms of veterans. Seniors Isaiah Carrillo and Payton Passage return along with junior Rogelio Gonzalez and sophomore Matthew Yulee.
Joining them are freshmen Seira Fowler and Frank Stare, youngsters who are not new to soccer. Junior Justin Murray just checked in from Alexandria, Va.
"We'll definitely be competitive," coach Tony Washington said. "How far or how well is going to be up to them."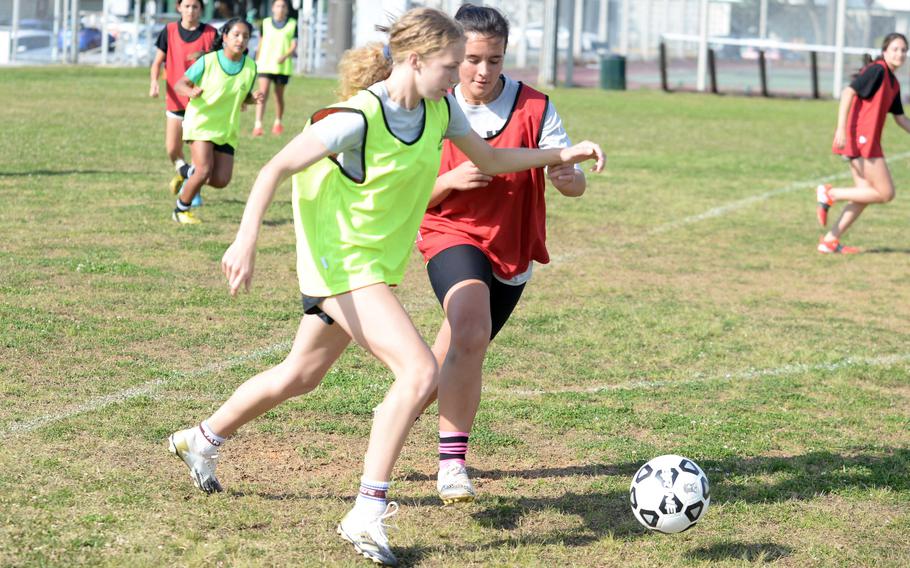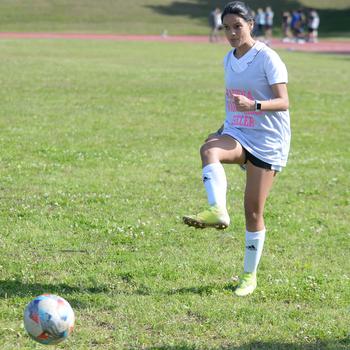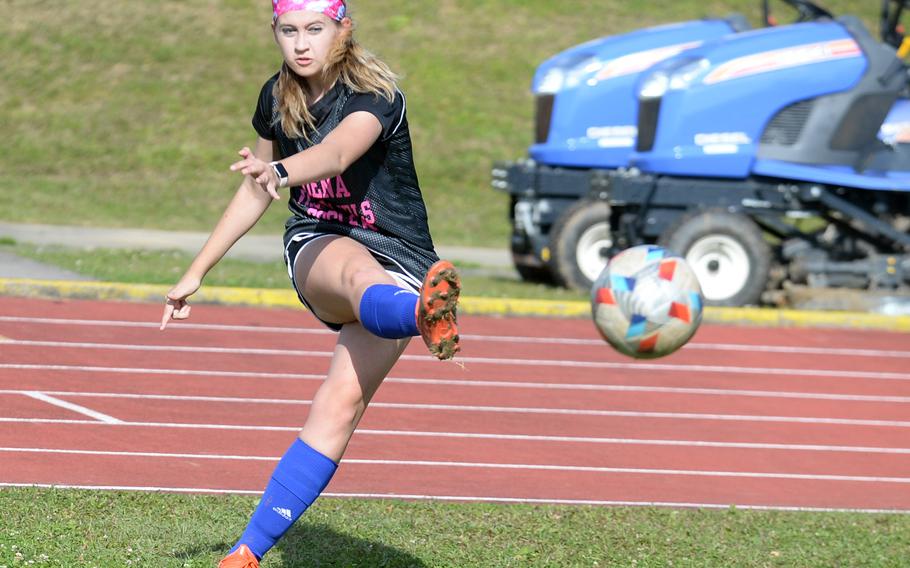 Girls soccer
A team with no seniors might appear to be outmatched. No so the Panthers, who have a roster full of underclassmen not new to the game.
Freshmen Sydney Pontious, a transfer from Nebraska; freshman Mia Garza, incoming from Florida; sophomore holdover Marina Sawyer and freshman NyKale Penn should add a ton of firepower up front for the Panthers. "Between them, we have the chance to do some things," coach Joey Wood said.
The Dragons are a balanced team in terms of age, with three seniors who have played all four years at Kubasaki: Midfielders Amelie Rodriguez and Michelle Swanson and defender Viola Wray.
Syra Soto, a freshman who played basketball, and Emma Leggio, a junior volleyball spiker, also show promise.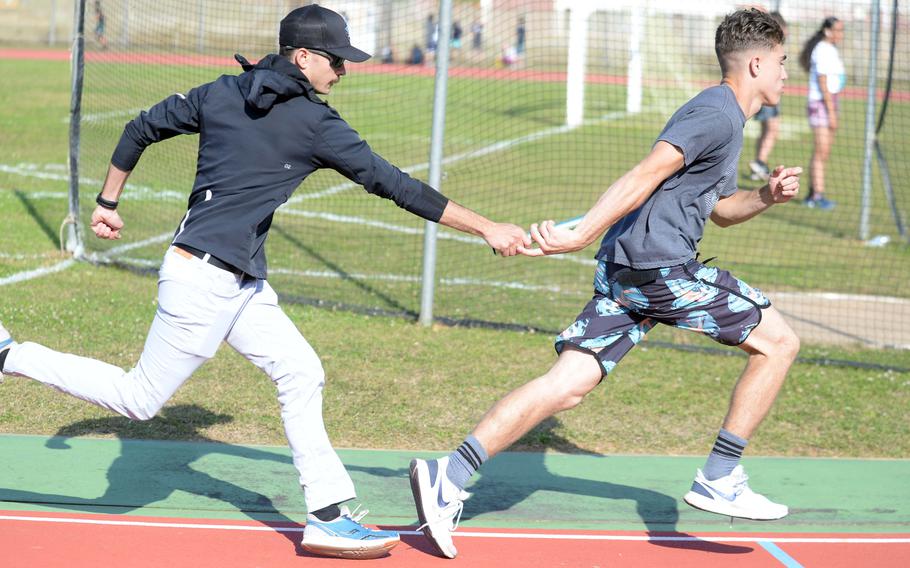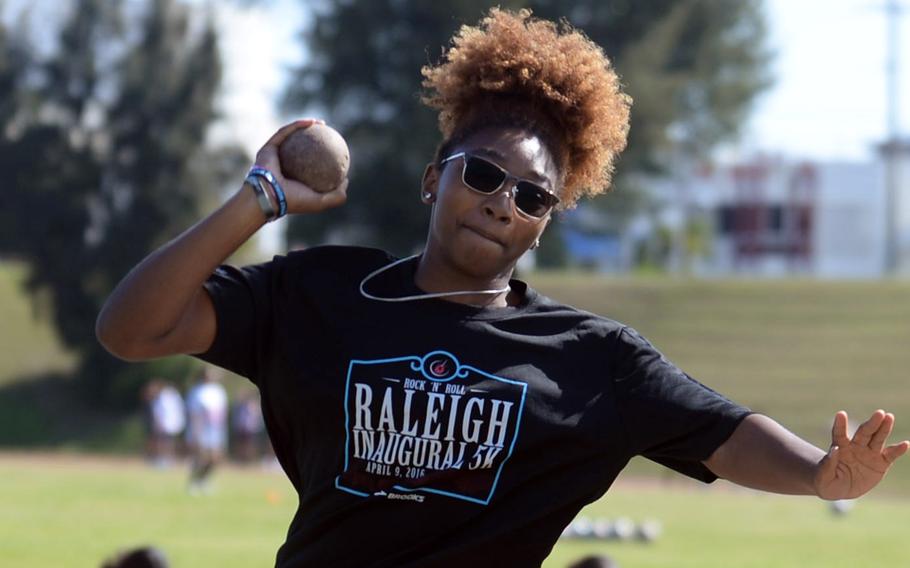 Track and field
The reigning Far East Division I champion Panthers return several key cogs, including senior and defending D-I 1,600- and 3,200-meter champion Cullen Oglesbee and junior Karise Johnson, the reigning D-I 1,600 champ. They also are defending island cross country champs.
Sophomore Destiny Richardson went unbeaten as a thrower and sprinter and senior Troy O'Conner took the D-I long and triple jump and was part of the 400 relay. Reginald Winn takes over as head coach.
The Dragons are heavy in throwers, with junior-freshman brother-sister pair Braden and Mackenzi Dudley along with junior Jacob Braud.
Sophomore distance specialist Makayla Saeteurn returns along with sprinters Gwen Pantaleon, a sophomore, and senior Natalie Sanchez on the girls side, and junior sprinter Godfrey Wray on the boys. Pantaleon and Sanchez won all three relays they entered last season.
Oglesbee, Johnson and Kubasaki coach Kenneth Gipson say they share the Panthers boys soccer team's frustration over lack of an in-person Far East; for the second straight year, Far East for track will be done virtually the last week of April.
"I've kind of lost the motivation," Oglesbee said. "It's definitely frustrating."
As a result, Gipson said, of the lack of in-person Far East meets or invitationals, the Dragons have just 35 athletes out, "as few as I've had on my watch."
Kadena assistant coach Jay Elliott says he won't hear of such negativity. "You have to have a goal, and our goal is raising two more (Far East team) banners," he said.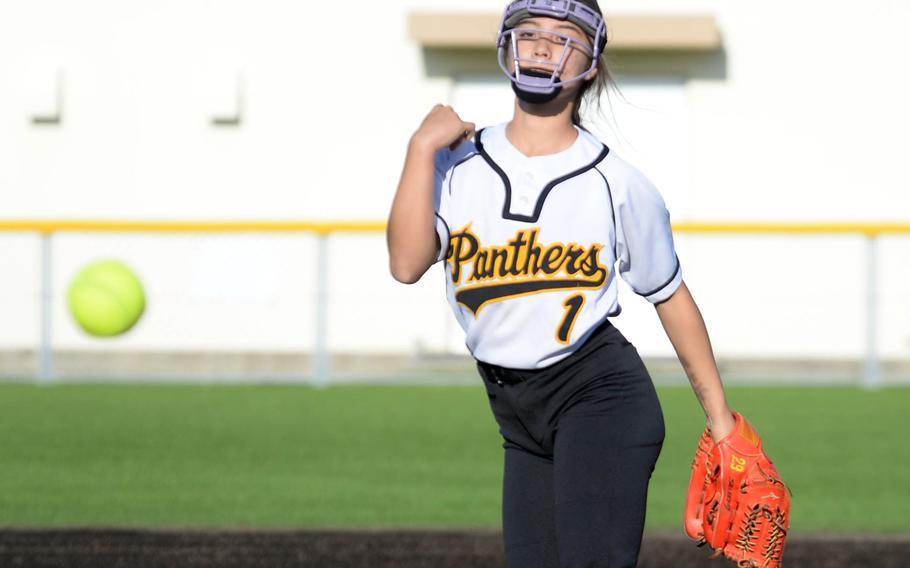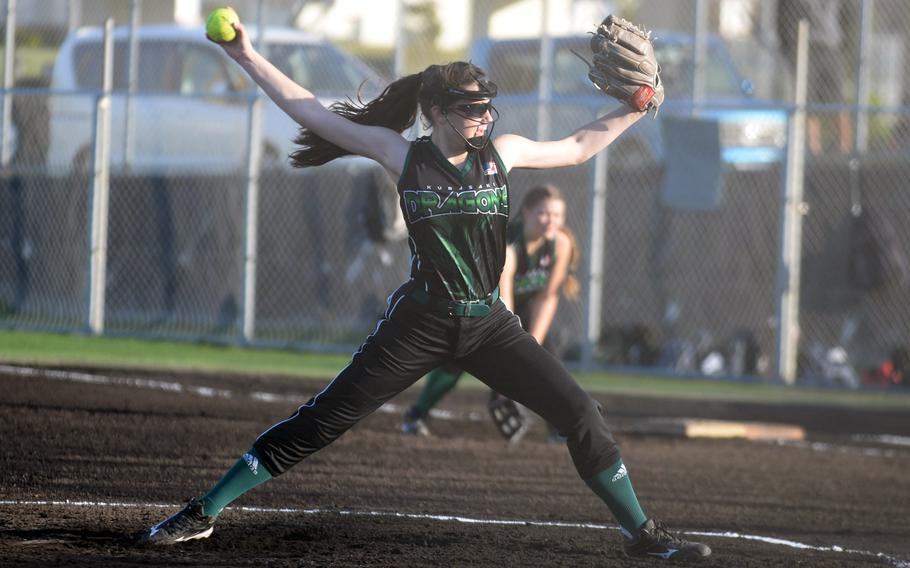 Softball
Both the Dragons and Panthers are starting over with coaches new to their programs, David Weiland for Kadena and Cassandra Pineda for Kubasaki; and freshman right-handed pitchers, Landry Murray for Kubasaki and Julia Petruff for Kadena.
Petruff took the first round, pitching two-hit ball over five innings with five strikeouts as the Panthers routed the Dragons 10-1.
Senior Tori Garnett (second base) and juniors Kristen Lininger (shortstop) and Mia Vedsted (catcher) return and are joined by newcomer Amelia Maginnis at third base. "We're definitely rebuilding, but there is potential," Pineda said.
Petruff's batterymate, catcher Peyton Mursch, is also a freshman. Holdovers include sophomore Lia Connolly (outfield-third base) and power-hitting sophomore corner infielder-pitcher Morgan Sayers. Mylein Tull, a four-year Panthers senior, returns at shortstop.
Most of the youngsters are not new to the game, having played for the island's Lady Ambassadors and Diamond Divas club programs. "I'm impressed with what I've seen so far," Weiland said.
---
---
---
---