DODEA-Japan teams take to the fields and tracks again
By
Stars and Stripes
March 4, 2022
---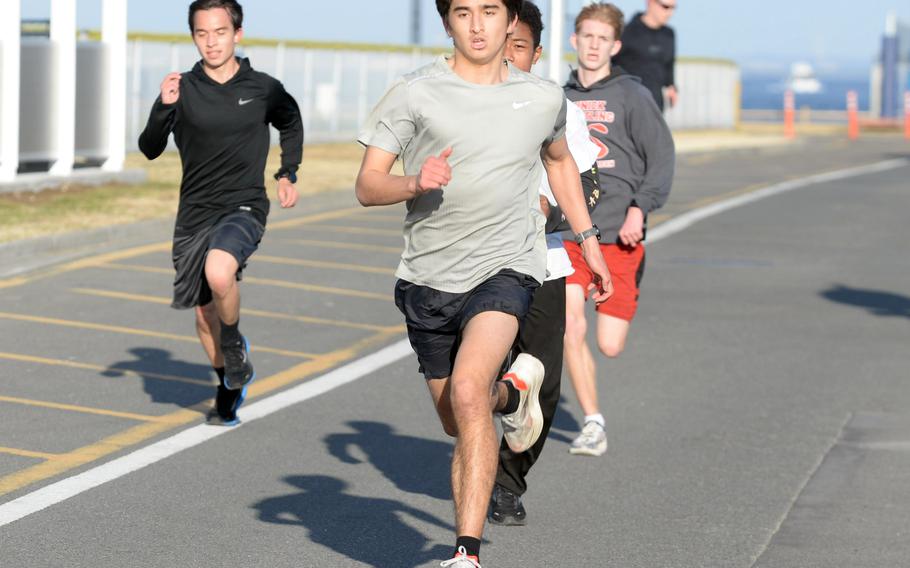 Morgan Erler raised a few eyebrows when she won the Far East virtual cross country meet girls race in 18 minutes, 51.4 seconds.
It was the fastest girls time in the Pacific and overseas in 2021, and believed to be the fastest ever posted by a DODEA-Pacific girls runner.
The Robert D. Edgren senior says she hopes such speed will translate over to DODEA-Japan's high school track and field distance events.
And that means taking aim at Yokota senior Aiko Galvin, who ran the Pacific's fastest times in the 800 and 1,600 meter last spring, and won the 2019 Far East cross country meet.
"I really just look forward to racing" runners like Galvin, "especially when it's close at the end," Erler said. "It's just so much fun."
Edgren, Yokota and DODEA-Japan's other four high schools hit the tracks starting March 12, a six-week season culminating in the Far East virtual meet the last weekend of April, the second straight year there hasn't been an in-person Far East due to the coronavirus pandemic.
Baseball, softball and soccer begin this weekend with Perry Cup and Panther Cup soccer at Matthew C. Perry, Trojan Classic softball at Zama and Red Devil Classic baseball at Nile C. Kinnick. Those seasons end with the DODEA-Japan tournaments April 22-23.
"These kids are just dying to get back out there and do something," Yokota athletics director Tim Pujol said of the prospect of a full spring season, but without Far East tournaments.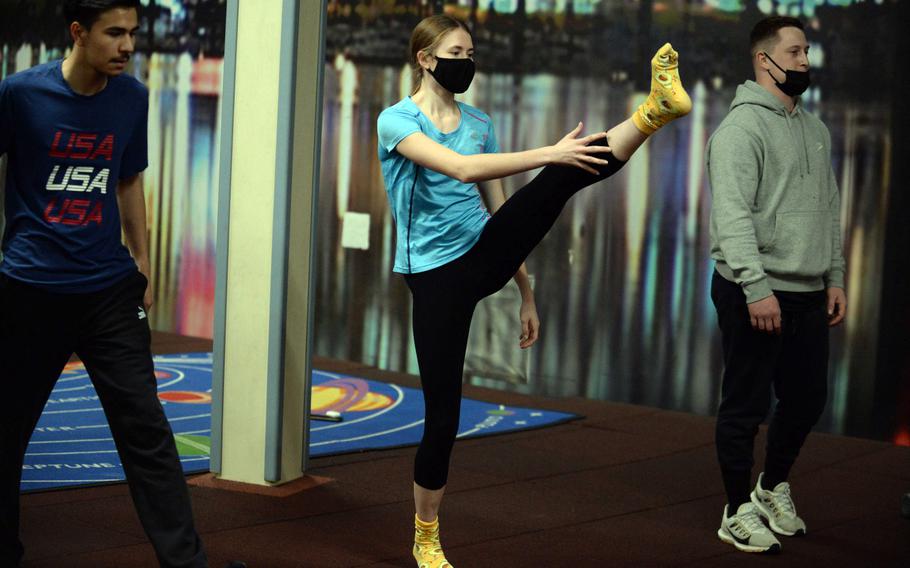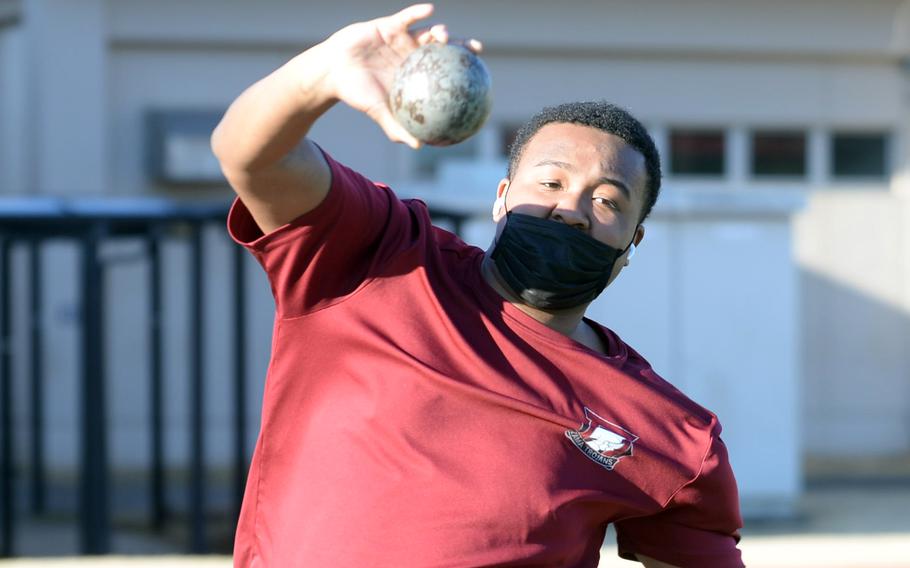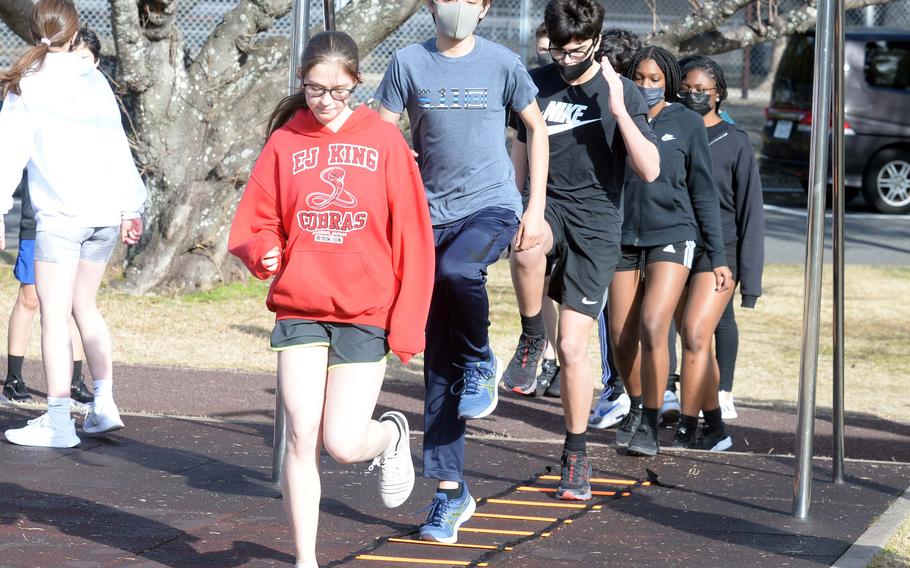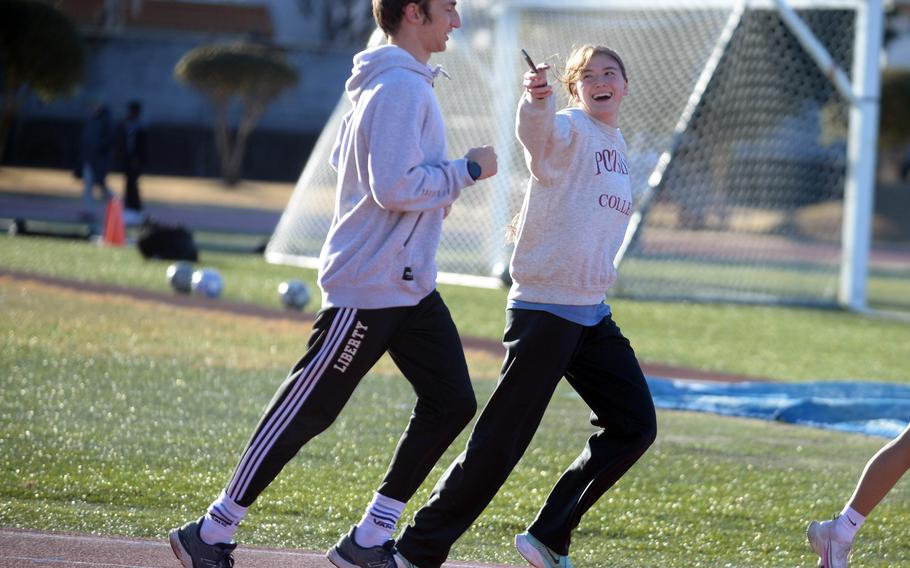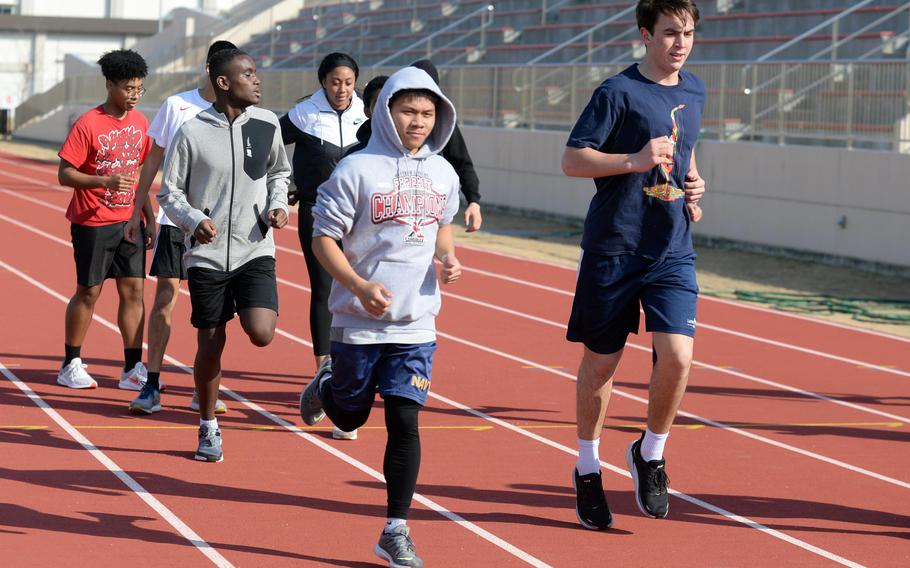 Track and field
Erler and Galvin have only met briefly, at the Tama Hills Recreation Center's gift shop, where Erler says she discovered that Galvin has a "good sense of humor," while Galvin calls Erler "really sweet."
"It was nice to know that I was competing against somebody so nice," Galvin said.
Galvin ran the Pacific's top times in the 400 (1 minute, 2.43 seconds), 800 (2:27.28) and 1,600 (5:36.20) last spring. Erler had the second-fastest 3,200 (12:17.78) and third-fastest 1,600 (5:40.20) in 2021.
"Awesomeness," Erler said of her first scheduled meeting with Galvin on March 12 at Yokota. "Even if I don't win, it's fun to race against my own times and try to better myself."
Despite having only one competition last spring, as all of Edgren teams had, the Eagles have 36 students out for the sport, "the most we've had on my watch," coach Timothy Schwehr said.
Edgren is also banking on O'moj Reeves, a sophomore sprinter; senior 800 runner David Blake and freshman Liz Johnson, a volleyball star who is trying her hand at sprints.
Yokota brings balance to the field with seniors Nick Sales and Kai Harbert, distance runners Tate Rannow and Isaiah Nelson and sprinters Trinity Stegall and Isaiah Nelson.
Zama sophomore Madison Anderson posted the fastest 100 (13.63 seconds) and 200 (28.40) times in DODEA-Pacific last spring, followed closely by senior Theori Lindsay. Junior Gabriel Escalera returns at sprinter; sophomore Liliana Fennessey transfers from Guam High.
Senior Austin Shinzato, the boys Far East virtual cross country meet winner (16:00.3), also posted the top times in the 800 (2:05.81), 1,600 (4:46.04) and 3,200 (10:30.23) last spring, but interrupted his training regimen to wrestle for Kinnick.
"It's something I wanted to do, so I did it," Shinzato said. "But it definitely would have benefitted me to keep running."
Kinnick also brings sophomore distance specialists Soul Vessels and Logan Hamilton back to the table, junior sprinter Jeremiah Hines and senior sprinter-hurdler Samantha Crisci.
The PCS Plane helped Matthew C. Perry; Miguel Pabon, a senior, transferred from Kadena to the Samurai. Coach Billy Henry sees him as a sprinter and relay runner. "He's pretty impressive," he said of Pabon.
Also back are senior middle-distance runner Zildjian Tamayo and sophomore thrower Makayla Colar. Senior David Jans is projected to do sprints.
E.J. King at first wasn't going to have a track team, but Yanica St. John offered to take the team and 28 athletes showed up Wednesday on the first day of tryouts.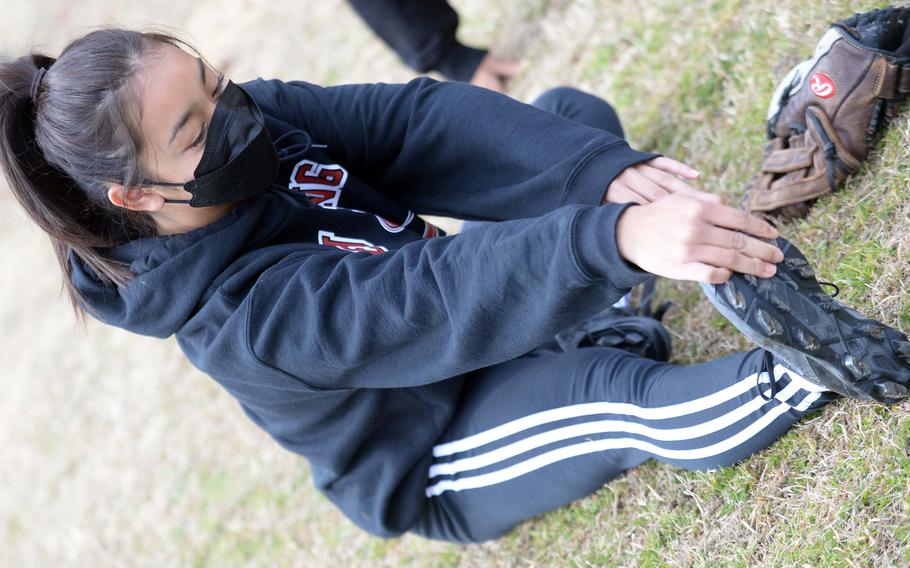 Softball
DODEA-Japan seniors, in particular, have expressed disappointment that their careers won't end with an in-person Far East tournament as has been customary in years past.
"But at the end of the day, I'm glad to get out on the field and have a season," Yokota senior shortstop Elena Haas said.
She led the unbeaten Panthers (10-0) a season ago with an .886 batting average and 2.168 OPS. Also returning are senior Chiara Duarte (.833, 1.738) and senior Katie Stover (.588, 1.238). Erika Haas, Elena's sister and one of seven freshmen on the team, is in line to pitch.
Maybe the youngest program in DODEA-Japan is Robert D. Edgren, coached by David Carrano, who spent the last seven years at Kinnick. There are only freshmen and sophomores on the roster, Carrano says, led by sophomores Evelyn Lee and Chiara Morin.
Kinnick also sports 12 freshmen, but coach Dan Joley says the difference between the winless team of last year and this year's squad is two quality pitchers, junior Zoe Dale and senior Eliza Nations, a transfer from Naples.
King also has two strong pitching arms in sophomore Michelle Breyette and freshman Moa Best, "who will work for the long haul," coach Alex Sudul said. "I have some athleticism and I can move a lot of pieces."
Perry also hopes to improve behind pitchers Sera Shimakura, a junior, and freshman EllaMhay Dizon. Junior Chelsea Campbell, senior Abigail Sweda and sophomore Jessica Griffin can be used in multiple spots.
Citing a lack of participants, Zama will not field a softball team for the second straight year.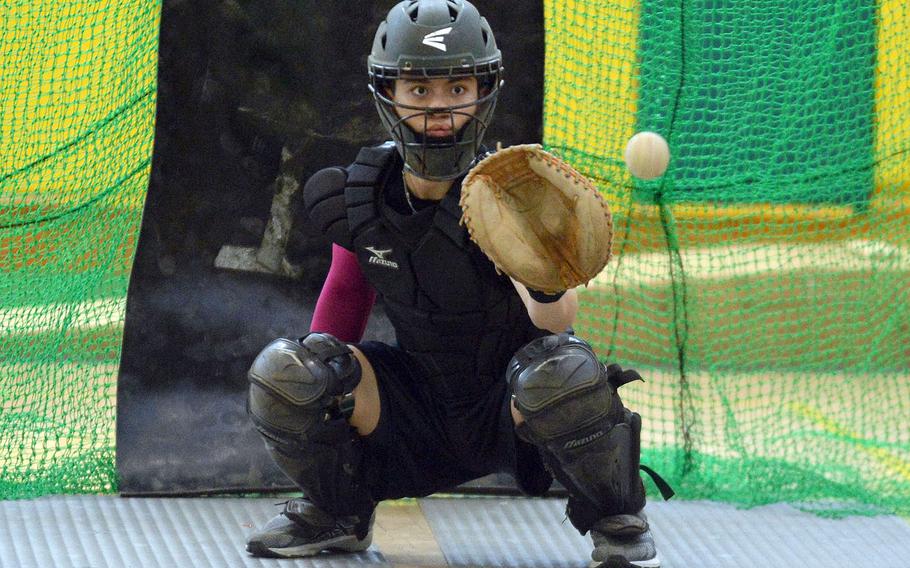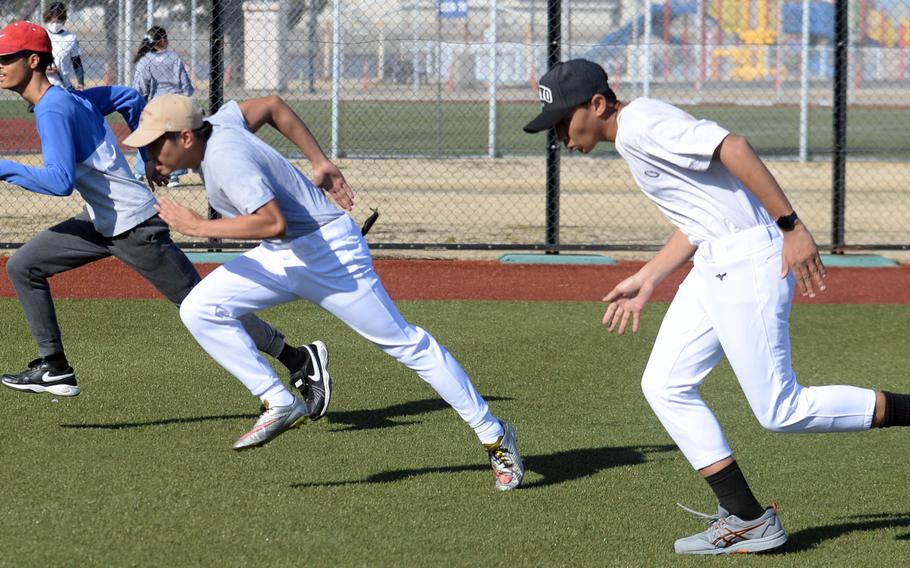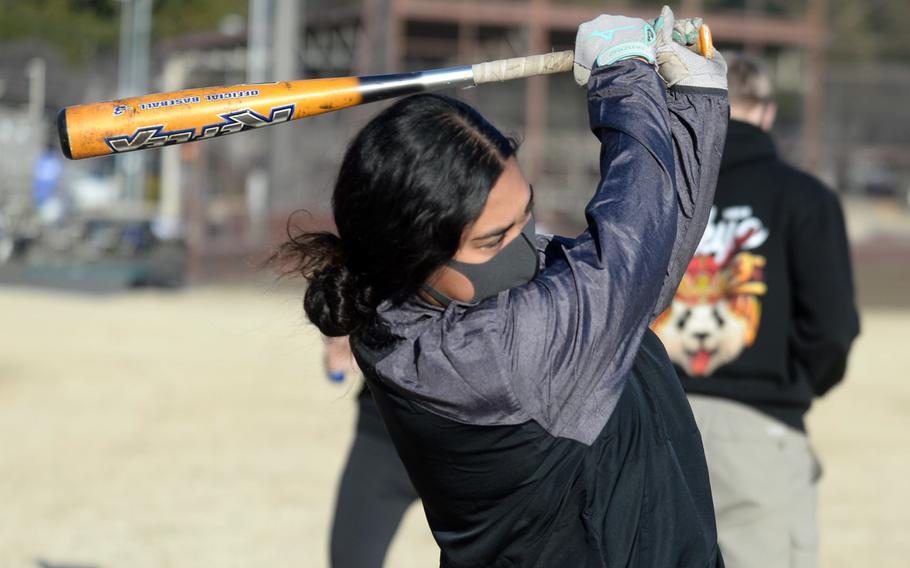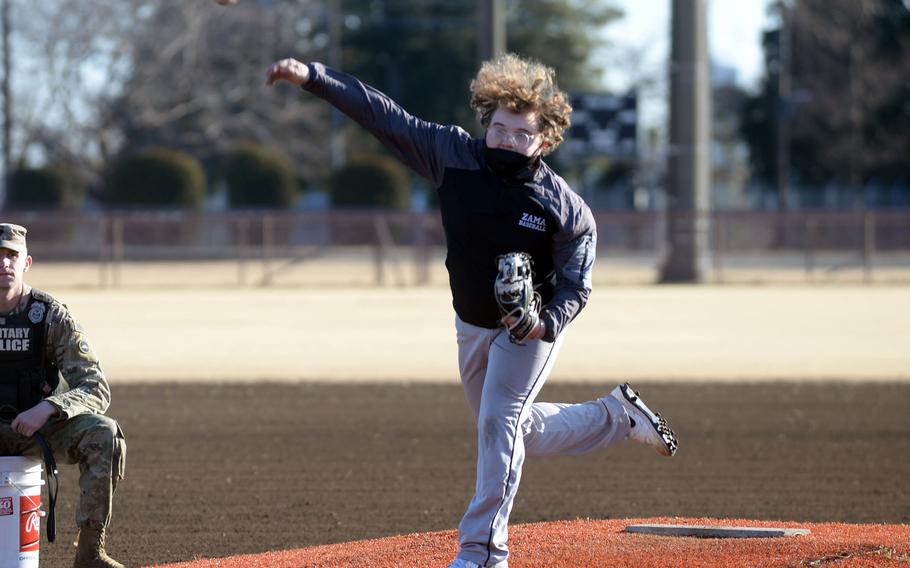 Baseball
One sturdy pitcher transferred, but the PCS Plane was kind to Yokota, which got junior pitchers Dylan Tomas and Noah Cruz from Edgren, with Tomas' father, Marlon, helping Barry Oxendine as assistant coach. "It's a brand-new team otherwise," Oxendine said. "We have some experience."
That leaves the Eagles' pitching cupboard bare. Aside from three seniors, outfielder Robert Lee, first baseman-outfielder Dennis Nelson and catcher Douglass Tackney, "everybody else is new; it's all freshmen," Eagles coach Brett Lehner said.
Perry has seven players back and "will rely on freshmen to contribute immediately," coach Frank Macias said. Senior Roy Clayton III will pitch, catch and play shortstop, senior Parker Staley will pitch and play third base and sophomore Nickolas Elizondo is "the best catcher we've had in about four year" and will also pitch.
Zama has two girls out for the team, including 2021 infield starter Kierstyn Aumua (.278 batting average, .798 OPS, 6 RBIs). Hiroki Davis returns (.333, .812, 6 stolen bases) as do sophomore pitchers Caleb Schmiedel (.409 on-base percentage, 27 strikeouts in 14 1/3 IP) and Kai Kuroda (30 strikeouts in 30 1/3 IP).
King is chock full of sophomores, among them Colin Schrader (pitcher-infield), Jacob Auger (pitcher-catcher), Nolan FitzGerald (pitcher-shortstop).
Senior pitcher-catchers Isaac Christensen and Andrei Lee are the two key returners on a Kinnick team long on youth and inexperience.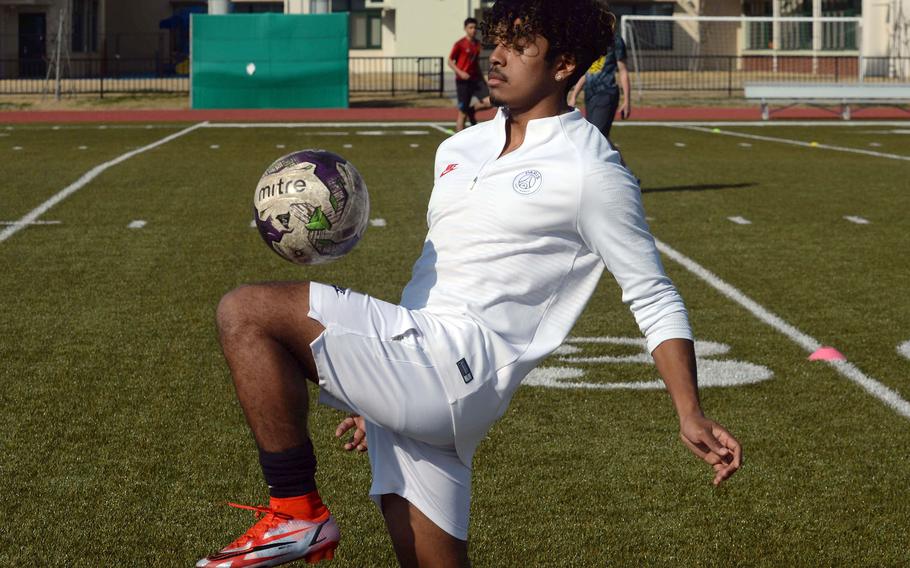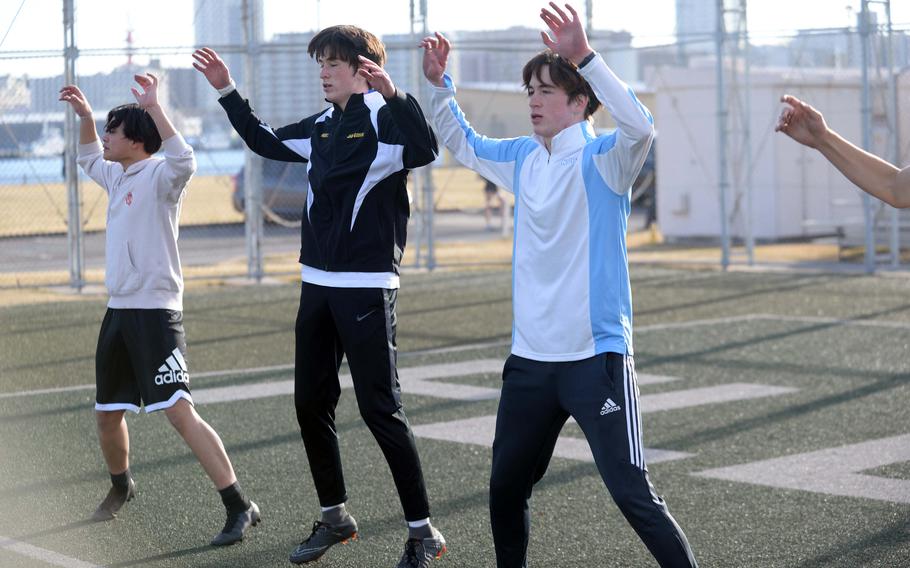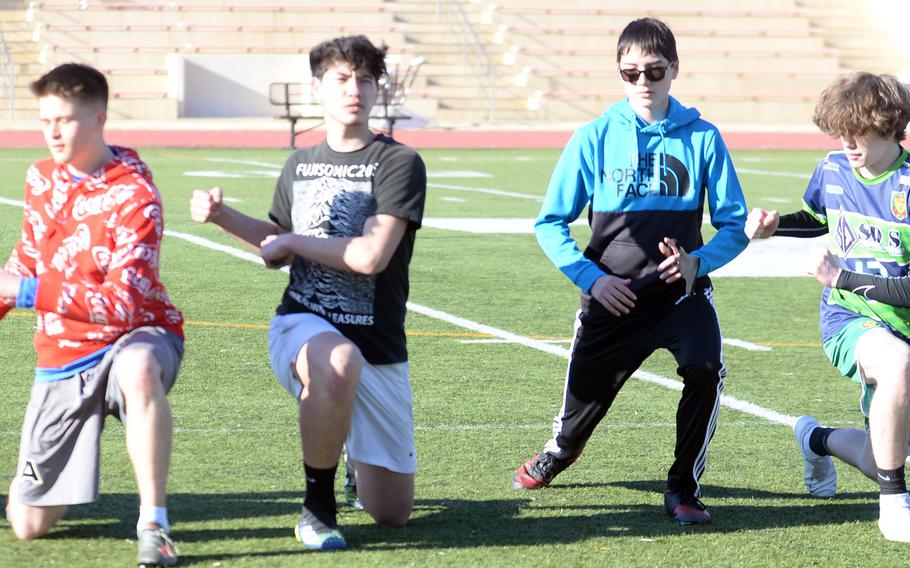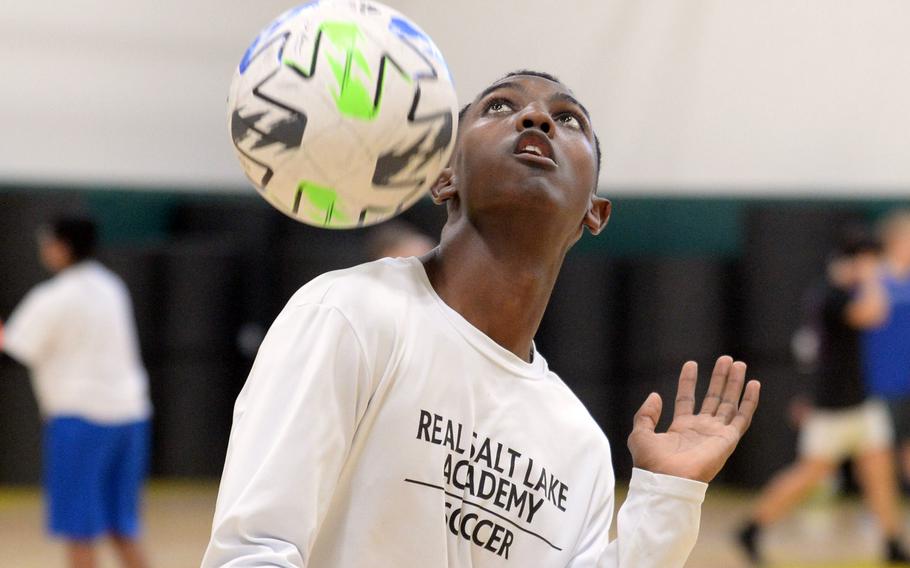 Boys soccer
Matthew C. Perry is senior heavy, but replacing departed Gio Cano and Yugo Cooley will be a task. Still, the Samurai return Shion Fleming at midfield, speedy Denzel Gray at center-mid, James Williams, John Shaver, Joshua Blanquisco and Ryan Livengood.
King hopes to be stronger than the unit that went winless last year, with 18 players out, including goalkeeper Christian Hecox and sophomore defender Joseph McGrath. "We're building on what we had last spring," coach Ricky Andrew said.
Kinnick brings back a strong senior class from a 2021 team that went unbeaten and allowed one goal. Brothers Ryo (eight assists, four goals) and Kou Nishiyama (eight goals) return along with seven other seniors. "I'm feeling good about this season," coach Tim Rippeth said.
Also top heavy in seniors is Yokota, with forward Owen Taylor (13 goals, four assists) the headliner. Junior Sena Solberg (eight goals) also returns, and coach Trent Anderson is trying junior Zemon Davis at goalkeeper.
Zama is relatively young, but has a handful of seniors in Kobe Parker (forward) and Alec Carter and Joseph Suyama on the backline. Junior Marques Cuffie returns at keeper. Assistant coach Ben Ingram calls the Trojans "a good core of players to build around."
Edgren would be a veteran team, coach Steve Belnap said, "if we had the chance to play" many matches the past two years. The pandemic wiped out the 2020 slate in total and the Eagles only played two matches in 2021.
Senior Noah Henderson is the most experienced at forward, but hasn't played since he was a freshman. Junior Elias Alvord attended the Real Salt Lake Academy for junior players. "We're really excited to have him," Belnap said.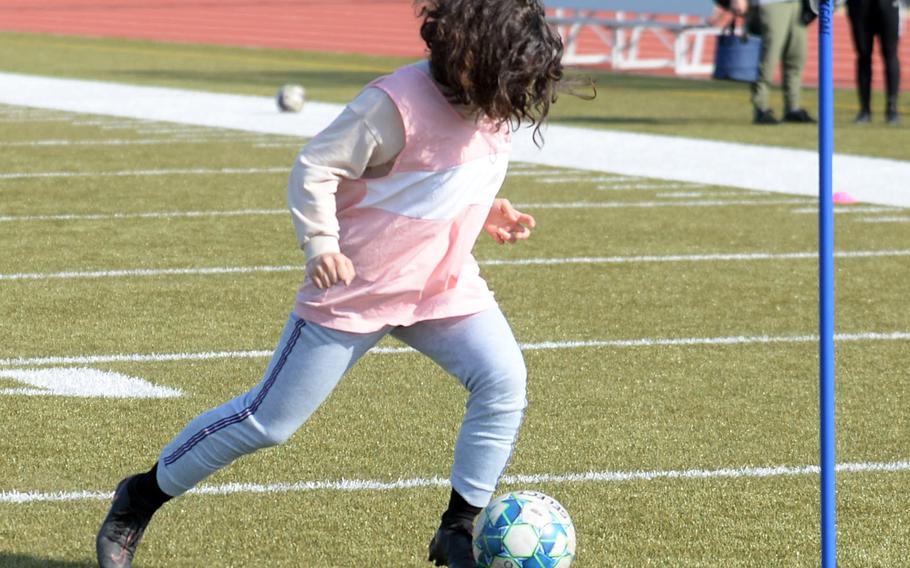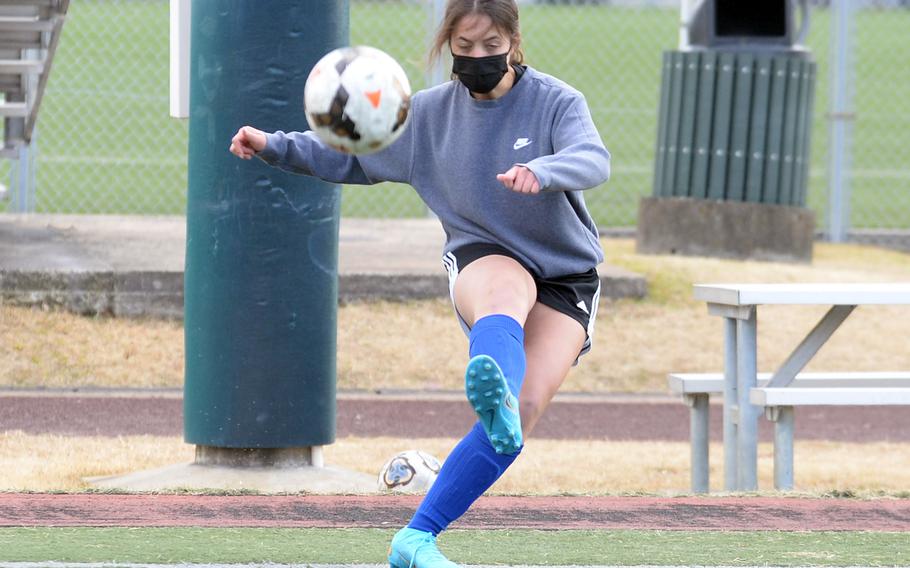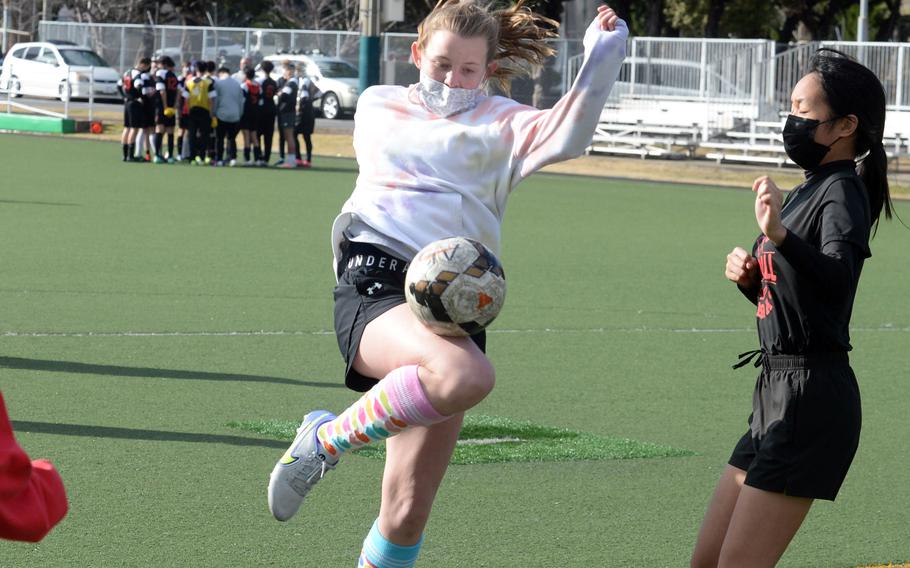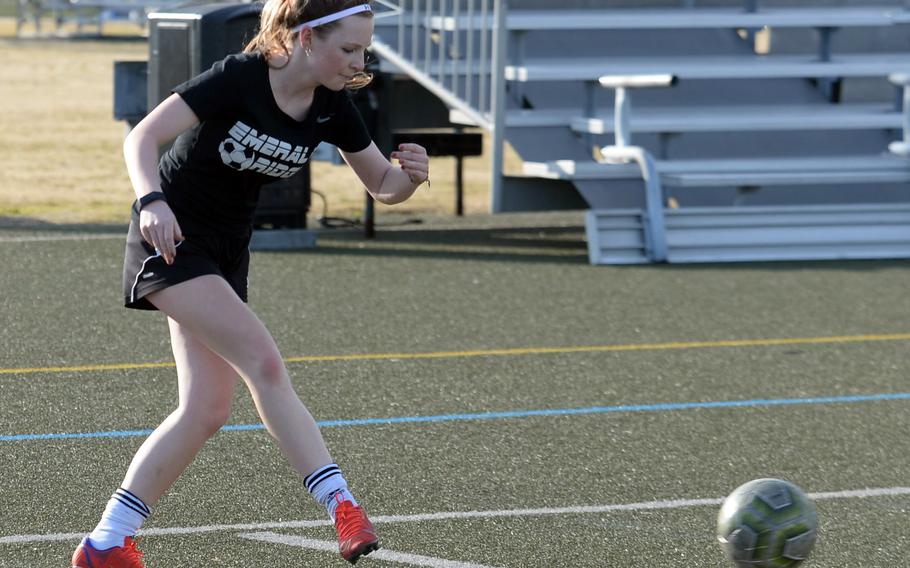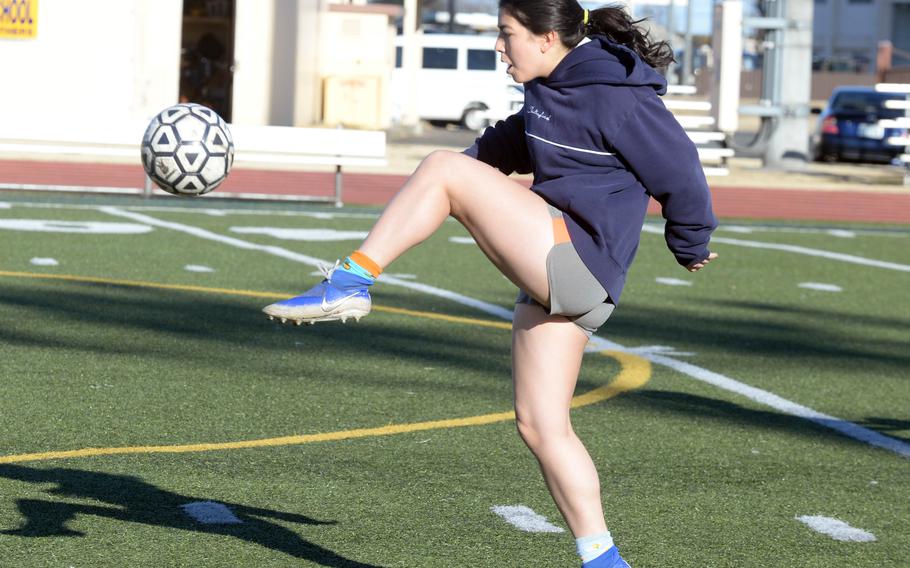 Girls soccer
Edgren fashioned perhaps the season's biggest surprise, beating Yokota 3-1 last April 24. The Eagles return senior keeper Nasia Edwards and midfielder Vicky Alves-Willson and juniors Samara Whitmore and Erler's younger sister, junior Abby.
Senior Keiya Carlson (seven goals) returns along with the Wellons sisters, junior Lily (midfield) and sophomore Lucy (defense) for a Yokota team "looking to be fierce this year," coach Matt Whipple said. He is trying to find "diamonds in the rough" to go with eight returners.
Senior midfielder Aubrey Giles (five goals, three assists) and senior sweeper Raelyn Flores are the lone two returners on a Trojans team on which "everybody else is new," coach Lyndsey Schmiedel said. Zama will try Keisha Steele-Loli in goal.
Kinnick is resting much hope on freshman Jasmine Pho, who coach Nico Hindie plans to try at midfielder. Other key Red Devils are junior Lucy Mock, sophomores Eleanor Kentz (goalkeeper), Lailah Anderson and Ainsley Rochholz, junior Mikaila Joi Miranda and senior Hana Nguyen.
King brings back plenty of firepower in sophomore Maliwan Schinker (13 goals), seniors Alyssa Garcia (eight), Hanna O'Mara (four) and goalkeeper Lily Lampley. Fernanda Diaz, a senior defender-midfielder, comes over from track and field.
Perry welcomes in a new coach, 2008 Seoul American graduate Daniel Burns, and is "definitely rebuilding," with 13 of 21 players either freshmen or sophomores. Freshman Sasha Malone could be a shining defensive star. "By the end of the year, we might surprise somebody," Burns said.
---
---
---
---