Wrestlers in Japan finally get shot to shine on mats
By
Stars and Stripes
February 19, 2022
---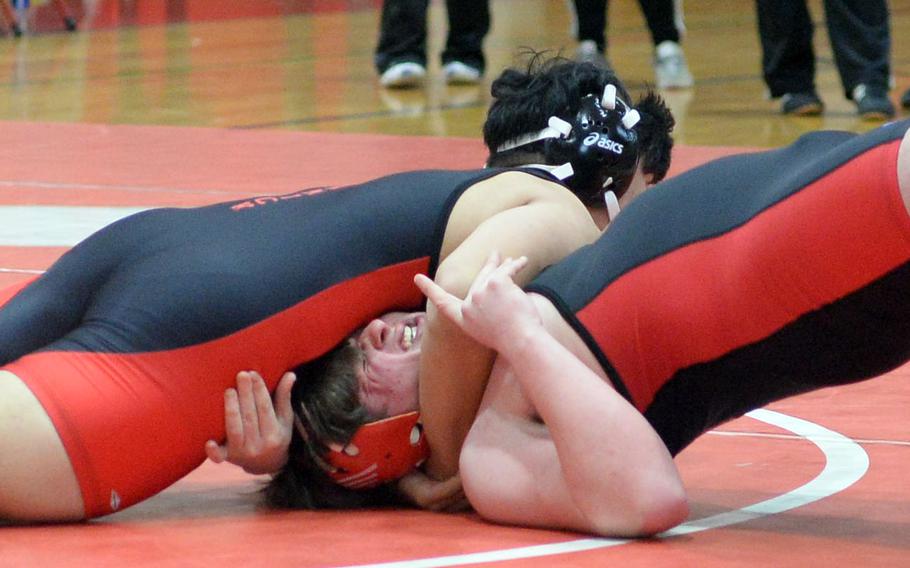 YOKOSUKA NAVAL BASE, Japan – Isaac Tovar sat out nearly all of the season with a right elbow dislocated during the first practice. Will Mitchell was healthy enough to wrestle, but coronavirus positives, contact tracing and meet cancelations kept getting in the way.
On Saturday, the two Nile C. Kinnick wrestlers finally got a chance to ply their skills on the mat – plenty of chances – as the DODEA-Japan schedule came to a close with its season-ending tournament.
"I watch them in practice, but it's nice to finally see them wrestle guys from other schools," Red Devils coach Gary Wilson said.
Mitchell, a sophomore who just moved to Yokosuka, and Tovar, a senior, each won three bouts before facing each other in the 122-pound final, when Mitchell pinned Tovar in 2 minutes, 47 seconds.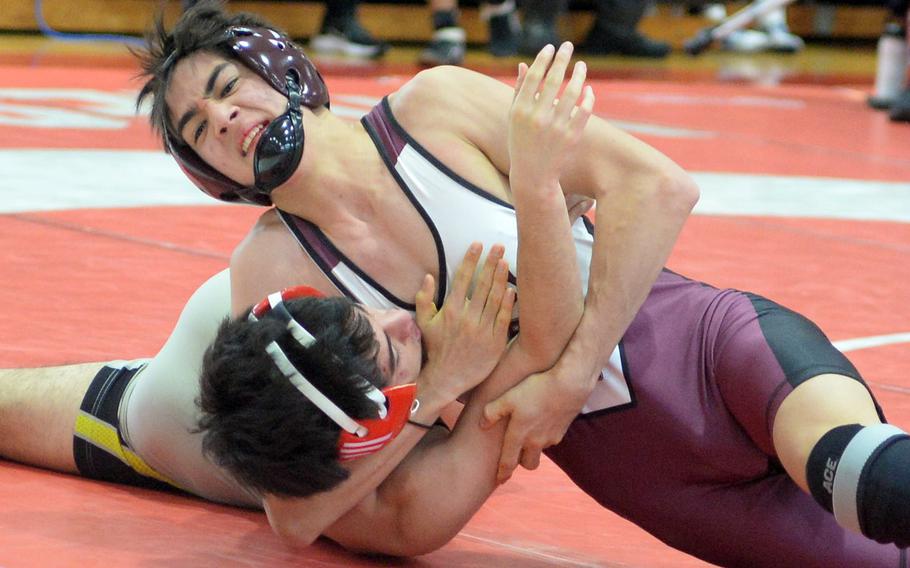 "It felt great to be out there," Mitchell said. "I missed the whole idea of grinding the entire day, going match after match and having teammates around me."
Many of the 61 wrestlers from six teams in the three-hour tournament said much the same. COVID brought about a pause to all winter sports in DODEA-Pacific starting Jan. 10, and injuries and contact tracing caused other cancelations throughout the schedule.
"Some wrestled more today than they did the entire season," Wilson said.
While some wrestlers said they continued to work hard during practice, it was difficult for them to keep going with so few meets on tap.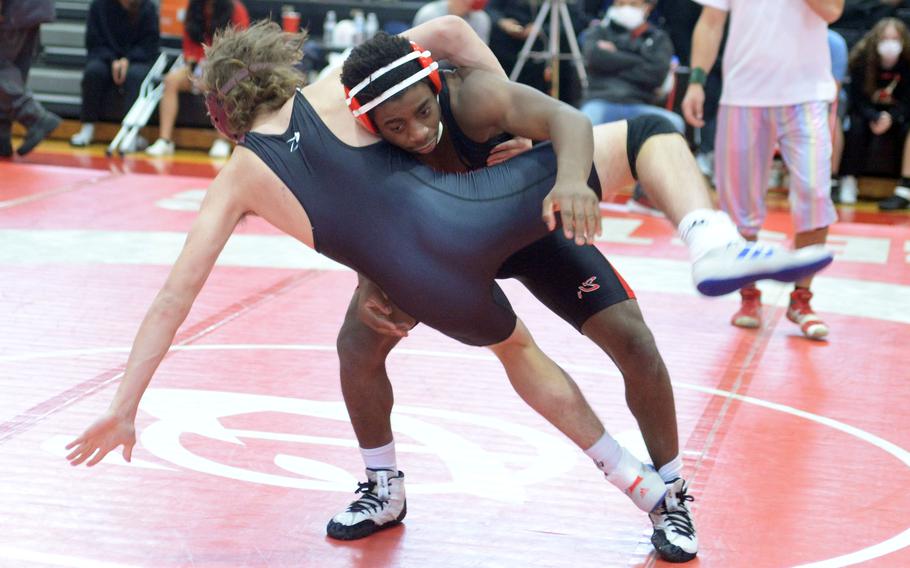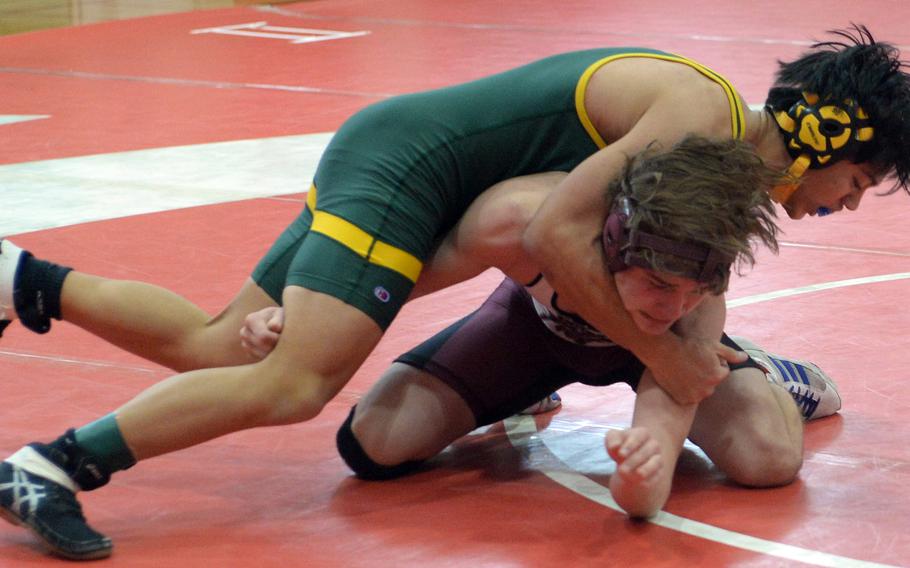 Yokota's Tate Rannow, who won the 148-pound division Saturday, called the on-off nature of the schedule "very frustrating, practicing every day without seeing the results of it, not testing the tools you gained in practice." He had no bouts between mid-December and early February.
Same held true for Douglass Tackney, a Robert D. Edgren senior who said he was also unhappy with the lengthy mid-season pause. He, too, had no bouts from mid-December until two weeks ago at Kinnick.
"That was a long two-month drought. It felt good to be out there," Tackney said. He capped an unbeaten season with three wins Saturday. His first was a tough go, a 20-16 decision over Matthew C. Perry's Kirby Kendrick. "I did everything I worked on in practice and I won it."
Kendrick's teammate, Matthew Williams, was one of three Samurai weight-class winners. He pinned Kinnick's Andrew Mincks in 50 seconds to capture the 135-pound title, winning all four of his bouts by pin.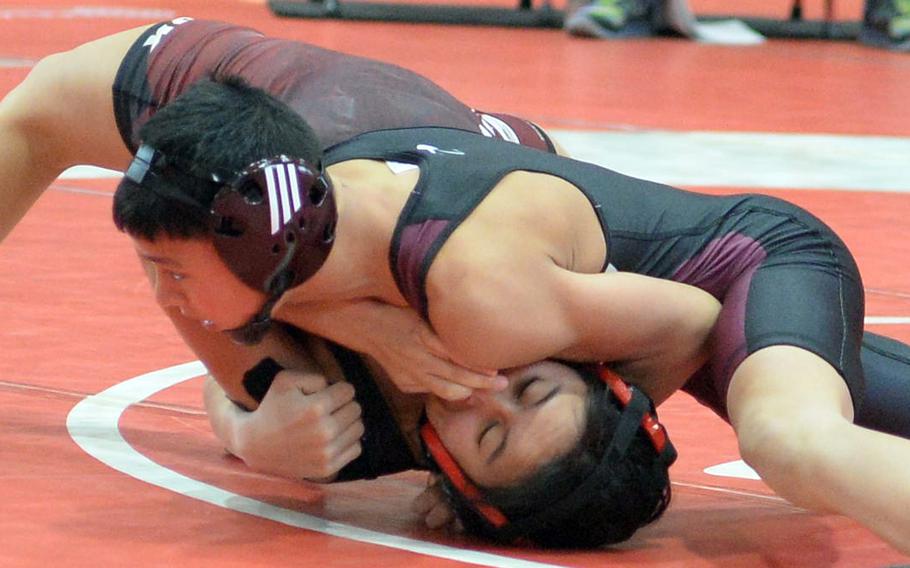 "It felt amazing," Williams said. "I thought I was going to win, but not with pins. And to win against a big-school (wrestler) is a great feeling." He was joined by brothers Sebastian and Gregory Campbell who won the 101- and 108-pound titles for Perry.
Kinnick led the way by winning five weight divisions. Logan Hamilton won at 115 pounds, Angel Rodrigues at 129, Josh Hernandez at 168 and Kaleb Leon Guerrero at 215, in addition to Mitchell's title.
Rannow was joined in the winner's circle by Yokota teammates Nicholas Sales (heavyweight) and Carmelo Holmes (141).
There were no entries at 180 pounds. Hernandez had just one opponent at 168, Tom Irby of E.J. King. So few wrestlers entered the event that every weight class featured a round-robin format, with few true finals.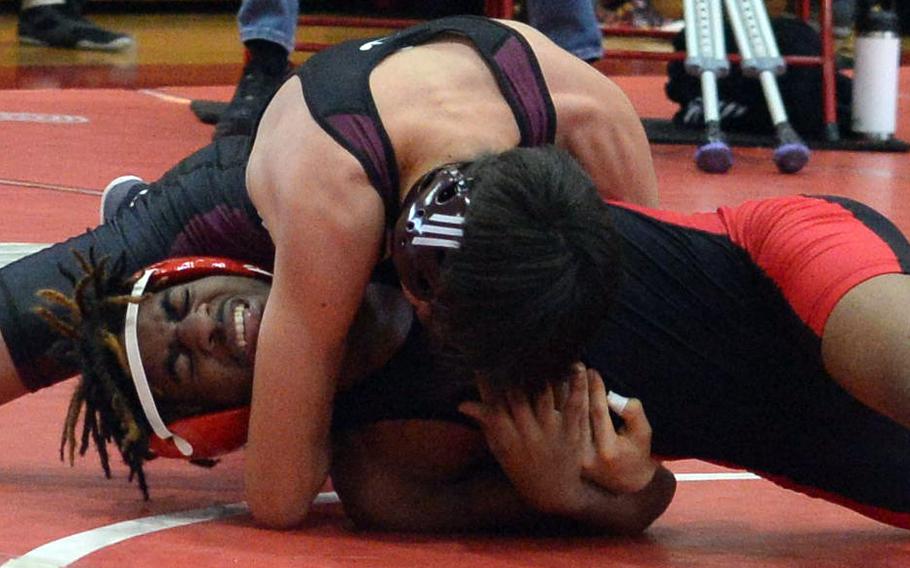 ---
---
---
---