Zama, Kinnick hold off King squads for season-ending titles
Stars and Stripes
February 19, 2022
---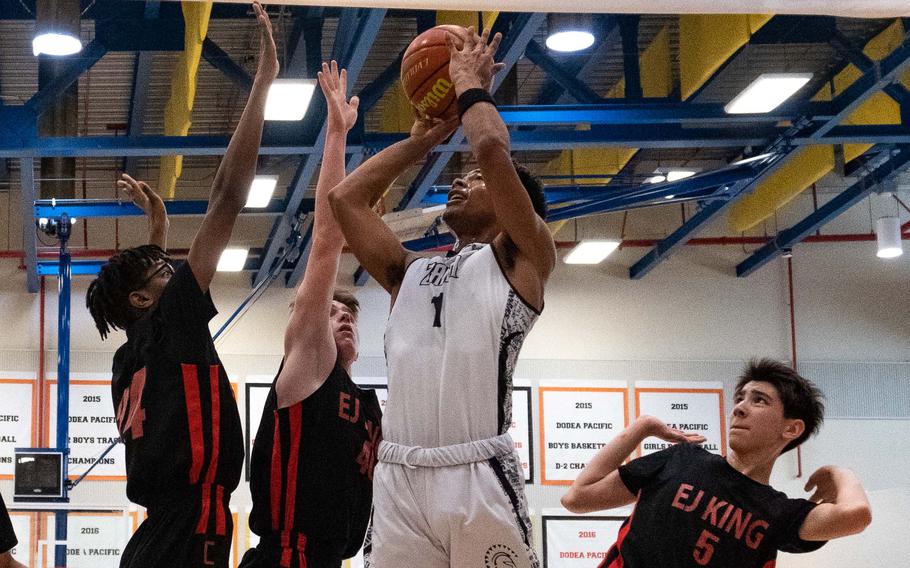 Ask most any DODEA-Japan basketball coach about to face E.J. King and they'll tell you: Their shooting guards will product points; it's a question of how to slow them down.
Zama's boys and Nile C. Kinnick's girls coaches said they had the solutions in Saturday's championship games of the DODEA-Japan season-ending tournaments:
-- "I told the boys I know he's going to get his points, but let's make it hard for him," Trojans coach Saul Arras said of Cobras junior sharpshooter Cameron Reinhart.
He scored 18 points, hitting four three-point goals and going 6-for-6 from the foul line. But Reinhart fouled out in the second quarter and Zama seniors Murray Gillerson and Keshawn McNeill took it from there in a 61-31 romp over King at Yokota High School.
-- On the girls side, freshman Moa Best, one of two Cobras shooting specialists, scored 30 points, but it was far from enough as the Red Devils' balanced roster of tall forwards and quick guards overwhelmed King in a 73-34 triumph at Zama Middle-High School.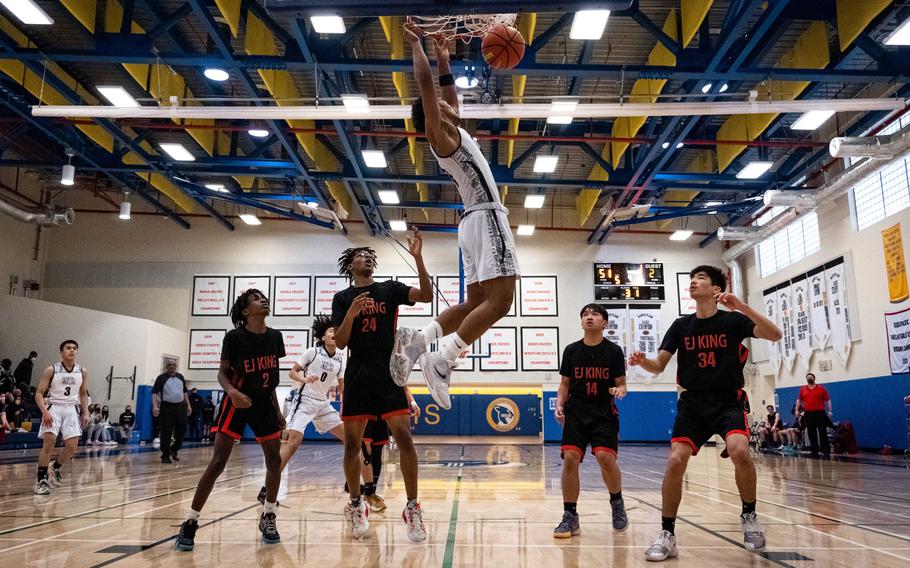 "That's the thing about my team. You can't shut down just one person on my team, and I have plenty more on the bench," Red Devils coach Joey White said.
Zama's boys, who beat King 65-56 in Thursday's pool-play game, burst in front by 14 points after one quarter, extended the margin to 21 at halftime and were never threatened.
"We started hot at the beginning," Arras said. "We had a gameplan to play aggressive defense and shut down number five (Reinhart) and that's exactly what we did."
Reinhart had scored 92 points and hit 21 three-pointers the day before in three Cobras wins. But he fouled out two minutes before halftime, and "once that happens, it's over," Cobras coach Travis Elliott said.
"Those two (Gillerson and McNeill) really work well together," Elliott said. "That's a really great team."
McNeill finished with 32 points and Gillerson 21, 18 of them coming in the first half. They also pulled down their share of rebounds, as did freshman Amare King, a junior varsity player moved up to the varsity for the tournament due to injuries and COVID contact tracing.
"He stepped up to the challenge," Arras said of King.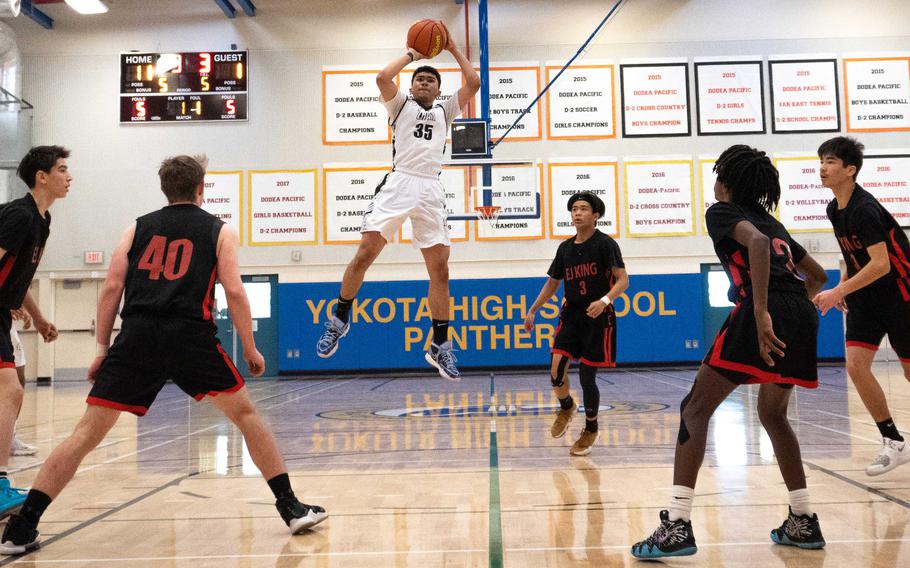 Despite the loss, Elliott said he was proud of his team, particularly after a 19½-hour bus ride from Sasebo Naval Base to Yokota. "That we even got to the championship … they blossomed at the right moment."
For the Red Devils girls team, White nearly had a triple double, scoring 11 points, grabbing 23 boards and blocking six shots.
But while the Trojans boys raced ahead early on, the Cobras' girls kept things close in the opening stages. The teams scored 18 points each in the second quarter and the Red Devils led 35-27 at half.
"We knew the first half would be close, but it was closer than I anticipated," Joey White said. "But I realized, they're (Cobras) not going to keep up that same pace throughout the game."
Kinnick's defense went to work in the second half, holding the Cobras to just seven points in the last two quarters, while the offense picked up its pace, outscoring King 21-4 in the third period. "We really opened it up in the third quarter," White said.
---
---
---
---