DODEA-Japan tourney is all about the journey for some
By
Stars and Stripes
February 17, 2022
---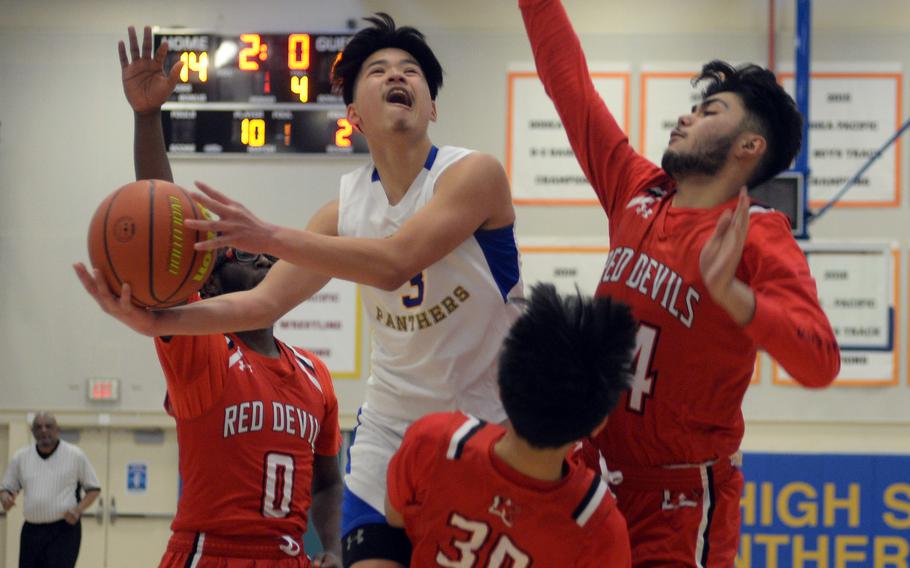 YOKOTA AIR BASE, Japan – Teams traveled from as far away as 19½ hours by bus to get to Yokota and Camp Zama for this weekend's season-ending DODEA-Japan basketball tournaments - the first since February 2020.
No matter whether they rode the 430 miles from Misawa Air Base, the 725 miles from Sasebo Naval Base or just around the corner, all said they were happy just to be playing, given the uncertainties of the COVID-interrupted season.
"We're blessed to have what we do have," Zama senior Keshawn McNeill said Thursday after his Trojans won their two scheduled pool-play games.
A few weeks earlier, much was uncertain as to whether there would even be a rest of the season. DODEA-Pacific put sports on a three-week pause starting Jan. 10, forcing DODEA-Japan and DODEA-Korea schools to wait until early February to restart.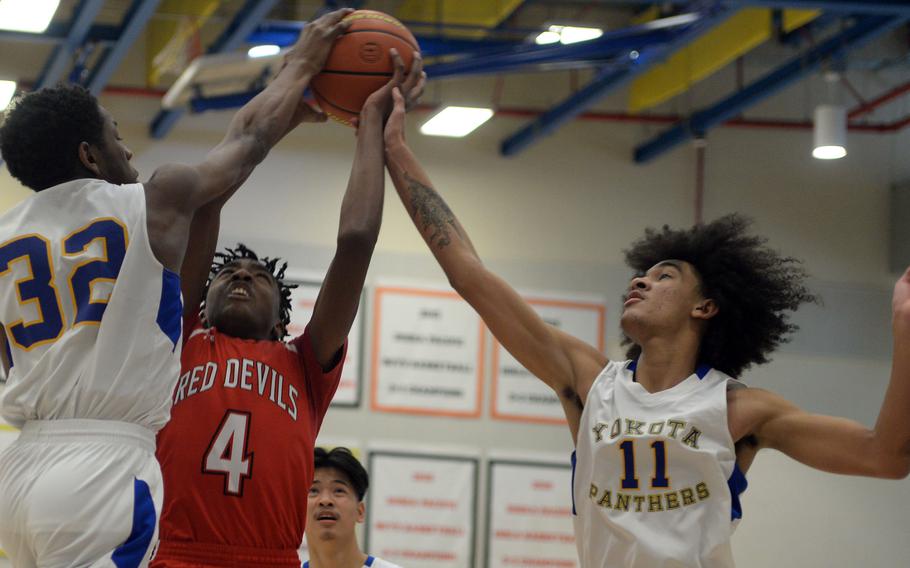 DODEA-Korea's end-of-season tournaments were last week, while DODEA-Japan postponed its tournaments until this weekend. DODEA's Okinawa high schools shut down their winter season altogether in the face of large numbers of COVID positives and contact tracing.
"I wouldn't want to be at Kadena or Kubasaki right now," McNeill said. "That's why every time I get on the court, I try to make the best of it, try to leave it all out there."
The DODEA-Japan boys basketball tournament got underway Thursday at Yokota High School and the girls tournament at Zama, with 1½ days of pool play followed by 1½ days of single-elimination bracket games. The one-day wrestling tournament is Saturday at Kinnick.
Many teams were getting a first glance of each other. E.J. King and Matthew C. Perry played most of their games against each other, as was the case with Yokota, Zama and Kinnick. Robert D. Edgren, in northern Japan, had seen their Tokyo brethren sparingly.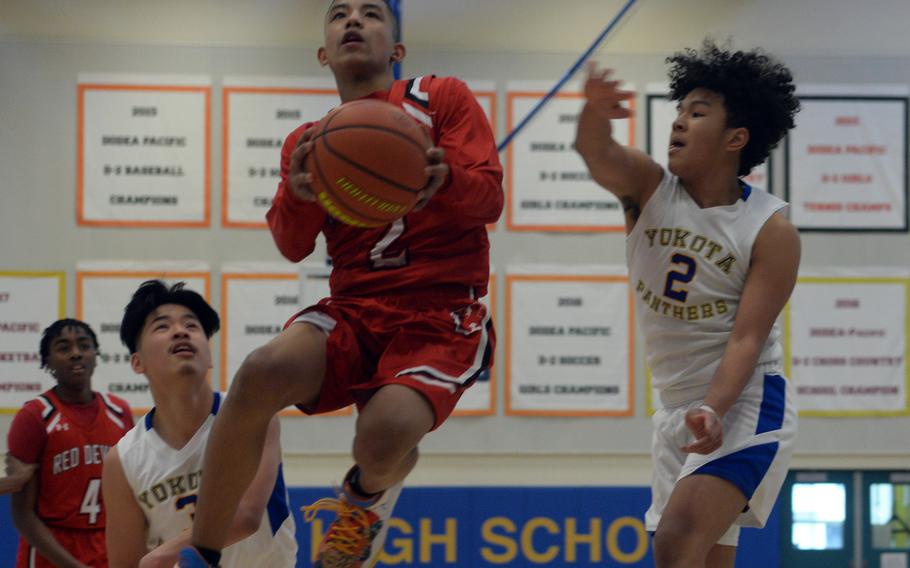 "This weekend will make up a lot for these kids," Red Devils boys coach Robert Stovall said. "They haven't had a lot of positives this season."
Each team in the basketball tournaments was missing at least one starter due to injuries or COVID and coaches spent the days in the run-up to the tournaments moving junior varsity players onto the rosters.
"Next man up," Yokota boys coach Dan Galvin said. "It's just another example of things that can't be emulated in the classroom. They're (players) just happy to be here."
King's girls coach McKinzy Best has three volleyball and two tennis players who made a similar journey to Zama in October, but "the rest haven't," he said.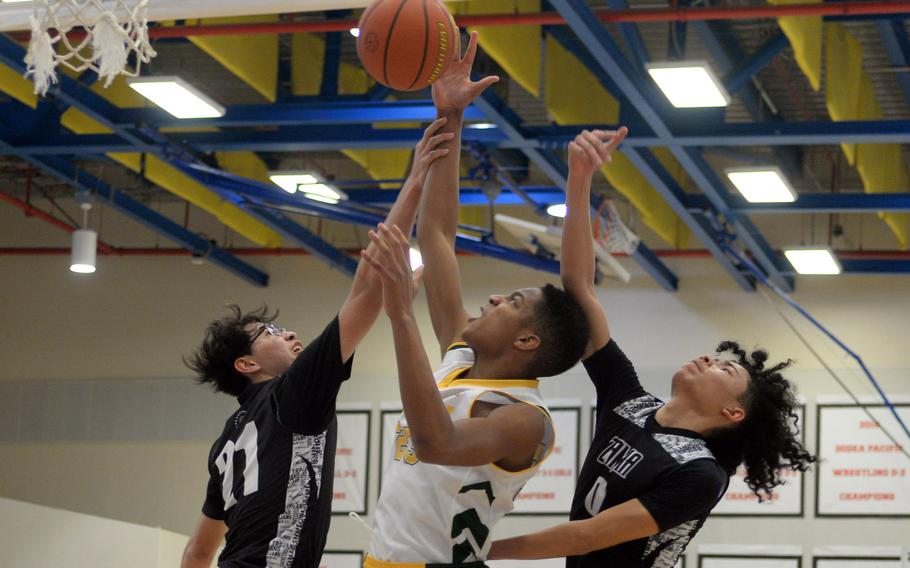 "Any time there's a long bus ride, they're going to be tired, but we had two hours' rest" before their first game, a 46-29 win over Zama. "They were good to go."
In non-COVID years, the Red Devils, Trojans and Panthers are also expected to make lengthy bus trips to the outlying Japan schools.
Thus, "I tell my kids, don't expect them to feel sorry for us because we made a long trip," Perry boys coach Daniel Burns said.
But it was all about getting back on the court and players and finishing up the season. "Today was worth it," Best said.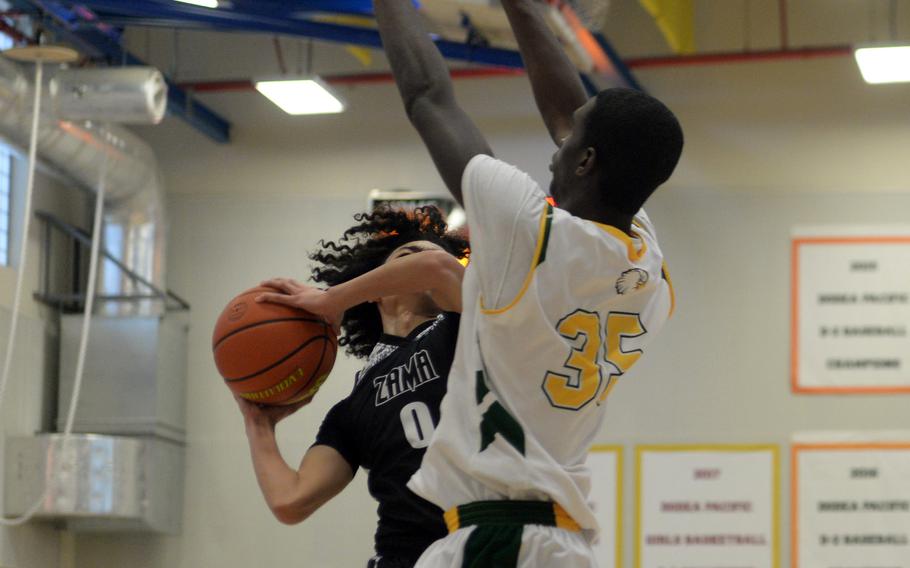 ---
---
---
---