Humphreys girls take early lead and hold on for title
Stars and Stripes
February 11, 2022
---
OSAN AIR BASE, South Korea – Six days earlier, Humphreys fell behind in the second quarter and spent the rest of the afternoon trying to catch up to Osan. On Friday, the Blackhawks left nothing to chance.
Led by Alexis Smalls' 13 points, Humphreys burst in front early, outscoring the Cougars 19-8 in the first half en route to a 34-23 victory in the DODEA-Korea girls basketball tournament final.
Smalls transferred to Humphreys from Yokota and "provided immediate leadership alongside our other seniors," Blackhawks coach Eddie Rozzi said. "Natural leader and always looking to help our younger players."
With the victory, the Blackhawks avenged their 34-30 loss to the Cougars last Saturday on the same court.
Osan as a result entered Friday's tournament as the top seed and reached the final by downing No. 4 seed Humphreys Gold 32-19 in the first semifinal. No. 2 seed Humphreys Black won the other semifinal 29-20 over Daegu, which was playing for the first time since mid-December.
The difference between Saturday's game and Friday's, aside from Smalls' performance, was getting "back to basics, as it always is," Rozzi said.
"Boxing out, rebounding, patience on offense and playing good defense," he said. "In the end, it was defense that won the game for us."
The Cougars didn't give up, fighting all the way to the end, but it came down to too many missed shots, Osan coach Laura Mountcastle said.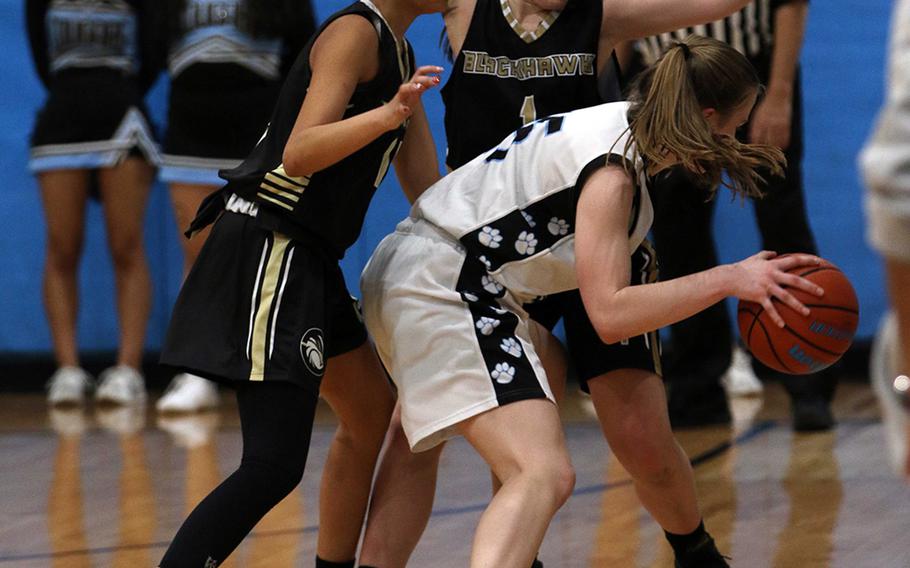 "Our shots weren't going in. Not even our free throws," she said. "Sometimes they just don't fall in. But we're very proud of the girls. They worked very hard this season, they never gave up against a very physical Humphreys team."
Mountcastle's daughter, senior center Anne Mountcastle, led the Cougars with 11 points.
Friday's was the first of DODEA-Korea's three winter sports season-ending tournaments. Boys basketball is at Daegu and wrestling at Humphreys on Saturday.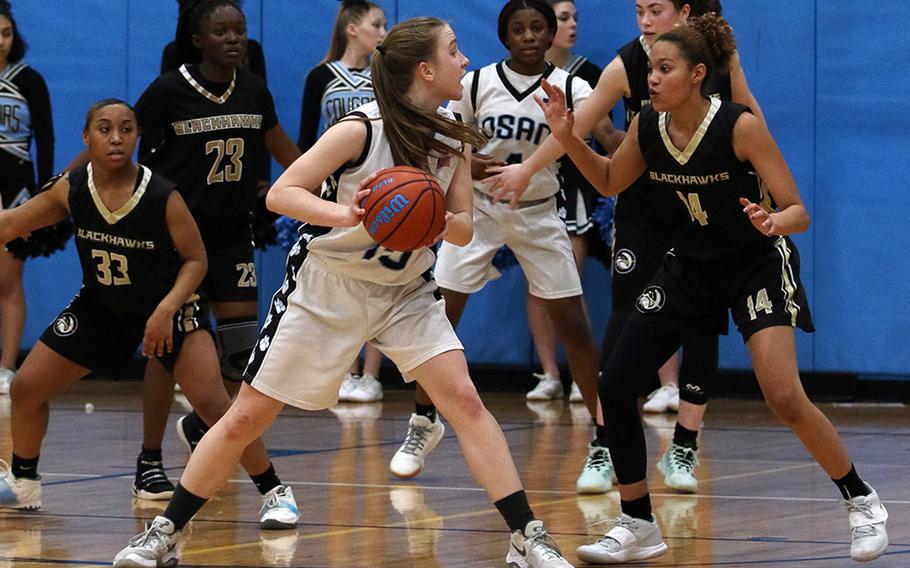 ---
---
---
---