Korea basketball, wrestling seasons end this weekend
By
Stars and Stripes
February 10, 2022
---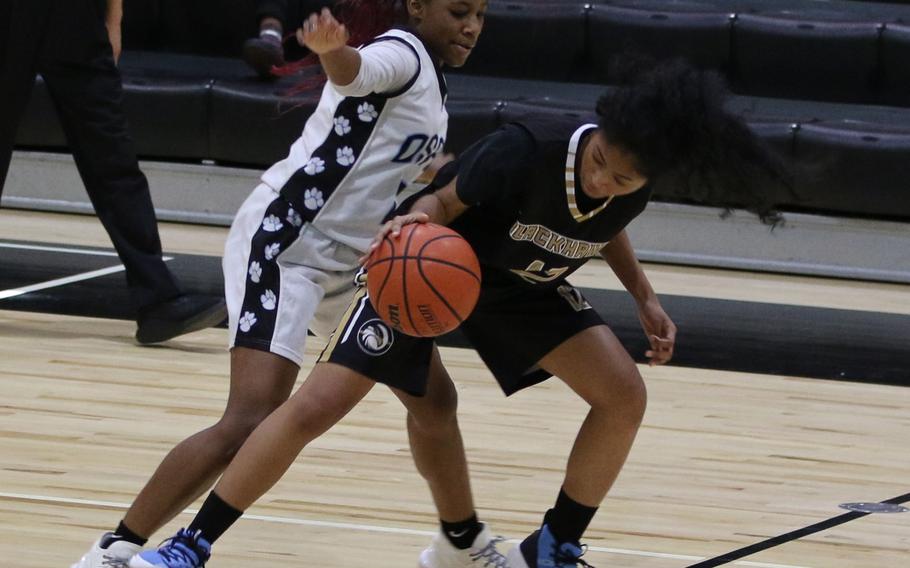 TOKYO – The Humphreys boys basketball team seemed to be headed for yet another victory over Osan after having seized a 26-8 lead after the first period Saturday.
But come the fourth quarter, the Cougars - led by underclassmen Dash DeSilva and Brad Yoakley - turned the contest on its head, outscoring the Blackhawks 28-13 in the final period en route to a 67-64 win that leveled the teams' season series 1-1.
While that may have surprised many a DODEA-Korea basketball observer, Cougars assistant coach Tim McArthur said the only surprise to him "is that it didn't happen sooner." This despite the Blackhawks' 58-43 win on Dec. 12 at Humphreys.
"We have really been coaching the guys up to understand that no matter the competition, you have to rise to the occasion," McArthur said. "After they picked it up (in the second half), that's exactly what we expected from them."
The Blackhawks this season have only three players with varsity experience, and had just seven suit up last Saturday due to injuries and illness. "This is by far the least lethal team I've ever had," Humphreys coach Ron Merriwether said.
That said, the Cougars aren't taking anybody lightly, McArthur said. No matter what year a player may be, "we have this dynamic, we have boys with a lot of heart and give it 110 percent out there," he said.
McArthur and head coach Valencia Hickey said they expect more of the same come this Saturday, when DODEA-Korea's three teams suit up at Daegu in the district tournament, starting at 10 a.m.
Humphreys (2-1) gets the top seed via point differential; the Cougars (2-1) begin the tournament as the No. 2 against No. 3 Daegu (0-3), with the winner to play the Blackhawks for the title.
The girls tournament starts at 2 p.m. Friday at Osan. There, the Cougars (3-1) enter as the No. 1 seed based on head-to-head play against Humphreys Black; Osan beat the Blackhawks 34-30 last Saturday.
Humphreys Gold (1-2) plays Osan in the opener and Daegu faces Humphreys Black in the second game. The winners face each other in the final. The wrestling final pits Osan at Humphreys at 10 a.m. Saturday.
Like all DODEA-Korea teams this shortened, three-week season, before last Saturday, none of them played after Dec. 12, and "we haven't had a practice with all of them," Cougars girls coach Laura Mountcastle said.
They're also overcoming the loss of senior Gabi Penry, who transferred in December along with her father, former coach Robert Penry, to Guam.
On Saturday, the Cougars outscored Humphreys Black 14-5 in the second quarter and hung on from there. Mountcastle's daughter, Anne, a senior center, and guard Tatiana Lunn "stepped up," the elder Mountcastle said. "It just came together. They worked hard for this."
Meanwhile, the DODEA-Japan tournaments originally scheduled this weekend have been moved back to Feb. 17-19, mainly due to a forecast of bad weather on the highways that might prevent outlying teams from traveling to the Tokyo area.
All tournaments will remain at their respective sites, boys basketball at Yokota, girls at Zama and wrestling at Nile C. Kinnick.
This weekend's slate includes Matthew C. Perry basketball and wrestling at E.J. King, Yokota's and Zama's basketball teams playing on Friday and Kinnick hosting a wrestling tri-meet on Saturday.
---
---
---
---