Athletes head back to courts, mats in Japan and Korea
By
Stars and Stripes
February 3, 2022
---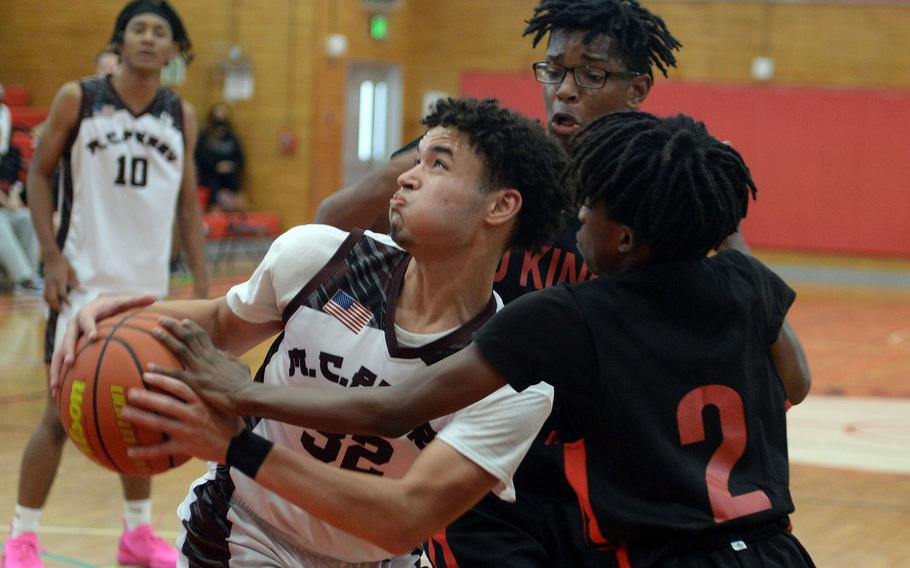 Stars and Stripes is making stories on the coronavirus pandemic available free of charge. See more stories here. Sign up for our daily coronavirus newsletter here. Please support our journalism with a subscription.
MARINE CORPS AIR STATION IWAKUNI, Japan – For nearly two months, Matthew C. Perry's Shien Fleming feared he wouldn't get a chance to top what has probably been the play of the season.
It was Dec. 12 at the Samurai's home court. Seconds remained in what had been a tight basketball game with E.J. King. Fleming grabbed a rebound and threw a court-length pass to teammate Roy Clayton III, who hit a game-winning layup as time expired in a 56-55 win.
"That was definitely the best high school basketball play I've experienced for myself," Fleming said.
It was a reversal of roles for the two; Clayton quarterbacked the football team and threw nine touchdown passes to receiver Fleming.
Fleming and the Samurai had to wait seven weeks to take the court again, thanks to a lengthy coronavirus-induced shutdown of DODEA high school sports throughout the Pacific that covered most of January, and on the heels of the two-week Christmas break in December.
Perry and King face off Friday in the first of two scheduled games this weekend. They're 2-2 in head-to-head matchups so far this season; the Cobras are 7-2 overall.
"I just have my fingers crossed" for the last three weeks of the season, Fleming said, adding that practicing for so many weeks with no games on the horizon "just messed with everyone's motivation. Not knowing what the future held for us was irritating."
On the girls side, Perry will welcome Nile C. Kinnick, unbeaten through five games. King's girls are 7-0, and the Red Devils and Cobras will square off in the weekend's first game, a battle of Japan unbeatens.
"They love the challenge," Kinnick girls coach Joey White said of what will be a matchup of a tall Red Devils team against a guard-oriented Cobras squad. "They just want to play. These girls are hungry."
The King-Kinnick girls showdown highlights the return to action of basketball and wrestling teams in Japan and Korea after the lengthy hiatus. Guam High resumed play last weekend. Okinawa's winter season was discontinued due to a spike in COVID cases.
The Samurai and Cobras boys were also scheduled to face Kinnick, but their trip to Iwakuni was canceled after a Red Devils player tested positive for COVID after Kinnick's 53-37 home loss Tuesday to Yokota.
Elsewhere in Japan, Zama's basketball teams travel to Edgren, while wrestling tri-meets are on tap at Perry and Kinnick.
In Korea, Daegu did not have enough to field a girls basketball team for Saturday's three-school slate at Humphreys; that's now limited to Humphreys two teams and to Osan. Daegu's wrestling team has folded; Saturday's meet at Osan will feature only the Cougars and Humphreys.
Daegu's boys basketball team enters Saturday's games at Osan against the Cougars and Humphreys with what Warriors coach Blake Sims called "mixed emotions."
Like the girls, "some of the kids are hesitant to go because of the rise in (COVID) cases" throughout Korea, Sims said. They've tried different activities at school to keep the players motivated, such as 3-on-3 tournaments. "They're just happy to play," Sims said.
---
---
---
---