Wrestlers get a few extra matches for late Christmas gifts
by
Dave Ornauer
Stars and Stripes
December 28, 2021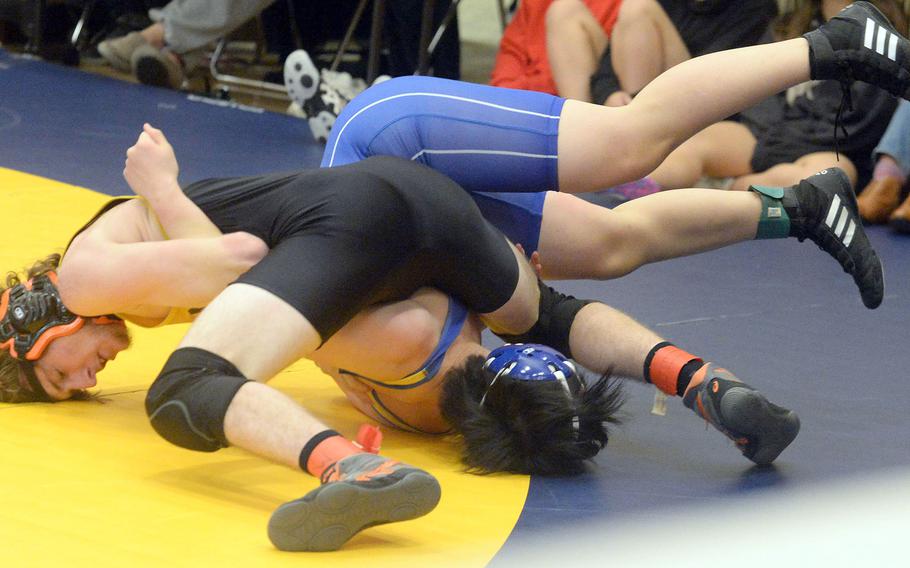 TOKYO – Three days after enjoying the annual bounty courtesy of Santa's sleigh, Nicholaz Aguirre got a Christmas bonus of an interscholastic athletics sort.
The Kubasaki senior, plus 35 other wrestlers from DODEA high schools on Okinawa and Japan and Tokyo-area international schools, competed in Tuesday's Azabu Ward year-end international open tournament.
Aguirre said he couldn't have been happier for the opportunity. With no Far East tournament this year, and current DODEA coronavirus protocols limiting wrestlers to in-district meets, Tuesday may have been the one chance they could take on other competition this season.
"It's like a late Christmas gift," Aguirre said. "It's like having a new season."
Forty-four athletes wrestled in Tuesday's event, which also featured five middle-school and three graduate wrestlers.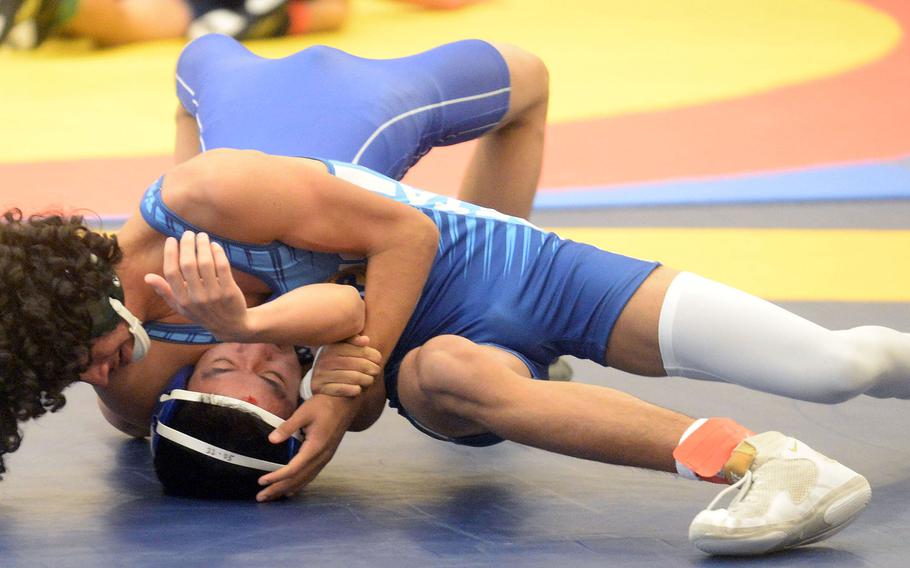 The event was held at the Church of Jesus Christ of Latter-Day Saints Tokyo Temple's culture center, and was not sanctioned by DODEA nor the Kanto Plain Association of Secondary Schools.
Twelve of the participants, including the three alumni, wrestled in the last Far East tournament before the pandemic, including three Far East champions, Aguirre, Kadena's Kurt Chapman and American School In Japan's Bryce Clement.
"Having new opponents, it's exciting to be out on the mats, especially with COVID taking away" Far East, Aguirre said.
Prior to Tuesday, Aguirre had just two matches this season, victories over two Kadena wrestlers plus one win by walkover. On Tuesday, he wrestled three bouts, finishing second to Michael Lozano of Nile C. Kinnick at 125 pounds.
Each wrestler got a minimum of three bouts, and some as many as five, giving them "a little more variety in the season," said senior Tate Rannow of Yokota, who took second to ASIJ's Take Zoot at 145 pounds.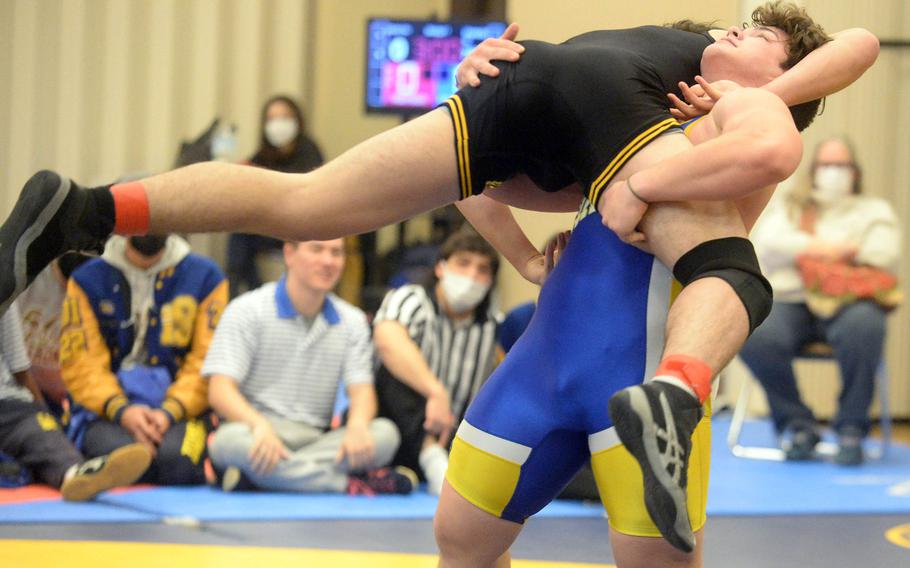 "It gives me a chance to wrestle people I'm probably never going to see again, wrestle people better than me, which helps me build my skill level," Rannow said.
The other former Far East champions took their weight classes, Chapman at 160 and Clement at 129. ASIJ middle-schooler Serena Koslow won the girls division, Kinnick's Martin Lozano the flyweight title, St. Mary's Isaac Shane won at 115 and Kubasaki's Godfrey Wray won at 140-plus.
Former Osan wrestler Toy Williams, now attending college in South Carolina, edged ASIJ's Shawn Dobberfuhl 8-7 for the 215-pound title in the day's only bout that went to overtime.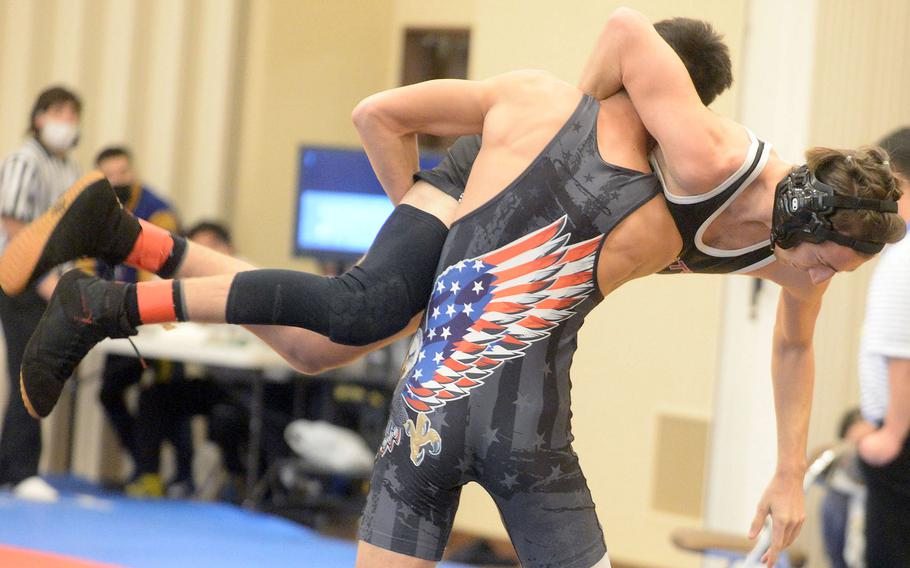 Girls — 1st, Serena Koslow, American School In Japan middle school; 2nd, Charly Cruz, ASIJ MS; 3rd, Kaori Go, ASIJ MS. Koslow pin. Go, 1:35; Koslow pin. Cruz, :59; Koslow pin. Fiona Brooks, Nile C. Kinnick, 1:38; Go pin. Brooks, 4:22; Cruz pin. Go, :48; Cruz pin. Brooks, :45.
Flyweight — 1st, Martin Lozano, Kinnick; 2nd, Samuel Tovar, Kinnick; 3rd, Ethan McDanel, Yokosuka Middle School. Lozano tech. Gabriel Simpkins, Zama MS, 10-0, 2:30; Lozano tech. Tover, 10-0, 2:28; Lozano tech. McDanel, 10-0, 2:42; McDanel pin. Simpkins, 1:44; Simpkins dec. Tovar, 6-5; Tovar pin. McDanel, 4:44.
115 — 1st, Isaac Shane, St. Mary's International; 2nd, Gabriel Shikuma, ASIJ; 3rd, Bennett Schmid, Kinnick. Shane tech. Shikuma, 12-2, 2:06; Shane pin. Schmid, :54; Shane tech. Kai Patton, Yokota, 10-0, 2:03; Shikuma dec. Schmid, 4-3; Shikuma pin. Patton, :30; Schmid tech. Patton, 12-0, 5:58.
125 — 1st, Michael Lozano, Kinnick; 2, Nicholaz Aguirre, Kubasaki; 3, Tatsuya Aoki, St. Mary's. Lozano pin. Patrick Brooks, Kinnick, 1:00; Lozano pin. Aguirre, 1:57; Lozano pin. Aoki, :29; Aguirre tech. Brooks, 10-0, :24; Aguirre pin. Aoki, :30; Aoki pin. Brooks, 4:36.
129 — 1st, Bryce Clement, ASIJ; 2nd, Peter Junker, Christian Academy Japan; 3rd, Angel Rodriguez, Kinnick. Clement tech. Junker, 10-0, 2:24; Clement tech. Katsumi Tokunaga, ASIJ, 11-0, 3:25; Clement tech. Rodriguez, 10-0, 2:04; Junker tech. Tokunaga, 10-0, 4:16; Junker dec. Rodriguez, 9-2; Rodriguez dec. Tokunaga, 6-4.
140+ — 1st, Godfrey Wray, Kubasaki; 2nd, Taiyo Mitsuoka, St. Mary's; 3rd, Jasjot Bedi, unattached. Mitsuoka pin. Ethan Sekiguchi, ASIJ, :59; Mitsuoka tech. Kaiyo Heinrichs, Yokota, 10-0, 2:05; Sekiguchi pin. Heinrichs, 3:47; Wray tech. Bedi, 13-3, 2:29; Wray tech. Connor Corrigan, ASIJ, 10-0, 1:00; Bedi pin. Corrigan, 1:48. Fifth place — Corrigan pin. Heinrichs, 1:19; Third place — Bedi pin. Sekiguchi, 2:43; Championship — Wray tech. Mitsuoka, 12-2, 4:12.
145 — 1st, Take Zoot, ASIJ; 2nd, Tate Rannow, Yokota; 3rd, Eiji Kasahara, unattached. Zoot tech. Kasahara, 10-0, 3:00; Zoot pin. James Kinney, Kadena, 1:07; Kasahara tech. Kinney, 12-1, 2:40; Rannow pin. Jeff Owens, Kubasaki, 2:45; Rannow tech. Cody Wallace, Kinnick, 13-0, 1:26; Owens tech. Wallace, 10-0, 2:40. Fifth place — Kinney def. Wallace by walkover; Third place — Kasahara pin. Owens, 4:44; Championship — Zoot tech. Rannow, 12-2, 1:57.
160 — 1st, Kurt Chapman, Kadena; 2nd, Jo Andrew Inoue, St. Mary's; 3rd, Dylan Thomson, ASIJ. Chapman pin. Wendell Harrison, Kinnick, 1:01; Chapman pin. Thomson, :47; Chapman tech. Angel Hernandez, Kinnick, 10-0, 1:47; Chapman pin. Inoue, 2:11; Inoue tech. Harrison, 10-0, 2:48; Inoue dec. Thomson, 15-7; Inoue pin. Hernandez, 1:22; Thomson pin. Harrison, 1:59; Thomson tech. Hernandez, 10-0, :59; Hernandez pin. Harrison, :20.
215 — 1st, Toy Williams, unattached; 2nd, Shawn Dobberfuhl, ASIJ; 3rd, Noah Cruz, Yokota. Dobberfuhl pin. Allen Dudley, Kubasaki, :50; Dobberfuhl pin. Matthew Araya, St. Mary's, :53; Araya dec. Dudley, 9-5; Williams pin. Braden Dudley, Kubasaki, :41; Williams pin. Cruz, :56; Cruz tech. Dudley, 10-0, :57. Fifth place — B. Dudley pin. A. Dudley, 1:39; Third place — Cruz dec. Araya, 12-10; Championship — Williams dec. Dobberfuhl, 10-9, OT.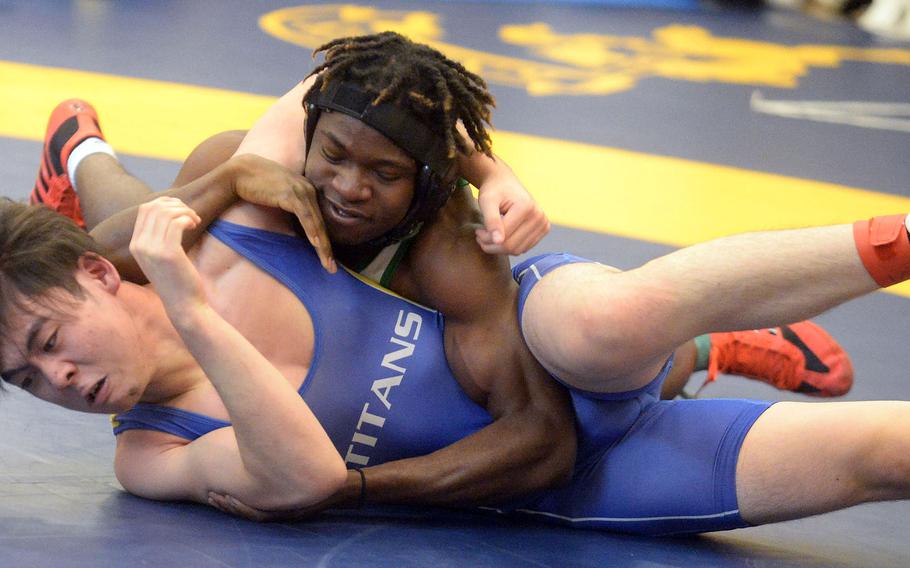 ---
---
---
---