Kadena girls look strong coming out of the gate
by
Dave Ornauer
Stars and Stripes
November 29, 2021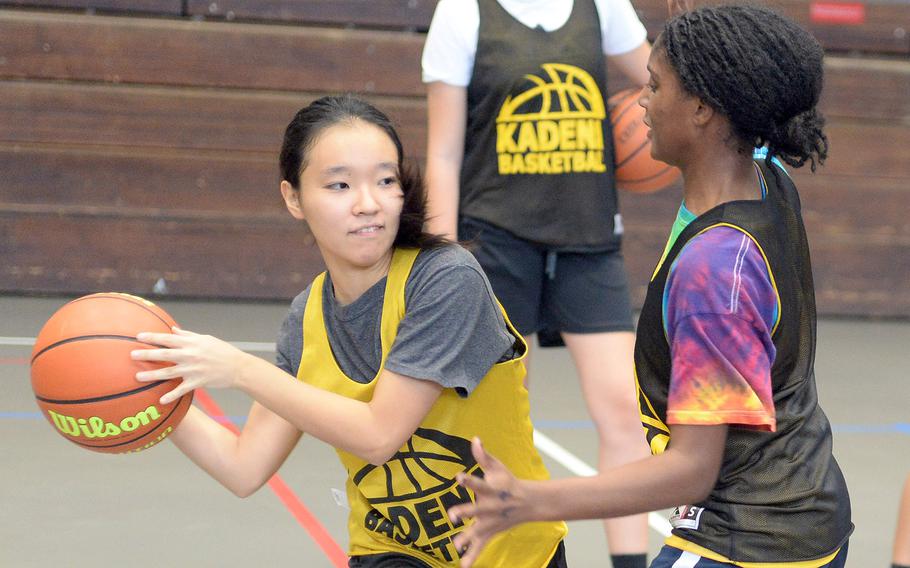 KADENA AIR BASE, Okinawa — Most teams resuming activities after the coronavirus-induced gap year 2020-21 find themselves in total rebuild mode.
Kadena's girls basketball team might be one exception, with DODEA-Okinawa's winter season just around the corner.
New coach Ed Manalac returns five players from the Panthers' 2019-20 varsity and JV teams, welcomes in a couple of transfers and has three promising freshmen, all with three weeks of practice under their belts.
"I inherited some talent, for sure," Manalac said. "We just have to put it together."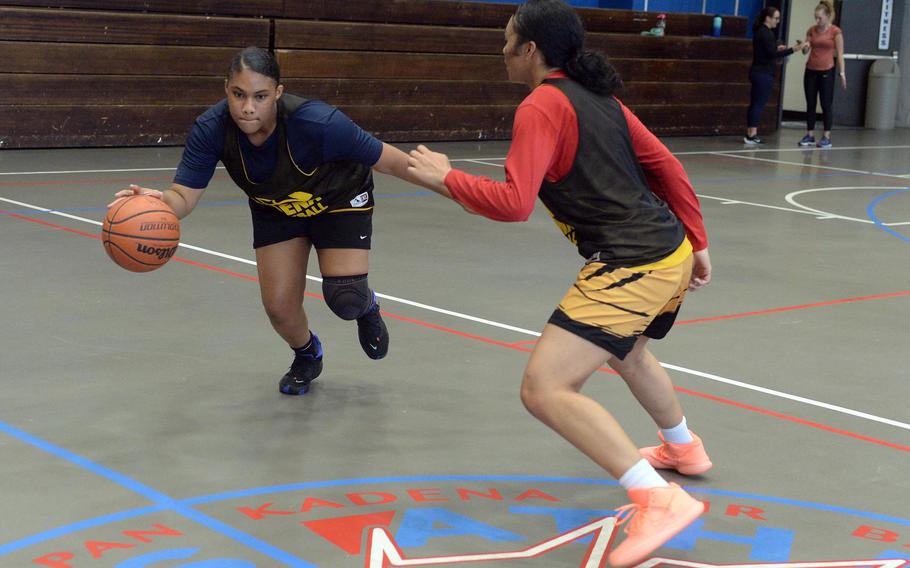 Forward Kyleigh Wright, guard Aubriann San Nicolas and former All-Far East guard Gracie Okubo, all seniors, return along with forward Ayanna Levi and guard Shyrelle Riley, both juniors.
Senior guard Sincere Chambers transferred from San Antonio. Sophomore Destiny Richardson is expected to have impact at forward. Nykale Penn can play the point, and fellow freshman Presley Pearce is the tallest on the team at 5-foot-11.
They begin the six-game varsity season Thursday at Kubasaki, along with the boys teams. Wrestling opens Wednesday at Kadena, with both teams scheduled to face only each other.
Given the pandemic, permission has not yet been given for them to play international or Japanese teams. And there's no Far East tournament at the end of the season, either, DODEA-Pacific officials said.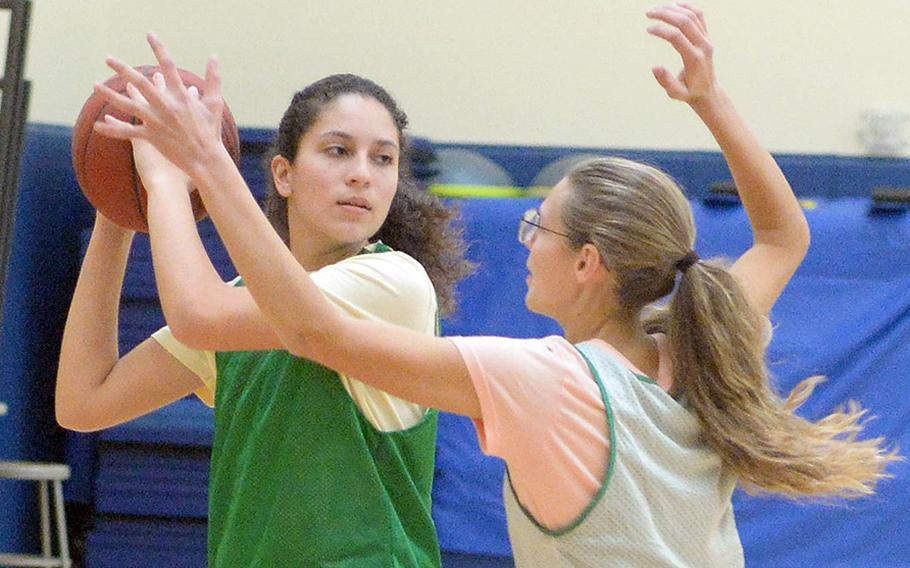 Girls basketball
In a normal season, Manalac says the Panthers could go "as far as they want to. We definitely have the pieces, inside, outside, in the paint, shooters. Our bench is young, but we do have senior leaders."
As Kadena has borrowed Pearce (volleyball) and Penn (softball), among others, from other sports, the Panthers' lone opponent, Kubasaki, also drew from the ranks of other sports.
Junior Sophia Grubbs (volleyball) is playing basketball for the first time, as is sophomore Lillian Law (tennis); each will play forward, while seniors Viola Wray and Bianca Loor will line up at shooting guard and sophomore Alexandra Alonzo and freshman Syra Sato at point guard.
"We're very young," said new Dragons coach Tony Washington, who coached soccer at Kadena last spring. "This will definitely be a learning year for us. We have a lot of room to grow."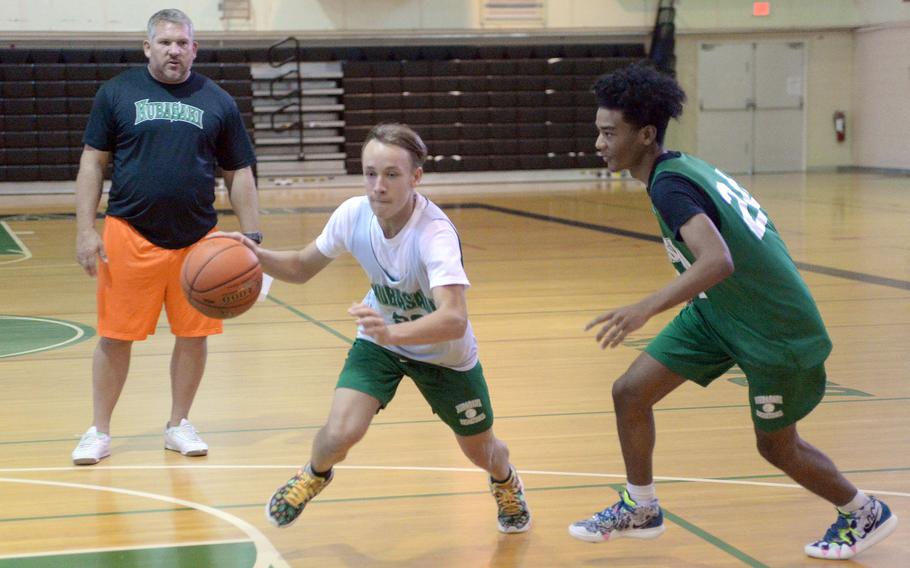 Boys basketball
Kubasaki's shelves also emptied after the last complete season, but the Dragons do bring in a slew of guards in senior Levi Soto, a transfer from Illinois; Eric Camacho, a senior who moved from Stuttgart, Germany, Nicholas Arroyo, a junior; and freshman Trey Harris.
They also have height in 6-foot-3 Terrence Reese and 6-4 Jacob Braud, each sophomores. And they welcome back a new-old coach, Jon Fick, who did not coach in 2019-20 but is back for his 13th season at the helm.
"We have a decent team, we've got guards, big guys, we have depth, it's just a matter of figuring out playing as a team," he said.
Fick said he's high on Soto's and Harris' prospects. "The kid's tough; he's got grit," Fick said of Soto. "Harris, he's going to be so good."
As for the Panthers, they're "pretty much starting over," said Antiwon Tucker, back for his third season as coach. Aside from seniors Jeremiah Lewis (forward) and Anthony Santos (point), "everything else is new," Tucker said. "We're trying to get back to our Kadena ways, but it will take some time."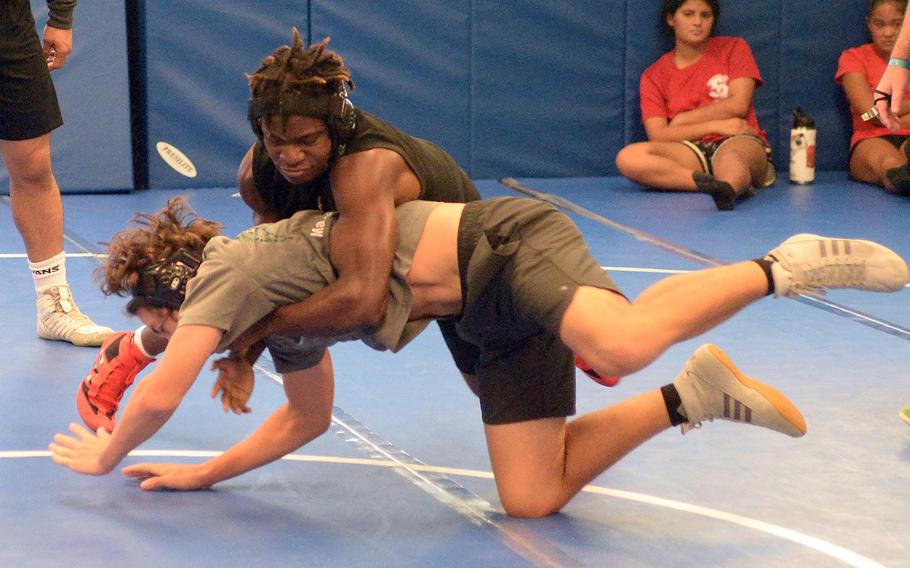 Wrestling
Kubasaki and Kadena lost many components from two seasons ago, when the Dragons won the Far East individual and team titles.
The Dragons welcome back seniors Adrian Misenhimer (168, fourth at 141 in the last Far East) and Nicholaz Aguirre (122, reigning 101-pound Far East champion) and junior Jeff Owens (141, fifth at 129). One rising star may be Godfrey Wray, a 148-pound junior.
"We have a lot of new wrestlers, and even the experienced ones haven't wrestled in two years," new coach Erik Lundberg said. "A lot of starting over with the fundamentals."
The Panthers welcome an old foe to the coaching reins – Joey Wood, a 2005 Nile C. Kinnick graduate, lost to a Kadena wrestler in the Far East finals that year at 168 pounds. "It's kind of surreal that I'm here," he said.
Kadena's lineup is loaded with returners, including senior Kurt Chapman (158, reigning 129-pound Far East champion). Twins Mizuki and Mirai Sato-Marsh are back at the lower weights; Mizuki took fourth at 101 pounds in the last Far East.
Senior Crisean Covington (148; fifth at 135) will depart in December, with his slot to be filled by sophomore James Kinney. Other sophomores with potential are Jeremiah Drummer (158-68) and Connor Burgess (215).
"We have a lot of new kids, and it's exciting to see the progress they're making," Wood said.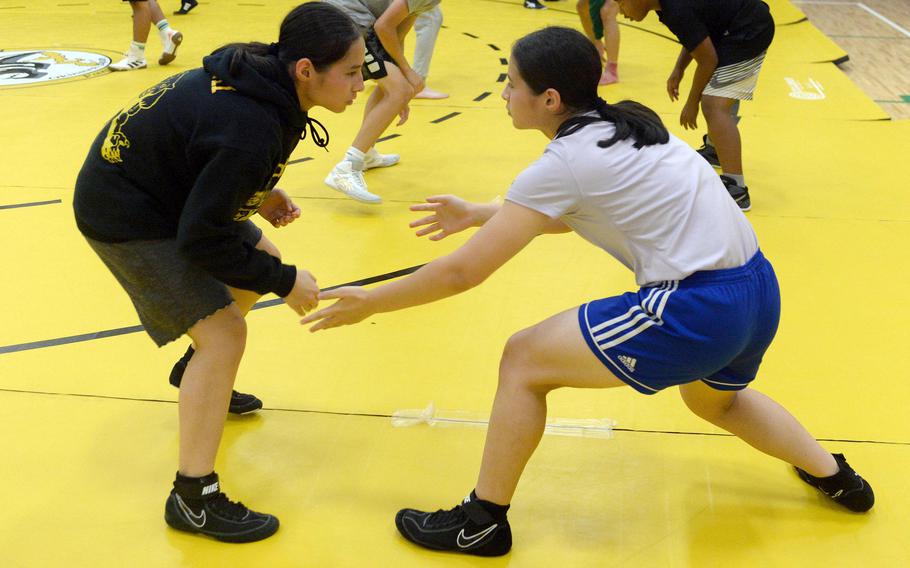 ---
---
---
---