After a year off, winter sports teams are back in DODEA-Pacific
by
Dave Ornauer
Stars and Stripes
November 22, 2021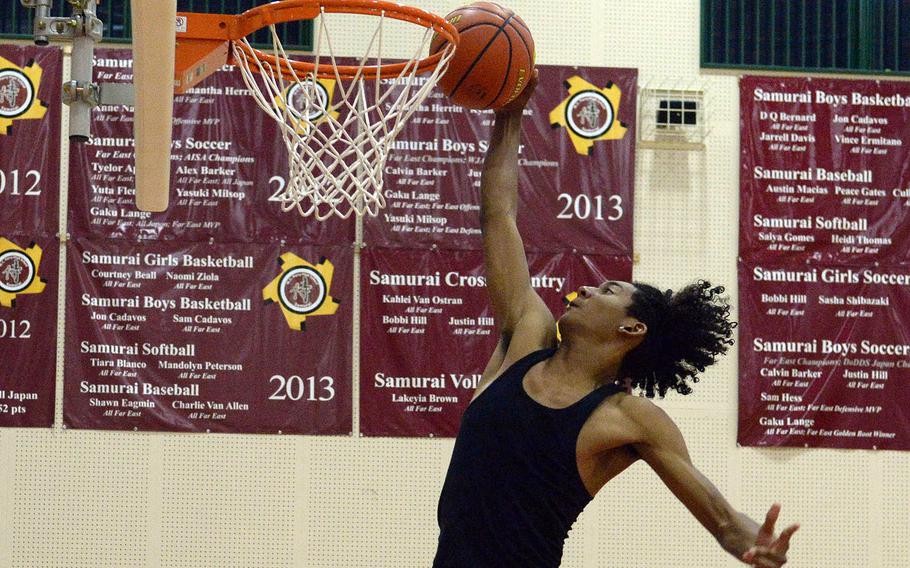 CAMP ZAMA, Japan – Keshawn McNeill and his Zama teams were confident of success two games into the 2020 Far East Division II boys basketball tournament.
The Trojans won their first two Far East pool play games and appeared primed for a run at their first D-II title in seven years.
Then the bottom fell out. Halfway through that fateful Feb. 20 day, DODEA officials announced that the Far East boys tournaments were canceled due to coronavirus concerns. The girls tournaments were called off that evening.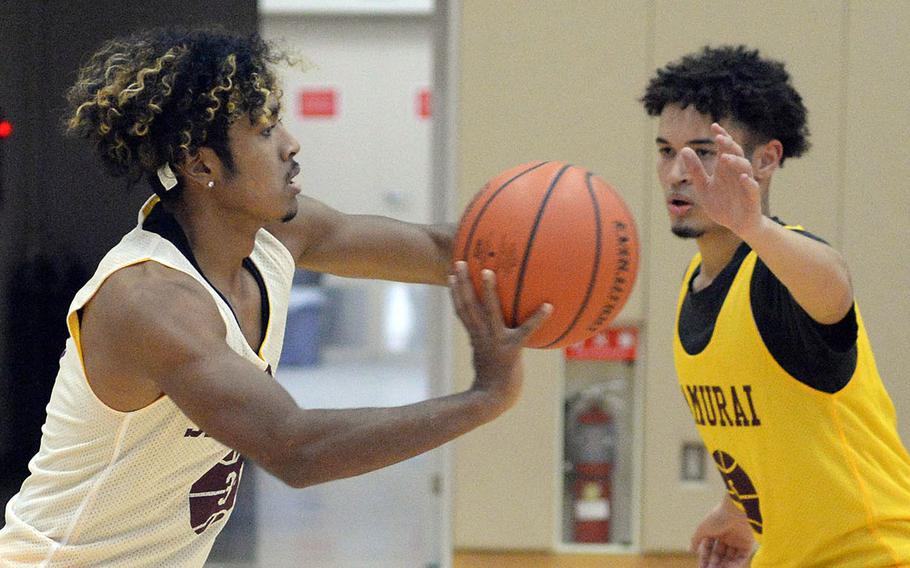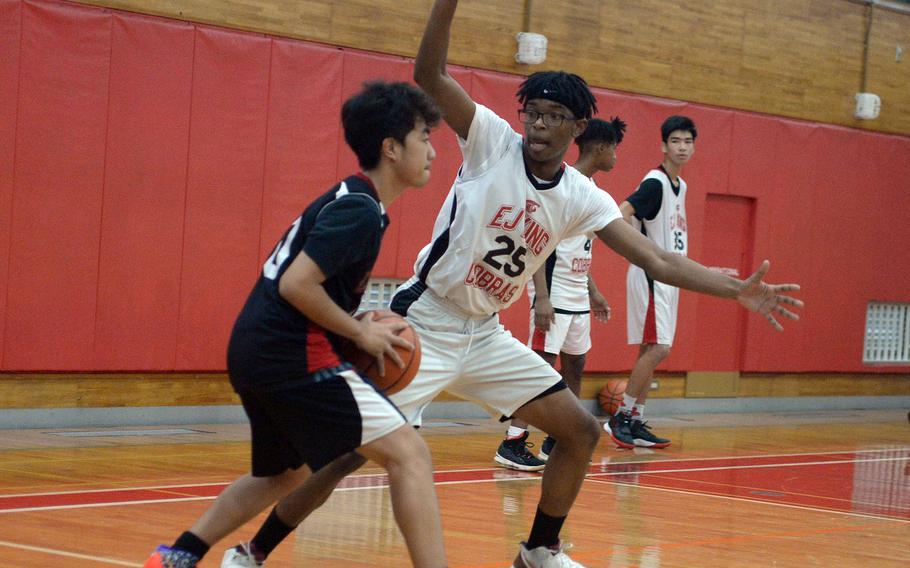 "We were one of the top teams. It kind of hurt because we thought we had the team that could win it all," McNeill, now a senior forward, said Wednesday during practice. "This being my last year, it's kind of win or bust."
The entire 2020-21 winter season was then canceled due to the pandemic. So now, McNeill and others are picking up following the gap year.
Owen Taylor was a sophomore 141-pounder on Yokota's Far East D-II champion wrestling team.
"But we had that gap year and lost a whole group of seniors," Taylor said during practice Friday. "Now, we have a big group of wrestlers, but many of them haven't wrestled before."
Starting over after a gap year is far more involved than just rolling out the basketballs, Panthers boys basketball coach Dan Galvin said. Not only were DODEA-Japan's teams shut down, but so were youth programs in which youngsters learn fundamentals.
"The first week (of practice) was just teaching drills," Galvin said. "You really have to go back to basics, teaching stuff that they would ordinarily have already."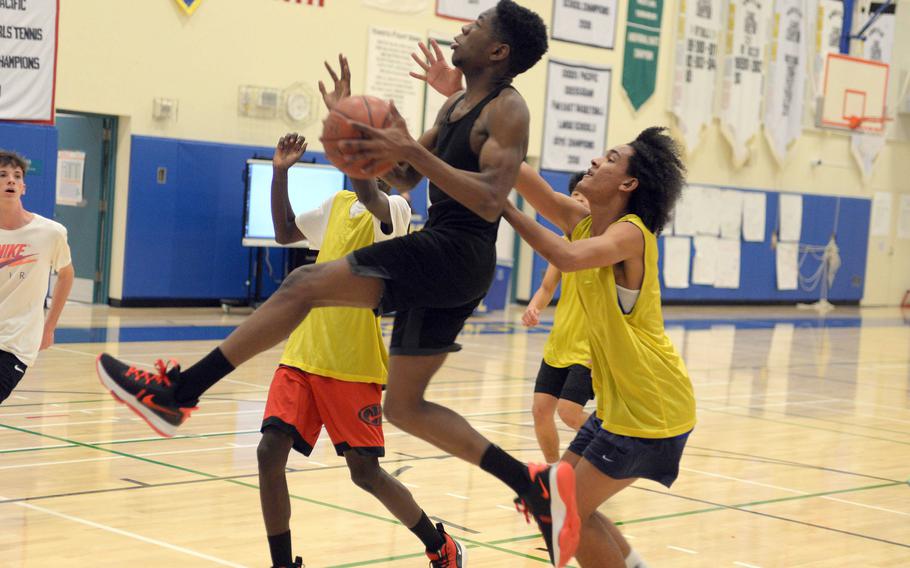 Basketball games begin on Tuesday with the Yokota girls traveling to Sacred Heart – and facing Erika Ettl, Yokota Class of 2012, who is coaching the Symbas varsity. Nile C. Kinnick's boys host Christian Academy Japan the same evening.
Wrestling starts Dec. 3-4 with E.J. King and Yokota visiting Matthew C. Perry and Kinnick and Zama traveling to Robert D. Edgren.
No Far East tournaments are scheduled this winter, but the DODEA-Japan season schedule ends with a boys basketball tournament at Yokota, girls at Zama and wrestling at Kinnick Feb. 11-12.
With the lack of Far Easts, longtime Edgren wrestling coach Justin Edmonds calls this a "practice season."
"It takes some of the gas out," he said of there being no Far East. "Whatever happens now, happens. We all got damaged because of corona."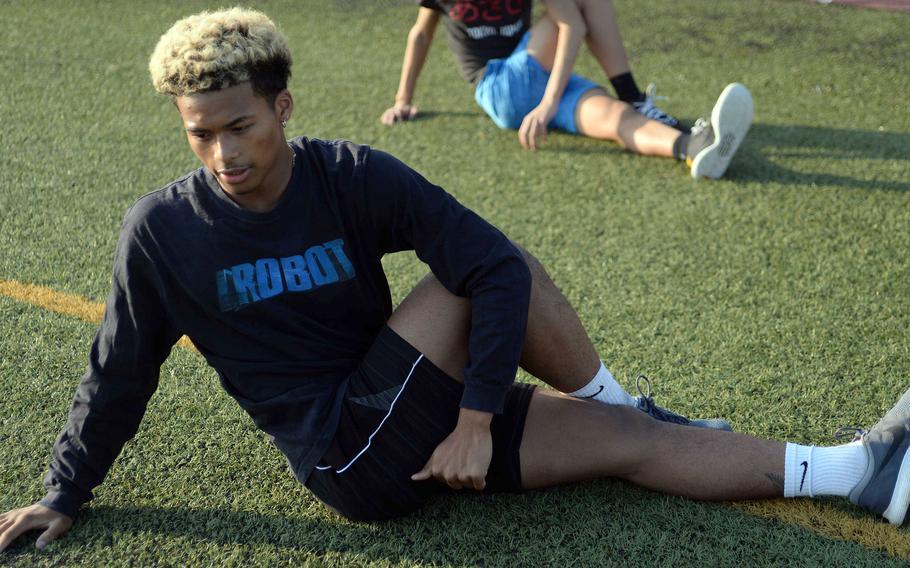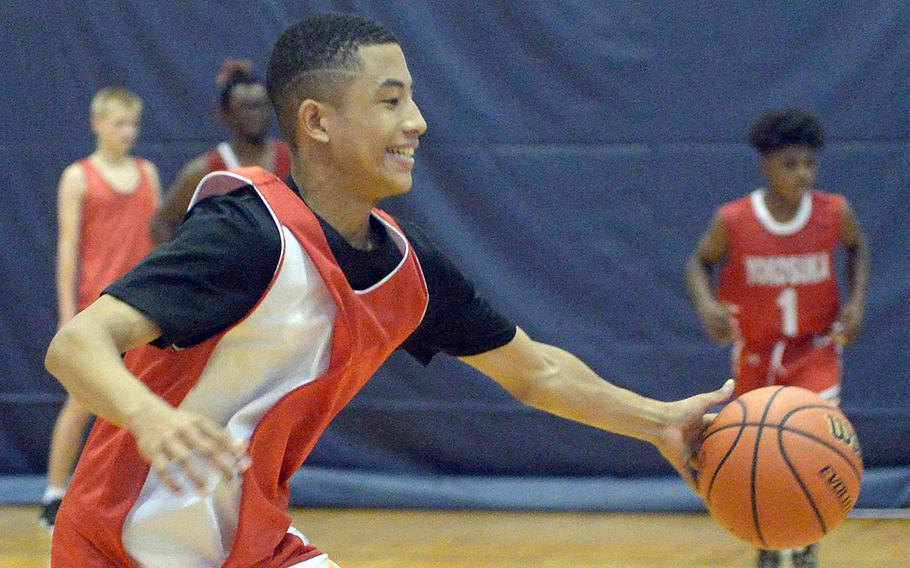 Boys basketball
Kinnick appears to have the best size-and-quickness package. Seniors Shawn Williams, Darius Scott and Oliver Chilton and junior Aiden Venturina return, while sophomores Xavier Wright, Austin Davenport and especially Vance Lewis show promise; Lewis will start at point guard.
McNeill and fellow senior Murray Gillerson are Zama's lone returners. Jarius Brown is an up-and-coming freshman who'll most likely start for new coaches Saul Arras and Danny Davis. "I have to beat them with speed and aggression, because we don't have the height," Arras said.
Edgren's entire starting five averages over 6 feet. Junior Dennis Nelson is the lone returner; seniors Frederick Stewart and Messai Cain (6-3), junior Gabe Simmons (6-2) and sophomore Omoj Reeves (6-5) round out the lineup. Rising freshman Micah Magat could start at point.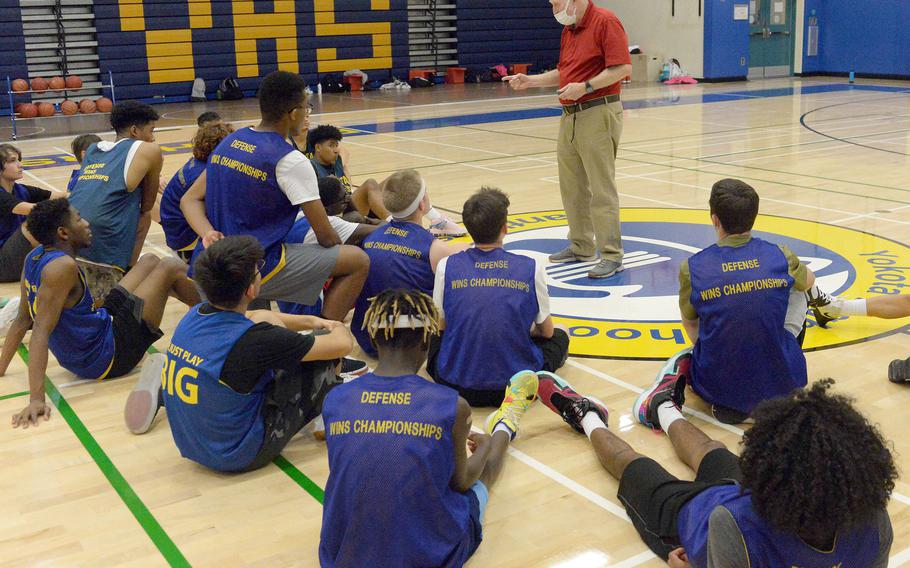 One Eagles player who got away, junior Dylan Tomas, will start at point for Yokota, which also has juniors Marcus Woods and Zemon Davis moving up from the JV. Sophomore Tre Perkins and freshman Damian Abrams help fill out a roster with just one senior.
E.J. King returns Cameron Reinhart, a junior who was 5-5 as a freshman but is now 6-1. Slender senior Keith Lombard (6-4) is the other returner. Freshman Jeremy Phillips shows promise at shooting guard.
"It's a complete rebuild, but I have a franchise player to build around," coach Travis Elliott said of Reinhart.
Daniel Burns takes over at Matthew C. Perry and is borrowing heavily from football with seniors Shion Fleming, Roy Clayton and Denzel Gray, while Joshua Blanquisco slides over from tennis. "Quick and scrappy. Defense will carry us until our offense comes along," Burns said.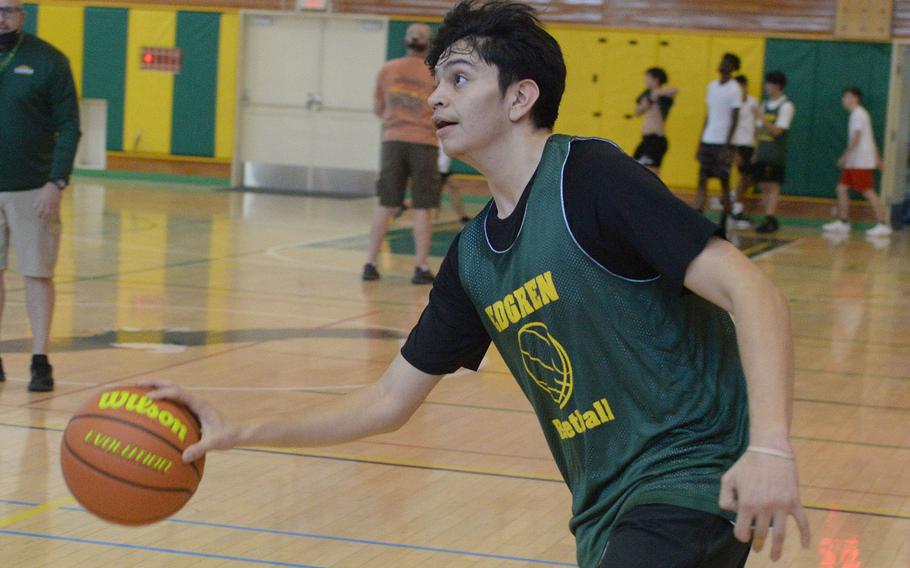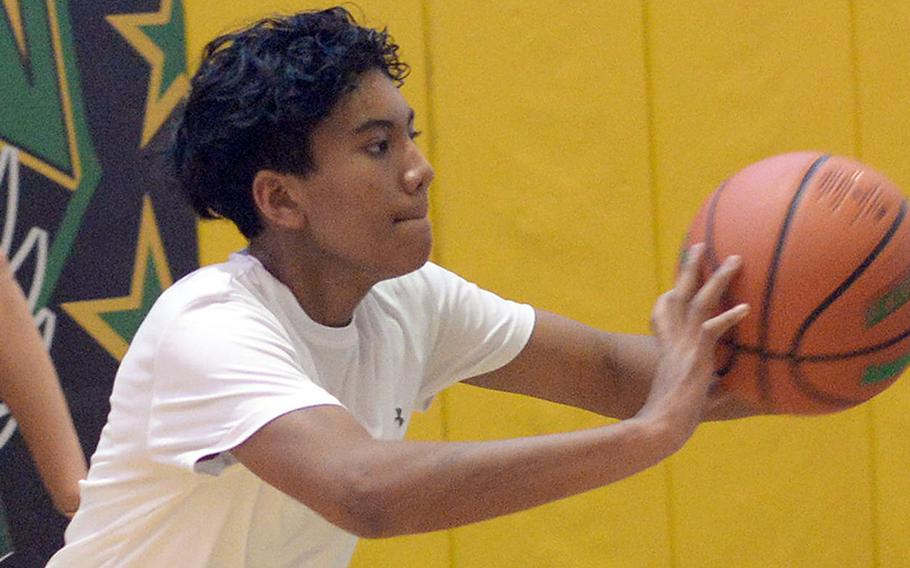 Girls basketball
Most E.J. King teams are typically small, and coach McKinzy Best's Cobras are no exception. His tennis-playing twin freshman daughters, Moa and Miu, line up in the backcourt, junior Aileen Fitzgerald returns and senior newcomer Angie Romero is new to the backcourt.
"You don't have to be tall to play big," the elder Best said.
The Red Devils have some height in senior center Dana White, but the lineup is guard heavy with juniors Mikaila Joy Miranda and Amyka Jones and freshman Jasmine Pho, whose mother, Jessica Sugihara, played for Kinnick in the early 1990s.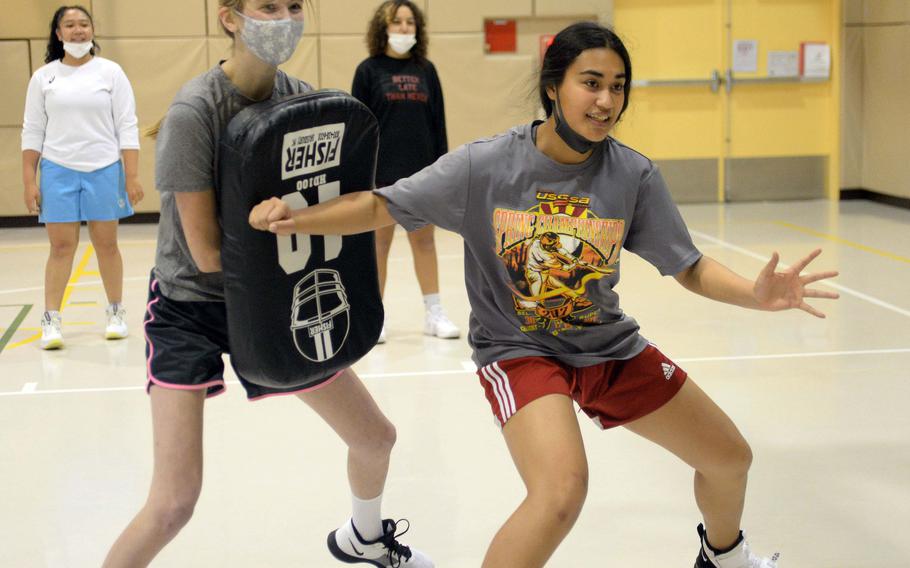 Coach Joey White agrees with Best regarding guards. "If you have a big, what good is it if you can't get it across midcourt?" he said.
All of the key Trojans players who won Far East D-II in 2019 are gone, save for senior forward Kiersten Sharp. Two sophomores will be key to the rebuild, Kierstyn Aumua (forward) and Lindsey So, who played guard in Japanese junior high school.
Three freshmen two years ago return for the Samurai, forwards Breaunna Hayes and Nyla Matos and guard Aiya Versoza. "Rebuild. We have a lot of work to do," coach Mike Cobb said.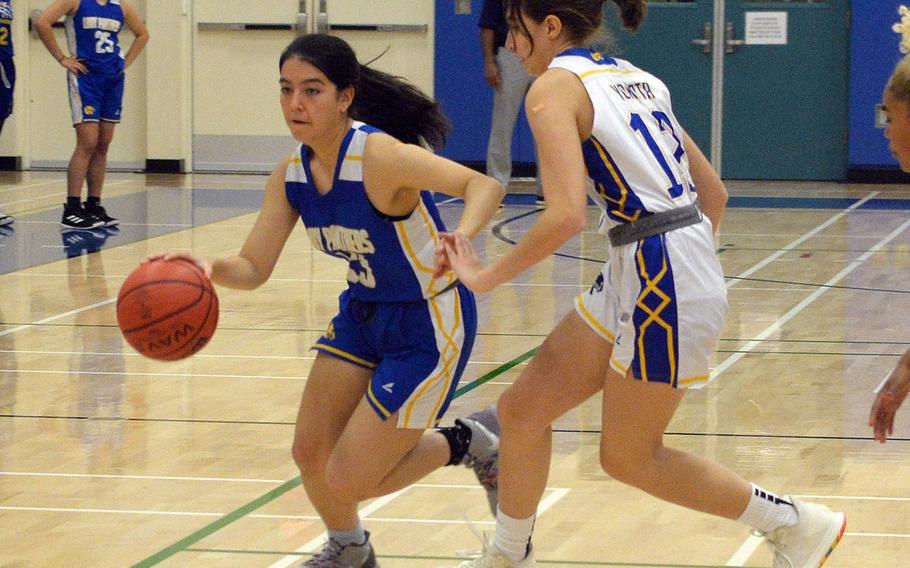 Edgren will have a new coach for the first time in 30 years. Sarah Richardson has retired and Brian Johnson comes in from Fort Knox, Ky. His team returns junior guards, Jaylie Johnson, Maliyah Magat and Zalea Washington.
Senior Keiya Carlson is Yokota's lone returner, while senior Madison Van Gorder moves in from Kadena. Freshman Erika Haas could be an impact player at guard.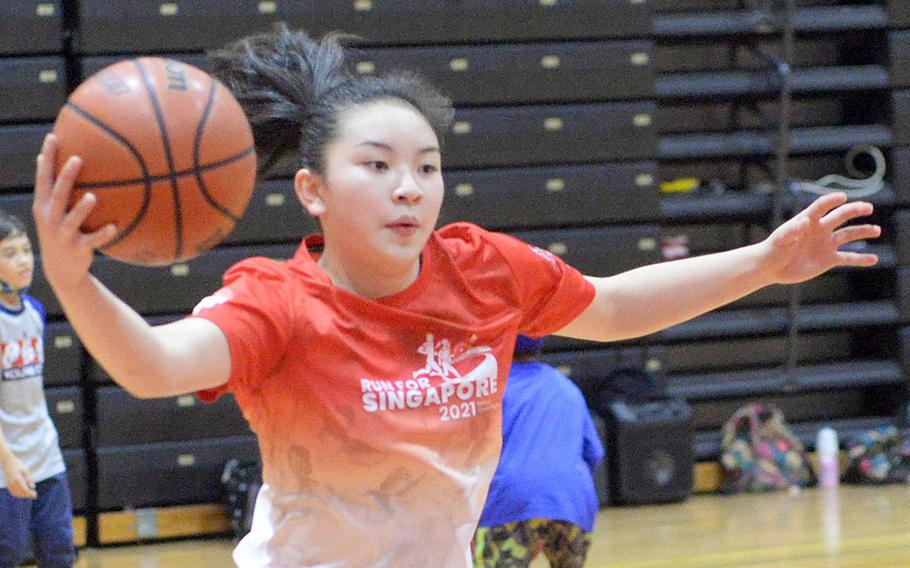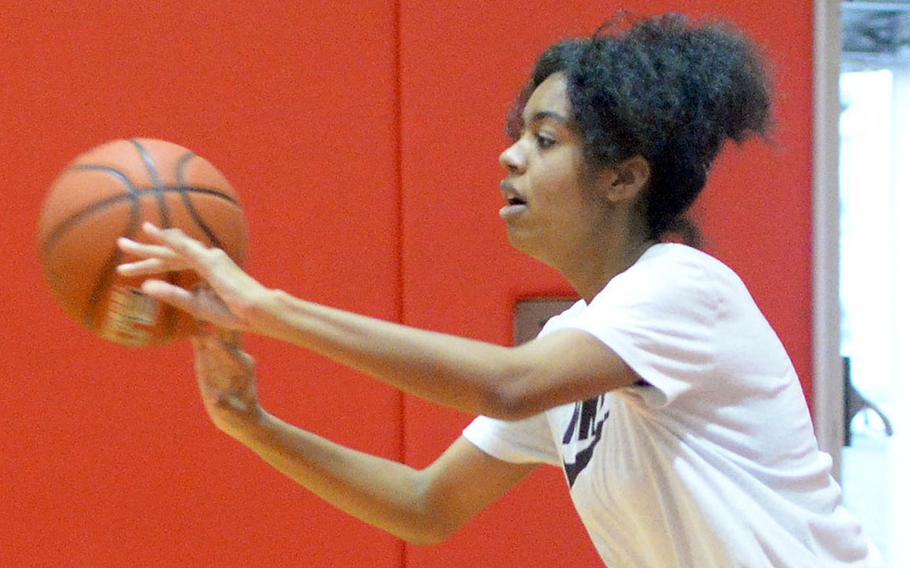 Wrestling
Yokota has 32 in the room, what senior 180-pounder Kai Harbert called "a record-breaking group of wrestlers." He's joined by Taylor (158), seniors Caleb Jones (148, sixth at 135 in 2020 Far East), Caleb Birch (180), Nick Sales (heavyweight) and junior A.J. DeFazio (215).
Senior Kaleb Leon Guerrero (168; runner-up at 180 in 2020 Far East) and junior Justice Rose (148) are Kinnick's lone returners. Far East cross country D-I champion Austin Shinzato is trying wrestling for the first time. Sophomore Wendell Harrison moves in from Sigonella and Xavier Betts, a senior, from Western Branch (Va.) High School. "We have some interesting new guys," coach Gary Wilson said.
Edmonds, with a DODEA-Pacific record 11 Far East D-II titles to his credit, faces a major rebuilding task with only senior Douglass Tackney (141) and Brock McGlothan (101) returning. The Eagles have 10 freshman and one sophomore.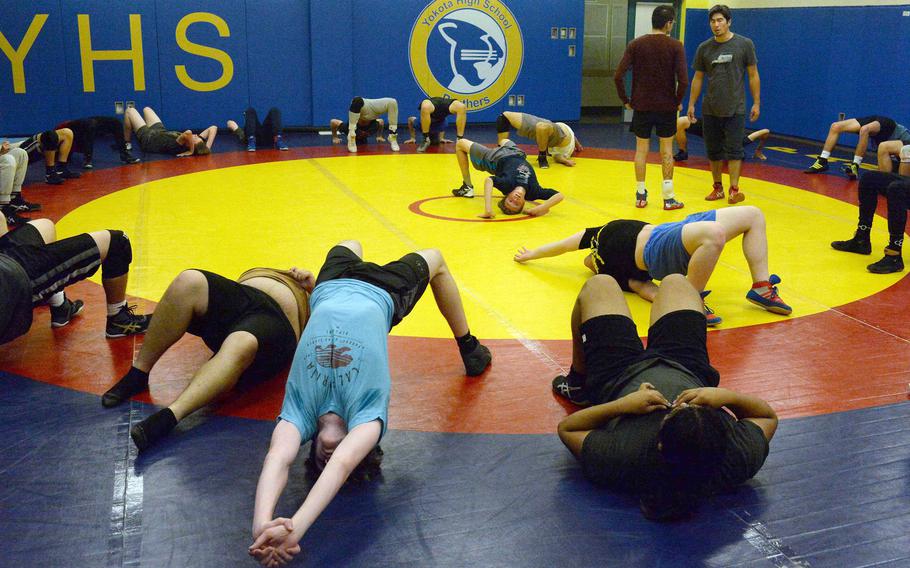 Zama is thin in numbers, but does have some promise in sophomore Jeffrey Ward (180-215), a transfer from New York; senior Tyson Armstrong (158-168) and sophomore Vinnie Carlo (115). Alina Lim, a senior 129-pounder, is the lone returner.
Perry also is rebuilding. Juniors Maddix Larue (215) and Kirby Kendrick (148) return along with senior James Williams (135) for new coach David Campbell.
E.J. King, citing lack of numbers and facilities, will not field a team this season.