Mahoney finishes DODEA-Japan play unbeaten to highlight slew of district finals
by
Dave Ornauer
Stars and Stripes
October 30, 2021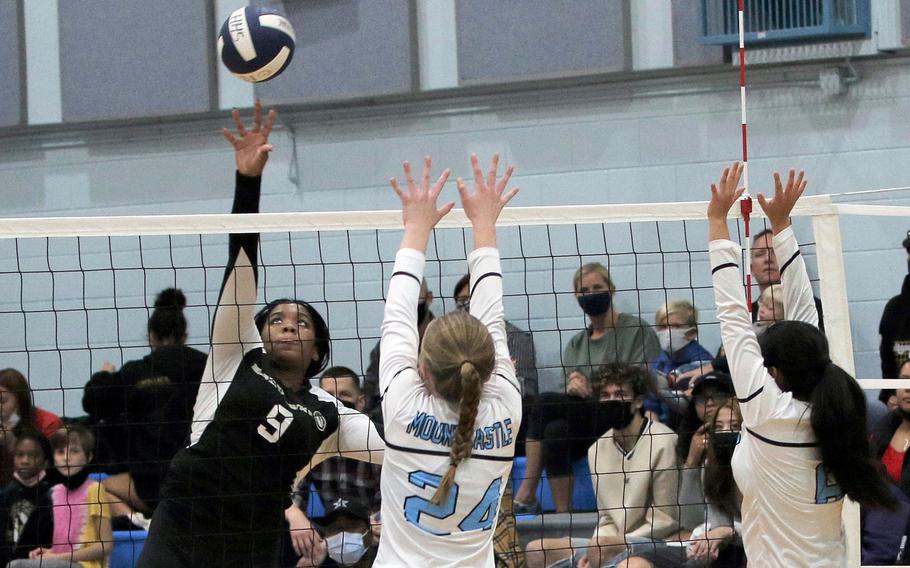 With her victory Friday at Yokosuka Naval Base, Robert D. Edgren's Jenna Mahoney finished her DODEA-Japan regular-season singles career undefeated.
The Eagles senior blanked Nile C. Kinnick's Qiana Fowler 8-0 during Edgren's final road trip of the season. In three DODEA-Japan regular seasons (the 2020 season was canceled due to the coronavirus pandemic), Mahoney went 36-0 in singles and won the DODEA-Japan tournament twice.
"I feel like a weight has been lifted," Mahoney said. "But I'm grateful to finish what I started out to do. I'm happy to finish and be part of this special team."
Mahoney's only defeats in high school singles play were in the 2018 and 2019 Far East tournaments on Okinawa. She lost in the 2018 Far East quarterfinals 8-4 and the second round in 2019 8-3, both times to Ally Johnson of Kadena. Mahoney went on to finish ninth in the 2019 Far East.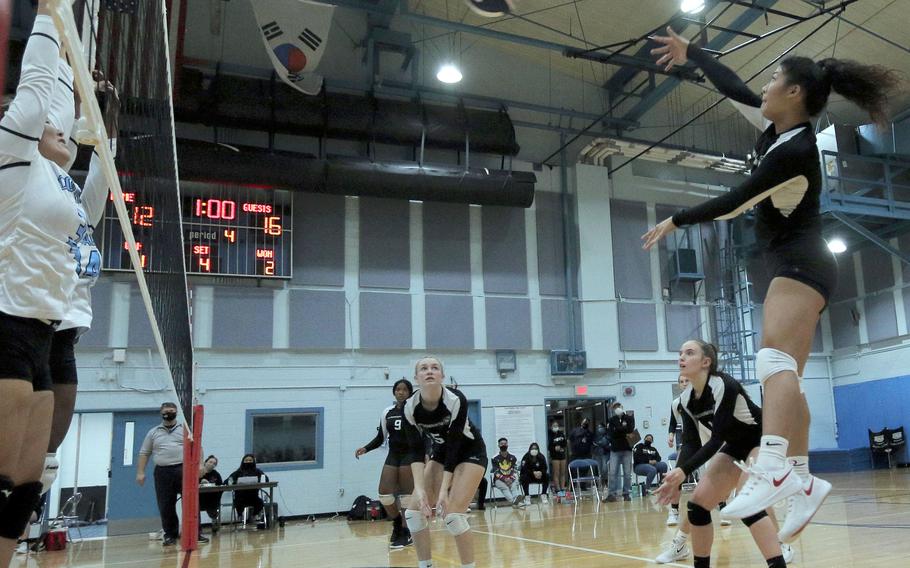 DODEA-Japan volleyball
Freshman Elizabeth Johnson scored six kills as the Eagles survived a third-set scare before prevailing at Kinnick 25-18, 25-13, 25-19 to finish the season 21-0, dropping only two sets to E.J. King on Oct. 9 at Zama.
"They were pumped and ready," Eagles assistant coach Agueda Tackney said. "They knew they had this and just needed to stay positive, play as a team and have fun. That's what they did."
DODEA-Okinawa volleyball
Junior Sophia Grubbs had nine kills, Emma Leggio seven and Risha McGriff six and Alyssa Alvarado had 27 assists for Kubasaki, which blanked Kadena 25-10, 25-18, 25-19 to win the Okinawa district best-of-three finals 2-0.
The Dragons capped their 18th straight district title by winning all 14 matches against the Panthers this season without dropping a set.
"Trusting each other to do their job, yet supporting each other no matter the outcome of the point," Dragons coach Kent Grubbs said of the keys to the Dragons' success this season. "They had each other's backs, no matter what. Which brings us back to trust."
DODEA-Korea volleyball
In DODEA-Korea's boys volleyball final, Martin Walker had nine kills, Colin Hafdahl eight and Joseph Towne 6 to pace the Cougars past Humphreys 25-21, 25-21, 25-13 Saturday at Daegu's Camp Walker. Osan's boys completed a clean sweep of all nine of their matches on the season.
At Osan Air Base, Humphreys' girls answered, getting 13 kills from Sabra Wrightsil and eight each from Alaina Areniego and Bella Pula in rallying from one set down to top the Cougars 18-25, 25-10, 25-21, 25-19. The Blackhawks girls also completed their season 9-0.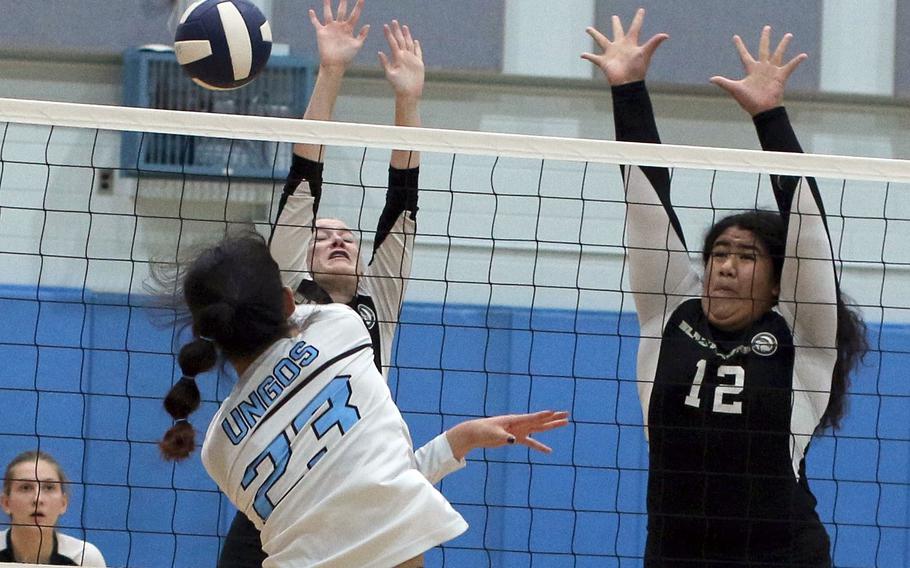 DODEA-Korea cross country
Humphreys held sway on the cross country course on Saturday as well. Andrew Wahlgren ran the Camp Humphreys 3.12-mile course in 17 minutes, 58.08 seconds to power the Blackhawks past Osan 15-50.
The girls team race was a bit tighter, but Hanna Chung's first-place finish was enough to allow the Blackhawks to edge Chloe Weatherwax and the Cougars 18-19.
DODEA-Korea tennis
DODEA-Korea's tennis finals on Friday at Humphreys featured an upset in the girls' ranks: Humphreys' Naomi Choi handed Daegu's Ella Sims her lone loss of the season 8-5 in the singles 2 bracket final.
While Daegu's singles 1 Michelle Yoo and singles 3 Emma Sims won, as expected, Humphreys girls captured the team title in a bit of a surprise. Lizzy Brown and Grace Son won the doubles 1 and Alice Kim and Claire Dehner the doubles 2 titles to give the Blackhawks a 3-2 edge.
Humphreys swept all five divisions to win the DODEA-Korea boys title. Sean Choo took singles 1 when Osan's David Lee retired with an injury. Joon Flanery and Elliott Lee took singles 2 and 3, while Beau Carson and Matthew Colburn won doubles 1 and William Lee and Matthew Ahn took doubles 2.