Trojans edge Panthers to earn season split
by
Dave Ornauer
Stars and Stripes
October 29, 2021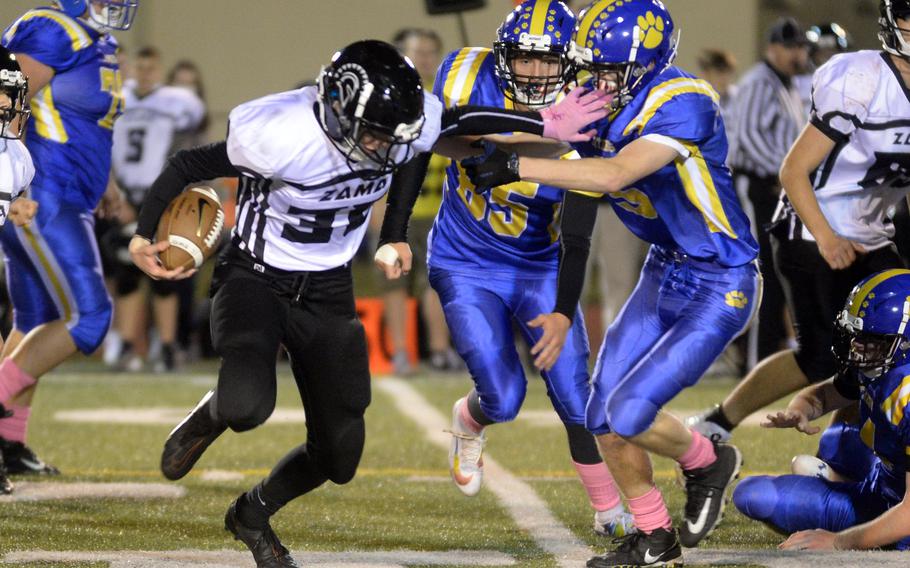 YOKOTA AIR BASE, Japan – Keshawn McNeill has been the go-to guy at wide receiver for Zama all season. On Friday, he showed he could keep the ball out of opposing receivers hands at key moments.
The senior defensive back tipped the ball away from would-be Yokota receiver Caleb Jones to save what might have been the game-tying touchdown as the Trojans held off a rally by the Panthers for a 20-14 win Friday at Yokota's Bonk Field.
"It was going right into his hands," McNeill said of the game's final play, on which Panthers quarterback Dylan Tomas tried to hit Jones in the left corner of the end zone.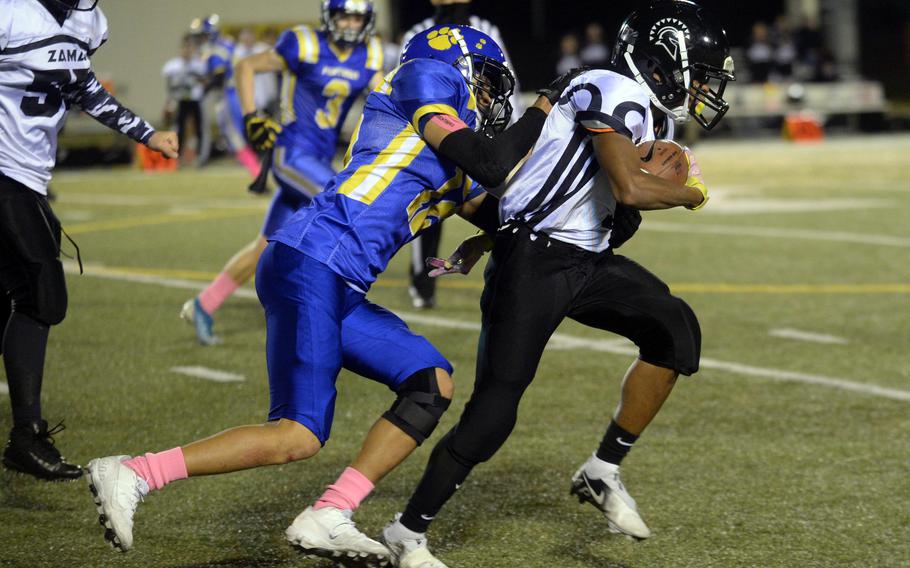 The Hail Mary pass attempt had been set up on a fumble recovery by the Panthers with less than 10 seconds left deep in Zama territory.
Yokota's Braedan Raybon sacked Zama quarterback Kai Kuroda, forcing a fumble that Panthers lineman Kai Harbert returned 10 yards to the Zama 20 with 1.8 seconds left.
"I saw it in the sky and I said I had to go up there and get it," McNeill said of Tomas' pass. "I had to reach top shelf for it."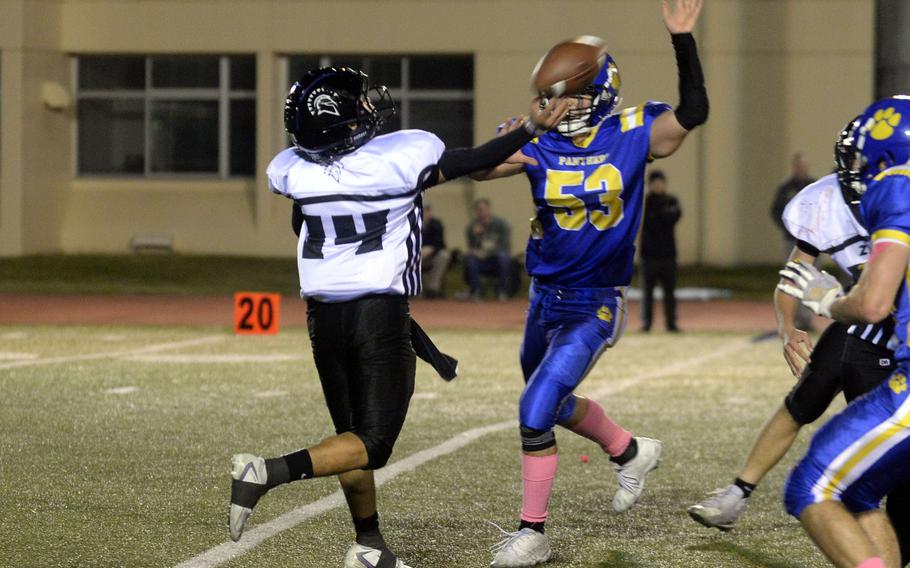 McNeill got just enough of his hands on the ball to keep Jones from having a good chance to catch the ball and the clock ran out.
Friday's game was a far cry from last month's showdown when Yokota outgunned Zama 60-44 at Naval Air Facility Atsugi. The Trojans dominated the first half of Friday's rematch, then Yokota's defense stifled Zama and the Panthers' offense came alive in the second.
Zama's Richard Sevilleja was the star offensively, with four catches for 149 yards and two touchdowns, one of 49 yards and the other of 67.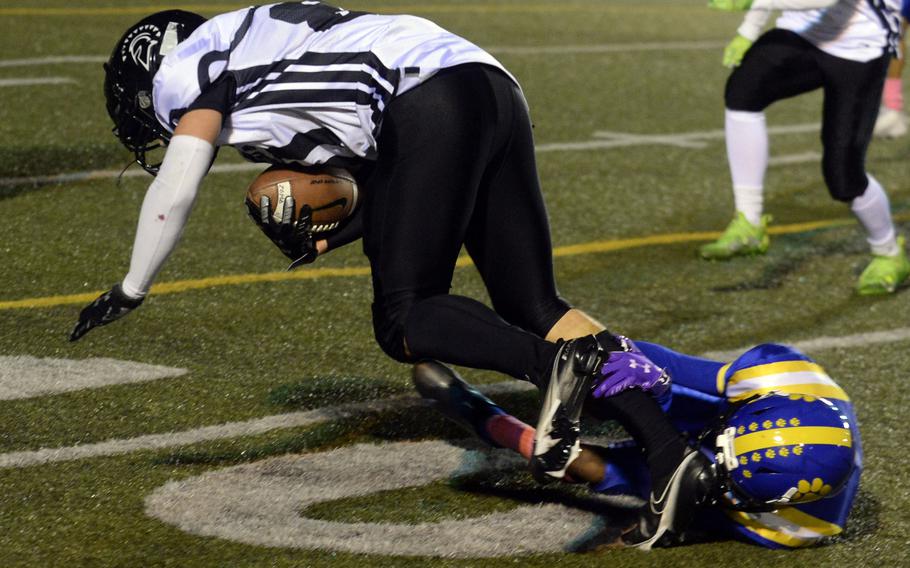 "Richard stepped up when we needed," Trojans coach Scott Bolin said.
Caleb Schmiedel also caught a TD pass, of 10 yards, for the Trojans. Kuroda and Dominic Perrucio combined to go 13-for-26 for 266 yards passing for the Trojans, but only 21 yards came in the second half.
The Panthers rallied within six points behind Tomas' 6-yard touchdown run and one of 2 yards by Jones. Tomas passed for two points to Jones to slice the lead to six points, but the Panthers got no closer.
"They played as a unit," Bolin said. "They did not lose their resolve at all. This was a great team win. The running game improved and the defense stepped up in a big way."
Tomas ran 13 times for 65 yards and went 11-for-24 for 127 yards but was intercepted twice, by Schmiedel and Hiroki Davis, who also recovered a fumble. Jones had 65 yards on 18 carries and four catches for 67 yards for the Panthers.
"Getting the ball back with 1.8 seconds left and with a chance to win it, it doesn't get much better than that," Yokota coach Tim Pujol said. "I'm really proud of the guys holding Zama scoreless in the second half and fighting back to give us a chance to win."
The Panthers (2-6) host Robert D. Edgren for homecoming, while the Trojans (3-4) visit unbeaten Nile C. Kinnick for its homecoming game, both next Friday at 6 p.m.