Kinnick rolls to another victory
by
Dave Ornauer
Stars and Stripes
October 29, 2021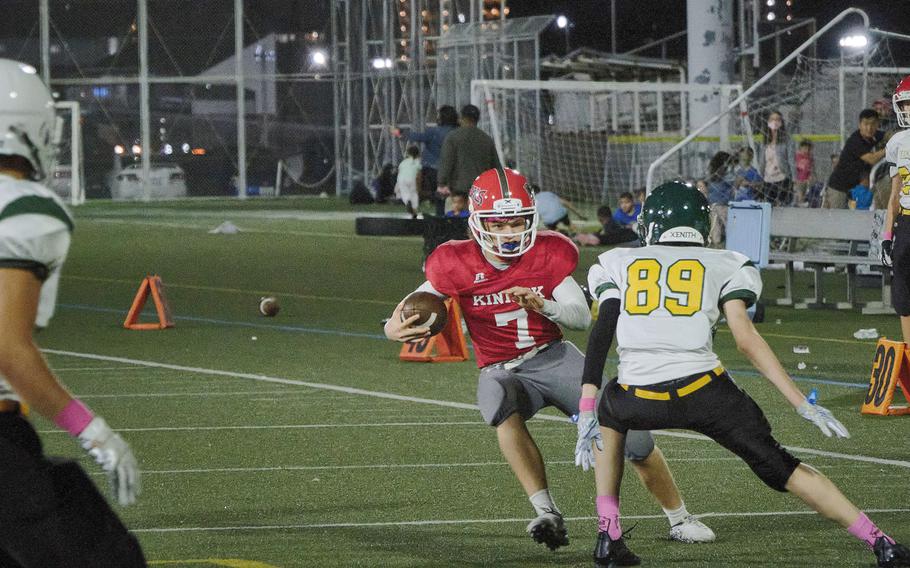 TOKYO – Zeke DeLaughter and Nile C. Kinnick continue to pile up yards, points and victories, and coach Dan Joley says his job is made easier as his players' understanding of the game grows.
DeLaughter, the senior first-year quarterback, went 18-for-23 for 310 yards and three touchdowns, sophomore running back Wendell Harrison ran 17 times for 130 yards and three scores as the Red Devils routed American School In Japan 42-0 Friday at Mustang Valley.
"They were even better this week than they were last week," Joley said, comparing his charges' performance to their 40-7 win Oct. 22 at Matthew C. Perry, which clinched the DODEA-Japan title for the Red Devils.
"They showed good balance on offense," Joley said. "We ran the no-huddle, they were keen on down and distance and situational ball. I called very few plays. It was all them working together."
The senior Nishiyama twins, Ryo and Kou, caught the lion's share of DeLaughter's passes. Ryo had 150 yards and two TDs on eight catches plus an interception on defense. Kou caught three passes for 70 yards and a score and had 100 yards on five returns.
Daniel Burke caught one pass for 20 yards, had an interception and was good on four of five extra-point kicks. William Bennett had 65 yards on 10 carries and Kaito DeMoss had six catches for 70 yards. Isaiah Clesca had three sacks for Kinnick, 8-0 overall and 4-0 in the Kanto Plain.
If there's a downside to it all, Joley said, it's that the Red Devils have just one more game this season, homecoming next Friday against Zama; kickoff is at 6 p.m.
"I'm proud of these guys," he said. "I wish we could play five or 10 more games with them."
The defeat ends an abbreviated schedule for the Mustangs, who finish 1-1 following an 8-5 win Oct. 23 over Yokota.