Perry spreads scoring around in triumph over Edgren
by
Dave Ornauer
Stars and Stripes
October 29, 2021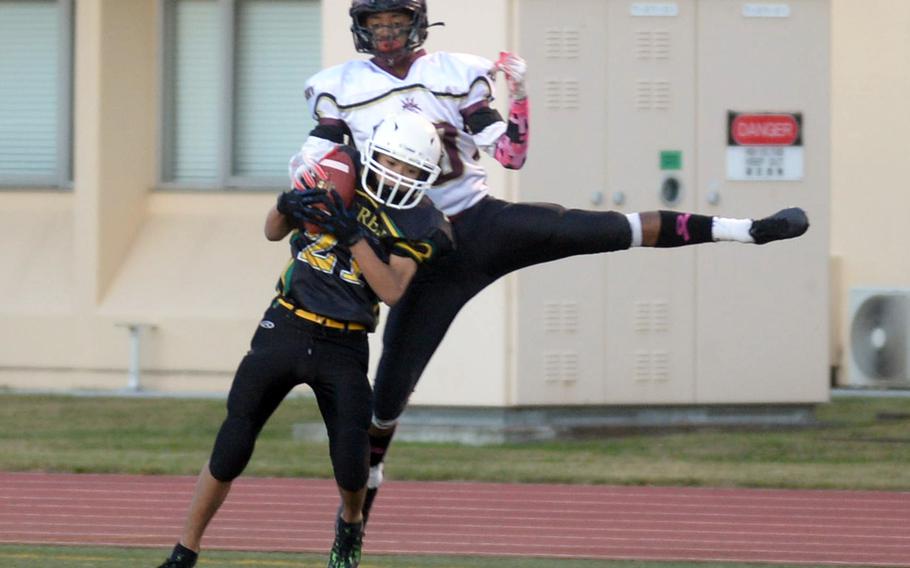 YOKOTA AIR BASE, Japan – Billy Henry spent much of the season playing pinata to opposing team's passing games after being forced into action when starting defensive back Jordan Wooten went down with a season-ending injury last month.
On Friday, the junior defensive back helped Matthew C. Perry (6-2) close its season on a winning note, intercepting two passes to help the Samurai rout Robert D. Edgren 41-6 at Yokota High School's Bonk Field.
"He had a great game," Samurai coach Frank Macias said. "He was forced into duty and he got picked on quite a bit (by opposing teams). But I was glad to see him have the game he had. He's a great kid."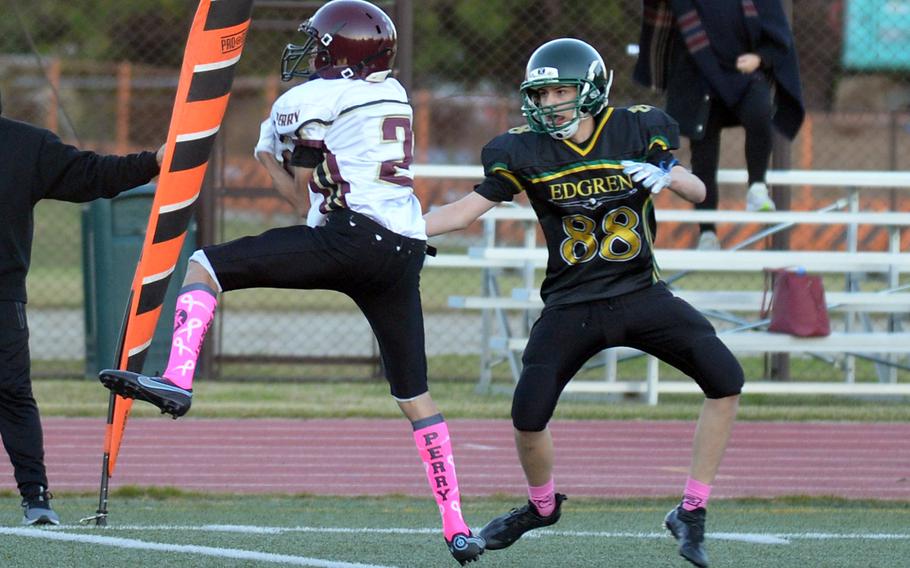 Henry's first interception set up a 50-yard scoring run by Denzel Gray that put the Samurai up 24-0 with 3 minutes, 9 seconds before halftime. His second pickoff early in the second half set up a 32-yard Shion Fleming field goal that made it 34-6 with 4:56 left in the third quarter.
Perry spread the wealth offensively. Fleming booted two field goals and caught a 25-yard touchdown pass to open the scoring. Gray also had a 6-yard TD catch, Zeke Santoscoy added an 8-yard touchdown run, and backup center Parker Staley, given a chance at fullback, ran 1-yard for a TD.
Staley used to be a fullback, but was asked to play in the interior as "we came into the season short on the line," Macias said. "He's a selfless kid. He said whatever you want. He never complained. He's a fantastic kid. So we wanted to give him a little love today."
Nickolas Elizondo had 56 yards on eight carries to pace a Perry running game that recorded 204 yards on 36 attempts. Roy Clayton was 5-for-8 for 47 yards passing and also intercepted a pass.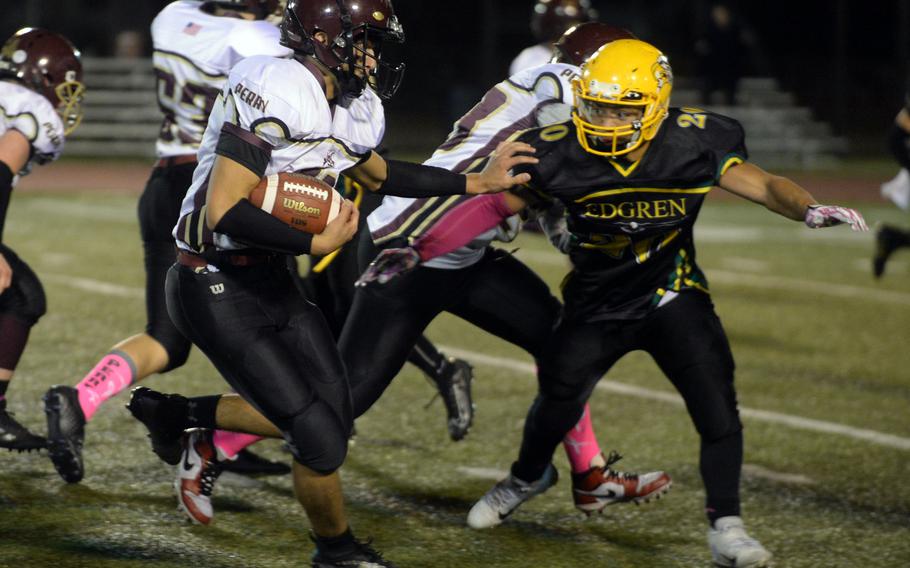 Defensively, the Samurai had six takeaways, held the Eagles to 14 net rushing yards on 16 attempts with no first downs.
Freshman quarterback Jayse Ulechong passed 4 yards to Douglass Tackney for the Eagles' only points. He went 11-for-32 for 120 yards. Tackney had 111 yards total offense, including a pass completion for 52 yards.
"We have so much to build on. Nowhere to go but up," Eagles first-year coach Marcus Thomas said. "I know Edgren is going to be competitive."
The Eagles (0-7) visit Yokota next Friday for both teams' season finales and the Panthers' homecoming; kickoff is at 6 p.m.