Veal runs for 530 yards in Humphreys Gold win
Stars and Stripes
October 29, 2021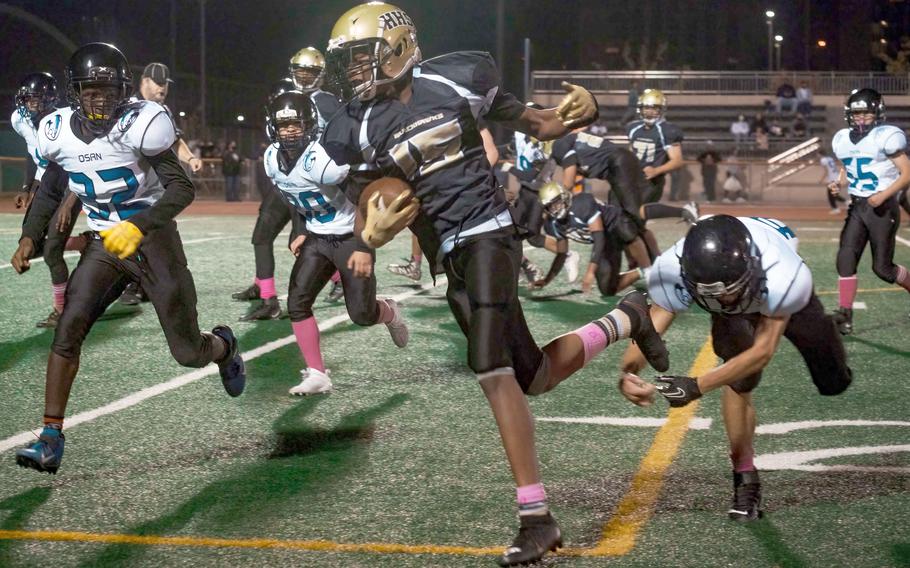 CAMP HUMPHREYS, South Korea – Humphreys Gold's capturing the DODEA-Korea football title on Friday came with an added bonus: Darryl Veal Jr. broke the seven-year-old Pacific single-game rushing record.
The freshman ran 30 times for 530 yards, scored four touchdowns and added a pair of two-point conversions as the Blackhawks scored 52 unanswered points after falling behind 12-0 in the first quarter against Osan.
"He's not the biggest, fastest or strongest running back," Gold coach Tyler Greve said of Veal, a 5-foot-11, 145-pounder from West Palm Beach, Fla. "But he's a smooth, savvy runner. A patient back with some speed. He sees the holes and goes right to them."
Veal's 530 yards topped the 445 on 27 carries recorded by Dre Paylor of Nile C. Kinnick on Oct. 3, 2014, in a 36-23 victory over Yokota in a DODEA-Japan contest.
"He's a great running back," Cougars coach Jerome Learman said. "We couldn't stop him, and if we did, he was 10 yards upfield already. And we just couldn't handle their line."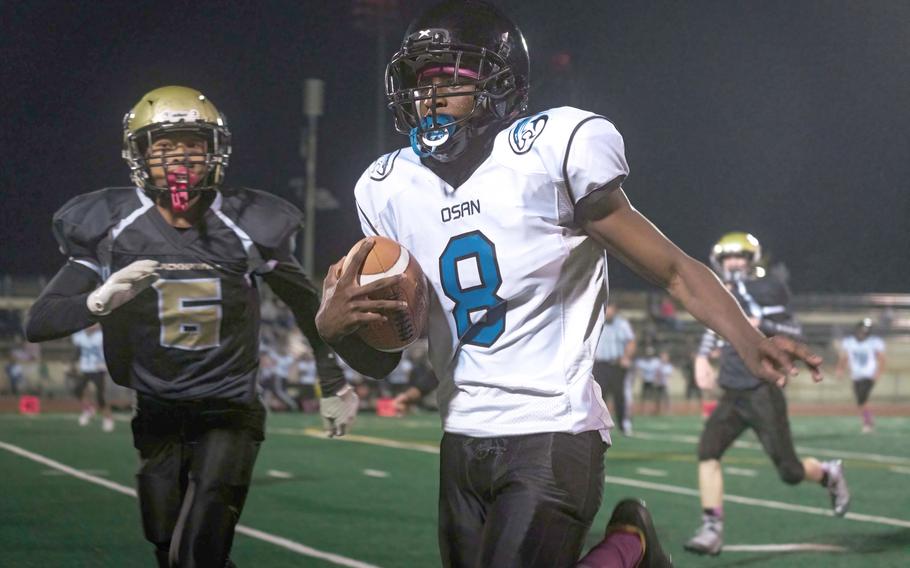 Gold finished 4-1 in a DODEA-Korea season in which only Humphreys and Osan fielded teams. Daegu, citing a lack of players, did not put a team on the field this season, leaving Osan with two teams from Humphreys, Gold and Black. The Cougars went 2-3 and Black 1-3.
Isaac Robinson rushed for 50 yards and two touchdowns on four attempts for Gold. Hayes Clayton returned a fumble 42 yards for a score and quarterback Thomas Benesse was 2-for-5 for 60 yards and ran for 16 yards on one attempt.
Jake Brockmeier intercepted two passes, Lucas Bochat had 15 tackles and Todd Williams 10 for a Gold defense that buckled down after Humphreys fell behind 12-0.
Gavin Lunn rushed 7 yards for one touchdown and Jaylon Grant returned a fumble 90 yards for a TD to account for the Cougars' points.
"It's hard going up against a Division I school," Learman said. "We punched above our weight all year long. But I'm proud of my kids. They played really hard."