Red Devils rout Samurai to claim DODEA-Japan crown
by
Dave Ornauer
Stars and Stripes
October 22, 2021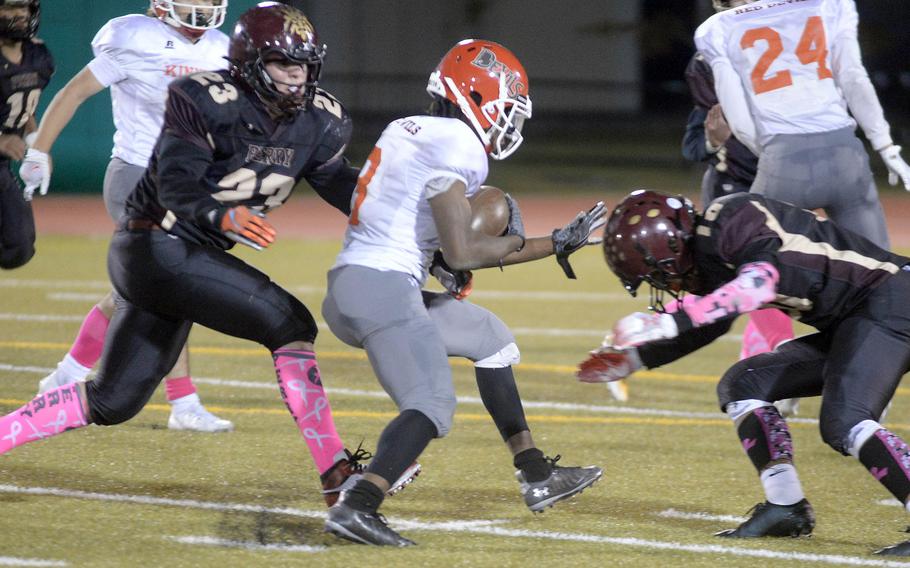 MARINE CORPS AIR STATION IWAKUNI, Japan – They engaged in a tight battle the last time they met. On Friday, the Nile C. Kinnick Red Devils left nothing to chance.
Wendell Harrison ran for three touchdowns, Zeke DeLaughter passed for two more and Kinnick scored the game's first 34 points en route to a 40-7 rout, spoiling Matthew C. Perry's homecoming and capturing the DODEA-Japan football title for 2021.
What changed so much in a four-week span when Kinnick edged Perry 28-21?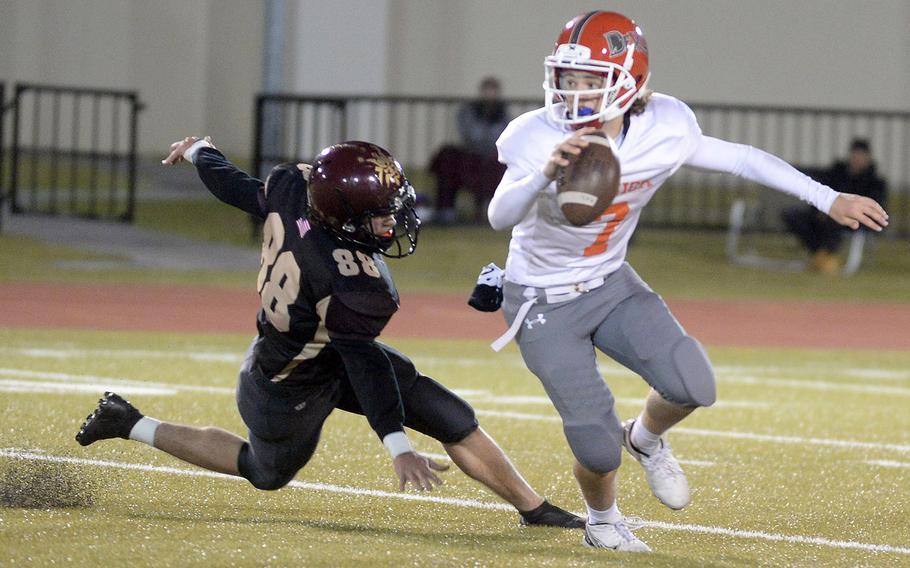 "We've just evolved as a football team," said coach Dan Joley of the Red Devils (7-0), adding that he may have called three or four of the plays and DeLaughter handled most of the offensive play-calling.
"I checked in on a few plays, but Zeke did the rest," Joley said. "It was fun to watch. It was great to see these guys truly understand football."
As for the Samurai (5-2), the grind of seven games after a gap year caused by the coronavirus pandemic simply left them with too many bumps and bruises entering Friday's game, coach Frank Macias said.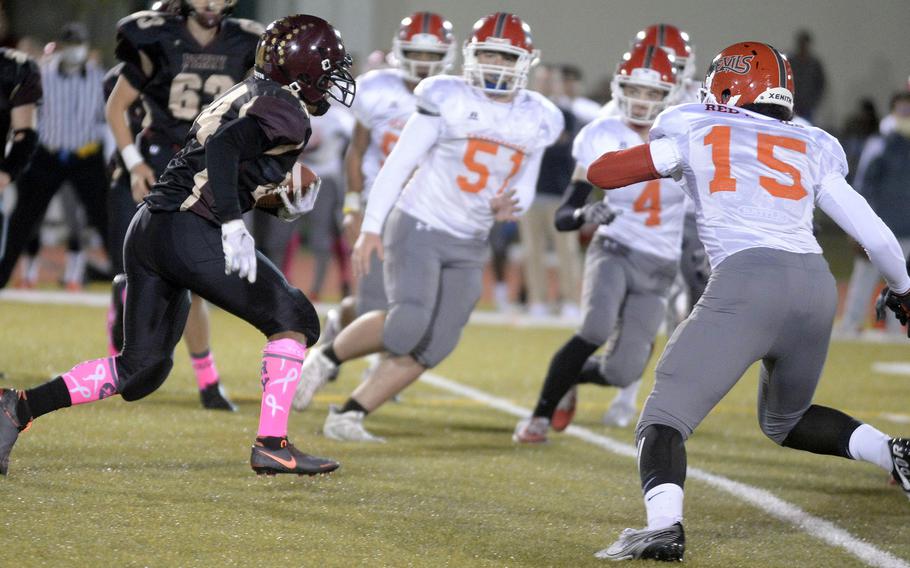 "We looked like we could almost match their team speed the last time" Perry played Kinnick, Macias said. "But a month of wear and tear after that and tonight was a mismatch. That's the difference between a Division I and a Division II program."
DeLaughter, who went 6-for-10 for 147 yards, set the tone by hitting Ryo Nishiyama for a 9-yard touchdown pass 69 seconds into the contest.
A 14-yard DeLaughter pass to Kou Nishiyama made it 14-0 10 minutes, 47 seconds before intermission. Harrison would score on Kinnick's next three possessions, touchdown runs of 3, 11 and 1 yard - the latter triggering a running clock for the rest of the game.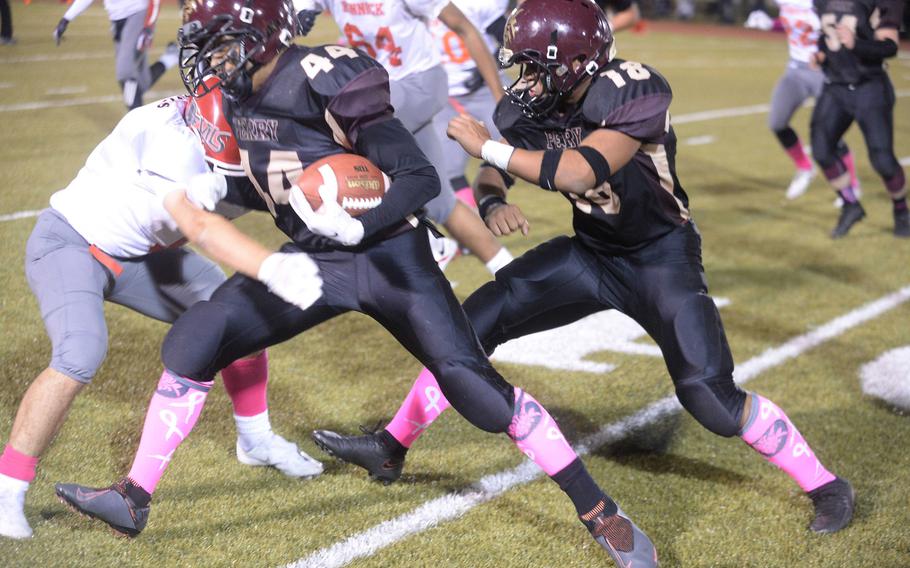 Perry broke through on the first possession of the second half against Kinnick's backups, with D.J. Jans breaking the shutout on a 7-yard TD run. Red Devils backup quarterback Michael Goodfellow ran 2 yards for a score on the game's final play.
"I'm just happy to have the players have a season like this," Joley said. "After last year and to see the joy on their faces after convincingly winning a ball game, it was great to see."
Kou Nishiyama had 77 yards on three catches and Harrison ran 18 times for 137 yards for Kinnick. Jans totaled 76 yards on 14 attempts. Roy Clayton was held to 2-for-6 passing for 4 yards, and Shion Fleming, with nine touchdowns this season, did not catch a pass.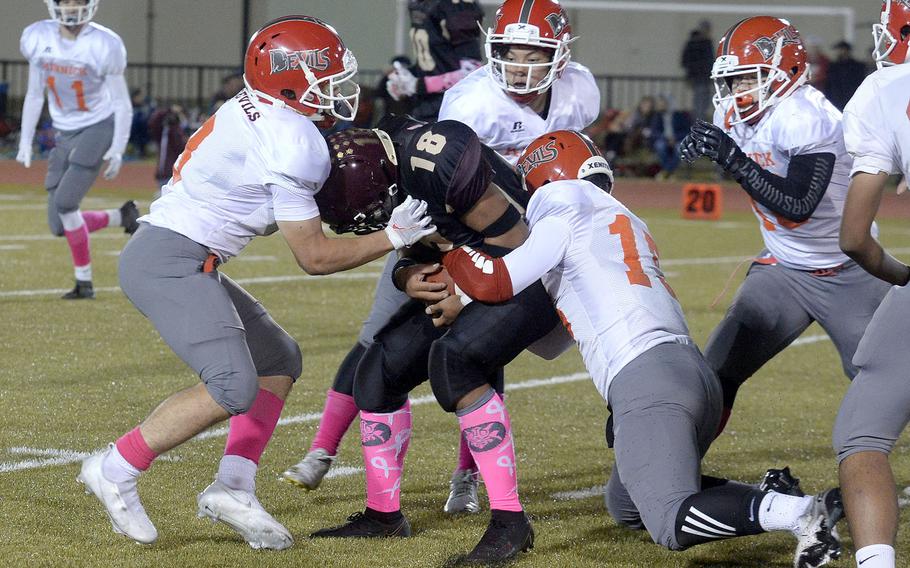 The season's not over yet for either team; the Samurai visit Yokota next Friday to play Robert D. Edgren in their second neutral-site rendezvous; kickoff is at 4:30 p.m. Kinnick next travels to American School In Japan for a 6 p.m. Friday kickoff.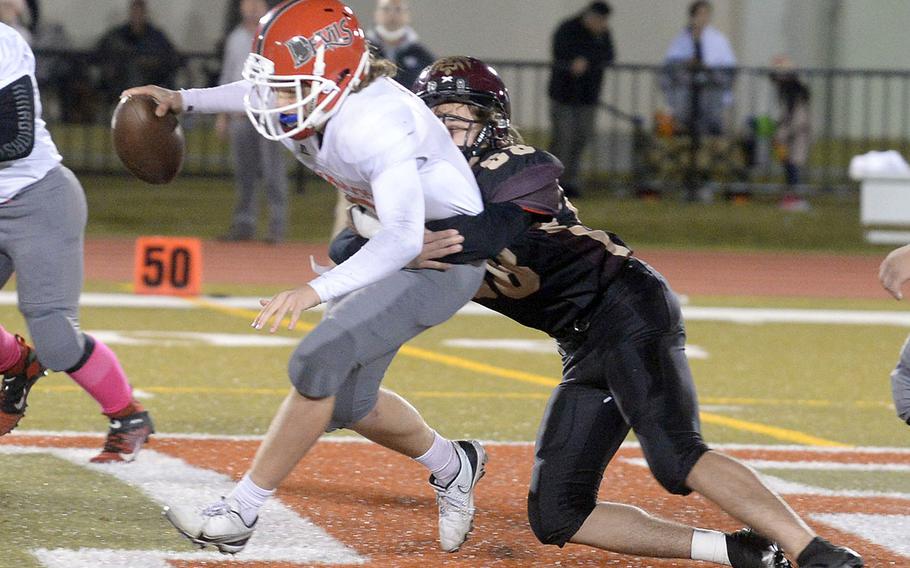 Correction
Michael Goodfellow was misidentified in an earlier version of this article.
---
---
---