Football titles on the line in Japan, Okinawa
by
Dave Ornauer
Stars and Stripes
October 21, 2021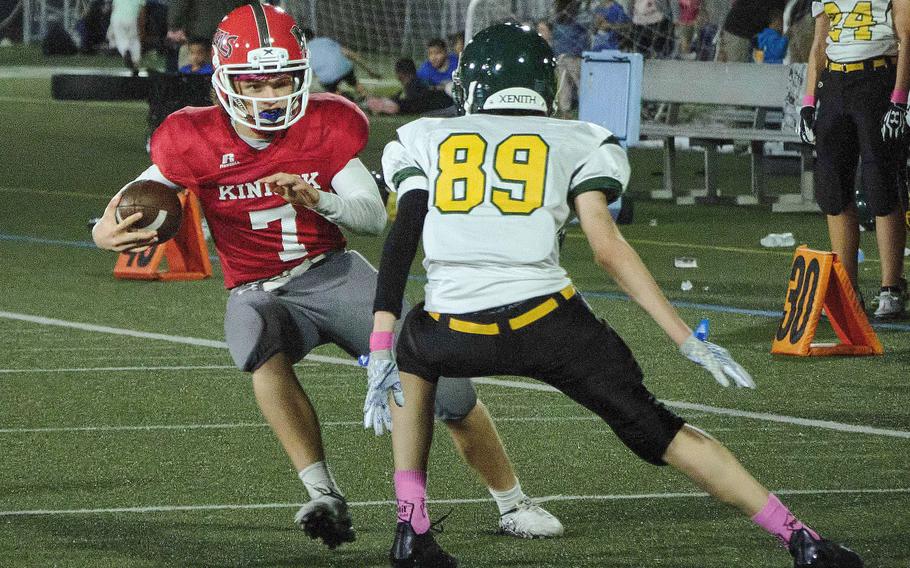 Expecting Nile C. Kinnick's wide-open passing attack to go head-to-head with Matthew C. Perry's ground machine in Friday's showdown with DODEA-Japan football bragging rights at stake?
Better have another look. This year's versions of both teams a bit out of character.
The Red Devils have actually rushed for nearly twice the yards they've gained passing, 1,137-692. The Samurai have accumulated 773 yards on the ground, but have also thrown for 497, the most in any season on coach Frank Macias' seven-year watch.
The two teams will put their balanced attacks to the test at 7 p.m. Friday at Samurai Field on Marine Corps Air Station Iwakuni.
It's homecoming for Perry, which enters the contest at 5-1, a game behind 6-0 Kinnick, which beat the Samurai 28-21 on Sept. 17 at Yokosuka Naval Base.
"Our previous game was physical on both sides of the ball, and that is what our players love," Kinnick coach Dan Joley said.
But while both ballclubs can be physical, they also possess a great deal of speed and quickness, both coaches said.
"We have the most team speed that we've had since I've been here," Macias said. "Kinnick has tremendous team speed, and with so many athletes, they are so versatile."
"Coach Macias has his team playing great football and it's exciting to see the dynamic offense he's installed," Joley said. "We are really excited to play a high-caliber football team."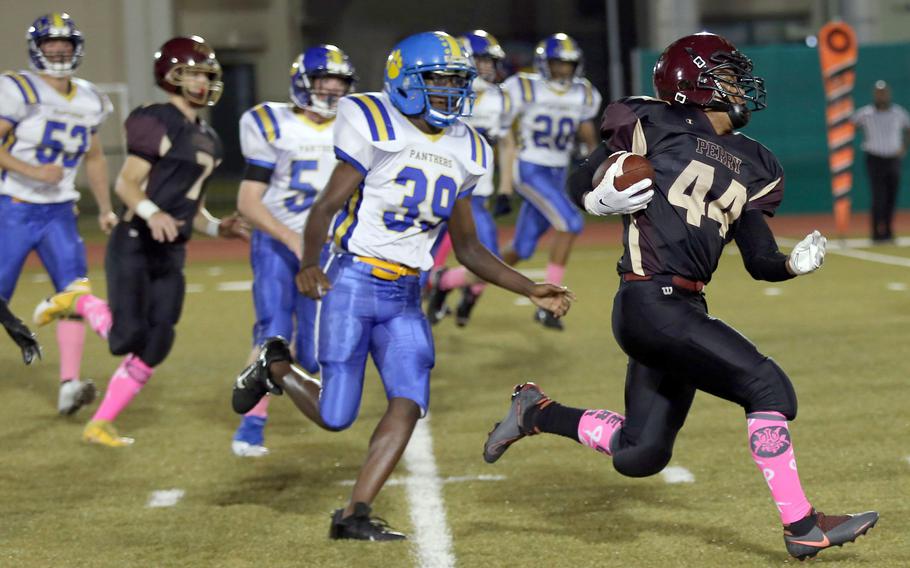 Macias still likes to employ his trademark double tight-end, double-wing formation. Fullback Zeke Santoscoy leads Perry with 274 yards on 92 carries with two touchdowns.
But quarterback Roy Clayton has thrown more than any previous Samurai quarterback under Macias, 28-for-47 for 497 yards and seven TDs.
Receiver Shion Fleming has 440 all-purpose yards with nine touchdowns, eight receiving and one on pick-six. Denzel Gray leads Perry with 849 total yards, 534 on 13 returns, two of them kick-return TDs and one a 97-yard interception-return touchdown in the Sept. 17 game at Kinnick.
Senior first-year quarterback Zeke DeLaughter is the focal point of the Red Devils' offense, accounting for 885 yards total offense and 19 touchdowns. Receivers Ryo Nishiyama, Kou Nishiyama and Daniel Burke have a combined 26 catches for 430 yards and 13 TDs.
But DeLaughter also possesses fleet feet, rushing 35 times for 193 yards and five touchdowns. Running backs Wendell Harrison and Kaito DeMoss have contributed to Kinnick's 12 touchdowns and 1,137 yards on 170 carries, 6.68 yards per carry.
Thus, the Samurai "need to stay with what we do best: Control the clock and keep their offense off the field," Macias said. "It is paramount that we … not get ourselves into a shootout."
For his part, Joley said he and Kinnick "anticipate a close game. "We believe the team that plays error-free ball will come away the victor."
Kinnick would capture the DODEA-Japan title outright with a victory. A Perry win by eight points or more would give the Samurai the crown.
Two other games Friday hold title implications in Korea and Okinawa:
-- Humphreys Black visits Osan, kickoff at 6 p.m. Each team is 1-2 and the winner gets to face Humphreys Gold (3-1) next week with the DODEA-Korea title at stake.
-- Kadena (2-1) hosts Kubasaki (1-2) in the most defensive season the teams have played in recent memory, the Panthers have outscored the Dragons 34-33. A win by Kadena would give the Panthers the title outright; if Kubasaki wins by two points or more, they would capture the season series on point aggregate.
---
---
---