Edgren suited up to resume football season against Kinnick
by
Dave Ornauer
Stars and Stripes
October 14, 2021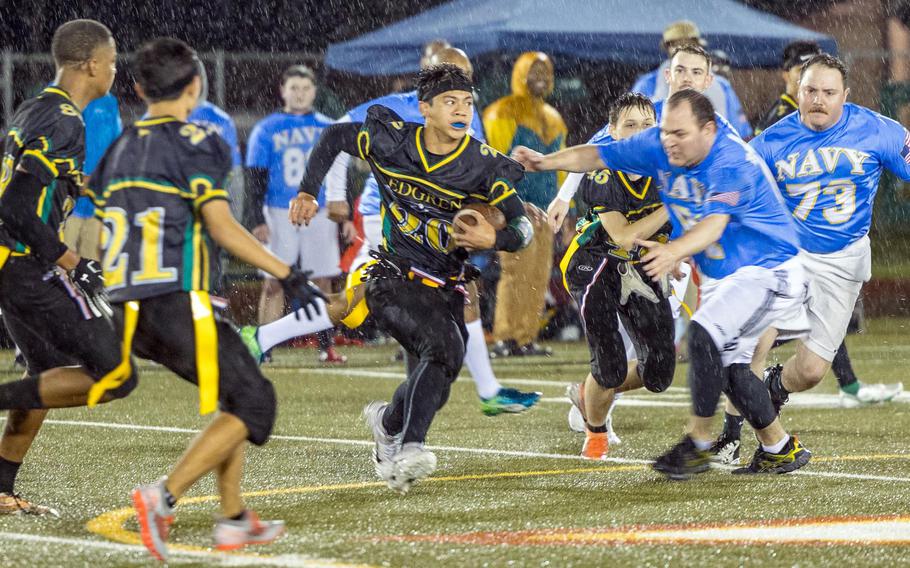 Robert D. Edgren's football season continues on Friday at Nile C. Kinnick, the Eagles' first game in three weeks, following the arrival at school of new helmets and pads ordered more than two months ago.
And coaches and players say they could not be happier.
"You could see the team had the spring back in their steps today," said coach Marcus Thomas on Tuesday, two days before the Eagles were set to board a bus for the 10-hour drive south to Yokosuka Naval Base.
The rest of the Eagles' schedule has them hosting Zama on Oct. 22, playing Matthew C. Perry on Oct. 29 at Yokota, then returning to Yokota on Nov. 5 to play the Panthers.
Edgren has not played since a 48-12 loss on Sept. 17 at Zama.
Two other games were deemed forfeits due to lack of sufficient equipment to outfit all of Edgren's players. The Eagles' season opener Aug. 28 at Yokota was postponed to Nov. 5.
All of that was on top of the 2020 season being canceled due to the coronavirus pandemic.
While awaiting the new gear, other schools offered to lend helmets and pads to the Eagles.
But even that wasn't sufficient to permit Edgren to suit up enough players to play Perry on Sept. 24 and Yokota on Oct. 1, the latter being Edgren's homecoming game. The Eagles instead played a flag football game against a team of Navy sailors in a driving rain.
"Very frustrating," Thomas said of the wait for new equipment, and along with that wondering when the Eagles' next game might be. "I'm not a fan of uncertainty."
Senior quarterback Douglass Tackney was one who endured last season's cancellation, and said waiting to see if the season could continue was just as irritating.
"It was really difficult," Tackney said. "I didn't like how it felt … but I'm glad that it's over and that we're able to finish. Especially the seniors, we are really excited that we can finish off our season."