Beefed-up Guam High to finally open football season
by
Dave Ornauer
Stars and Stripes
October 14, 2021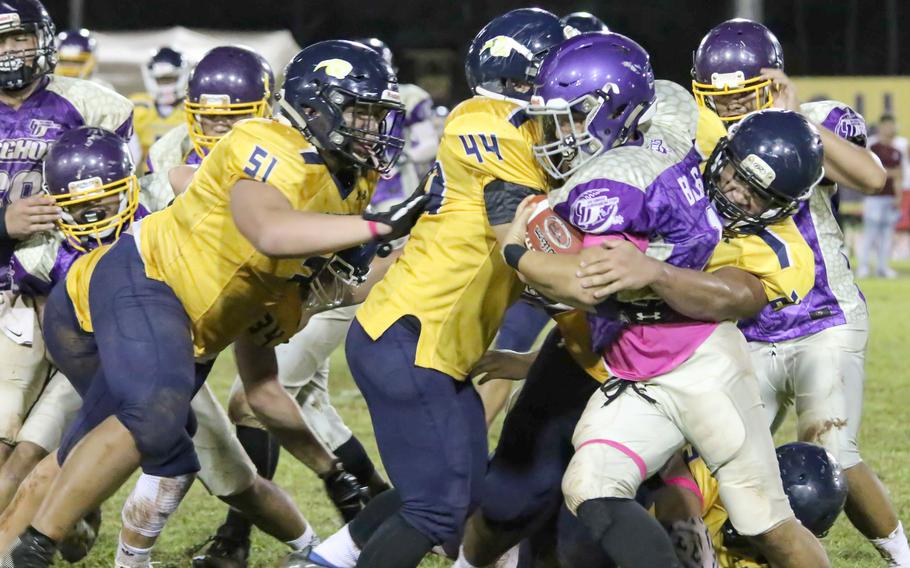 Tenth in a series of DODEA-Pacific high school football previews.
It's a line that averages 6-foot-2 and 234 pounds. But will it be enough to help Guam High's football team end an 11-season title drought?
That's what coach Jacob Dowdell says he's hoping for as the Interscholastic Sports Association's football season begins Friday. Leading the way, Dowdell said, is the lone returning starter from the 2019 season, Avery Gamboa, who at 6-2½ and 305 pounds serves as the centerpiece of the Panthers' interior.
"As Avery goes, the team goes," Dowdell said, adding that Gamboa is built out of the same mold as the interior that helped the Panthers win the island championship in 2010.
Joining Gamboa up front are senior Charles Ellis II, juniors Oen Hofschneider and Troy Camacho and sophomore Keanu Sanchez.
"All along the line, from tackle to tackle and along the defensive front, we have strength in the interior (and) we've been able to be flexible in what we do on offense and defense," Dowdell said of his line.
The Panthers put that line to the test at home Saturday at 7 p.m. against longtime island power George Washington.
The season begins this weekend after a seven-week coronavirus pandemic-induced delay. The 2020 season was canceled altogether due to COVID-19.
The eight-team ISA league plays its usual single round-robin schedule through the first Saturday in December, with the playoffs to follow. Only the top four teams qualify, instead of all eight as has been customary in the past.
After such a long time away from the gridiron, "we're beyond excited" to return, Dowdell said.
He plans to implement his usual spread-option offense, with seniors Randolph Ongoco and DeShaun Adams at running back. The Panthers do lack experience under center, though Dowdell said sophomore Aaron Johnson is the early favorite. "He's fast," Dowdell said of Johnson, who's also a track sprinter.
It was a long, frustrating wait to finally get word two weeks ago that football was finally back on, Dowdell said, adding that he's pleased with the way his charges responded.
"I'm so proud of them," he said. "The ups, the downs. The group we have this year, they've stayed true to themselves as athletes. They worked their tails off in practice. They never gave up."
Guam Panthers
2018 season record — 6-4 overall. Lost 20-0 to Simon Sanchez in IIAAG third-place game.
Head coach — Jacob Dowdell, ninth season, two IFL regular-season titles, one overall island championship.
Returning players — 3.
Returning starter — 1.
Key performers — Avery Gamboa, Sr., OL-DL; Oen Hofschneider, Jr., OL-DL; Charles Ellis II, Sr., OL-DL; Troy Camacho, Jr., OL-DL; Keanu Sanchez, So., OL-DL; Randolph Angoco, Sr., RB; DeShaun Adams, Sr., RB; Aaron Johnson, So., QB.
Strengths — Size in the interior; line averages 6-foot-2, 234 pounds.
Drawbacks — Lack of depth and experience, especially at skill positions.