Edgren now only unbeaten volleyball team after showdown with King
by
Dave Ornauer
Stars and Stripes
October 9, 2021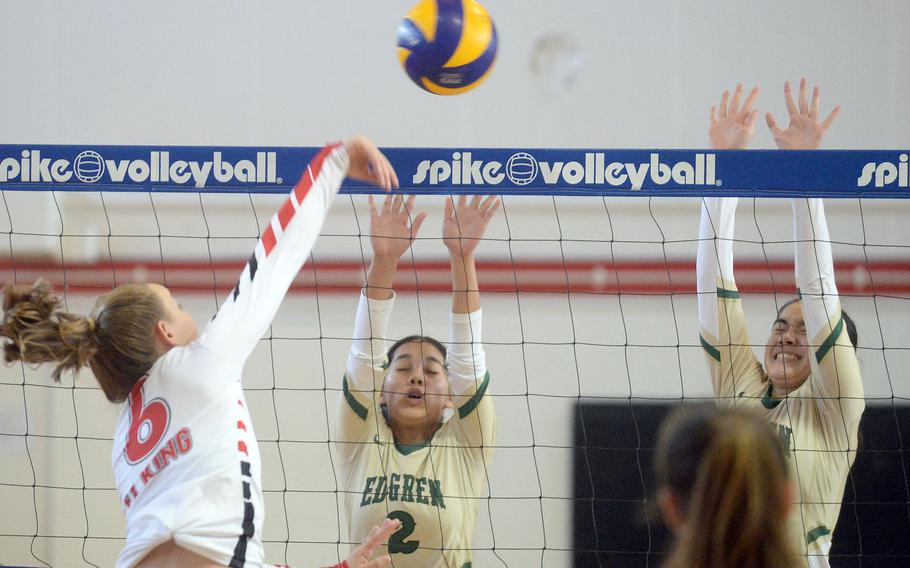 CAMP ZAMA, Japan – Robert D. Edgren's and E.J. King's volleyball teams and star tennis players wanted a chance to prove their worth against the best DODEA-Japan had to offer – each other.
On Friday and Saturday, they got what they wanted.
Elizabeth Johnson and the Eagles volleyball team beat the Cobras twice this weekend, while the top singles tennis players in DODEA-Japan - Edgren's Jenna Mahoney and King's Kouta Kodama - each remained unbeaten by winning their singles and doubles matches.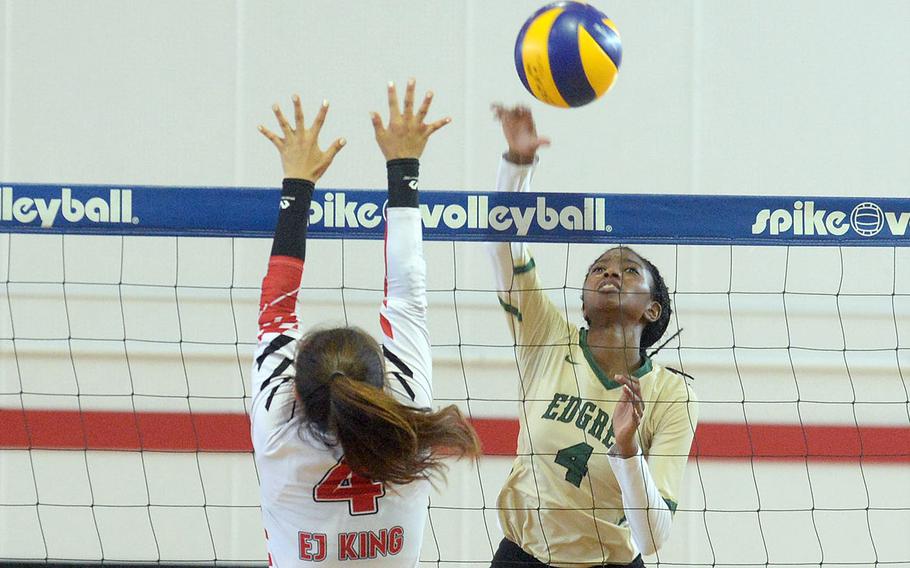 "It was rough. Not all the games were easy. But we did it," Johnson said after Saturday's five-set match that her Eagles won 20-25, 25-13, 25-7, 24-26, 15-3 over King, 18 hours after sweeping the Cobras 25-19, 25-18, 25-12. Johnson had 47 kills over the weekend.
The teams entered the weekend a combined 26-0 with neither having dropped a set all season. The Eagles improved to 16-0, also winning two matches over Matthew C. Perry, while the Cobras fell to 14-2.
"We have a young team," Johnson, a freshman, said of an Eagles side that lost its only senior, setter Kinley Turner, to transfer late last month. "But we pulled through. We did lose two sets, but we won the match and that's what counts."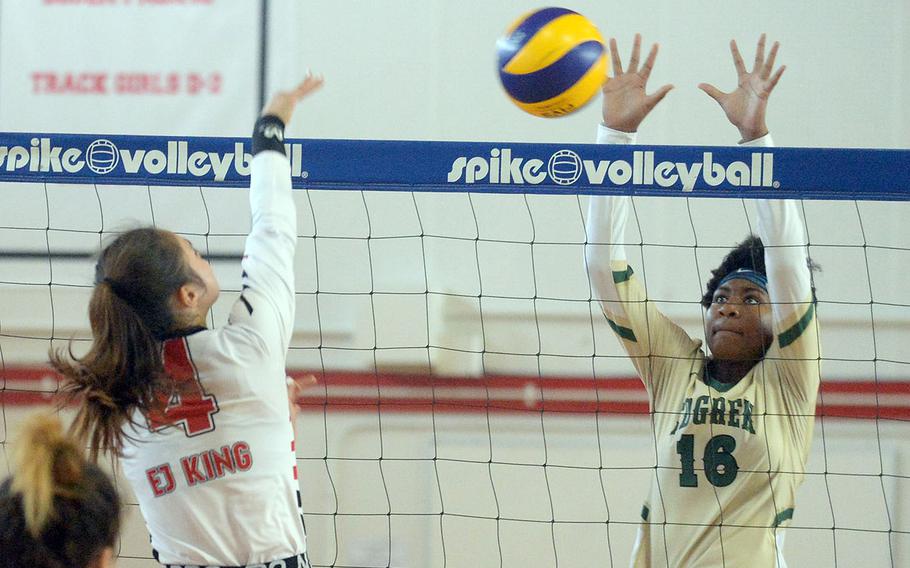 Johnson got plenty of help Saturday in teammates Christina Goodson, Jaylie Johnson and Isa Tackney, who had six kills each. Setters Samara Whitmore and Alanna Sanchez combined for 41 assists.
For the Cobras, freshman Madylyn O'Neill had a combined 16 kills, senior Hanna O'Mara added 12 and senior Kathryn Kindt nine. Setter Ysa Pyryt had a combined 34 assists.
King's and Edgren's teams logged quite a few hours of bus travel to get to Zama, which offered its courts to allow the Cobras, of Sasebo Naval Base, and the Eagles, of Misawa Air Base - some 1,200 miles apart - to compete and remain within COVID guidelines.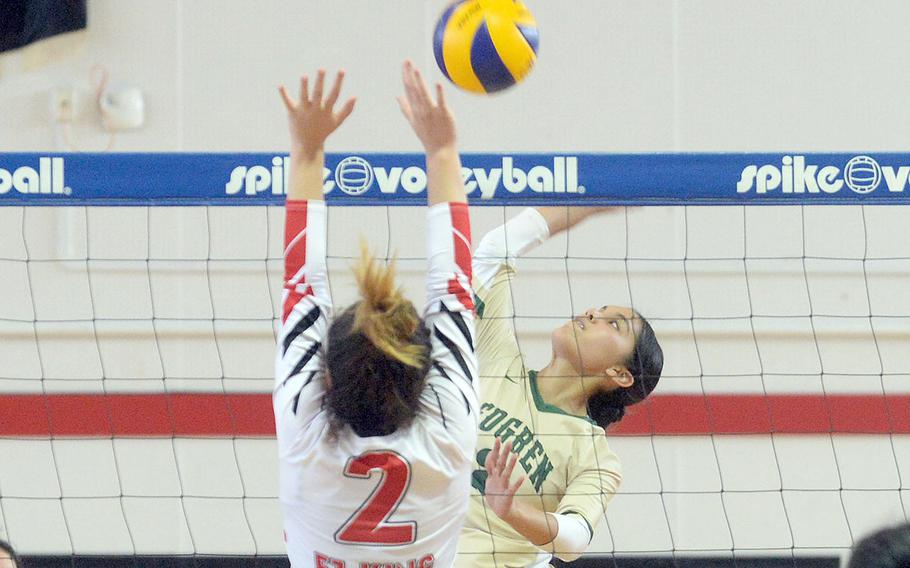 Was it worth riding 18 hours on a bus to lose both matches?
"Definitely," said O'Neill, also a freshman. "It was good to play an upper-level team and it was a good experience."
Outdoors, Kodama, a sophomore and the youngest of three tennis-playing siblings, won his singles match 8-0 over Edgren's Charles Alvey, then teamed with Kaito Bergman to take his doubles match.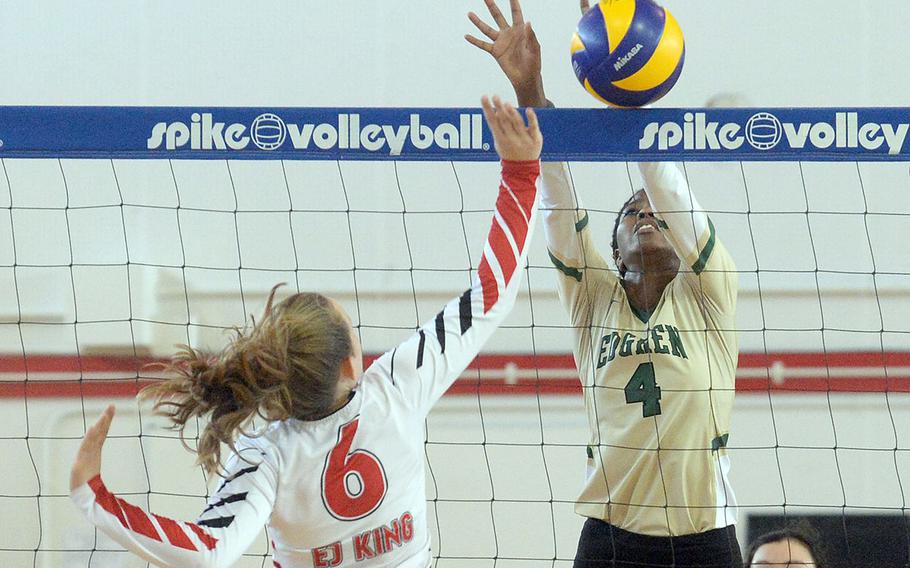 Kodama then agreed to play an exhibition match against his closest DODEA-Japan rival, Zama senior Liam Hunter; he won that match 8-3. Kodama beat Hunter last month in a regular season match at Matthew C. Perry. Hunter is otherwise unbeaten this season.
Kodama improved to a combined 20-0 in singles and doubles this season, while Mahoney, a senior, is now 22-0 after beating King freshman Moa Best in a head-to-head battle of unbeaten players entering the weekend. Mahoney teamed with senior Caitlyn Carroll to win two doubles matches.
"I had to do what I could to control the match and not worry about what (Best) does," said Mahoney, who beat the Cobras youngster 8-1. "She's very good, she's a strong player, so I had to dig deep and fight for it." Mahoney later topped Perry's Julie Apperson 8-0.
"There was a lot of good play out there. My kids learned a lot and made me proud," said Cobras coach McKinzy Best, the father of Moa and her twin sister Miu.
Despite the volleyball defeats, Cobras coach and athletics director Ricky Andrew said he and his players were grateful for the opportunity. Edgren and King were not slated to play on the original DODEA-Japan schedule, but the district gave the OK last week for it to happen.
"Some good athletes in one place, that's for sure," Andrew said. "It was a great feeling of competition. We wish we were on the other end, but the girls played hard and represented."
In cross country, senior Austin Shinzato and freshman Clare Herring of Nile C. Kinnick took top spots in Saturday's race at Kizuna Park's 3.12-mile course in Iwakuni.
Shinzato won in 16 minutes, 0.28 seconds and Herring in 19:43. Both are the best this year in DODEA-Pacific.