Fumble-return TD helps Kubasaki break Kadena hex
by
Dave Ornauer
Stars and Stripes
October 1, 2021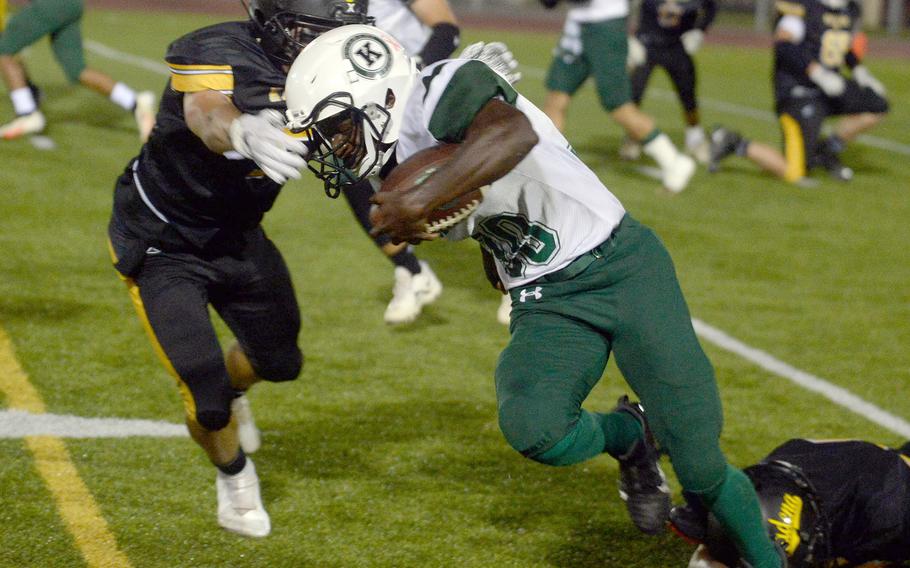 KADENA AIR BASE, Okinawa – A fumble-return touchdown by Jacob Acosta proved to be the game's only points Friday as Kubasaki snapped an 11-game, six-season football losing streak to Kadena.
Acosta, a junior linebacker, scooped up a loose ball at the Kadena 12-yard line and ran unopposed into the end zone with 1 minute, 4 seconds left before halftime. The Dragons defense held firm from there in a 6-0 victory over the Panthers.
"It was just instinct, to just try to get the ball and get it into the end zone," Acosta said after the game.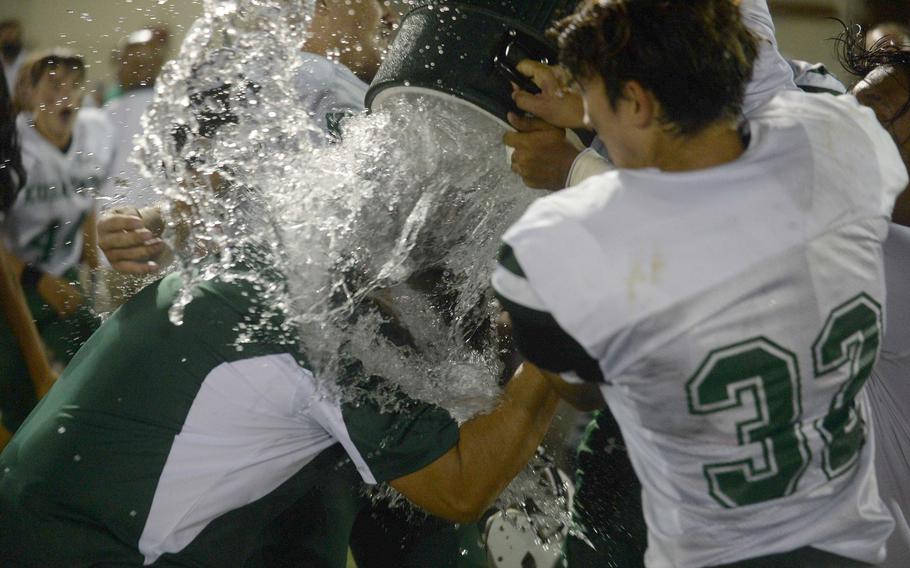 Dragons coach Tony Alvarado said that's something he and his assistants are trying to teach their players: "Be aggressive, come hard and go until they hear the whistle. And there was no whistle" on that play Alvarado said. "That's what it was. Play to the whistle."
It was a defensive struggle; the teams combined for just over two trips up and down the field. Kubasaki held Kadena's offense to just 89 yards on 38 plays, but the Dragons did little better: 121 yards on 48 plays. Kubasaki forced three turnovers and recorded two sacks.
And Kubasaki lost both its starting and backup quarterbacks, juniors A.J. Millette and Carlos Robles, during the game and finished with senior Elijah Ferrell-Ayers in the shotgun.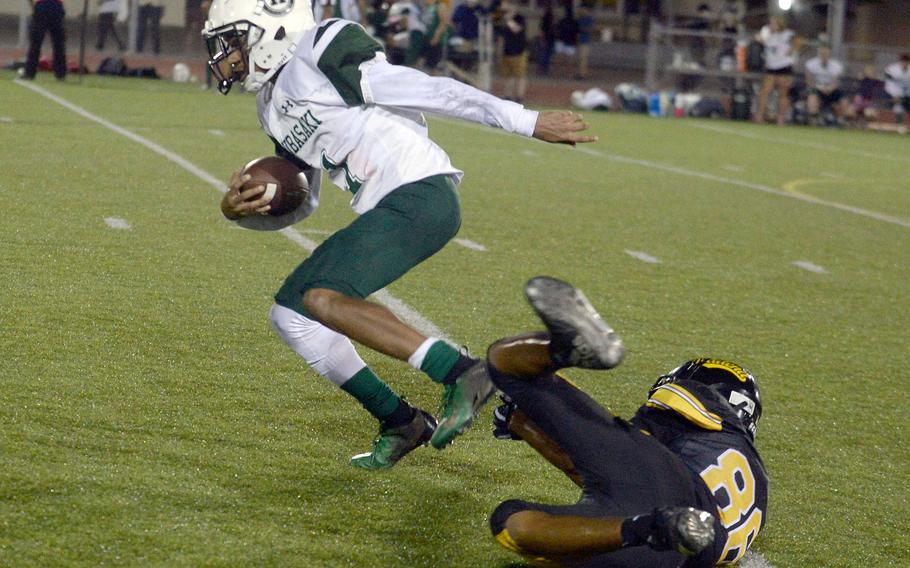 "We are so banged up," Alvarado said. "This was a physical game against a solid team. I'm proud of the guys in backup positions who stepped up and took leadership roles."
Kubasaki had not beaten Kadena since a 53-28 home win on Sept. 18, 2015. The Panthers opened this season on Sept. 24 by winning at Kubasaki 21-20.
"Six long years," said Alvarado, who was a defensive assistant that whole time prior to assuming the head coaching reins this season. "It feels good because I've been here for most of these and it feels extra good because we did it on their field."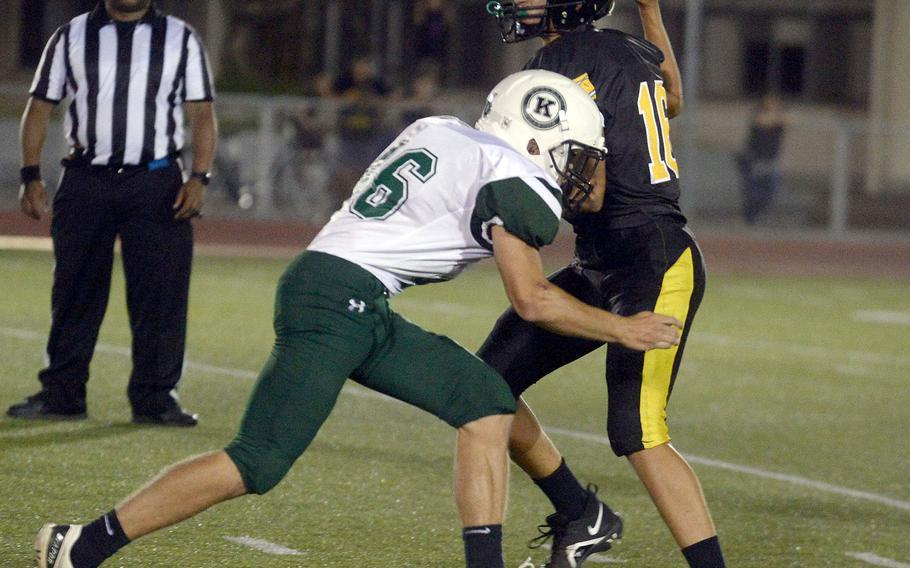 Both teams had their share of chances to score, but the Dragons only got as far as Kadena's 3-yard line at the start of the fourth quarter, where they turned it over on downs, and the Panthers only as far as Kubasaki's 1-yard line when they fumbled the ball away.
Running backs set the offensive pace for both teams, Trent Fowler rushing for 71 yards on 18 carries for Kadena and Godfrey Wray 103 yards on 26 attempts for the Dragons. The teams combined for 82 rushing plays and only four pass plays.
In addition to fumbles, penalties also hurt the Panthers, coach Sergio Mendoza said.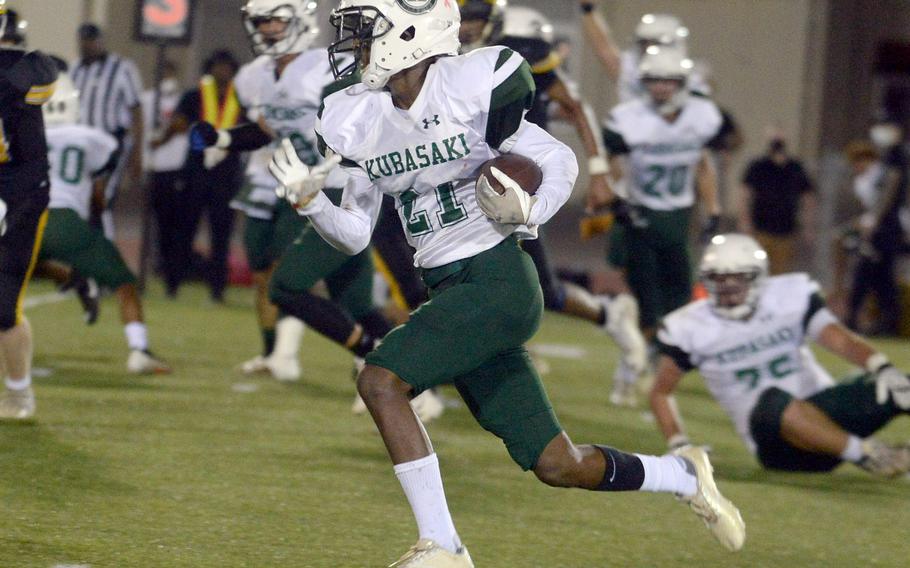 "Kubasaki is a really good, well-coached team, but we made a lot of mistakes," Mendoza said. "We're going to come back stronger next week, I assure you."
The teams meet again Oct. 15. The game scheduled for Friday has been moved to Oct. 22.