Kadena edges Kubasaki in Okinawa opener
by
Dave Ornauer
Stars and Stripes
September 24, 2021
CAMP FOSTER, Okinawa – Trent Fowler was thrown for a 4-yard loss the first time Kadena tried a fake punt on fourth down.
After running for 40 yards the second time the Panthers tried it, he said he wasn't going to be stopped again.
The 40-yard romp set up what proved to be the game-winning touchdown, a 3-yard quarterback sneak by Anthony Skalamera with 11 minutes, 56 seconds left. Joey Puterbaugh's extra-point kick provided the winning margin in the Panthers' 21-20 season-opening win at Kubasaki's Mike Petty Stadium.
"We're not going to stop going to plays that we believe in," coach Sergio Mendoza said. "You have to trust the athletes; they're going to make those football plays."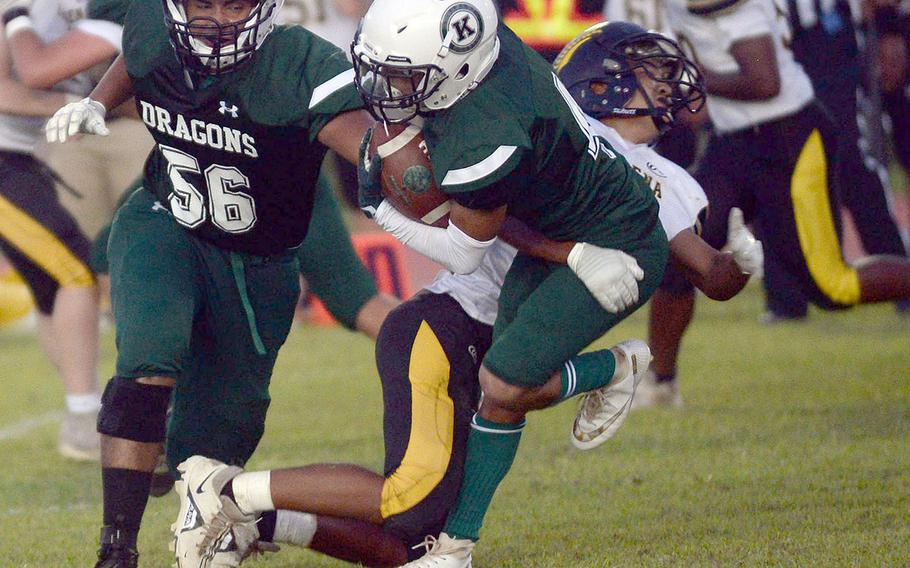 It was the Panthers' first game since Nov. 10, 2019, when they captured their Pacific-record seventh Far East Division I championship. The 2020 season was canceled due to the coronavirus pandemic.
During a sideline quorum between Mendoza and Fowler after the first failed fake punt, Fowler said Mendoza told him that the left side of Kubasaki's coverage team should be open.
"When I looked up, I saw that the left side was closing up, but that the middle was wide open, so I went that way," Fowler said.
Skalamera's touchdown capped the scoring in what was a see-saw battle almost from the opening kickoff.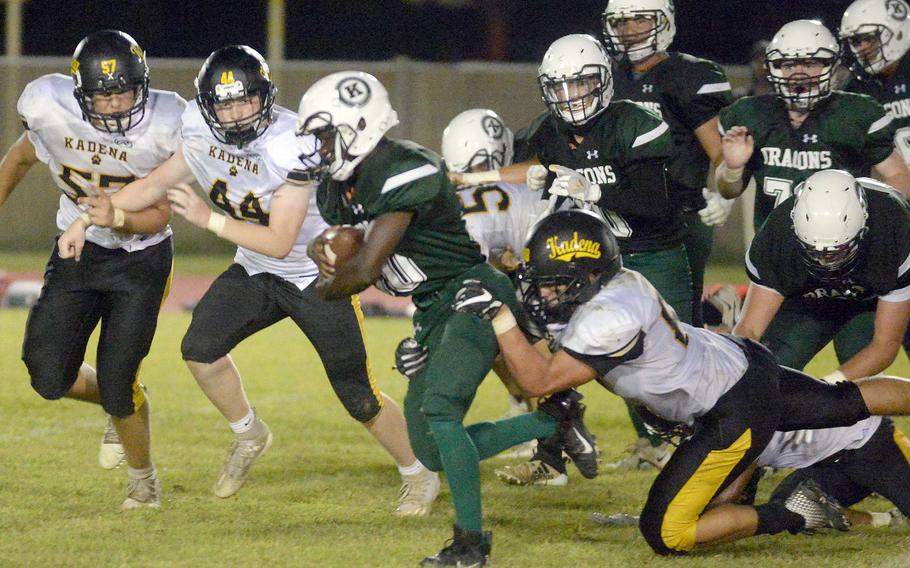 Elijah Ferrell-Ayers returned an interception 92 yards for a touchdown to give the Dragons the lead 3:56 into the contest. Kadena's Javontay Vickers promptly took the ensuing kickoff 82 yards to tie it 6-6.
Fowler put Kadena ahead for the first time 14-6 on an 8-yard scoring run with 1:43 left in the first quarter. Just before halftime, Kubasaki quarterback A.J. Millette snuck over from 3 yards out, then passed for two points to Jalen Keller to knot it 14-14.
Millette found Godfrey Wray for a 44-yard touchdown pass that put the Dragons up for the last time 20-14. Skalamera's game-winning TD sneak capped a 78-yard, 11-play drive over 4 minutes, 8 seconds.
Fowler finished with 124 yards on 22 carries, 101 of those yards on 11 second-half attempts. The Panthers got all their yards on the ground, 237 on 46 carries. Vickers had 102 yards on two returns.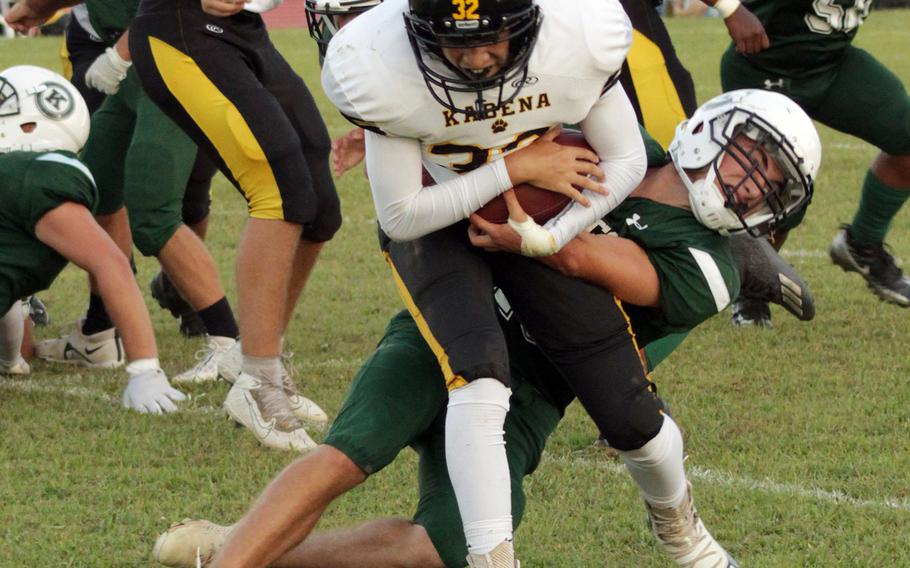 For the Dragons, Wray had 153 yards total offense, 109 on 17 carries. Millette was 2-for-4 for 54 yards. Ayers finished with 154 all-purpose yards, 148 coming on five returns.
It was the Panthers' 11th straight over the Dragons dating back to the 2015 season, but the Panthers have only outscored Kubasaki 48-26 the last three times out.
"You can never look past Kubasaki," Mendoza said. "Kubasaki has a strong program and a strong community that supports football as much as ours does."
For his part, Tony Alvarado, who took over as head coach from long-time head man Fred Bales, said the game was a "learning experience" for his youthful squad.
"They're young, so they made a lot of mistakes," Alvarado said. "(But) they're young, they believe … and we'll come back stronger next week."
The two teams lace it up again next Friday at Kadena; kickoff is at 6 p.m.