Humphreys Gold runs away from Osan to move to 2-0
Stars and Stripes
September 24, 2021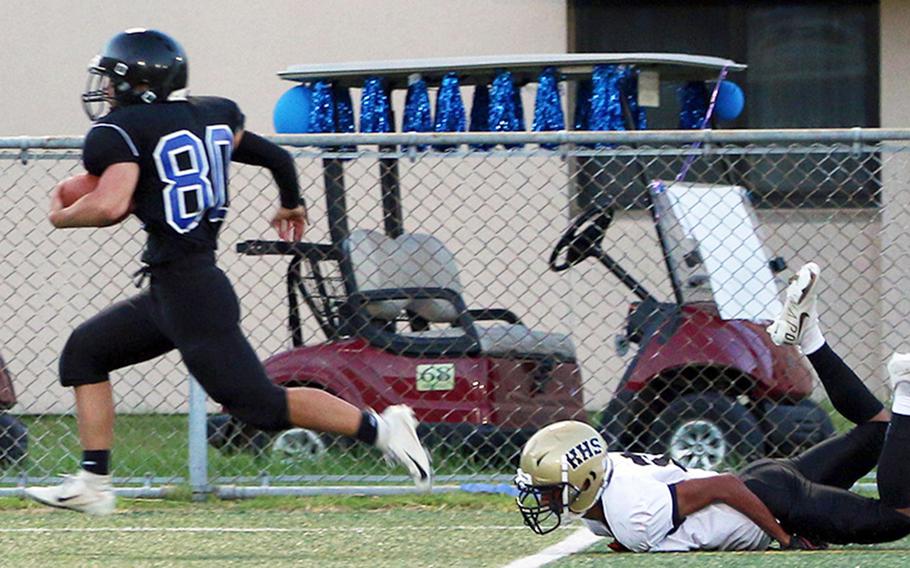 OSAN AIR BASE, South Korea -- What began as a tight struggle turned into a second-half pullaway as Humphreys Gold won its second game in two weeks.
Tyler Wilks capped a Humphreys 99-yard drive early in the second half with a 32-yard touchdown run following a goal-line stand by the Blackhawks, who beat Osan 38-20 Friday.
"We had some adversity early," Blackhawks Gold coach Tyler Greve said. "It was a nice dogfight."
With the score tied 8-8 at halftime, Humphreys took the opening second-half kickoff and promptly fumbled at its 6-yard line. But the Blackhawks Gold defense held for four plays, stopping the Cougars at the Humphreys 1-yard line.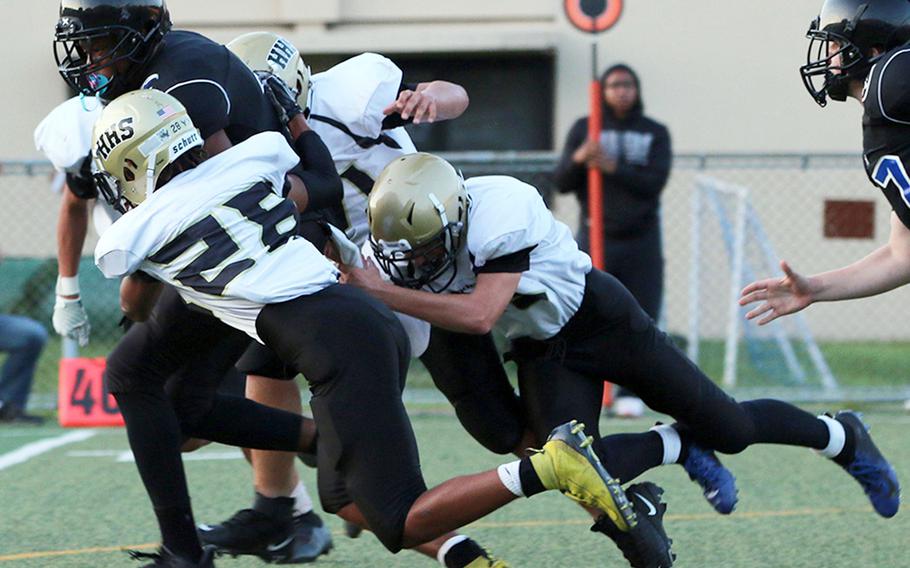 From there, the Gold offense drove the length of the field, capped by the TD run by Wilks, who finished with 121 yards and two touchdowns on seven carries. "That was the crusher," Greve said.
Other key Humphreys performers included Sean Cook, who went 4-for-8 for 109 yards and rushed eight times for 105 yards and a TD. Darryl Veal had 136 yards on 11 tries and Hayes Clayton 101 yards on 10 carries.
Lucas Bochat caught three passes for 84 yards, Todd Williams had a 6-yard touchdown catch and backup quarterback Tom Bennesse went 2-for-3 for 60 yards and a touchdown and three two-point conversions.
Luke Robinson returned an interception 32 yards for a touchdown. Bochat had 10 tackles and Wilks and Clayton each had an interception.
Still, Greve said the team still has much to work on.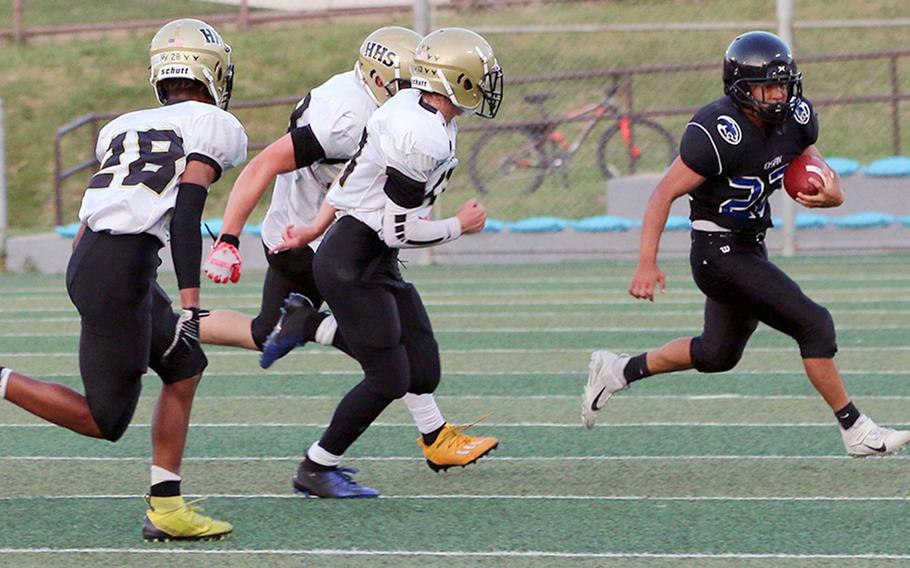 "Defensively, we have to get better," he said. "We can always improve, and it starts from the top down. The things I can improve on will help them improve."
The Cougars, the last DODEA-Pacific football team to open the season, scored on all sides of the ball.
A.J. Panboon returned a kick 77 yards for a touchdown, Jaylon Grant caught a 48-yard scoring pass from Gavin Lunn and Lunn returned an interception 41 yards for a TD.
"We made a lot of freshman mistakes in the second half," Cougars coach Jerome Learman said. "We just have to learn from them. It will come with more playing time. My kids will show up, work hard and get better."
The Cougars visit Humphreys' Black team next Friday at 6 p.m. Humphreys Gold gets the week off.